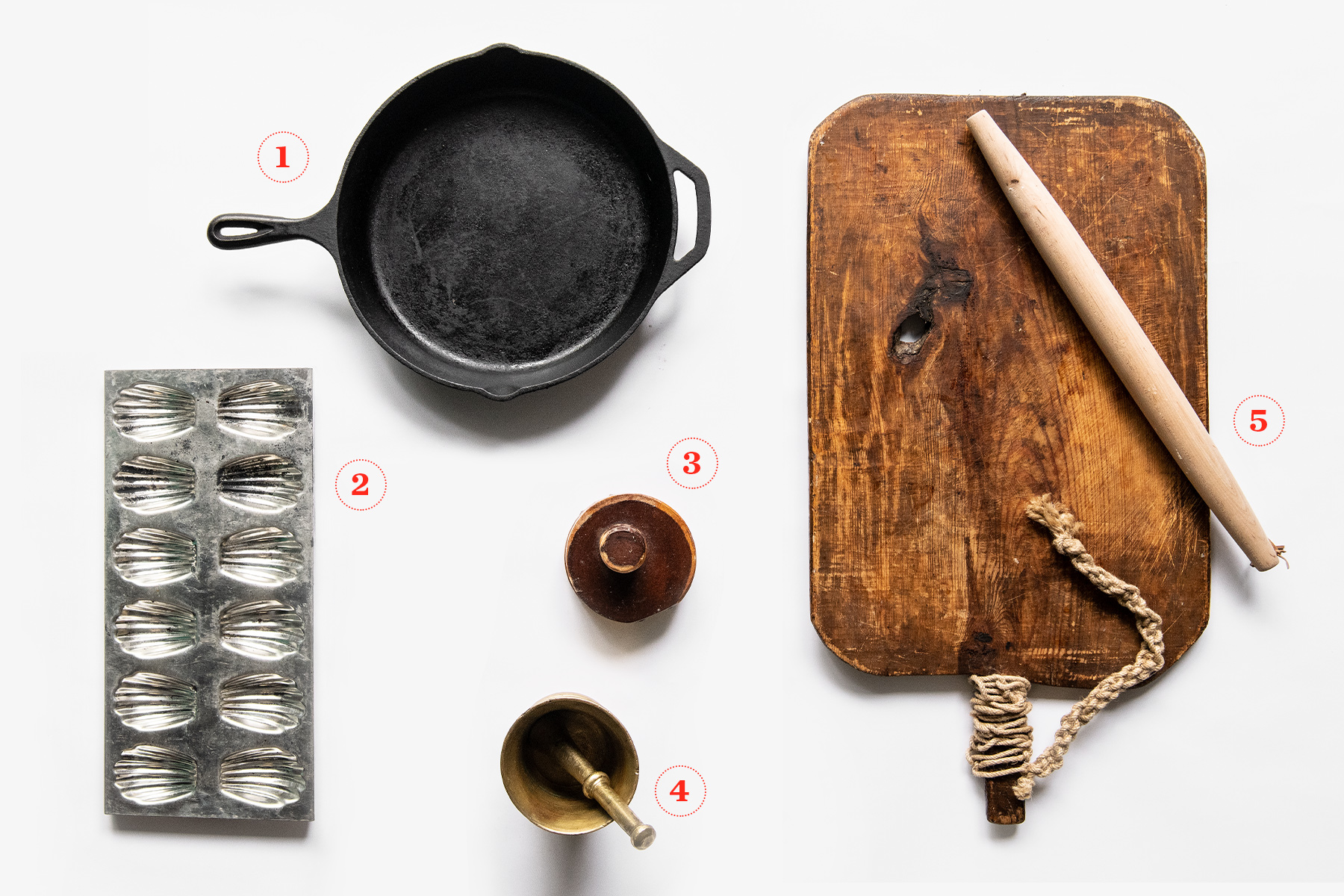 Our Favorite Kitchen Tools During Quarantine
Break out the madeleine pan, it's still prime time to cook at home. These are D Magazine staffer favorites.
1. Cast-Iron Skillet
"My wife grew up in a rural Appalachian town, the granddaughter of dairy farmers. When we moved into our first home, her minimal possessions included a set of cast-iron pans that spanned the history of Midwestern foundries: Griswold, Marion, Wapak, Lodge. Seasoned over a century, they can flawlessly cook anything from buttermilk biscuits to seared scallops. So you can keep your All-Clad Copper Core. I'm a Rust Belt girl with an iron heart." —Kathy Wise
Cast-Iron Seared Scallops with Beurre Blanc
Serves two
Ingredients
8 large sea scallops (I get mine from Rex's Seafood in the Dallas Farmers Market)
4 tablespoons butter
1 small shallot, finely chopped
1/4 cup dry white wine
1/4 cup sherry vinegar
1 tablespoon finely chopped tarragon
1 large bunch of small-leafed greens, such as watercress or pea shoots
Sea salt
Freshly ground black pepper to taste
Directions
Arrange greens on two plates. Pat scallops dry and sprinkle with salt and pepper. Heat cast-iron skillet over medium-high heat. Add one tablespoon of butter to the pan, and cook until the foam subsides. Sear scallops until golden brown and cooked through, about 2 minutes per side. Transfer scallops to plates, and place on top of the greens. To the pan, add shallot, wine, and vinegar. Let sauce come to a boil, and scrape up any brown bits. Allow to boil until liquid is reduced by half. Reduce heat to low and add remaining butter, stirring until the butter is incorporated and the sauce is creamy. Stir in tarragon and season with salt and pepper to taste. Pour sauce over scallops and greens.
2. Madeleine Pan
"When I feel nostalgic, I pull out my madeleine pan, and like Proust's original confection, it sends me back to my childhood in France. For me, there may be no greater joy than the delicate little pastry shaped like a shell, with its telltale bump and plenty of butter, vanilla bean, and perhaps lavender or lemon zest infusing the crumb. Nibble with tea or coffee, and let the little cakes work their magic: a small, sweet Parisian world to whisk you away." —Eve Hill-Agnus
Honey-Lavender Madeleines
Makes 12
I like to use an adaptation of David Leibovitz's basic recipe. I trust him to make rich, buttery madeleines that have the comforting crumb and flavor of little cakes. I add honey and lavender to round them out into springtime reminders (I use a light, aromatic honey—the more floral the honey, the more it comes through). But you can brighten up the cakes with lemon zest or poppy seed, too. Powdered sugar dusting is my go-to finish; but a simple lemon glaze will seal in more sweetness, if you want to go that route. A tip for ensuring that telltale madeleine bump: Place the filled tray in the freezer for 10 minutes before baking.
Ingredients
1 cup, plus 2 tablespoons all-purpose flour
1 teaspoon baking powder
Pinch of salt
3 eggs
1 teaspoon vanilla extract
½ cup granulated sugar
½ butter, melted
2 tablespoons honey
1 ½ crushed lavender buds
1 teaspoon lemon zest (optional) or poppy seeds
Directions
Brush madeleine molds with butter and then flour or spray with cooking oil. Whisk flour, baking powder, and salt together. Set aside. In a separate bowl, beat eggs, vanilla, and sugar until creamy. Set aside. Add lavender and honey to melted butter and allow to infuse for a few minutes. Combine half flour mixture into egg-vanilla-sugar mixture. Slowly drizzle in half of lavender-honey-butter mixture. Repeat. Fold in lemon zest or poppy seeds.
Refrigerate batter at least 2 hours or overnight. When ready to bake, preheat oven to 375°F. Fill madeleine molds ¾ full. Freeze tray for 10 minutes. Bake 8-10 minutes or until golden brown. Unmold immediately and cool on a wire rack. To finish, dust with powdered sugar. (Or glaze with a simple lemon glaze for shine.)
 

3. Tostonera

 
"Tostones are my love language. These fried green plantains are a staple in Latin and Caribbean cuisines, and a tostonera is the key to cooking this golden snack. This particular tostonera is older than I am. Lightly fry a medallion of unripe plantain—the greener the better—mash it down with the tostonera's two wood rounds until the banana is slightly flatter, then fry again. Fry, smash, fry in pursuit of the perfect crunch."—Rosin Saez
Crispy Tostones (Tostones de plátano)
Makes about a dozen to 18; serve as an appetizer or enjoy as a snack
Ingredients
3 green plantains
Vegetable oil for frying
Adobo seasoning
A tostonera, or use a cutting board and something flat and heavy, like a cast iron pan or griddle handpress
Directions
You want to start with super green plantain bananas; those will have the most starch, which will make for super crunchy exteriors. Peel, then cut each banana on the bias into about ¾ -inch thick rounds. (It's okay if it's closer to a ½ inch or a full inch; you'll be smashing them down anyway.) Heat a shallow frying pan with a layer of vegetable oil (about ¼ cup). You can use a deep-fryer or air-fryer if you have one.
Here's where it gets controversial. Many recipes instruct you to soak the plantain slices in salt water soak with crush garlic cloves. It helps with oxidation and the water will help incorporate steam (i.e., fluffy interior, crisp exterior). I don't often bother because it's going to be crunchy and tasty without this extra 15-minute step. On to frying: oil should be around 350ºF to 375ºF but if it's too hard to check temperature, an easy trick is top dip the end of a wooden spoon or chopstick into the oil; if it gently bubbles, it's hot enough.
Fry for three minutes per side, transfer to paper towel-lined plate, and then one by one mash with tostonera or whatever you have on hand—pound flat with the palm of your hand if you're OG like my Puerto Rican grandmother! Then fry again until golden brown. Remove and drain on fresh paper towel. Season to taste with adobo, a pre-mix seasoning that consists of garlic and/or onion powder, ground oregano, salt, pepper, tumeric, sometimes paprika. You can make your own blend. (I like the organic Adobo by Loisa, or one by Addo Pantry.) Simple sea salt is fine too if that's what you've got on hand.
4. Mortar and Pestle
"My mom bought this brass mortar and pestle around 1975 at a Beverly Hills garage sale for, she guesses, about $5. Somehow, I wound up with them. We bake cauliflower in my house frequently, and everyone knows you can't bake cauliflower without ground coriander seeds. That's where the mortar and pestle come in. I like to ring that heavy sucker like a bell. It's a very sonorous mortar. And the pestle doubles as a home defense weapon." —Tim Rogers
Roasted Coriander Cauliflower
Ingredients
1 head of cauliflower
Coriander seeds
Olive oil
Salt
Pepper
Mortar and pestle
Fun
Directions
Cut a head of cauliflower into pieces that are small enough to make you happy. Smaller pieces cook faster. Duh. Spread them out on a baking sheet. Drizzle some olive oil over them. Don't use too much! Soggy cauliflower will make you sad. Put some salt and freshly ground pepper on there. Do the same with that coriander. Don't worry if you didn't grind that coriander uniformly. A big chunk every so often will make you happy. Now throw that baking sheet in an oven preheated to 375°F. Or 400°F. Whatever. Don't get bogged down in the difference between baking and roasting. Let's all agree that you are cooking. So cook those cauliflowers till they are done, which distinction is totally up to you. It's a good idea to take them out of the oven at some point and use a wooden spatula to mix em up a bit, make sure they all get some love from the olive oil. Honestly, burned-ass, crispy cauliflower tastes great if it has enough salt and pepper and coriander on it. But you should probably shoot for brown around the edges. Could that take 15 minutes? Maybe. You know what? Right toward the end, you might switch your oven to broil and hit those suckers with a few minutes of intense top heat. Experiment. Figure out what works best for you. Have fun.
5. French Rolling Pin
"One of our favorite meals is grilled flatbreads in the backyard. We start with a glass of red wine (adults, obviously). Then we roll the dough on the marble countertop with a handful of cornmeal and my Vermont maple French rolling pin. I stack the toppings on a vintage cutting board from Patina Green, and my 4-year-old daughter helps me customize each one. I pile fresh basil and oregano from my garden on top. It tastes like summer and pure love." —Elizabeth Lavin