Driving down Graham Avenue, past a taqueria and fruteria, toward the tangle of freeways that loop around Old East Dallas, you might notice an elaborate cupcake of a building. It rises improbably out of a neighborhood of single-family homes, blocks of houses with crumbling foundations. This is the Radha Kalachandji Hare Krishna temple. Many know it for the fire it survived in 2012 or, more likely, for its buffet-style Indian restaurant. The latter is the most visited vegetarian enclave in town, a courtyard oasis prized for its tranquility and tamarind tea.
Visitors to the temple, once home to a Christian church, may have strolled in the lot next door, noticing the greenhouse and the free-standing mausoleum. Occasionally, maybe, they've drifted into the gift shop to browse for incense or a bangle. Perhaps they've crossed the threshold, guarded by twin lions, at the same time as devotees coming across the street in saris, their foreheads anointed with two streaks of clay.
But have they removed their shoes and entered the sanctuary, going to the right of the entrance rather than the left? Have their eyes been drawn to and dazzled by the resplendent deities, representations of Krishna and his female counterpart, Radharani, filling an alcove embellished with fresh flowers at the far end of the sanctuary? Do they know that Kalachandji, the name of this particular rendering of Krishna, is the reason the complex is called what it is? Can they even fathom what extravagant care goes into tending the statues?
Most likely not. I didn't.
Every day, something magnificent and wondrous happens. Arrive in the morning, and you might witness the deities being bathed in milk and honey and massaged in oil. And that is merely the beginning of an elaborate set of rituals that sees them clothed and fed, recipients of a detailed practice of devotion.
It is a daily dose of caretaking of which we as mere visitors get only an inkling. Until a few months ago, I knew the temple to be a place of sensory attentions. I didn't know how much.
hat would become known as the Hare Krishna movement (officially the International Society for Krishna Consciousness) was founded by A.C. Bhaktivedanta Swami Prabhupada, whose likeness—a bald figure on a dais, wearing a tunic in shades of marigold—sits in every temple. By all accounts, he booked passage from Kolkata, India, to Brooklyn, in 1965, aboard a freight ship with nothing save a trunk of books and a handful of rupees. He landed in New York City's East Village and then the Lower East Side, where he preached under a tree in Tompkins Square Park. The followers he amassed became known by their saffron robes and shaved heads, their drums and bags of beads, and their euphoric chanting of the names of God:
Hare, Krishna, Rama
. It's a sect devoted to beauty and jubilation. It has always been thus, a religion based on sensuousness that rightly earned a reputation for its celebratory singing, dancing, feasting.
Throughout the next decade, the movement spread, first touching down on the West Coast in places like San Francisco, Los Angeles, and Seattle, and later Montreal and Santa Fe. By the time of Prabhupada's death, in 1977, the Krishna Consciousness movement had spread to Europe, South America, and Africa, with more than 100 centers and 10,000 followers. A publishing house printed the sacred texts—the Bhagavad-Gita and others—that Prabhupada had translated.
The devotees who founded the Radha Kalachandji temple arrived in Dallas in 1970. The following year, they purchased the former Mount Auburn Christian Church in East Dallas and bought up houses around it. Hence the temple's amalgam of architecture, turrets and lotus-petal-framed domes overlaid like piped icing on a squarish brick façade.
The sanctuary itself inhabits the former church gymnasium's basketball court. If you know where to look, behind a painting, you can glimpse the lime green cinder blocks, a record of the transition from functionality to lavish ornament. There is a sky blue ceiling with clouds and murals that show the mischievous Krishna cavorting with maidens, playing pranks on his mother, or dancing and charming animals with his flute in the moonlight. The Rajasthani artist B.G. Sharma painted these depictions of the blue-faced boy. (When the Crow Museum of Asian Art held a 2014 exhibit of Sharma's work,
Seeing and Believing: Krishna in the Art of B.G. Sharma,
visitors were encouraged to view them here, in their context.)
Inside the sanctuary, the eye is drawn immediately to the statues of the deities in their curtained alcove, objects of ritual devotion. A few hours before dawn, they are awakened. A team of five devotees dresses them, the life-size Krishna and Radharani and their smaller attendant demigods, Gaura Nitai, Jagannatha, and Radha Govinda. The five dressers are from a group of approximately 50 men and women, known as
pujaris
, who perform
pujas
, devotional acts. They wake the deities, cook, make flower garlands, do laundry, and offer
arati
—rituals that involve incense, ghee lamps, a conch shell, a yak-tail fan, and the ringing of a bell.
The daily schedule of lavish ministrations is based on the idea that if you treat the statues as human, the deities will inhabit them. And so they are tended from the 4 am wake-up until the altar curtains close at 8:45 pm. They rest in their pajamas after a thick shake of cooked-down milk (kheer), the last offering.
Behind the sanctuary, beyond the altar, is a wardrobe room that hardly anyone sees, the most breathtaking closet in Dallas. Those who possess the privilege, all
pujaris
, know Chandravali, the woman who coordinates the team. (Initiated devotees are known by the spiritual names given to them by their gurus, drawn from the Vedic texts.) The regal figure cloaked in white, with salt-and-pepper hair and a contagious laugh, has tended the deities for 25 years as mistress of the wardrobe, orchestrator of something both humble and extravagant.
n the deities' dressing room, drawers hold elaborate garments organized by day of the week, and hangers suspend the heavier folds of altar backdrops that match. Manjuali Devi Dasi, the temple president's wife, moves through the space, preparing. She places on a tray the things she wants for the next day. She's thought about it in advance, engaging in a form of meditation that begins long before the fingering of brooches or smoothing of silks.
She's focusing on contrast, making sure that Radharani's outfit pops. There is a color for every day: Monday is red; Tuesday blue; Wednesday yellow, orange, or pink; Thursday green; Friday purple. Saturday is white and Sunday multihued.
"It's not like dolls," Manjuali says. The acts of beautification are done to please the deity, to draw the eye to the immensity of divine beauty, not for one's own pleasure or play. "It's like getting the queen dressed. Would you take that lightly?" she asks.
She opens a drawer. It's a stunning display of red, gold, pink, and sea-foam green costume jewelry that comes from Harry Hines or India, glittering and gaudy. The room—full of closets and chests of drawers, the kind you might find in an artist's studio—is a cache where racks drip with necklaces and ornate effulgences(semicircles that frame the deities' faces, like halos), and shallow drawers contain bracelets, earrings, turban pieces, toe rings, and jeweled bindis that will be affixed to foreheads.
The outfits themselves bristle with seed beads, thread work, sequins, and colored pearls, the most precious ones hand-sewn. There are summer outfits in pastel shades of green and pink. Others are emblazoned with peacocks, Krishna's favored bird. Some, specially made in India, cost thousands. Every day, the
pujaris
make a tray for their assigned deities, choosing every item that will adorn, trim, embellish. They will have two hours to do their work, in the window between the deities' waking and breakfast.
Many told me it was the most potent form of devotion and worship. "When you dress the deity, it allows you to concentrate on the Lord 100 percent, not just for the two hours that you're on the altar," Manjuali says. "It makes your mind come naturally into meditation. My mind is already two days ahead, thinking. It's a meditation throughout the whole day. So it's a beautiful feeling you have."
Every
pujari
has his or her own style, Chandravali's 23-year-old granddaughter, Indulekha, tells me later, reflecting on the matriarchs who pull off something she does not yet do. One devotee who frequently dresses the deities on Saturdays has a distinctive approach, often doing away with the halo-like effulgence and painting the deity's face with patterns that lean Aztec.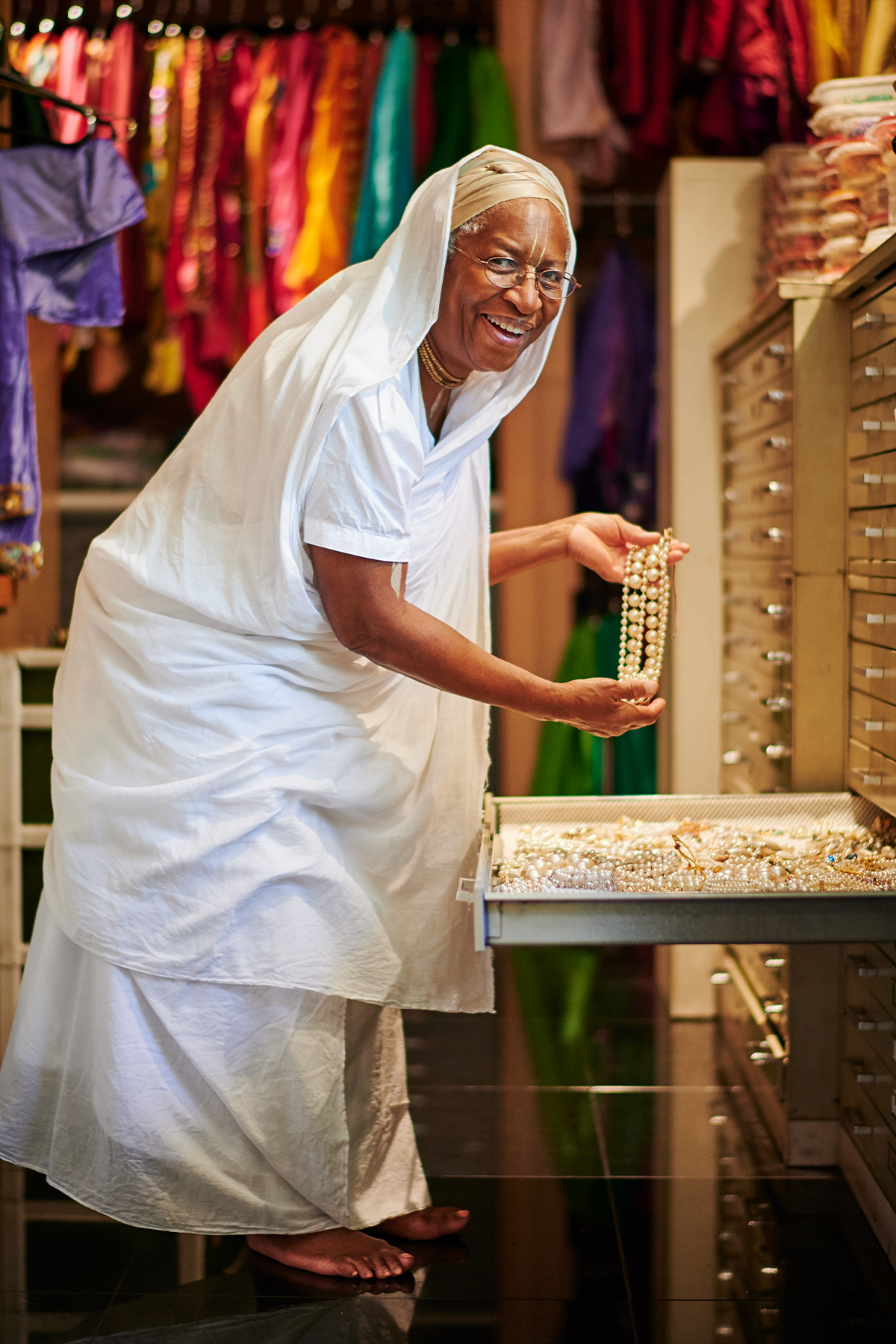 Mother of Pearl: Chandravali has been mistress of the deities' wardrobe for 25 years, coordinating the pujaris' schedule. Outfits can cost several thousand dollars; drawers hold jewelry from shops along Harry Hines or from India.
"She's from Mexico," Indulekha says. "She makes Radharani look almost like that woman with the unibrow."
"Frida Kahlo," I offer, imagining exactly how that might look. She nods.
Chandravali's style, taught to her by her spiritual guru to whom the mausoleum in the yard is dedicated, is technical and traditional. Manjuali's is feminine, with studied attention to the aesthetics of color. "She does the best Radharani," Indulekha says. The deities look their best, she believes, when her grandmother dresses Krishna and Manjuali dresses Radharani. But every day, she's quick to add, tremendous effort is taken in the name of beauty.
"They have to look gorgeous," Manjuali agrees. To that end, there are certain techniques that are always applied, no matter who is doing the dressing, no matter what personal style they bring to bear. Kalachandji has a round, ebony-colored face—the name means "beautiful moon-faced one"—much rounder than other temples' Krishnas, which tend to have more oval and fine-featured faces. Care is taken to elongate Krishna's features, to lift the eye up. Hence the house turban style, an upward-pointing triangle that draws his forehead to a peak.
But though the adornments are ritualistic, they are not necessarily routine.
Pujari
and deity knot an intimate relationship, formed over years. Every deity, they'll say, has its own set of moods, which range from playful to capricious. Someone might comment in passing, for instance, "Oh! Radharani looks serious today," Manjuali tells me. "The hand hits me," she says, if there is something wrong with the way she's arrayed the jewelry.
"We're trying to do something for the Lord," Manjuali continues. "That's the mood. If you go in the mood of 'I know everything,' you'll get slapped." Better to be humble, like a blade of grass between the teeth, she says.
A small tulsi (holy basil) tree will be the last thing brought out from the wardrobe to the altar. A greenhouse in the backyard shelters the shrubs whose wood is used for making chanting beads. Tulsi is the incarnation of a faithful devotee who, for her diligence, was granted the boon of being worshipped. One sits on a shelf in the dressing room. Wherever Krishna is, there must be a tulsi tree.
ust before 8 am, the deities are presented with breakfast. Cooking happens in a room adjacent to the dressing room, separate from the restaurant's kitchen and near the walk-in refrigerator that holds fresh flowers for the garlands that adorn the statues, a bounty of carnations, baby's breath, and poms. The milk used for the deities' sweets is raw milk delivered from a small, family-owned farm in Terrell, and silver trays are used to carry and present each meal. Nothing is too good; nothing could be. If the food differs from the restaurant's, the reason is simple: Krishna is a deity, not a mortal.
Once the deities have been offered their share, the food goes out to a
prasadam
room, a rec room with a long counter under a wall of bulletin boards. There, it becomes food for the devotees, a feast of Krishna's leftovers.
Those who spend any amount of time in a Hare Krishna temple learn that food and feeding are vital to the ethos. Nityananda Chandra Das, the temple's outreach minister, tells me he gained 15 pounds his first year here. It's simple, he says. With a sweet, you satisfy the body before meditating, a kind of simple calculus of ecstasy, body, and soul.
unch, around noon, will be followed by a nap. The curtains will draw closed. In the afternoon, just before
4 pm, the deities are roused with a snack of fresh fruit or a warm beverage. It's a simple refreshment, perhaps the simplest of the more than 50 things that will be made for them that day. In the 1970s and '80s, when the temple was new, all meals were simple like this, perhaps only a portion of kichari—rice and mung beans. In the mid-'90s, the community grew and by 2000 it had burgeoned to where it is now, with more outreach, more donations, more devotees.
A big part of that outreach are Chandra Das and his wife, Krishna Mangala. They belonged to a Hare Krishna community in Portland, Oregon, before moving to Dallas, and at least Krishna Mangala reflects that provenance, with her electric-blue-dyed hair and nose piercing. But, mostly, they are the model image of a minister and his spouse. On Wednesdays, a group gathers at their house across the street from the temple for open Darshan Room meetings, like a Wednesday-night Bible study. Right now, the living room is full of teenagers visiting as part of an exchange program.
Detail Oriented: The sanctuary, with its statue of founder A.C. Bhaktivedanta Swami Prabhupada, is full of embellishments.
Chandra Das is the sort of person for whom exchange comes naturally. He has been part of a panel of leaders in the city's religious community who have written op-eds for the
Dallas Morning News
. He wishes the newspaper hadn't discontinued the columns, he tells me, as we stand in his kitchen and he hands me a plate of his wife's cheesecake, the table nearby littered with Nerf toys and half-finished food.
As Chandra Das takes me over to the bookcase in his library that holds the 30 volumes of the Bhagavata Purana, I recall the last time I was at his home, when his wife taught me how to wear a sari.
It was a few months earlier, in a different house—a block away, around the corner on Graham. (They moved to accommodate larger groups.) In a warm and welcoming living room scented by candles that were more Pottery Barn than patchouli, Krishna Mangala wrapped and tucked the folds and folds of fabric. I wouldn't have been allowed in the deities' wardrobe room without the proper garb and without shedding my sandals. If I were a devotee, I would enter with a pure heart and washed hands. If I were a cook, I would arrive freshly showered, in laundered clothes. I would neither eat nor drink.
ndulekha grew up in the community and attended the school on the grounds before enrolling in college. She speaks of temples she's visited abroad: in Toronto, in Mexico City, and the ornate wonder in Vrindavan, the city where Krishna is said to have spent his childhood and where she spent two years on a mission that resembles those in other faiths. Chicago has good festivals,
she says, mentioning one in particular, "but ours is better."
She, her brother, and her grandmother will take a road trip to Boone, North Carolina, for that temple's summer festival. I should drive to Houston on a Sunday, she recommends. The temple in Houston is three times the size, with multiple altars and glistening marble floors. "It's a bigger community, but ours is more ecstatic," she says. "It feels more joyful."
There's pride in her voice as she describes how the Dallas community is also more diverse, a mix of Asian, African American, Caucasian, and Latino devotees. And better organized. Here, there's a clear power structure, people with roles who perform them well.
"It's not a joke to have a temple," Manjuali told me earlier, surrounded by the drawers of outfits amassed over years. "It's easy to build temples, but not easy to maintain them. That's the sad part, I'm noticing." She laments the temples she has visited across the country where offerings are not proper meals or deities are opulently dressed only on Sundays.
At this temple, that is never a concern. For festivals that dot the calendar, musicians from an international cadre of devotees convene for celebrations that are almost hallucinatory in their extravagance. I've been there when a horde of helpers constructed a 10-foot-long carob cake for the Lord Krishna's Mountain Festival, or Govardhan Puja, the festival that commemorates Krishna holding a mountain aloft for seven days to protect the villagers huddled underneath, threatened by torrential rain. The cake-mountain, raised to eye level, was crowded with elaborate iced scenes and figurines representing the villagers clustered beneath. I've been there at New Year's, when petals from 50,000 roses filled the altar, obscuring the deities up to their shoulders. Those gathered in the sanctuary had thrown them onto the statues, and when they ran out, the pink and yellow and wine-colored blossoms were tossed back onto the crowd, ecstatic chanting mingling with a floral fragrance, the floor a crush of rose petals.
I've been to other Hare Krishna temples—the one in Venice Beach, for instance, that is known for the Technicolor, joyous parade called the Festival of the Chariots. But I have not seen one so resplendent.
inner is the deities' final full repast. If it's Sunday, a communal feast happens simultaneously in what was formerly the church basement. A large community clusters around the temple, not just in the two dozen adjacent houses, but as a contingency from Plano, Frisco, and other suburbs that gathers for the sumptuous feast and the week's most impressive
kirtan
, the chanting that is so fundamental to everything.
This is where I met a woman in her 20s who told me—over a plate of dal, curry, and papadam—of the time she had forgotten that it was her turn to painstakingly string the flower garlands for the next day. She woke up, terrified, the sky still dark. She padded across the street and finished them before the 4:30 am wake-up. Even now, her eyes register the old dismay. What would it mean to fail the deities?
I join Indulekha and others in the sanctuary for the evening
kirtan
, an act purported to bring devotees to a spiritual plane, freeing the mind and awakening the soul. In the sweep of ineffable, irrational joy, someone brings around a flower anointed with scented oil, and all the senses are engaged: visual and olfactory, the physical crush of people, the sound of the instruments and chanting and conch shell.
By now, the deities are in their pajamas, simpler, lighter outfits less weighted with embroidery. Someone has effected the clothing change, retreating to the hidden wardrobe, while on the checkered temple floor the singing rises to a crescendo, a kind of ecstatic delirium.
A swirl spreads outward from who knows where exactly, encompassing all there. Each has played a part. And it's true, "ecstatic" strikes me as the perfect word. It's one of the first things I noticed when I first came to feel the vibrations, to be swept up in the whirlwind of rapturous elation. All for the deities. They wake, are pampered, retire. Harmonium and cymbals reach a frenzied pitch before the curtains close one last time and they sleep.
The next morning, it all begins again.
Get the D Brief Newsletter
Dallas' most important news stories of the week, delivered to your inbox each Sunday.