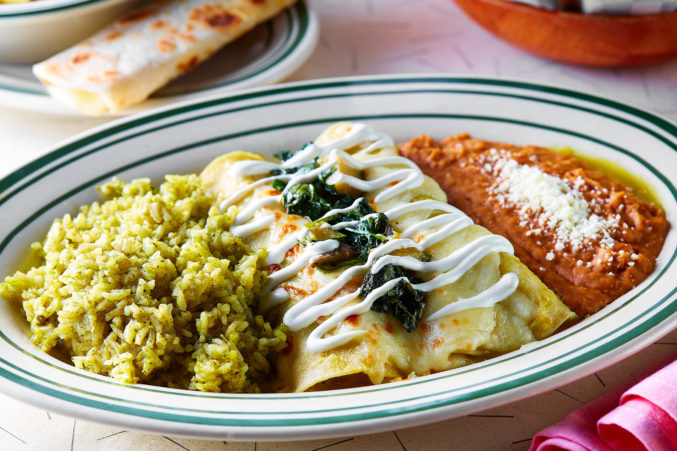 Las Palmas Revisits Tex-Mex Nostalgia
The Uptown spot from the people behind Bowen House will stir you up, with mixed results.
Few things galvanize texans more than Tex-Mex. So it was inevitable that Las Palmas, the rambling, salmon-pink stucco restaurant that brothers Pasha and Sina Heidari opened in Uptown, would stir up memories and passions. 
The Heidaris belong to the restaurateur family dynasty behind stalwarts like the Old Warsaw, just a few blocks away, and St. Martin's, on Lowest Greenville. Pasha ventured into bars, opening the Kennedy Room and Bowen House, and recently partnered on Mike's Gemini Twin in the Cedars. And now, while other prominent restaurateurs like Shannon Wynne and Omar Flores are revisiting Tex-Mex, the Heidari brothers are attempting their take, hoping to create something both timeless and of this moment: old school Tex-Mex with flair.
And so chips and salsa sprawl across retro black-and-white oilcloths. The menu is familiar, with crispy-shell tacos à la carte and enchilada combo platters. The dining room brings back the air of every Tex-Mex establishment you've known, with its cheeky historic paraphernalia. But the treatment on the plate is lighter, fresher, more delicate. Fajitas are Wagyu beef, with bone-marrow butter to douse them with. 
One dining companion marveled at the freshly made flour tortillas that kept coming out, reminding him of the puffy, soft ones of Houston, San Antonio, and Austin, not the thinner, chewier Sonoran-style flour tortillas he finds in Dallas. A taste memory accompanied every reminiscent fluff of a disk he pulled from the stack. 
Since the place opened, I've visited with people who remembered the spot as Baby Routh, or Arcodoro & Pomodoro, or the Social House, a march through history that paralleled the vintage Neiman Marcus bags framed in one room or the Centennial Exposition posters in another.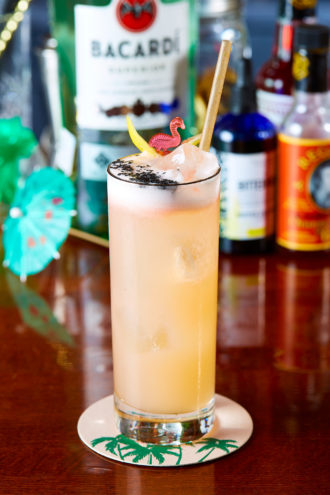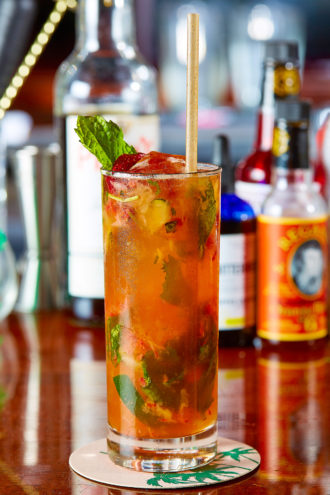 Like the decor, cocktails by the Bowen House team are updated throwbacks in retro glassware, appealing to memory while hitting an intelligent, contemporary sweet spot. Drinking the B.A.N.A.N.A.S. blows my mind a little. Expecting something kitschy and cloying, I was surprised by the lightness of banana and subtle chaser of cinnamon. The spiced, fermented pineapple Tepache—smooth and robust—offers an interesting and potentially dangerous proposal. I found the frozen margarita, served in a frosty beer mug, to be overpoweringly sweet and taste, inexplicably, of vanilla extract (was that the Cointreau?). I preferred mine on the rocks. The Pink Squirrel milkshake, a blend of crème de cacao and crème de noyaux with sprinkles on top, so thick it's hard to drink through a straw, is for when you want to sip decadence.
On the first night's visit—when the rice and beans were bland and oversalted, the freshly made salsas were thin and overly tart, and our server bungled our order and we waited almost an hour for our entrées—I considered coming the next time for cocktails and just drinking my dinner. On the second visit, though, we sat on the patio on a balmy night (they brought us insect repellent), and the food was better. And it kept getting better.
Queso often sparks fights, as chips compete for dip. Not here, where queso blanco, a salty pool of off-white goo with stray bits of tomato, was unanimously voted dull and salty. Meanwhile, another evening, copious amounts of fluffy crab in a half avocado came alongside the true queso find: a bowl of queso flameado laced with chorizo whose flavor moved us immediately, viscerally. The sautéed vegetables in the dip provided a good excuse to scoop it onto fluffy, handmade tortillas instead of chips, which weren't fresh from the fryer. 
Las Palmas' chimichanga is a thing of beauty. Coated in a lavish cheese sauce and opulently stuffed with, among other things, an enormous quantity of sour cream and, perhaps, picadillo, it speaks of a generous commitment to classics. The chili con carne-topped cheese enchiladas in Hugo's combo plate join nubby, meaty, comforting chili with cheese in a perfect gestalt. With a crispy taco on the side, it was a direct route to Tex-Mex heaven. 
Seafood enchiladas rolled with crawfish and shrimp came covered with sour cream sauce and a garnish of cilantro microgreens. Spinach enchiladas were tangy, lapped in a prominent tomatillo sauce. Brisket enchiladas were the least interesting of the bunch, the meat stringy and bland, like wan strands of boiled beef. 
Surprisingly, the beef entrées across the board were the most disappointing. (The kitchen has alternated between sources—Rosewood Ranch and Crystal Creek—for its Wagyu; it now uses only the latter.) Fajitas, which should have been a standout—those stellar, sizzling comals, which hiss and steam as they arrive—were not. The meat was pink, juicy, and attractively charred, but hickory-wood grilling imparted a heavy flavor, as though the meat had been soaked in liquid smoke. There was nothing to mitigate it save cradling it in tortillas. Bone-marrow butter felt like gilding the lily.
Similarly, the carne asada rib-eye, the most expensive item on the menu, had as its most distinguishing feature its char; the slices, served medium-rare, were tough and chewy. It risked being upstaged by the accompanying grilled portobello mushrooms and zucchini. (Wherever they show up—such as diced and sautéed with garlic as a side to the Veracruz-style whole snapper—they are delicious and steal the show as bright batons of freshness.) 
The menu is the work of Hugo Galvan of Casa Komali, who helped open Flora Street Cafe and Revolver Taco Lounge's regionally specific Purepecha Room, and who devised dishes here whose execution is in the hands of Hilario Serratós. Galvan is part of the reason that some of the best moments happen when something other than nachos slides across the oilcloth. 
That whole snapper is a gnarly piece of work, frilled around the gills from the fryer. The flesh was not as tender as it could have been, but the roasted tomato salsa spooned over the top, tangy from tomatoes and briny from capers, was electrifying. (Why the charro beans and cilantro rice on the side? It is still Tex-Mex.) Puerco in salsa verde was stupendous, a saucy, guiso-style dish in a lake of tomatillo sauce; a tangy vibrancy cut through the richness of tender chunks of pork shoulder. All of these establish Las Palmas as a place where you can get a fresh masa gordita as well as a chalupa or crispy taco. 
By the last visit, the execution and flavors were far more dialed in, more lively. Finally, the rice was good, and the beans had a depth of flavor that didn't come from slight singeing. (Their seeming fate a previous night.) 
I found myself settling into this joining of past and present tense. So by the end, I willingly surrendered to the sopapilla cheesecake. It is too much and yet utterly addictive—two strata of fried dough sprinkled with cinnamon sandwiching a filling that oozes out, its sweetness registering somewhere near the stratosphere. I knew I shouldn't, but somehow I couldn't help it.