As I leave Fauna one night, I'm given a blush-colored envelope embossed with a wax seal that bears the imprint of an antlered "F." Inside, on a matching card, is a record of the 12-course meal I have just experienced, along with the wine and nonalcoholic beverage pairings. It's a reminder of an evening whose details still swirl in my head, warm as the blush.
Fauna is a restaurant within a restaurant, the former back room at Stephan Pyles' Flora Street Cafe newly transformed into a separate 16-seat lair, with its own open kitchen and chef and antlers affixed to the walls, under which two screens display soothing forest and riparian scenes. It's part of Pyles' reboot and remodel of his Arts District restaurant—the former pastry kitchen is now Fauna's interactive cooking quarters—making it resemble iconic tasting-menu restaurants like Chicago's modernist Alinea in its delight in theatricality and New York's Per Se in its formality. The appropriate place to properly take in the experimental drama of a $150 tasting (which could climb to more than $400, depending on beverage pairings).
I went in skeptical of whether in this tiny space inside Flora Street, which had been struggling, they could manage to pull off something exceptional. Opened in June under Diego Fernandez, a former line cook at Alinea, it experienced an abrupt chef change about six weeks in and an about-face on the question of whether it could sustain a rhythm of five nights a week. (It was scaled back to just two.) But the dust has seemingly settled. Peter Barlow, the chef who opened Flora Street Cafe, is in the kitchen now, and what Fauna has achieved is in large part due to him. His food and plating have been enhanced by the two years he spent in the interim running Niteshade Chef Collaborative. The private culinary events provided room for trial and error that has crystallized his vision. He speaks in his own voice now, each ultra seasonal tasting unfolding a narrative over 12 courses.
The first arrival, a deconstructed Caesar, comes on a little stand that looks like a white ceramic tree stump. (Other tableware conjures sea urchins and geodes.) In this play on a Caesar, one bite looks like a boat: a Romaine heart bedazzled with fried chicken skin, blots of egg yolk gelée, and edible flower petals. On the side is the dressing, a featherlight green blob made of compressed chicken skin and Parmesan. A sprinkling of emerald green dust between unifies them. For me, it doesn't quite equal a Caesar, but it ignites my curiosity.
Fluke crudo is a bit of sleight of hand involving compressed melon and a pool of chia seeds, showered tableside with fuchsia prickly pear snow. Its flamboyance might distract you from the clarified tomato ketchup, a clear gel dotted around the plate, which is the real magic trick. It appears transparent but tastes like the purest tomato reduction. The dish is all about intelligently changing things, making them shape-shift and disappear.
One oft-changing composition makes me think of a seashore, with chipotle brioche as its sandy beach. Perched on the dish's rim—or sunk into its depths another night—is a cocoa butter sphere whose shell of solidified, puréed herbs holds a lemon-crab dashi. You're instructed to crush the orb so it washes over the young chayote squash custard (a little loose, curdled) and dots of plankton oil like a wave. It was missing only the plaintive squawk of a seagull.
None of the flavors throws you for a loop, but there is more to these dishes than flavor. A love of color finds expression in a prawn dish, with pale pinks (begonia blossoms) and whites (compressed Texas wild pear)—gauzy and absolutely gorgeous. Barlow likes dishes in elegant dishevelment, a bit of a metaphor for the intertwining of foraging and modernist techniques.
And at some point in the meal, the room begins to smell of fire. A brazier, one per tabletop, emerges, with rosemary skewers that will serve for grilling a duck heart; a baby okra pod (harvested that morning); and a lacto-fermented cherry whose depth is parenthetical. The course has another component. A copper dome appears, like a shining tagine. On top is a morsel: an empanada whose filling of squab (dry-aged four days over the yakitori grill) and chapulines (nutty and umami-filled) hits your palate like charcuterie. If I spent time previously by the sea, here I am in piney woods around a campfire. And then they unveil the rest. The dome lifts and there is dry-aged squab breast, tender as veal, with charred avocado with a lacquer of baby greens, and the fire that was present in the first part is implied in the second.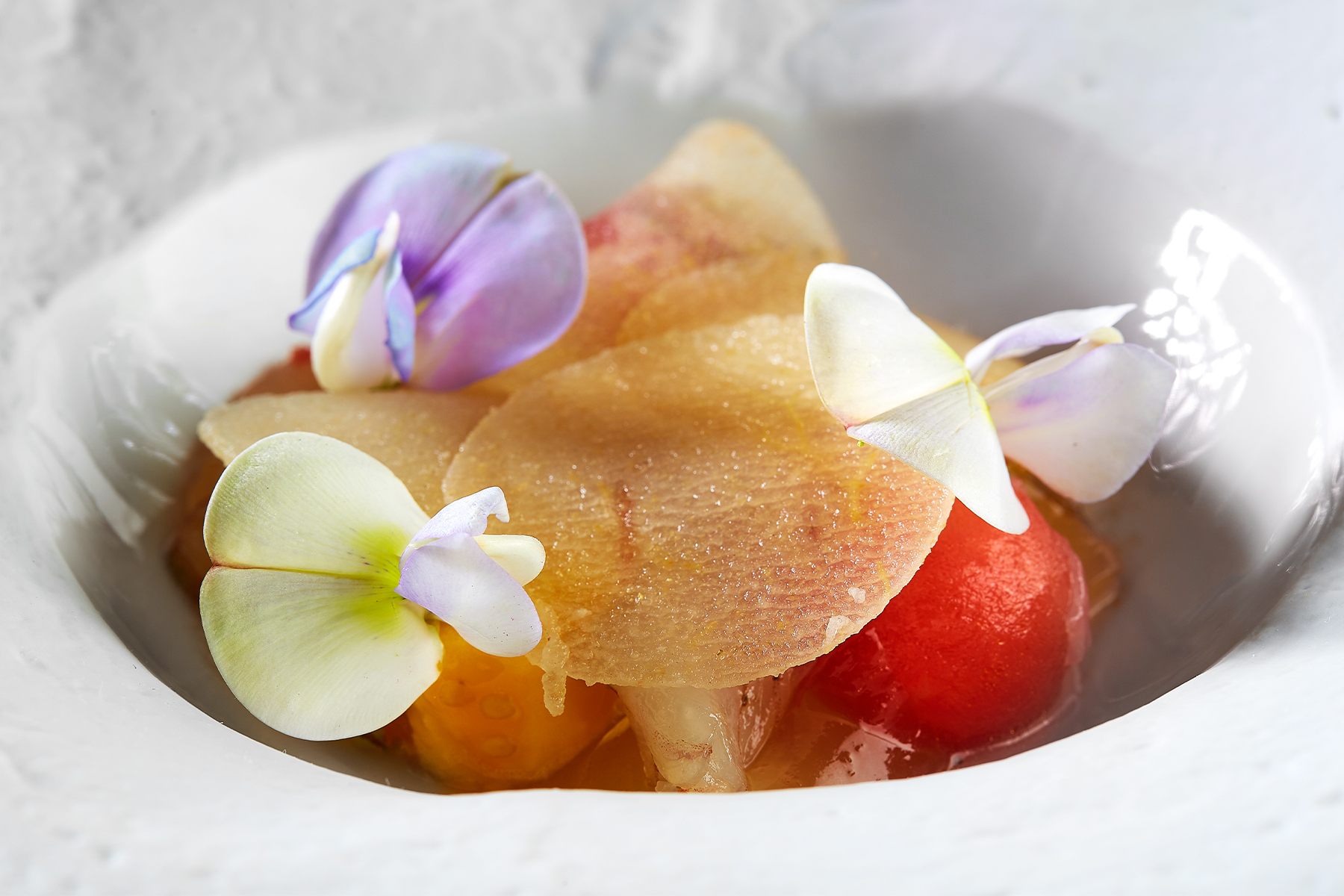 Left: prawn and wild pear shows Barlow's fondness for compositions like petals; Right: the tiny world of a king crab and squash custard course.
The inclination toward stagecraft is strong (chefs work behind sliding wooden panels that open dramatically for each course), but the timing and choreography are tight. A footed wooden bowl is placed before you, filled with grapefruits and lemons. A paloma, a single frozen bite presented on a halved grapefruit, melts on your tongue. The dry-ice mist that billows is reined in, its restraint part of the focus needed for a multicourse meal.
There are surprises even among the surprises in Fauna's immersive world. Another intermezzo can be a cool paleta of watermelon and late-season rhubarb, enrobed in white chocolate laced with tamarind and chile, like a whimsical Mexican candy. Just as the bread course might be a beef tallow beignet filled with a liquid oyster and chicken liver mousse that gushes out, a torrent filling your mouth with richness. The whipped beef fat with preserved cabbage flower is yet another tie-in.
Those who fear undernourishment may be relieved to find that dinner does involve an entrée. Akaushi tenderloin medallions and grilled maitake mushrooms interspersed with favas, grilled red shishitos, and soft white cushions of mushroom mousse are almost impossibly enhanced by a sauce that blends a recado negro, beef demi-glace, and a mix of burnt miso koji and charred huitlacoche. Nearly candied lamb belly, wrapped in hoja santa leaf and grilled on the yakitori, can come with a Hatch relleno with nightshade fondue (potato, eggplant, and Hatch chile pepper) ladled over, its flavors referring back to the lamb fat, blue corn, and fennel pollen in that evening's bread course.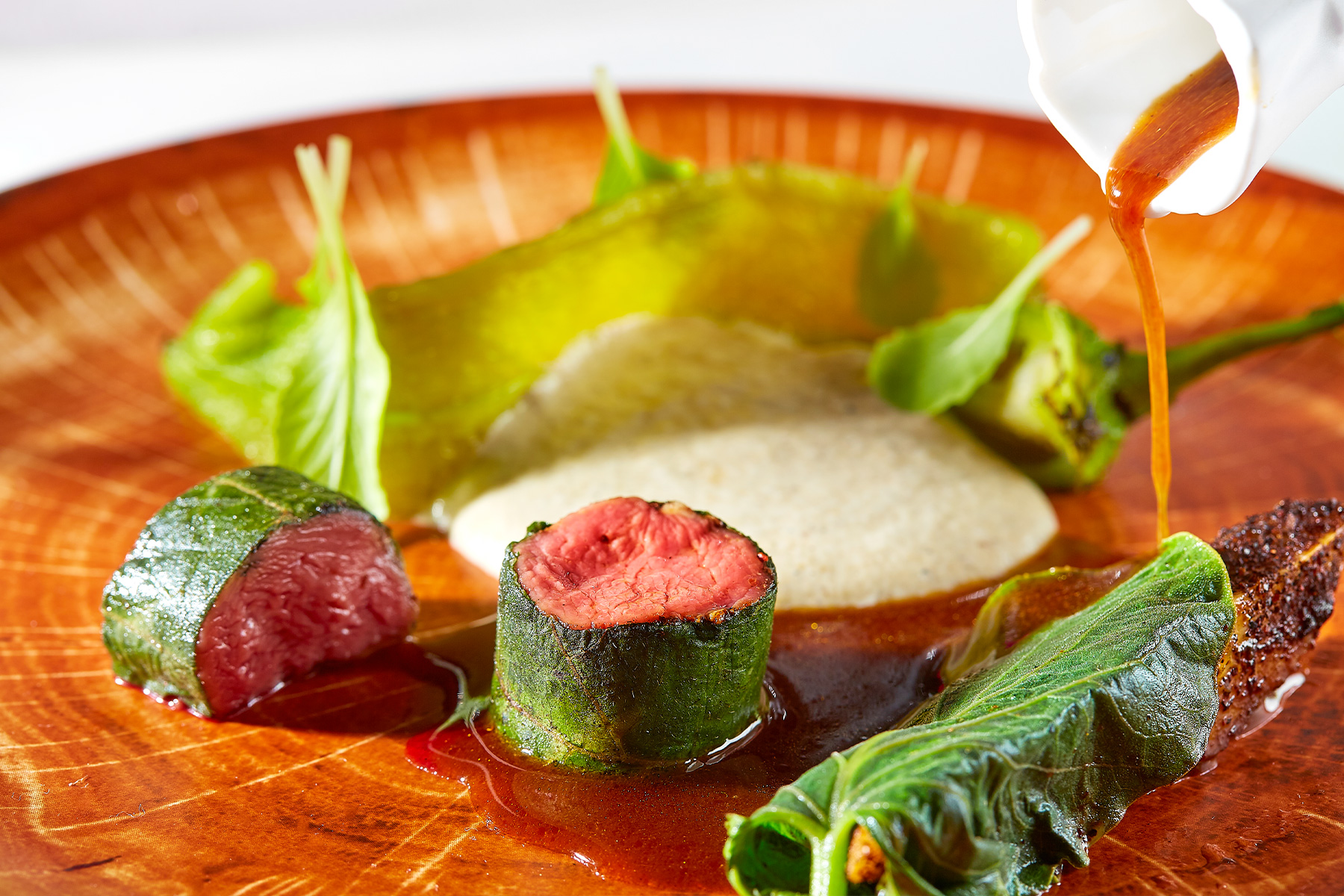 Barlow, though, is equally adept at summoning umami flavors without meat. Leek "marrow," for example, was fabulous, the climax in a vegetarian sequence he worked to perfection on two of my three visits. I wish more chefs thought as creatively outside the realm of meat.
If Barlow has strong ideas about food, sommelier Aaron Benson is similarly obsessed with beverage. I am rather amazed to discover that the nonalcoholic pairings are on par with the wine selections. In his hands, black currant and sweet potato, or a coupe of something opaque and golden—miso, pineapple, and ume vinegar—work together like magic. Delicate and gutsy, they underscore the team's coherence.
I'll admit that I am not overjoyed when the smoked Texas-peach-buttermilk-sherbet-bee-pollen-almond-cake dessert arrives. (Though I am pleased to note that Barlow makes his own coal with wood chips and embers from the fire.) A tasting menu is fine art and requires attention beyond your taste buds. At this point in the meal I have reached scattered-constellation fatigue, and I do not necessarily look forward to digging into another composition, with frozen noodle squiggles splayed across a frozen plate—however lovely the beeswax ice cream is. I'm relieved, then, at the arrival of the chocolates and my alternative drink tasting's frothed rooibos milk.
By the end of the night, I see a chef who has matured since Flora Street's opening. The touches that were minor have become dominant, flourishes becoming a signature. Barlow's original story, told exactly the way he wants to tell it, places him on a larger stage than this small room.
Get the SideDish Newsletter
Dallas' hottest dining news, recipes, and reviews served up fresh to your inbox each week.