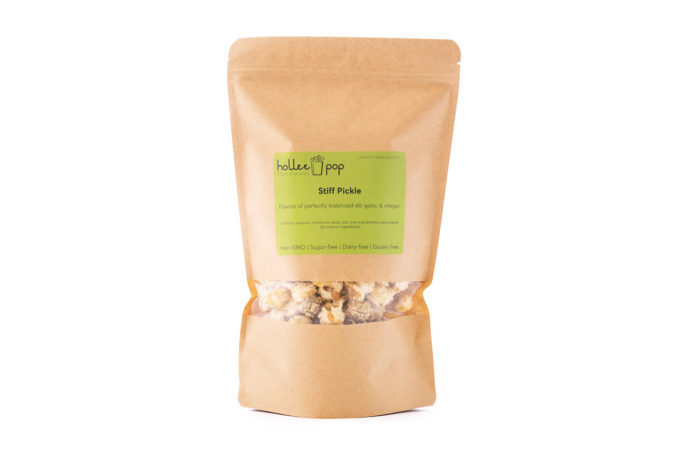 Try This Generously Spiced Vegan Popcorn From Hollee Pop
Crave-worthy junk food made healthy.
Software company marketing director Holly Rice was always conscientious about her diet, but when health concerns led her to cut out dairy and gluten, she knew she could do better than nutritional yeast-coated kale chips. She would do her own thing. And her vehicle was popcorn. Specifically, healthy vegan popcorn that's satisfyingly zesty and savory, with "flavors that pop."
"I wanted to be whimsical. I wanted to mimic the junk food that we crave, but make it healthy," Rice says. "So, I went to experiment in my little kitchen, my popcorn lab, and found my flavor combinations."
By last November, she was ready to launch Hollee Pop. Six flavors emerged, cheekily named and generously coated with spice blends. Among them: a super-zesty Nacho Cheese; What's the Dilly, Yo?, an herby dill that tastes like sour cream and onion; a vinegary Stiff Pickle that mimics pickles; Cheesy Peasy, with the flavors of an herb-strewn cheese pizza (that cheesiness comes from nutritional yeast); and Tikka Tikka Boom Boom, with a gust of Indian spices.
Each batch is made from organic, non-GMO ingredients and popped in avocado or olive oil. A sugar-free sweet flavor is in the works. I took them to social gatherings and found them at the center of a flurry of exclamations. They'll hook you—whether you're vegan or not.
$7 for a 2.9-ounce bag. Available at holleepop.com, The Sunshine Stop, Roots and Water, and pop-ups.