Donny Sirisavath is making rice noodles, and he's not happy with the texture. He draws taut a linen cloth using a cord that he's cinched around the belly of a battered pot, which seethes with boiling water. The pot's curve resembles the bamboo baskets nearby, used for steaming sticky rice. He ladles rice batter onto the fabric, covers it, and lets it steam. He will make no compromises.
Dien Nguyen, the owner of the izakaya and ramen shop Wabi House, thinks Sirisavath is crazy. No one else in Dallas is attempting the sort of labor-intensive food preparation that he's drawn to. But his work has taken him to the kitchen in the James Beard House and earned him national attention. So Nguyen believes in him, believes he could be the undiscovered Asian chef of their generation.
Nguyen saw his raw talent in the pop-up they did together two years ago, when he first sampled Sirisavath's boat noodles, with their direct and soulful Laotian flavors. "It was like a breath of fresh air," he says. The bowl of boat noodles, deep-tinted with pig's blood, was—for everyone I've talked to—like the shot heard round the world. "Wow," Nguyen said. "Keep doing that."
Sirisavath has come to represent a new generation of Asian chefs, often second-generation, who are bringing forward underrepresented cultures and cuisines. There is a formula. First, acknowledge your roots. Next, bring those flavors to others and make them flourish. Only then may you conquer the world.
Khao Noodle Shop, in East Dallas, can be described as a left turn for Sirisavath. Not long ago, he was working as an aviation fuel tank technician. Then his mother fell ill with cancer. "Whenever we were together, my mom talked to me about food. Even at the end," he says. "The week she passed away, we talked about life, passion, and following dreams. 'Do something you're happy with,' she told me."
Her death in June 2011 ignited his passion, and he began running pop-ups. He was encouraged by a prominent Laotian chef from Washington, D.C., Seng Luangrath, who launched the Lao Food Movement website and was featured by Anthony Bourdain. She found Sirisavath posting under the Instagram hashtag #laofood and took him with her to cook at the Beard House, where he helped her put Laotian food on a national stage. And then he came back to open a brick-and-mortar in East Dallas, where he stoops over noodles, surrounded by complex pastes and funkified flavors. A near-millennial, cooking the way a grandmother might.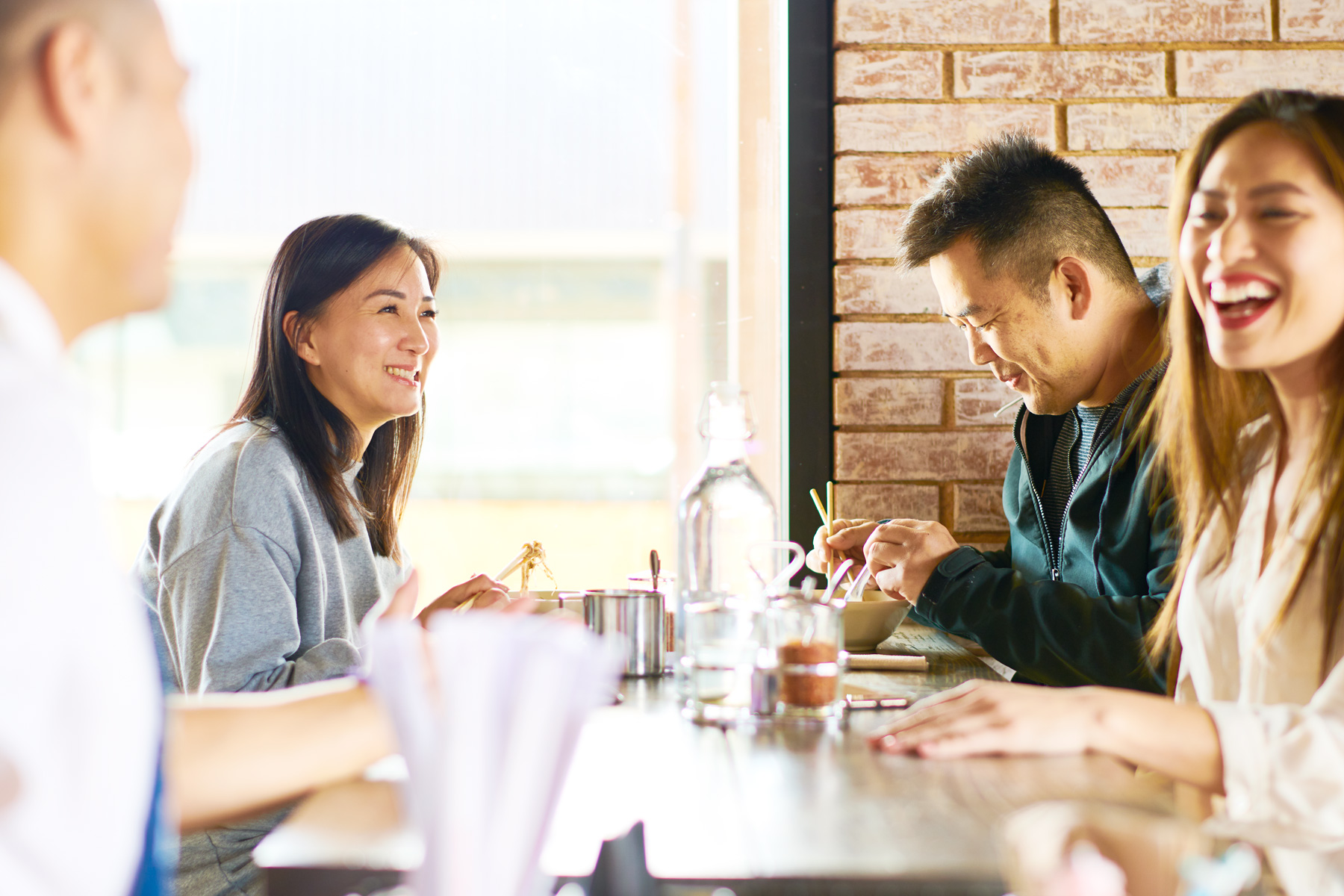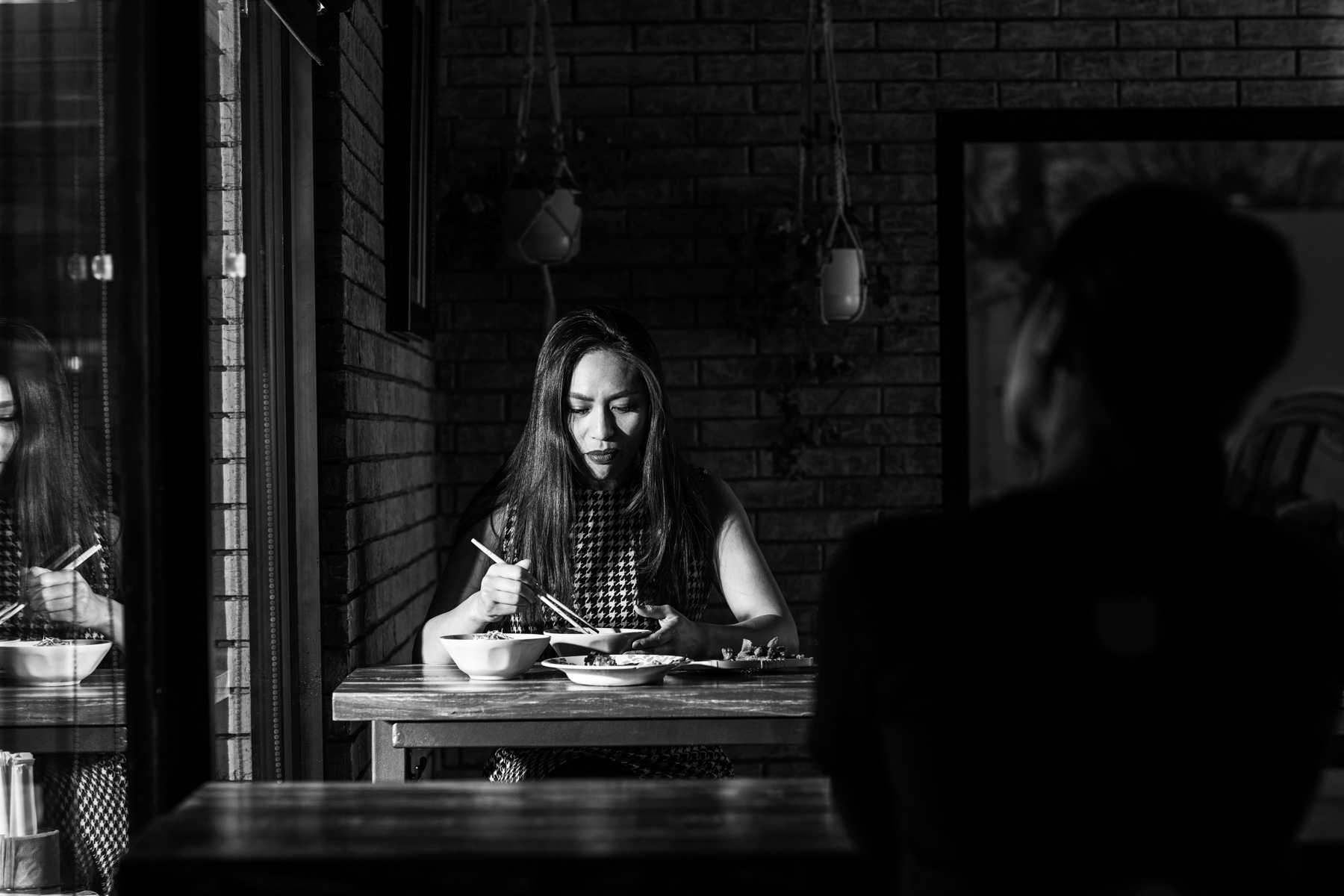 Street cred: Sirisavath's restaurant is meant to mimic a street stand, with communal tables, hand-painted stools, and recipes derived from his family.
Scarcely anyone knows where Laos lies, really—a thin strip of a country snug up against Thailand, its spine against Vietnam, ringed by Myanmar, China, and Cambodia. Still fewer know the nature of its cuisine, which is like Thai but more savory, not as sweet and marked by a complex umami funk. Derrick Outhavong, one of Sirisavath's cooks, rolls his eyes at having to explain to people the land from which he hails. "It's a country. In Southeast Asia," he says, then sighs.
Sirisavath knows the stories of how his grandmother escaped from Laos—where the family had been well-off—fleeing the Communist regime that took power in 1976. She found refuge in Thailand with 11 of her 13 children while her husband stayed behind. Sirisavath's mother was the eldest. One child died in the refugee camp. When churches started sponsoring refugees to the United States, the family landed in Amarillo.
Born in 1980, Sirisavath was the baby of the family, the youngest of three sons and the first born in the United States. Amarillo, a beef-slaughtering center, had a thriving Laotian refugee community. Sirisavath's father, who worked on the Trans-Alaska Pipeline and was gone for months at a time, is Thai Isaan (the designation given to Laotians born in Thailand, who grow up speaking Lao and Thai). Sirisavath's mother cooked from the family's vegetable garden and raised chickens and rabbits. Neighbors had peacocks and ducks. One family with a large urban farm offered a place where other families could pick up homegrown vegetables. He was surrounded by a community of refugees who bartered and traded and for whom a new economy might be organized around the collective slaughtering of a pig. With his best friend's dad, he bled out his first duck when he was 7 years old.
In Amarillo, you could still find fresh blood. It was more difficult when the family moved to San Antonio, when Sirisavath was 9. There was no more butchering. No more Laotian community. He was placed in ESL classes. "It must have been my pronunciation," he says.
His mother put all of the family's savings into opening a Thai restaurant, where she slipped in her own Laotian recipes, too. When she'd come to the States, she'd had to remember what things tasted like in the old country. She was a devotee of Julia Child, proud of her paternal one-quarter French heritage. Self-taught and ever-questing in the kitchen, she traveled to Thailand to hone her pad Thai recipe with a woman who'd been doing it for a lifetime.
In his kitchen, his mother is always with him—in the recurring good-luck elephant motif, in the pendant he wears, in the bits of her apron stitched into his own.
Sirisavath's adult immersion in that culture didn't come until 2008, before his mother got sick and he traveled with her for the first time since childhood to visit both sides of the family—in Thailand and in the Laotian capital, Vientiane.
In Cambodia, he was awed. "Everything's still in that ruined, old-time state," he says. "Angkor Wat was just majestic."
Over several weeks, they visited Vietnam, Myanmar, and Malaysia. "I wasn't as familiar with Cambodian food," Sirisavath says. "More with French, Japanese, Vietnamese, Laotian food." But what struck him most was what he learned about the food closest to home. "Lao food is so good because it's made from scratch," he says he realized. "
OK, I get it.
I stored it in the back of my mind and moved on."
Sirisavath's wife, Noy Srisouphan, has a similar story. She was born in Thailand of a Laotian father and Thai mother. A Baptist church sponsored her family's immigration to Dallas when she was young. Her brothers were 10 and 11 when they moved into an apartment building in East Dallas that stood where family-owned Sakhuu Thai stands now. The boys helped create the community garden on Fitzhugh Avenue. Srisouphan remembers buying candy from Jimmy's Food Store when it was just a neighborhood deli. She foraged for bamboo shoots with her mother in the creeks around White Rock Lake. Her cousin still lives down the street.
Meanwhile, Sirisavath, more interested in sports and airplanes than school, got a job as an aviation fuel tank technician, repairing fuselages, and then at Hewlett-Packard. "I was the kid who tinkered at stuff," he says. It was a blow when his mother was diagnosed with cancer. Feisty and independent, she stayed with her sons in Dallas, then insisted they move her back to San Antonio, to her home and the temple across the street that Sirisavath's father had helped build. "I'd drive down every weekend," he says. Then he took a leave of absence from his job.
He still regrets not spending more time with her. The pop-ups, and now the brick-and-mortar, became a way to stay connected. In his kitchen, where he's most often found in sneakers and workout pants, his mother is always with him—in the recurring good-luck elephant motif, in the pendant he wears, in the bits of her apron stitched into his own.
For his wife, too, the restaurant speaks of home. When they scouted out the space that would become Khao Noodle, part of a changing neighborhood between a pickle shop and Mai's, Srisouphan said, "Hey! I grew up in this neighborhood." For Sirisavath, everything came into focus. I think this is where we need to be, he thought. This is our home.
The couple did the demolition themselves, and manager Annie Pimsorn stayed for weeks after a friend's bachelorette party in Thailand to pack the 600 bowls that would trickle in over six months as friends and family members brought them back, willing mules.
For months, a repeated poster-size image plastered the windows of the shop: a shot of Sirisavath, cool as a rock star, wearing sunglasses and looking into the future. A sign in the window proclaimed, "Khao Noodle is coming!"
Regulars who formerly slurped his noodles standing up now pluck purple sticky rice from woven containers, pinching it between their fingers and dipping it in jeow sauce, seated around communal tables on stools upholstered by Sirisavath and his brother-in-law. He invited artist friends to paint the street-stand stools that line a low counter that runs the length of the open kitchen's window. He wanted it to feel like a continuation of the pop-ups, which were collaborations.
The design is meant to evoke a lunch crowd at a small counter. He fashioned the corrugated tin awning that greets me as I walk in the front door. In Laos, he says, "We sit down, we share a meal together. That's the whole point."
On one wall, a shelf holds photos of his mother, Phaysane Sirisavath, alongside bottles, flowers, and trinkets brought back from Laos and Thailand. One afternoon, a friend walks in with his Swedish girlfriend, two days after he's arrived from Thailand, where he lives. The delicately constructed noodle bowls taste better than what he ate before he got on the plane, he says. "Cleaner," with infinite layers of flavor in the broth.
In the kitchen is Tex Sirisawat, a Thai and one of Sirisavath's right-hand-man cooks. He's been playing in bands for more than 20 years and still helps run his parents' restaurant business, trekking to Webb Chapel Road and Northwest Highway every day to check on fried chicken, usually after leaving Khao Noodle at 10 p.m. or in the morning before the day begins.
Also in the kitchen is Derrick Outhavong. He's Laotian. His father was the original owner of Bangkok City down the street. Outhavong cooked and served in his family's restaurant and has been helping Sirisavath since the first pop-up, a kitchen takeover at The People's Last Stand three years ago.
The learning curve has been steep for them as they accustom themselves to acting in service of a cuisine in which everything is handmade and steeped in personal legacy, a palimpsest of how, when, and why. It was Sirisawat who followed around Sirisavath and wrote down recipes. Even now, they say, they'll look at each other and ask, "Is this right?" They're usually 95 percent there.
"Donny's the only one who really knows," Outhavong says.
For Outhavong, the mission is to promote Laotian food and culture. For Sirisawat, it's to be part of something vibrant and relevant. Even the decor, he says, is "more hip and more us."
Their boss adds a spoonful of potent, filtered fish sauce to the tang-laced condiment jeow som and then tastes it. He grins and announces: "The funk is there, guys!"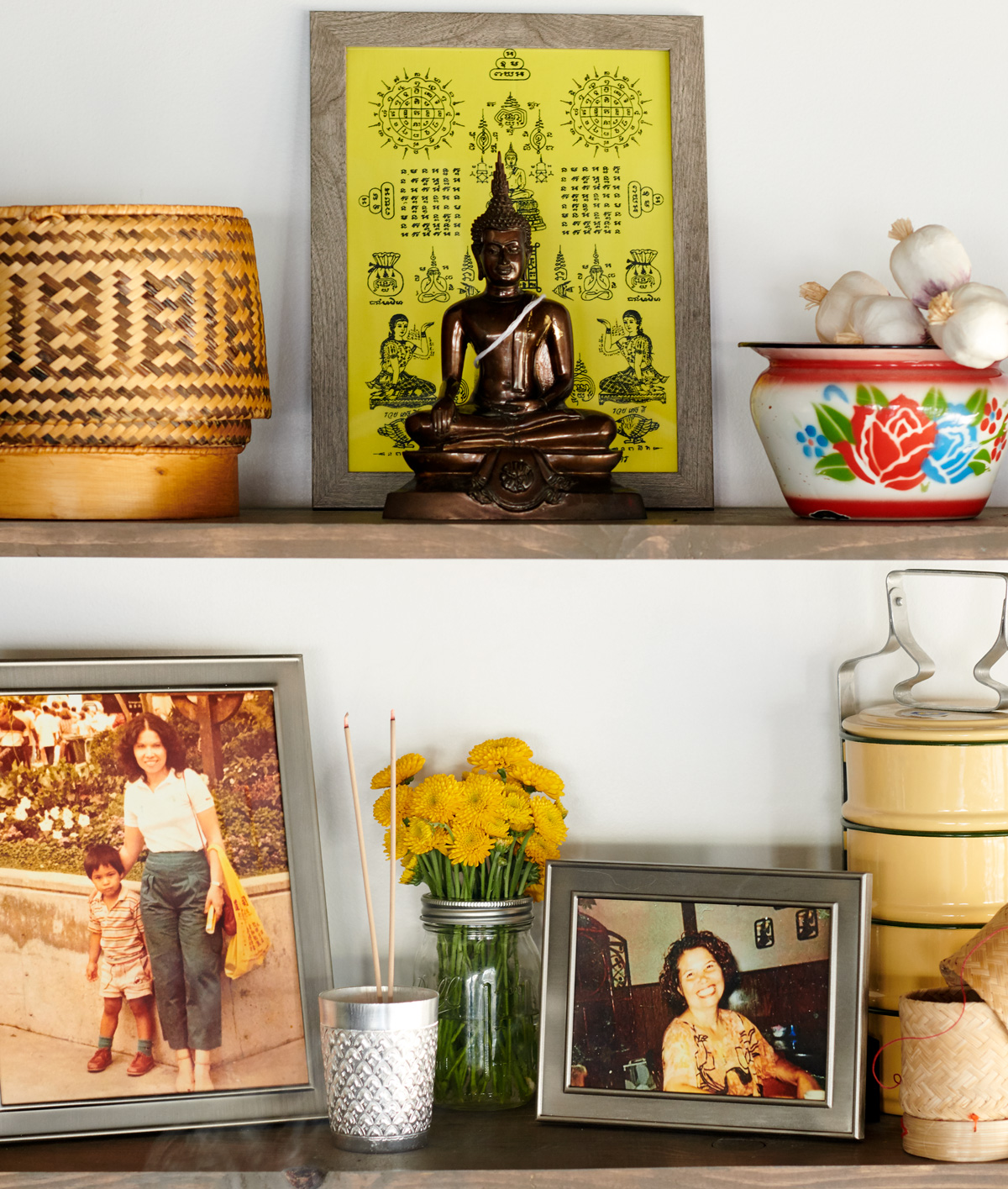 Sirisavath channels every part of his mother's funky legacy into padaek, the umami weapon of choice, the fermented, unfiltered fish sauce that makes Laotian food Laotian, doled out in teaspoons. "Good rotten," his mom would say.
He has a padaek that is just shy of a year old, already creamy, salty like Parmesan, and so pungent it takes your breath away. For a starter, he used his grandmother's padaek. When he was growing up, he remembers warning childhood friends: "Don't go in the garage." His dad once threw out his mother's 10-year-old padaek, and the event constituted a family emergency.
Mortar and pestle come out—the thum-thum sound is one you hear routinely—for jeows, the jammy pastes that are the ubiquitous accompaniment to sticky rice. (These and jerky easily constitute a meal.) The kitchen makes three, pounded daily with the clay mortar and wooden pestle that belonged to Sirisavath's mother.
There are soured pork meatballs (som moo) that will cure on the counter for three days in a container lined with banana leaves, like his mother's did. The controlled process adds more depth and a slightly sour tang. "Without that funk, it's just a meatball," he says. To the pork he adds toasted sticky rice, cooked jasmine rice, and koji spores for a multi-part fermentation signature. When the warm, cooked jasmine rice hits the garlic, the tell-tale aroma is immediate: you've arrived in the zone of funk.
It's a noodle shop, but he's got pickles cured with jasmine rice—salty, briny, creamy. And dangerously good Laotian sausage, the epitome of sweet, sour, and herbaceous. His sister-in-law takes the time-consuming task of fermentation off his hands. Beef skewers marinated in beer remind him of his uncles, grilling and pouring beer in Amarillo.
His mom cultivated her own koji spores, leaving rice out on the counter. She was hip to it long before David Chang. "Where's your old rice?" his grandmother would ask. Finally, with the craze for koji curing swirling around him, it clicked.
"In Lao food, there's no waste," he says. Leftover rice? You pickle or cure with it. Leftover vegetables spoil, and so you preserve. The pieces fall into place, like the ghost of muscle memory that throws him back to other people and their preparations. Necessity taught his grandparents the art of preservation.
Necessity has taught him, too. He has rice sporing, which he has to test. He's tinkering with fermented soy and rice-pickled eggs. He plans to cook down rice to form a sugar that he watched his mother make. All these things that went unexplained. He thinks: I got you now.
Often, in fact, he speaks as though his mother were still alive, present and past tenses sliding in a verb conflation that's more true than correct.
But then, "How did my mom do that?" he finds himself wondering as he reconstructs the taste memories. She's not there to advise him, to remind him about the koji curing. Sometimes he wants to ask his mother a question. Just to hear her answer.
Mondays, when the shop is closed, are meant to be research and development days when Sirisavath can push forward his projects, though it's a luxury when they end up that way.
I show up on a Monday, Christmas Eve, only a few weeks after the grand opening. He and Srisouphan are in the process of packing up their condo and moving. Things at home are in boxes. "How are you?" I ask. "Tired," he says. A party last night for the employees left his eyes small. But I can tell it soothes him to make noodles.
It's the consistency, getting it right every time, that keeps people from committing to fresh noodles. But the taste, texture, and smell are so completely different.
All throughout December, he's been tinkering with the rice noodles, which are more finicky than wheat noodles for lacking gluten and starch. He's tried pressing them out using a pasta sheeter: too soft. He's used a steam tray set over a wok. He's returned to the old-school way, ladling batter onto a cloth stretched taut over a pot of boiling water. These noodles are a labor of love, the kind of thing you wake up at 4 a.m. to make or get a street peddler to deliver to your shop. It's the consistency, getting it right every time, that keeps people from committing to fresh noodles. But the taste, texture, and smell are so completely different.
"I like the noodles thinner than most," Sirisavath says. "So I'm chasing the texture."
Drawing down a bowl from the shelf, he mixes jasmine rice flour with salt and tapioca starch. He pours in boiling water and stirs until it becomes a soft paste like coconut cream, then thins to a consistency like icing, and eventually becomes so liquid that it ribbons off the whisk.
He pours a ladle of the liquid into the bottom of a sheet pan, sets the pan over a simmering wok, places a lid over it, sets a timer. He wants the steamed result thin and translucent. Using a spatula, he angles it out, like a gummy crêpe or a smooth rubber sheet. He brushes it with oil and lets it cool, ready to be stacked with others and then cut—each sheet tremendously time-consuming.
Starchier udon-style noodles he kneads to a soft dough, like a marshmallow or steamed bun. He has to use a feather-light touch so it will have a springy texture. He rolls it out, pale white, almost eerily so. You lose all sense of three-dimensionality when you look at it.
Ultimately, he even wants to grind fresh jasmine rice for the batter and use his mother's vermicelli press for vermicelli noodles that will have fermented several days until they develop an aroma akin to sake. His goal is to be able to make fresh noodles daily as a special order, as he did in his pop-ups, and to dehydrate some so he can blanch them when supplies run out. The thickness is hard to get right, so the noodle doesn't crack when it dries but isn't so thick it takes too long to cook. Until then, he has to settle for packaged noodles.
"I'll figure it out," he says, toying with a stray noodle. "Almost there."
A few days before the new year, I sit with Sirisavath and Srisouphan in the shop. In Laos, the only day you don't eat noodles is the day of a funeral, they tell me. Noodles are like strings that tie to the earth the soul that must be released. Of course, I think. That makes sense. Noodles as tethers and connecting threads. Srisouphan has just shown me photos of their wedding where family members tied strings around the couple's wrists to symbolize union and good luck.
One of the last dishes Sirisavath learned to make with his mother was Laotian-style sukiyaki. When my mother visits from California, I bring her to Khao Noodle and order it with her. She has been waiting to come and try these dishes I've been telling her about. This is the first Laotian cuisine she has encountered, even living south of Los Angeles. She's been looking at the art on the wall, but when the dishes come, she is mesmerized. Each bowl is garnished differently. The plating comes mostly from Sirisavath's head, each bowl a tiny work of art.
She slurps the glass noodles slippery with creamy tahini, fermented tofu cream, and coconut cream, which Sirisavath has to stir for hours, lest it stick and scorch. The tiny poached quail egg is the perfect size for the small bowl.
Sirisavath comes over when we're done. "When does Mom leave?" he asks. All the warmth of the shop is encapsulated in that sentence and its all-in-the-family inclusivity.
"She wants to live here," I answer.
Get the SideDish Newsletter
Dallas' hottest dining news, recipes, and reviews served up fresh to your inbox each week.