Ngan Nguyen was an undergrad at UTD, studying molecular biology and healthcare management, when she was diagnosed with a chronic illness. "I spent hours every single day searching for an elegant medical bracelet that I would want to wear," she says. "The only things that I could find were ugly, bulky bracelets that just screamed out, 'I have a medical condition!' instead of something I could wear with confidence."
She came up with a design for a delicate gold band that included her September birthstone along with the universal medical alert symbol. When she posted a photo to her online support group, the reaction was immediate. "They were like, 'Can you make one for me?' " Nguyen says.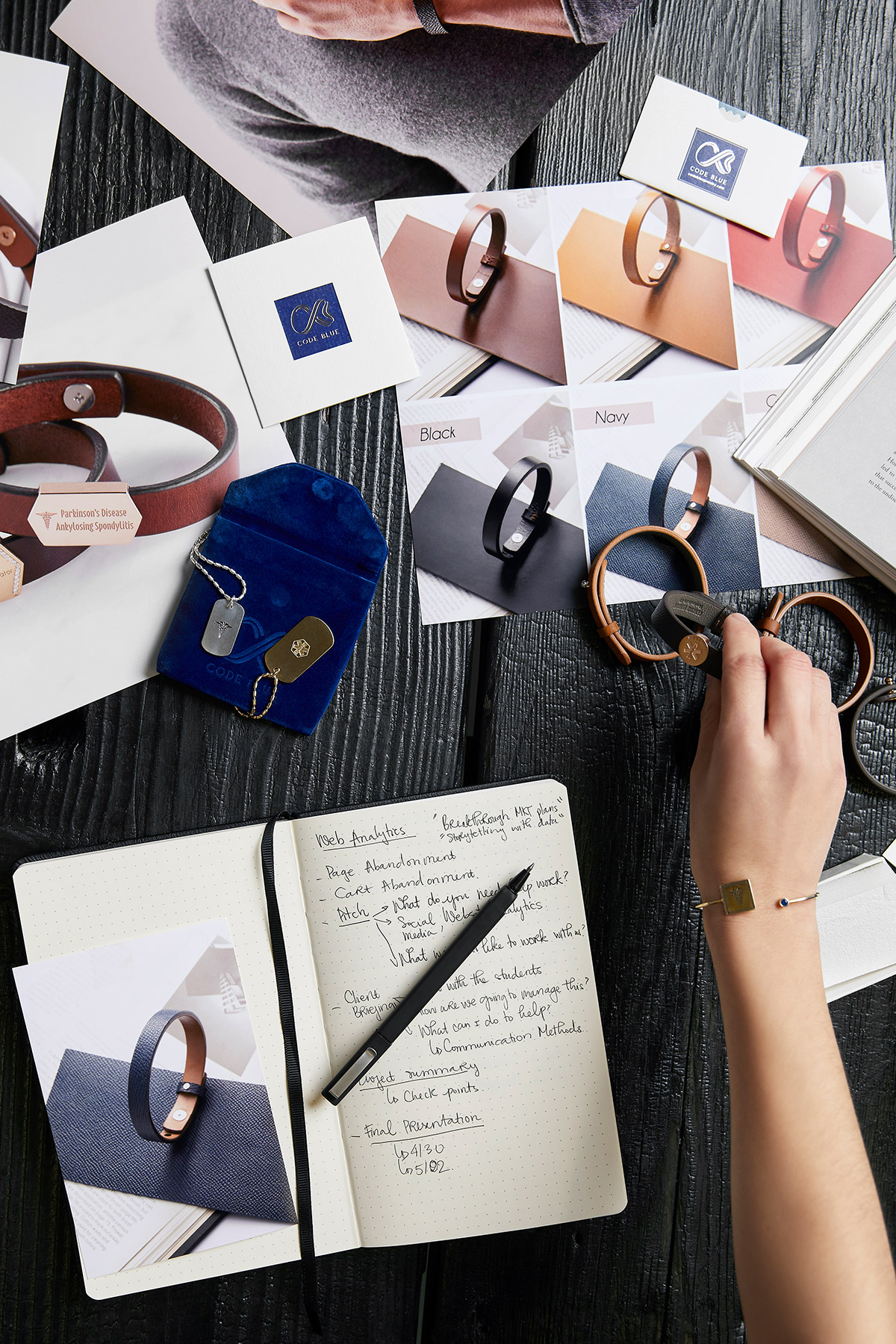 She started Code Blue Jewelry as a senior with a $5,000 student loan. In 2017, she filled close to 800 orders; last year, she sold more than four times that. Her mother sews the blue velvet pouches, and Nguyen ships the jewelry from her living room. She is looking for an additional manufacturer to keep up with demand and plans to use the $5,000 Innovate(her) award she won in November in UTD's Big Idea Competition to hire a coder to update her website.
I met with Nguyen at the Blackstone LaunchPad on campus to talk about our respective counterintuitive career paths, meeting Queer Eye star Tan France, and the all-consuming nature of start-ups.
What's your degree in?
I did my undergrad in molecular bio and healthcare management. Then I'm currently doing my masters in healthcare management.
Oh my gosh.
Why did you switch from law to journalism?
Journalism is a lot more fun.
When you reached out to me, I searched you on LinkedIn. I was like, "Oh my gosh, she's like a lawyer, and now she wants to interview me. Am I in trouble?" I started reading all your articles in D Magazine. I was like, "Oh, we're fine." How do you know about me?
It was totally random. One of our fashion writers had sent me a link about somebody and I was looking at her Instagram. She mentioned she was really good friends with Tan France, and I was like, "That's weird. Does he have a connection to Dallas?" When I Googled "Tan France in Dallas," then the Big Idea Competition came up.
Oh my God, yeah.
I didn't know anything about it, and then I saw that you were the winner for the Innovate(her) prize for the best idea from a woman-founded business. Then that led me to look up your product, and it was fascinating.
I didn't hear about the competition until last year. I wasn't really active in entrepreneurship, but it was my last year and I didn't do anything big or major at UTD. I felt like, "Why don't I just get out of my shell?" I already moved to another country, and now what do I have to be afraid of? I was like, "I'm just gonna do my best." My product is not anything technology or innovative or ground-breaking, so I would never have thought that I would be one of the six finalists, and the only female finalist.
Did you get any feedback from Tan France and the other judges?
Yeah, it was part of the process. There were, I think, over 200 applicants for the competition this year. Then they pick 25 for the semi-final. That was the first time ever I pitch about Code Blue Jewelry in front of people, so I was so scared. I received a lot of helpful feedback. A lot of it was like, "You need to be more confident if you want people to resonate with your story. Tell it with your passion, about why we should join this movement to break the negative stigma associated with medical IDs."
Then at the final is when I pitched in front of a room full of 3,000 people and all the judges. One of them was Tan France, and I remember he asked me, "Why do you only make it for the ladies? What about a man?" That's really made me think, "Oh, we should service the other 50 percent of the population."
Another thing he also mentioned was right now we do direct to consumer, so our customer comes to us and purchases the medical bracelet directly. He said, "Maybe you should come and talk to the healthcare provider. Those are the ones who recommend the medical bracelet to their patients in the first place." That really put me to thinking maybe I should reach out to more health executives in Dallas, to see if we can have some product displayed in the hospital give shop.
Did you grow up in Dallas?
No, I moved here from Vietnam when I was 16 for high school, and I stayed for college. I have a guardian that adopted me, and they opened their home to host me during high school. Once I finished high school and got accepted to UT Dallas and started college, my family moved over.
What was it like when you first moved here? Were you just completely overwhelmed?
I had culture shock because I didn't speak English back then. I didn't really understand what people were talking about. The high school I went to [MacArthur High School in Irving], I was the only Asian kid at the school, so I really didn't have a choice but to adapt really, really quickly. I like that I have that experience because it really pushed me to go out of my comfort zone and just try. If I can survive high school not knowing English, then I should be able to survive anything now.
You started with medicine not fashion, right?
Yeah. I was one of those kids who traditionally become premed. I still love medicine, and I think that's one reason why I care so much about this. It's not just fashion, but it's something that people have to wear every day for their own safety. At the same time, it gives them the confidence of looking the best that they can to have the confidence that they need.
So how did you determine there was a need to build a better ID bracelet?
When I was taking a healthcare class, I was looking into this because I thought it was just common sense. If you have a medical condition you need to wear it just in case something happens. It's better to have some sort of protection than not having it at all. When I was looking up research, 93 percent of patients who got admitted to the emergency department did not have any medical record, medical data, or information available at the point of admission, while 95 percent of first responders always look for some sort of medical identification. There's a big gap.
I couldn't find out the reason why people were not wearing it even though all their doctors were highly recommending it. I did a little survey of just people in my support group and asked why don't they wear it. I remember this lady sent me an advertisement ad. This old lady fell on the floor, and she had to press a big button. She's like, "This is why I don't wear it. I'm in my twenties, and all the medical bracelets are only for older people or are really ugly or bulky, and I never feel confident wearing it."
What kind of metals do you use?
Because a lot of our customers have sensitivities with metals, we really pick the best hypoallergenic ones that we find. We use semi-precious stones and sterling silver. We do rose gold, plated over sterling silver. We also offer it in gold. Right now, we don't do anything that's solid gold or white gold because, as a small business, I could not source the raw material at an affordable price compared to big retailers. I can't ask someone to pay $500 for a piece of jewelry. Whenever they have a new medical condition, they have to switch it out.
I read that you also pay it forward.
Code Blue Jewelry partnered with Malaria Consortium so for every purchase, we donate 14 malaria diagnostic tests to the most vulnerable children in sub-Saharan Africa. As of today, through our partnership, we have supplied 774 insecticide-treated nets, provided 77,377 malaria diagnostic tests, and protected 1,161 children from malaria through seasonal malaria chemoprevention.
It sounds like this has really been a labor of love.
Everyone's like, "If you love something so much, you shouldn't be worried about money." And I was like, "Oh my God, am I going anywhere with this? I'm working more than 100 hours a week." I will say it wasn't just a straight road. I went through a lot of trial and error. I launched a Kickstarter campaign back in August for $10,000. We got 83 percent funded. But Kickstarter is all or nothing. I did all this hard work and I didn't get anything, but then one lady on Kickstarter messaged me and said, "Please find a way to fund this because I need this medical bracelet. Once you have it launched, please let me know."
I think that's one of the reasons why I applied for the Big Idea Competition was because I was like, if I can't get $10,000 dollars, then at least I could get some sort of funding. I can fund the rest of it myself so I can launch it so this lady can have a medical bracelet that she needs to wear.
I feel like disability fashion is the most underserved area of design. People have to choose from whatever's available in the market. I really hope that Code Blue Jewelry can change that and give the customer a choice of a medical bracelet that they want to wear. At the end of the day, living with a medical condition is overwhelming enough.
Get the AtHome Newsletter
Enjoy Dallas' best trends, hot properties, and tips from local designers to help you nest in style delivered weekly.