Merchant House Is a Fixer Upper
It's not the fun, funky place its owners want it to be.
Someone will have to explain to me the method to the madness at Merchant House, the latest restaurant from Apheleia Restaurant Group, the company behind Oak, Pakpao, El Bolero, and The Royale Magnificent Burgers. I've given up trying to make sense of the puzzle. The restaurant opened in September and then followed a bumpy period of several months in which I visited once, twice, and then let two months go by before visiting again. Its far-reaching menu feels like someone has desperately put all his ideas in a bag and shaken it up, resulting in an exceptionally scattered dining experience.
Downstairs, in the main room of a meandering old house, a high ceiling with air ducts creates a vacuous, empty feeling. Sconces do little to mitigate the eerily diffused light, and I always had the impression I was rattling around in somebody's kooky grandmother's house. Paintings of Venetian waterscapes, a hunting scene, and old maps support the merchant theme, I suppose. Upstairs is more inviting, with lower ceilings and brocade fabrics. A blue velvet couch, throw pillows, and Persian rugs form a secret nook. Unfortunately, you can't spend all your time there.
Servers are adept in the art of absent-minded over-casualness, stopping you mid-order to confess that they'll have to check if the items you ordered are available. (Granted, they've weathered various menu revisions.) They're full of semi-helpful tips about things that may or may not reflect the reality of the food you're about to eat, but they engage with gusto, as though their familiarity might warm up the dimly lit space.
The menu—developed by Brenton Hammer, who oversees most of the restaurants for ARG, with input from owner Richard Ellman—is an amazing mishmash, exercising a wide-armed embrace of just about everything, including punch bowls.
The kitchen does know what it's doing when it places pork shoulders sous vide for 20 hours and then throws them on a plancha, to serve with thick, house-made tortillas and fluffy, fresh-tasting tomatillo salsa that cuts through the richness. The skin crisps up to a nice char and develops a dark bark, while the wobbly, custardy flesh and fat underneath are sumptuous, enthroned with guacamole. French onion soup dumplings were intriguing, making it hard to tell where the line lay between French and Asian flavors. Rice vinegar was there, comforting and tart, but where the umaminess of soy might be, there came the complexity of lightly gra-tinéed Gruyère. (The parcels, served in an escargot tray, have since been replaced by grilled cheese and tomato soup dumplings, but you see how the creativity might go.) It was the same with tostones that put a spin on the fried, smashed plantains of Latin America, presenting them as hollow cups mounded with tangy halibut ceviche.
It's worth noting that if you're looking for a cocktail, the way to go is with mezcal, which masks the faults of over-sweetness that crop up elsewhere. The Sing Sling—with pomegranate grenadine, cherry, and pineapple—tastes like a punch you might have drunk as an undergrad. The house version of a gin and tonic is bastardized with sweet frozen watermelon cubes.
Meanwhile, the menu continues like an ocean liner visiting ports of call on every continent. An endive salad with Asian pear, crumbled Humboldt Fog goat cheese, and marcona almonds had a nice honey mustard dressing and came piled like a Jenga tower mid-game. It's unclear if they were going to stack soft pretzels with dry-aged sirloin carpaccio, but, in any event, the item was soon moving off the menu. Regardless, whatever it is you think you decipher, the impression is often fleeting.
The "Selfless" and "Selfish" distinctions that divide the menu didn't ever make sense. They don't register when you read them. Nor do they when servers set down plates. They feel of little use, especially when a single hot dog in a bun ($8) is listed under a whole roasted cut of short rib ($59) in a pell-mell catalog of shareable items whose price points are resolutely wonky.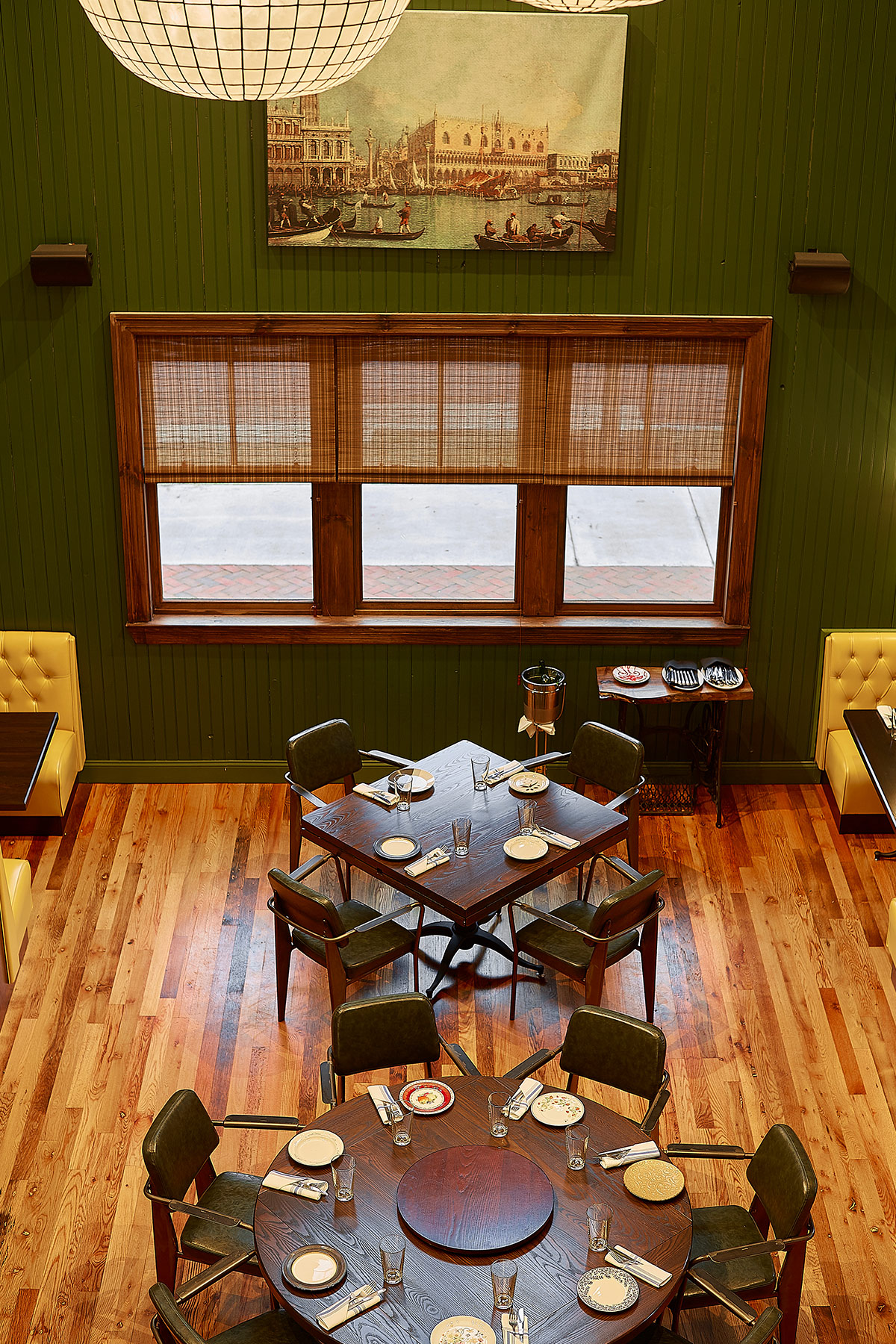 Only here can you order: tater tot waffles topped with avocado, tomato jam, salmon rillettes, and a poached egg (which feels like brunch) and smoked quail stuffed with boudin sausage and served over creamed corn (the kitchen makes use of a smoker out back) and, after a lengthy wait between courses, charcoal-grilled salmon over creamed leeks and heirloom tomatoes and a Sunday supper dish of tortellini stuffed with a rank black garlic and goat cheese filling and drowning in mushroom cream sauce. These were capped off—happily, though not necessarily logically—by a decent pineapple and polenta right-side-up cake. But it's hard to say which I shudder to recall most, the pasta's ammoniac filling or all of the goopy cream sauces.
Perhaps most horrifying of all was the K-town fried chicken, which arrived in a bucket that contained mushy chicken slathered in cloying sweetness. This time last year, I ate all the fried chicken I could find in Old Koreatown, and I will say that this is like no Korean fried chicken I have eaten there or anywhere. Its too-prominent breading was more like soggy caramel corn or a mangled doughnut, awash in a honey-thick sauce. The meat's texture was practically spreadable, as though acid had cured the proteins.
For other evenings' desserts, a Hostess sampler was a cute idea that didn't turn out well, though likable mini churros came out in a nostalgic cut-glass dish that I loved.
Why all the hocus-pocus? Why not just execute pork shoulder lechon extremely well, with an inviting speak-easy spot upstairs? I fear Merchant House is not the calling card its owners would like it to be. I was reminded of this when my guest one night, after being lashed to this tilting ship, sardonically said, "This is the kind of place that should not be open on a Monday." He didn't mean that it felt like fine dining. He just meant that it should be closed.