Oak Cliff is a neighborhood at the intersection of culture and growth, where emerging conflicts and opportunities for interaction offer an optimal climate for the creation of art. But finding an affordable place where that art can blossom is a challenge. A new crop of studios and co-working spaces is trying to remedy that, by offering free wifi, 24/7 access, communal dinners, workshops, and much-needed equipment at reduced rates. The expected return on investment is a simple one: share the fruits of your labors.
Elevate Dallas was opened in 2018 by founder and Oak Cliff native Daniel Yanez, who previously owned The Basement Gallery. Located on the top floor of an unassuming building on Jefferson Boulevard, the shared space is homey, full of sofas and vintage video games. There are five private studio suites in addition to shared conference areas, a 3-D printer, and a photography studio.
Members have access to workshops and events, and are encouraged to help each other as well as the community. Many of the artists volunteer their time with Oak Cliff youth artists or work with local businesses on Jefferson to create murals or graphic designs.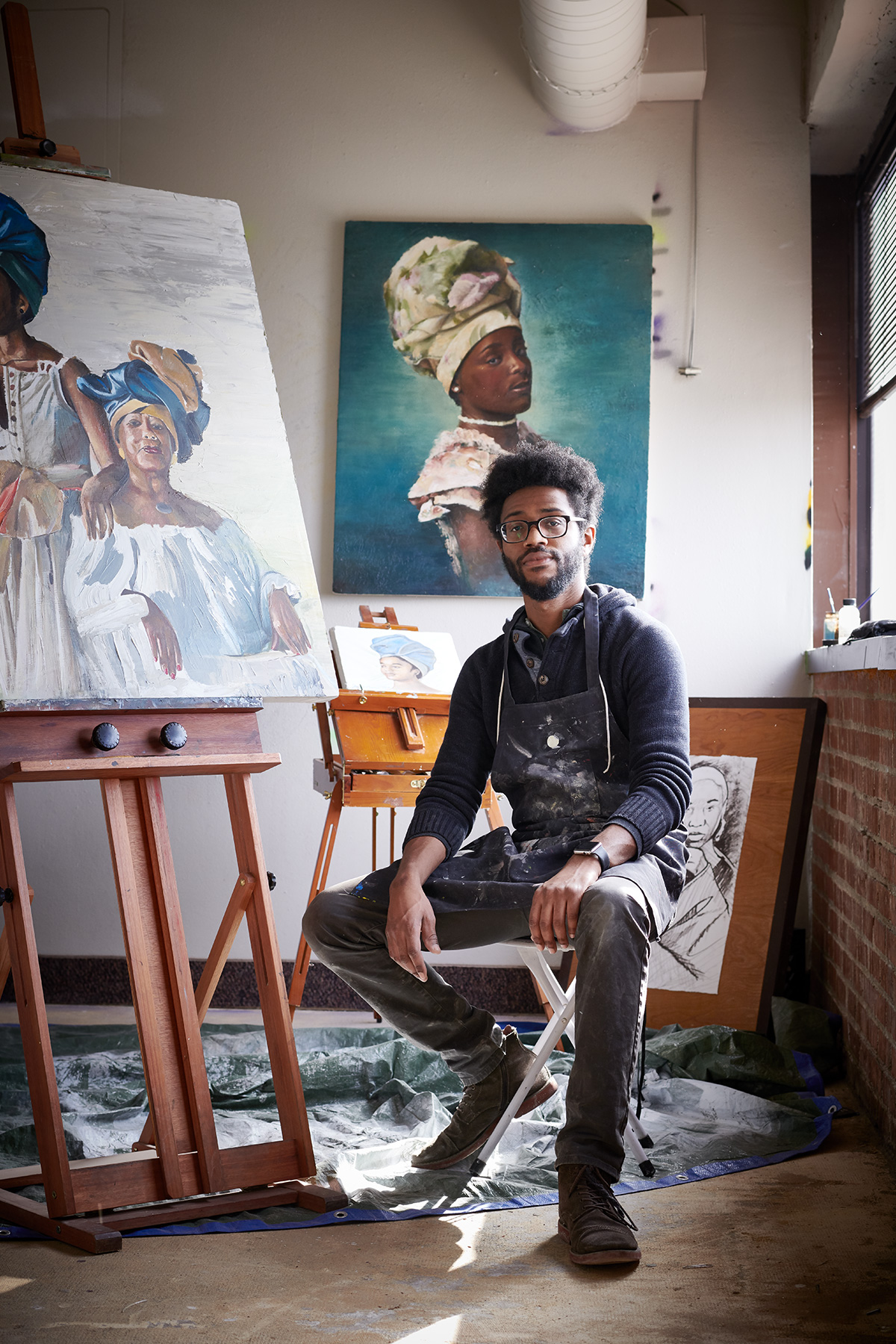 J.D. Moore, a Rowlett High School graduate who has spent time in artist residencies in France and Italy, is one of Elevate's biggest successes. In conjunction with the Dallas Business Council for the Arts, the tattoo and visual artist will be exhibiting a range of work at the Capital One campus through April. He's also collaborating with Chesley Antoinette, a 2017 Nasher Microgrant recipient, to create oil paintings from a photography series. The works will be exhibited at TWU in March and at the Fort Worth Community Arts Center in April.
"Elevate is a hub for the creative entrepreneur," Moore says. "As an artist, I benefit the most by having access to a full spectrum of resources that allow me to be the most creative. I can have a photo shoot in the photography space, edit in the media room, cut wood and build a canvas frame, paint, and meet with clients, collectors, and curators—all in the same space."
Co-owned by Vennesa and PJ Torres and Kelly and Justin Clemons, FLOCC offers a modern warehouse aesthetic and about 6,500 square feet of studio space for a diverse range of creators, from painters and muralists to architectural photographers, filmmakers, and interior designers. The studio is focused on creating a sense of community through communal dinners, public art shows, and events.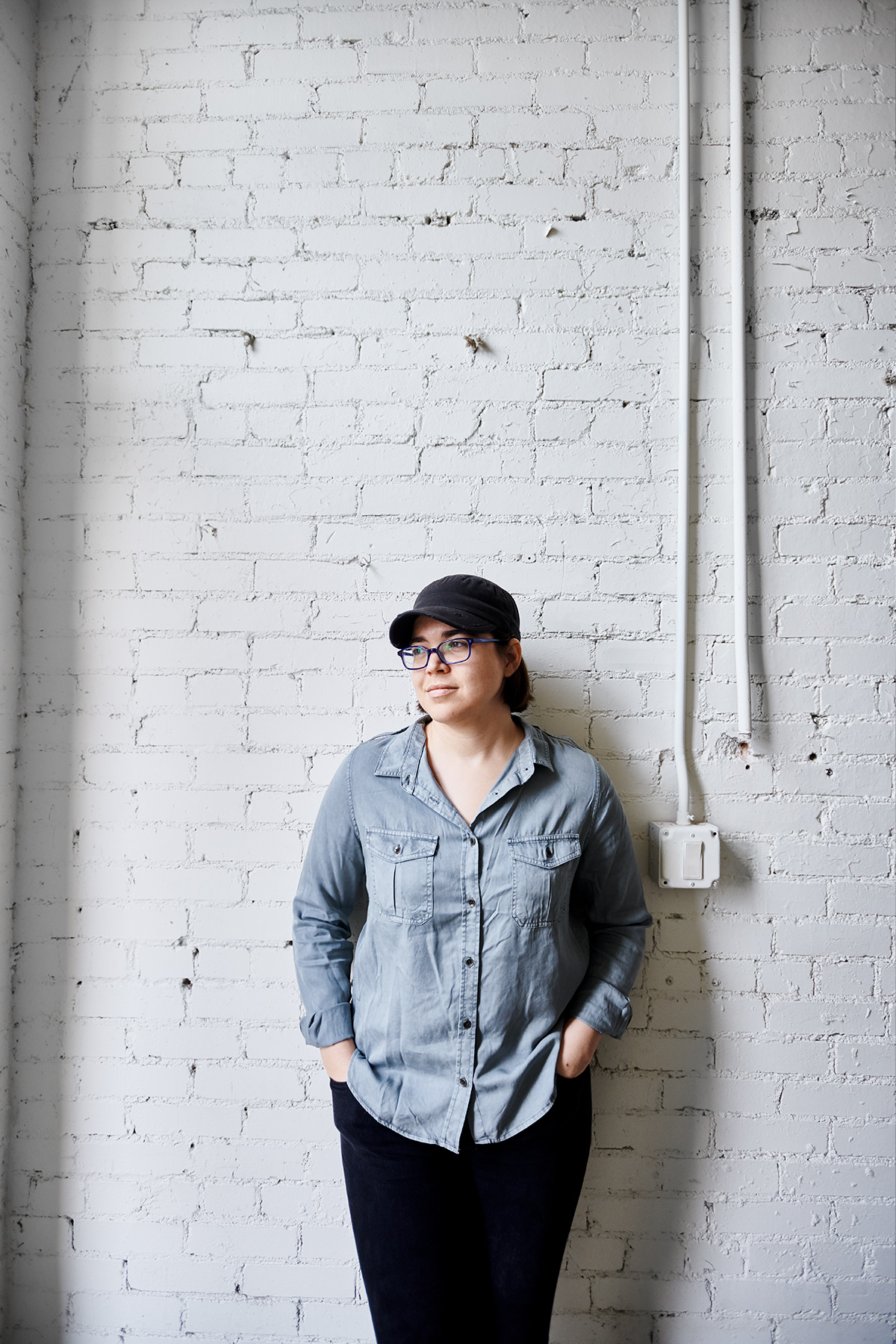 Filmmaker Courtney Ware is one of FLOCC's finest artists. Her award-winning feature directorial debut, Sunny in the Dark, was released in 2016. Two years later, Ware edited Never Goin' Back, which was directed by Augustine Frizzell and premiered at the 2018 Sundance Film Festival.
"FLOCC brings a bit of a mecca of creatives to the community," Ware says. "There's something intangible about the energy of a space full of people creating. It's invigorating, encouraging, and inspiring. When I first visited FLOCC, it felt so right. I immediately signed up for an office space, and have loved being a part of the family."
Founded by Rachel Rushing and co-operated with Emily Riggert and Ryan Rushing, Sunset Art Studios provides a rotating roster of resident artists with a studio for six to eight weeks. The free space is made possible through a combination of grant funding and income received from renting out studio space to artists on the second floor of the building. Once accepted, resident artists must agree to showcase one project that engages with the Oak Cliff neighborhood.
Sunset Art Studios' most recent resident artist was Stacie Monday, a painter and activist whose brightly colored works focus on the celebration and struggles of women, particularly black women, in America. During her residency, she led an event that invited guests to take pictures with signs that had positive affirmations such as, "I am not an angry black woman" and "I am worthy."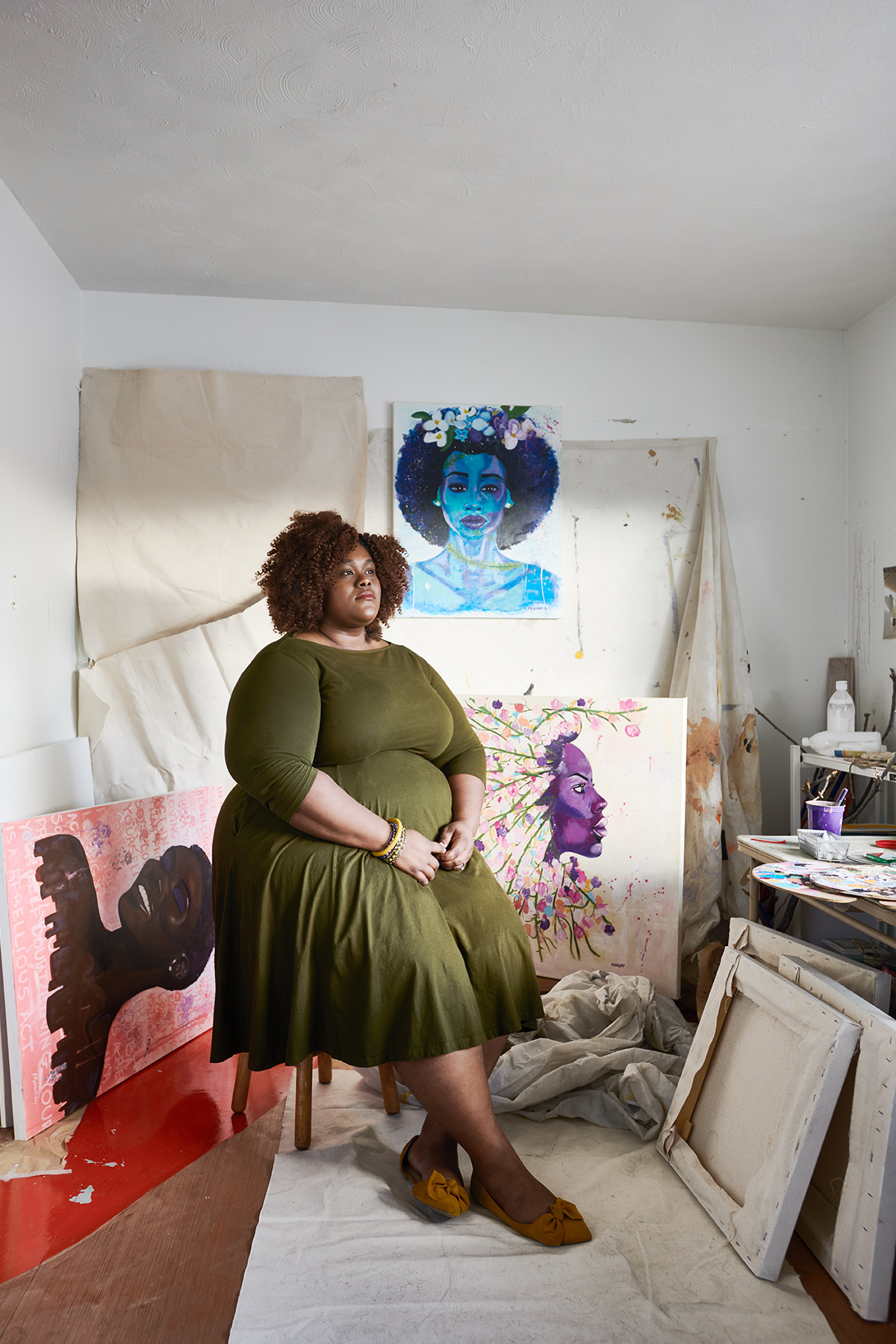 "I had 24-hour access, so whenever the creativity flowed, I was able to work on my projects," Monday says. "If I didn't have the workspace, I think having a solo show would be impossible. This residency pushed me to have solid deadlines. The community was able to see the work happen from the beginning to end and be involved in the process."
Anastasia Muñoz founded Arts Mission Oak Cliff after working at Winnetka Elementary. With the help of angel investors Lola and Todd Lott, who purchased the former Congregational church at the corner of West 12th Street and South Windomere Avenue and funded its restoration, Muñoz was able to create an affordable space for artists to work. The church sanctuary and meeting rooms also offer ample room for public performances and exhibitions.
In addition to visual artists, the collaborative connects with actors, dancers,  and musicians who need a place to create, rehearse, practice, and perform. Paid memberships include access to two performance spaces, a dance studio, a fiber arts studio, a recording studio, a music practice room, a kitchen, a library, costuming and makeup rooms, business coaching, and professional-grade equipment. Members also receive discounts to workshops and classes held on-site, as well as ticket discounts for productions by fellow members.
Public programming ranges from The Artist's Way workshop series to Beginner Beyoncé Ballet. Rental space is available for events, concerts, art shows—even a haunted house run by local middle school students.
Storyteller Caroline Cole credits her growing career to her time as a member at Arts Mission Oak Cliff. She's currently working on a full-length play slated to open in 2019, as well as recording voice projects for local and global clients.
"I've worked as a freelance teaching artist, director, actor, voice-over artist, and writer for the past six years, and didn't have anywhere to really call home until I joined Arts Mission as a member," she says. "Since moving my home base here, I've been able to upgrade my own recording equipment plus had access to better workspace and daily encouragement from other artists, which is huge. I now have a business operating under an LLC, was able to hire a graphic designer to brand my work, and just recently hired someone to help me field inquiries." 
Get the FrontRow Newsletter
Get a front row seat to the best shows, arts, and things to do across North Texas. Never miss a beat.