Madison McKinley is a snort-laugher. It's as endearing as it is incongruous when the sound unexpectedly erupts from the 26-year-old jewelry designer. She grew up in Highland Park and graduated from ESD, but she's got an easy, Sundance catalog kind of beauty, with a touch of tomboy that can be traced to two brothers and summers spent on the family ranch in Wyoming.
It probably wasn't the laugh that first got the attention of her now-husband, John Isner, who is currently the best male tennis player in the United States and No. 10 in the world, but it may have helped her keep it. Their romance is the stuff of rom-coms, with a meet cute at a Houston tennis tournament, height-related sight gags, a Bridget Jones-worthy transatlantic first date, and an idyllic Wimbledon proposal.
Picture the opening scene: a drone shot pans over the 2011 U.S. Men's Clay Court Championship at River Oaks Country Club in Houston, the rust-orange clay courts framed by lush greenery and an April riot of azalea and magnolia blossoms. The camera focuses on the temporary tournament stands full of spectators in madras shorts and Lily Pulitzer dresses, clutching sweaty cocktails, before zooming in on Madison, an ambivalent high school senior watching a doubles match with her overly enthusiastic friends and family, whom she is visiting for the weekend.
Maybe the friends call dibs on Isner, the 6-foot-10 26-year-old, with his brooding eyebrows and backward baseball cap, or his best friend and doubles partner, Sam Querrey, the 6-foot-6 blond with an aw-shucks, boy-next-door likability. Either way, there's surely banter and some lewd remarks from an outspoken sidekick while Madison, with exaggerated boredom, takes off her sandals and stretches her toes.
For cinematic purposes, you'd have to make it the final match, which Isner and Querrey lost to the Bryan brothers in a dramatic third-set tiebreak, but it probably wasn't that one because Sam and John were in a good enough mood to hang around afterward and sign autographs for fans in the intimate venue.
What really happened was that Madison's friends wanted a photo with the pair after the match, but by then the young women had turned shy. Madison didn't have any qualms because she didn't really know who either of the players were, so the 5-foot-7 teen simply walked right up to them.
"I am so sorry, my friends would love a photo with y'all. Would you mind?" Madison asked, maybe perfectly at eye level with John, standing on the bottom riser of the stands. "No," they replied, hopefully in unison. "What are y'all doing later?"
---
"It's weird how it happened," John says. "We almost didn't meet. I had lost singles earlier that day, and I should have won. I had no business losing the match, like, at all. Had I won—the singles is always a priority—I probably would have not played doubles. But since I lost, I played doubles an hour and a half later."
He noticed Madison in the stands even before she walked over. ("I thought she was super cute before I even talked to her.") After the match, the two exchanged numbers, and over the next few months they would sporadically BlackBerry message each other as Madison finished her last few months at ESD and John traveled to Paris to play the French Open. Then kismet: the mothers of the six best friends in Madison's mother-daughter book club surprised their daughters with a graduation present of a trip to London, in June, overlapping with the start of Wimbledon.
John was arriving just as Madison's trip was ending, so he came straight from the airport to meet her at a pub for a drink. Well, first he came to the place where all the mothers and daughters were staying to pick her up. Protective as besties are wont to be, Madison's friends came downstairs in a gaggle to screen the would-be suitor. Making small talk, John mentioned that his friend Sam Querrey was "under the knife" at the moment, getting elbow surgery.
"All my friends started dying laughing because it was such a weird comment to say, instead of saying he's in surgery," Madison says. "And so after that funny comment I was like, OK, he's kind of goofy and a big goober. And that was it."
At the pub, she thought she'd have a pint, because she was 18 and could legally drink in London, but John was in training. He ordered water. She did, too.
She thought it was weird, but she was intrigued enough by the sober first date to hang around, staying an extra week with the mother-daughter pair who owned the place where they were all staying. John gave them passes for his first-round match, but Madison says she still didn't realize exactly who her awkward tall drink of water was until she showed up to Centre Court and sat down in his player's box.
He had warned her there might be press. John had drawn Nicolas Mahut in the first round, the same French player whom he had played in the first round the year before, which ended up being the longest match in tennis history. It started a little after 6 pm on a Tuesday and finished the following Thursday after more than 11 hours of play. Wimbledon's arcane rules dictated that in the event of a tie at two sets to two, the final and fifth set would not result in a tiebreaker; it would continue until one player won by two games. The fifth set alone lasted more than eight hours and ended with a final score in John's favor of 70 games to 68.
It is, still, legendary. There are tales of Andy Roddick bringing John vast quantities of chicken, mashed potatoes, and three pizzas to refuel him on the final night. Even the IBM scoreboard gave up and broke down at 47–47. Afterward, the All England Lawn Tennis and Croquet Club changed its nearly century-old rules. (This will be the first year that the fifth set will result in a tiebreaker if the score reaches 12 games to 12.)
At the time, a Cambridge mathematician told The Guardian that the odds of the two players meeting again in the first round weren't astronomical—they were actually 1 in 142.5. But it was certainly newsworthy.
"There was so much press around the match, and he was on a big court," Madison says. "I was like, whoa—this is weird. Now I understand. It was so much press. Normally he doesn't get that much, at that time in his career. But there was so much hype around him. And then, after that week, we started dating."
---
While John continued to travel through the summer and fall to compete on the ATP tour, Madison headed to New York to attend the famed Parsons School of Design. Her dad, Mark McKinley, a partner in a private oil and gas development company in Dallas, had hoped his artistically inclined daughter would attend a "normal" university and pursue art in grad school. But when she insisted on Parsons, he demurred, requiring only that she complete a Krav Maga class before heading to the concrete jungle.
New York was hard for the 18-year-old, who was in class daily from 9 am to 6 pm and then pulled all-nighters in the studio. But on the weekends she could, Madison would visit John or he would come see her. Eventually she decided to transfer to the University of Texas in Austin to finish her degree.
All along, from the time she was in high school, Madison had worked with Dallas designer Nicole Musselman, helping her style photo shoots for her fashion line, Koch. Madison started designing jewelry to go with Nicole's seasonal lines, and by the time she graduated from UT, she figured she was ready to launch her own line.
In 2016, she moved to the family ranch in Buffalo, Wyoming, for six months to design it. The ranch manager, Shelby VandenBrink, was a farrier, and Madison asked her if she thought the steel she used for horseshoes could be used to make bracelets. Shelby wasn't sure, but she agreed to teach Madison about blacksmithing.
"John knows that tennis is not his everything now. I think he's realized that doesn't have to be his identity. Win or lose, he gets to come home to a wife and dogs."
"I moved up there in August, and I was there until February," Madison says. "The winter months are pretty slow, so we would just spend our days in the workshop. But we used only metals like copper and brass. We never did fine metals because we were always too scared."
Now she works mostly with gold and gold-plated metals sourced from Africa, along with vintage items she finds. She collaborates with groups like The Starling Project, which provides solar energy to communities in need around the world, and with individuals like Sophie McGuire, founder of the Much Love Sophie blog, to provide funding for orphan children in Zambia through Family Legacy.
Her ultimate goal is to set up a storefront where she can collaborate with the many artisans she has met in Wyoming and beyond. "I think in the community where I started in Buffalo, there are just so many cool things," Madison says. "To be able to go from not just jewelry to leather goods and boots and saddles and hats would be an ultimate dream for me. But I think you've got to nail one down to kind of go there. So I'm still working on nailing down the jewelry."
At the end of May, after the French Open, she's heading back to the ranch for a photo shoot for her line. A high school friend who now lives in Portland, Oregon, will shoot it.
John probably won't go with her, but he's been before. Madison taught the Bass Pro Shops sponsee how to cast a fly there. She also took him horseback riding, but just the once. People thought he was on a miniature horse.
---
On the day before their six-year anniversary, John proposed. The couple was back in London, a week before the start of Wimbledon. He originally wanted to do it at the same pub where they sat and drank their waters, but he knew Madison wouldn't want it to be so public. Instead, he took her to church.
"He did it in front of my favorite little church there in Wimbledon Village, which is Saint Mary's Church," Madison says. "It's this beautiful, old church on top of the hill, and every time you go to Wimbledon you always pass it. We go to church there when we're there."
Before he got down on one knee, Madison says, John had to stretch and loosen up.
She planned to get married on the family ranch in April, during one of the few breaks in John's schedule, until Dallas wedding planner Todd Fiscus warned her that planes wouldn't even be able to land due to snow. But, he said, there had been a cancellation at Montage Palmetto Bluff in South Carolina in December. Would they be interested?
"We were like, OK," Madison says. "Because in the end, when I stripped down this idyllic dream, I really just wanted all John's friends and all my friends to be at one place and have a full weekend together. Because a lot of John's friends had never met any of my friends, because I always meet his friends on the road and John meets my friends here. So my dream, really, was just that everyone could get together for one weekend, and meet, and know more about our lives together. And Todd made that happen."
They got married on December 2, 2017. John's family came in from North Carolina, and Sam Querrey wore a bolo tie and square-toed cowboy boots. In the postnuptial photo most press outlets published, the couple is standing on a brick pathway in front of the black-shuttered May River Chapel. Madison is standing with her bouquet held down at her side, her face tilted up as far as her neck will allow, seemingly on tiptoe though you can't see her shoes under the layers of tulle. John, in a black-trimmed royal blue tux, is leaning over to kiss her. He's practically bent at the waist.
---
Moving to Dallas was an easy choice. Although John grew up in North Carolina and his family is still there, you can't fly to Melbourne direct out of the Greensboro airport. Madison was willing to move to Florida, where John had been living and training, but with all of his travel she'd probably be left at home alone with the baby a fair amount. Besides, two of John's Florida friends, pro tennis players Tim Smyczek and Alex Kuznetsov, had already moved to Dallas with their wives.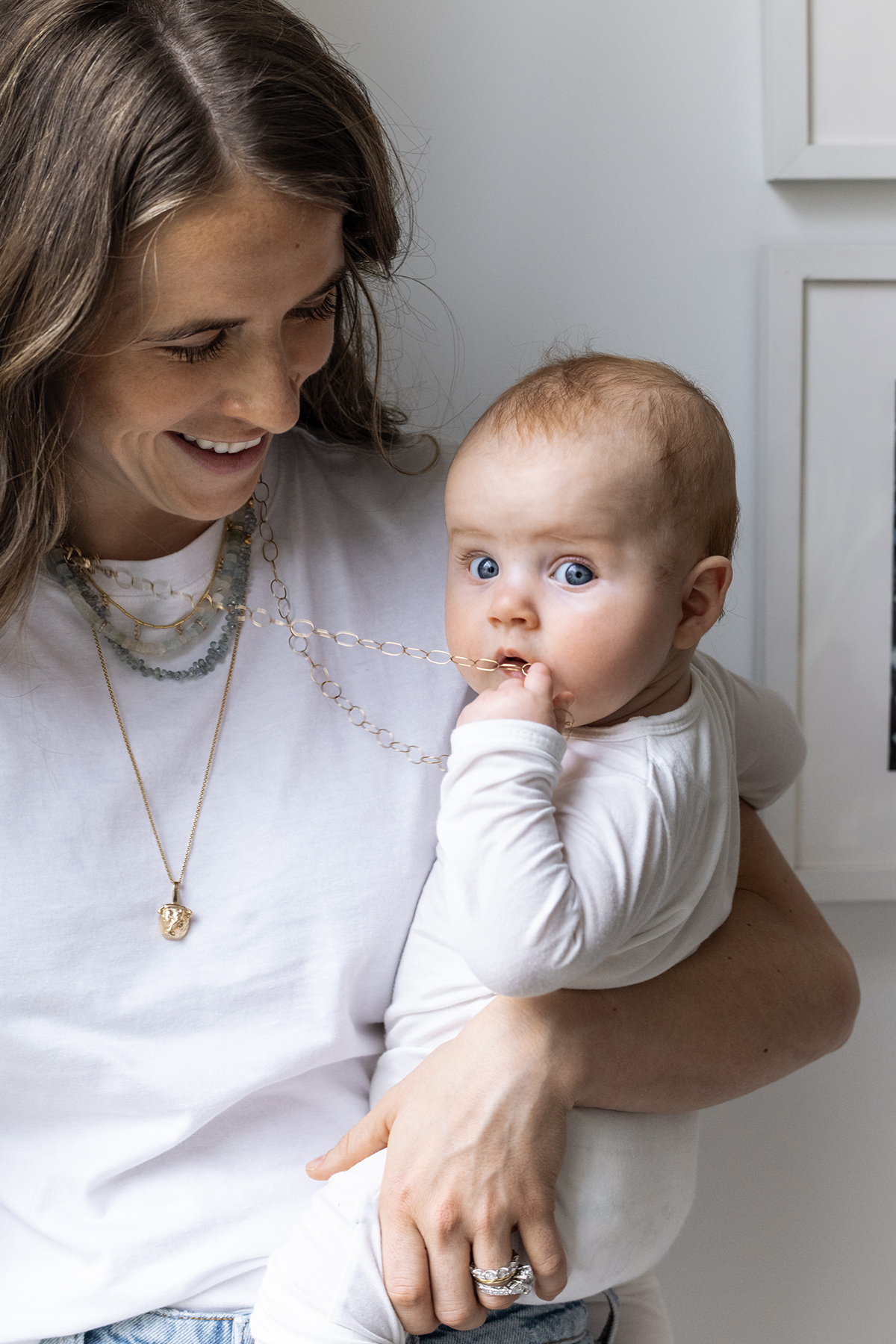 But there was a problem. John couldn't fit through the front door of their first house on Devonshire. "We loved that house," Madison says. "But John was never comfortable because it was, you know, a perfect house for a normal-size couple, but John is everything but normal. A normal door is 6-feet-8-inches, and he can't fit through it."
John found their current home in Highland Park. It has a pretty, modern stucco façade and a Spanish barrel-tile roof. But more importantly, it has an oversize door and very high ceilings. Madison didn't like it at first because it didn't have a wood-burning fireplace. John offered to change it, and she agreed to buy it.
Madison was already pregnant with their daughter, Hunter Grace, by the time they unpacked. Now, there's a working fireplace and a nursery filled with two nearly life-size stuffed giraffes. The living room is beautifully and comfortably furnished with the help of Dallas designer Shelby Wagner. He incorporated a polished wood coffee table made by Madison's great-grandfather, as well as chairs from her grandparents, some of which are reupholstered in cheetah print and some in cream bouclé. Like Madison and John's marriage, the strange coupling seems completely natural.
Hunter Grace was born in September, perfectly timed after the U.S. Open so John could be there to greet her. By the end of this year, she'll be a big sister. (For the gender reveal, John served up a tennis ball that exploded into a cloud of blue.) In the meantime, Madison is already back to work in her jewelry studio at her parents' house nearby. Her mom, Karla, a style-setter in her own right and former model with Kim Dawson, is thrilled to be able to dote on her granddaughter and continue to collaborate with her daughter on her business.
For her part, Hunter Grace has already flown to New Zealand, Australia, Miami, and Indian Wells. By the time you read this, she'll have visited Paris and Wyoming, too. She hasn't yet seen her dad compete, even when he was playing doubles in February at the RBC Tennis Championships of Dallas. But Madison was there with her parents, enthusiastically cheering from the temporary tournament stands at the T Bar M Racquet Club.
After breezing through the early rounds of the Miami Open in April, John barely made it through the final against Roger Federer after suffering a stress fracture in his foot. Doctors sent him home to recover, but the athlete seemed at peace, for once, off his feet.
"John knows that tennis is not his everything now," Madison says. "I think he's realized that doesn't have to be his identity. Win or lose, he gets to come home to a wife and dogs."
And, now, to the cutest ginger-haired baby you ever did see.
---
All good rom-coms end with a happily-ever-after epilogue. So how about this one: a drone shot pans over snowcapped Cloud Peak in Wyoming's Bighorn National Forest, skimming rolling hills of towering ponderosa pine.
We hear the hoofbeats before we see two horses gallop into view. Madison is in the lead, holding onto her cowboy hat as her spotted paint horse races ahead. A 10-year-old girl is close behind, urging her white stallion on, shouting, "Go, Wimbledon! Go!" Suddenly her Bass Pro Shops baseball hat flies off her head, and we see a wild tangle of copper curls flash in the sunlight.
The mother and daughter cross an imaginary finish line and slow their horses to stop. As the equines start to munch on grass, the girl turns around, suddenly impatient. "Hurry up, Daddy!" she says. "You're too slow!"
The camera follows her gaze to the right. John slowly trots into the frame on a Clydesdale with furry hooves, holding a squirming, miniature version of himself in his lap. And Madison lets out a snort-laugh.
Get the D Brief Newsletter
Dallas' most important news stories of the week, delivered to your inbox each Sunday.