You can easily miss it. I did for a long time. But the influence of José Noé Suro, the Guadalajara-based tile manufacturer and international art world impresario, is everywhere in Dallas. And once his presence has been revealed, once you know where to look, you may wonder how Suro ever escaped your notice. I did that, too.
He is there while you eat your kale salad at the Commissary, Tim Headington's downtown cafe. The building's blue tile façade is by the artist Jorge Pardo, whose works are at MoMA, MoCA, and the Tate, and it was commissioned at the urging of Suro. And he is there, of course, when you sip a frozen margarita at José, the Park Cities restaurant named for him. The black-and-white tile mural covering one wall is by local artist Meagan Reinhardt and features a cameo by the bespectacled Suro.
I had never heard of him until I visited José to write a review. But then the restaurant's owner, Brady Wood, explained that the mural, drawn by Reinhardt from photos of Wood's trips to Guadalajara, had been transferred to handmade tile at Suro's factory, Cerámica Suro, then shipped and assembled here. The agave piña-shaped fountain on the patio, the creamy-glazed lamps that look like honeycomb, the monumental flower vase on the bar, made by Mexican-American artist Eduardo Sarabia, whose solo shows are written up in the New York Times—even the tile in the bathrooms, plucked from discards of a resort-town hotel—all came from Suro's factory, designed by artists in his orbit.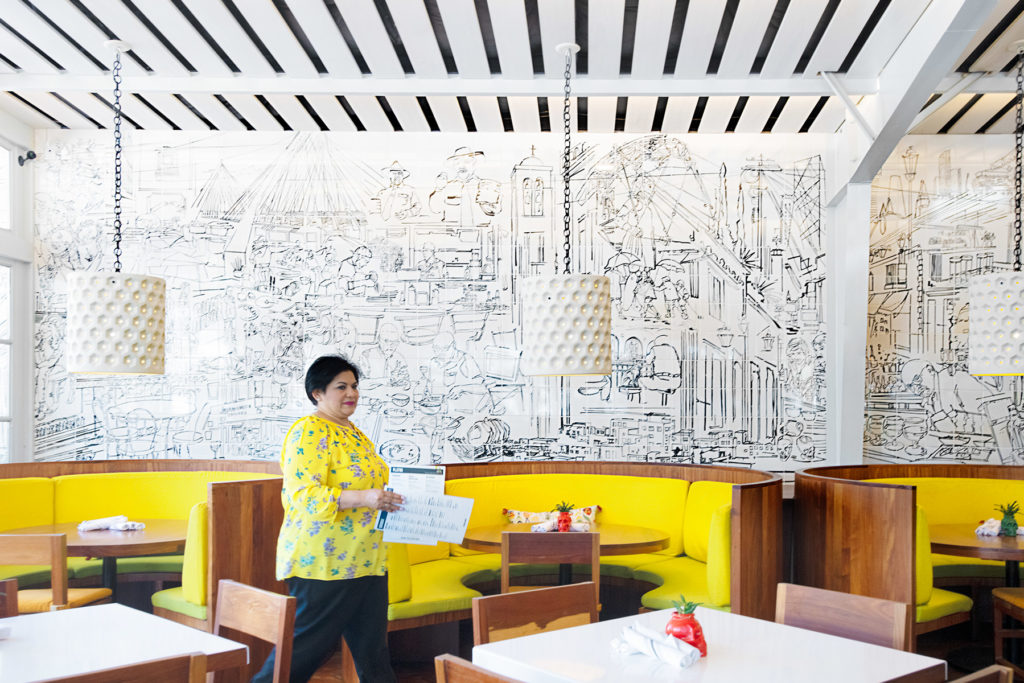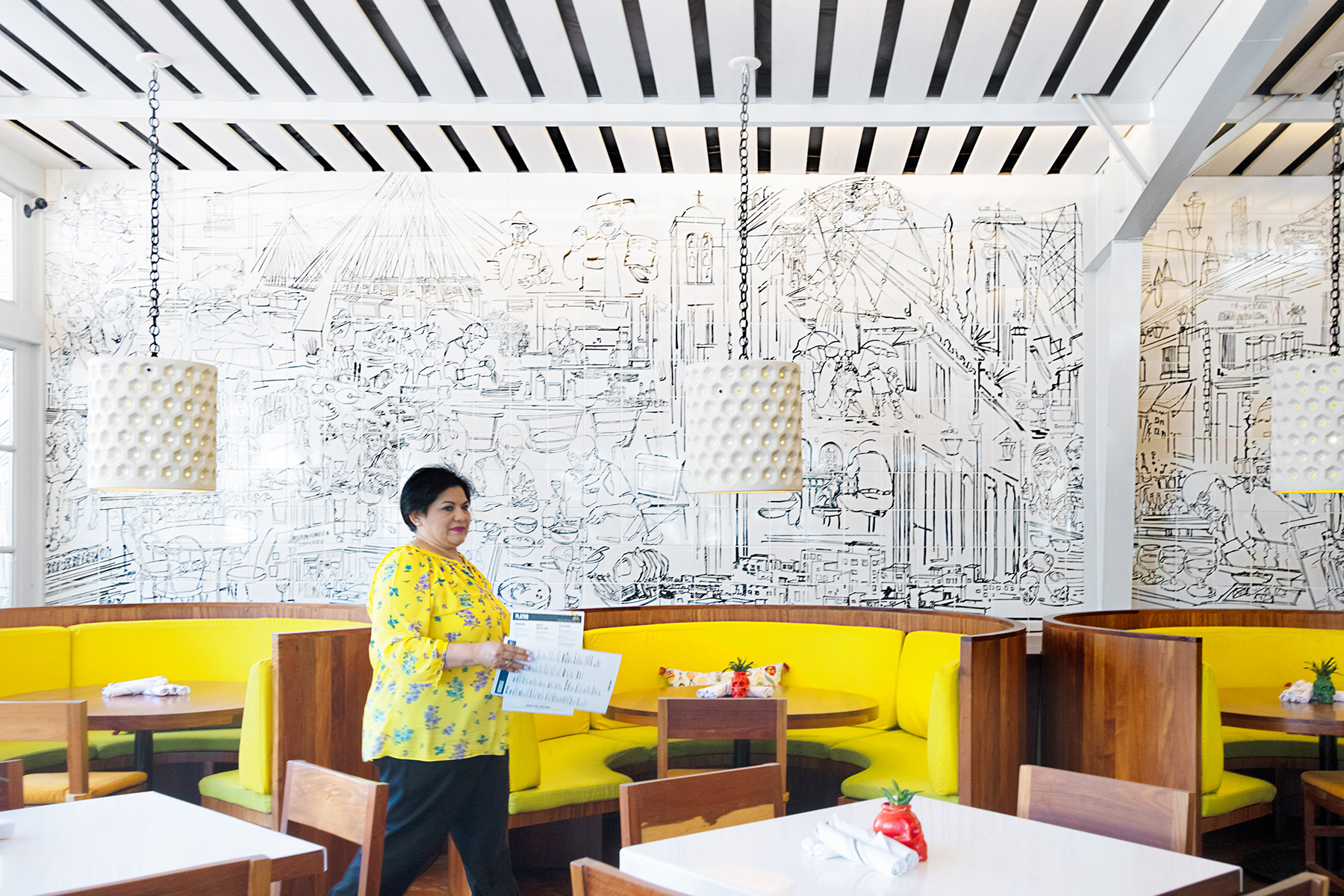 The more I learned, the more I started to pay attention. Which is how I found myself on my hands and knees, examining the ceramic floor of the kids' department in Forty Five Ten, its turquoise whorls and bronze pitting like a galaxy's errant stars. That luster, was it the work of his factory?
I wanted to know how so much work from Cerámica Suro had ended up in Dallas and why a tile manufacturer was partnering with some of the world's greatest contemporary artists. That's how I wound up as Suro's guest in Guadalajara, swept up in the tequila-fueled fever dream of an international art scene weekend.
Suro possesses a magnetic quality. Six feet tall, he has a way of making you feel that he is, as one woman I met over the weekend said, "the ambassador of everything." He comes to pick me up from the airport in person, his driver behind the wheel. It's late January, a week before the Mexico City art fair, Zona Maco. Five minutes into our ride, he's on the phone with New York-based artist Sarah Morris, who is working with him on an artisanal ceramic tile installation for the new Miami Beach Convention Center. I overhear snippets of conversation as Suro's driver guides our black SUV through the bougainvillea, covered taquerias, and storefronts of the outer neighborhoods of Guadalajara.
The vehicle is armored. Suro's brother was killed 10 years ago by a bullet intended for their father, a victim of criminals extorting cash. Violence has followed Suro—death threats and menacing messages about his four children's lives. At one point, it got so bad that a friend and art collector gave him the bulletproof SUV. But he has stayed.
"I was working on the mural all this morning," Suro says into the phone. The last pieces are in the kiln, he tells me later. His team is just a few tiles away; they've been working on them for months. When they are done, he will ship them directly to Miami. "I checked today—all the greens and all the blues—and they are looking good," he reassures Morris.
When the call ends, he turns to me in the backseat. "Peter Doroshenko from the Dallas Contemporary was here a month ago and wants to do a mural, and I said, 'Talk to Sarah Morris.' " This is Suro in action, Suro as fixer. He met Doroshenko when his factory produced the only ceramic work to be exhibited at the Dallas Contemporary, four pieces for a 2017 show by the fabric artist Pia Camil.
Suro's emergence as a giant of collaborative creativity was gradual but perhaps destined. He was born in Mexico's second-largest city to a father who founded a ceramics factory and a mother from whom he learned to love books. His younger brother belonged to a group of artists who would grow into an internationally renowned set, including José Dávila, Gonzalo Lebrija, and Jorge Méndez Blake.
A lawyer by training and employed by a bank, Suro was disillusioned by the tedium of his job. More inspired by artwork than legal briefs, he asked his father in 1993 if he might join him and usher artists into his business, which was founded around the manufacturing of plates and tile for high-end restaurants and hotels. His father considered artists crazy, finicky, unpredictable, erratic—in short, difficult to work with. And that was true. But it was what Suro wanted, and so the father acquiesced.
When artists asked to embark on projects at the factory, Suro gave them free rein. "Make one for me and one for you," he told them, in an arrangement that created doubles, like printers' proofs. He admits he was fortunate to come in to what he calls "a good generation," a time of heavyweights like Pardo and sculptor Pierre Huyghe, artists eager to try a new medium. He collected and collaborated only with artists whose work he admired.
We pull up to an airy new factory. Three years ago, Suro reclaimed a 1940s warehouse on an industrial street alive with flowering jacarandas. Their mauve-colored blossoms sway against the Pardo-designed façade of orange and red triangle-shaped tile. Fans Instagram selfies here. Inside, a series of lamps, again designed by Pardo, hang in an atrium, appearing like suspended, lit-up cities.
When Suro took over the factory, he recast the molds and refreshed the equipment—kilns and such—buying up used, small-production French and Italian machines that fit a model in which everything is done by hand. The factory's production now counts about 20 percent plates, 50 percent hotel projects, and at least 25 percent art. I wander through rows of racks that hold plates for the Ritz-Carlton in San Jose del Cabo next to the lithe, asymmetrical forms destined for Enrique Olvera's modernist Mexico City restaurant, Pujol. An artist from Copenhagen, completing an ad hoc residency, is at work at a makeshift table, while employees, some from families who have worked for the Suros for three generations, bend over rows of unglazed pottery.
In the back, a color room is crammed with pots and bottles, color wheels, grids, and swatches taped on walls and windows. From this kaleidoscopic point might emerge the almost 100 glaze hues developed for Los Angeles-based artist Pae White's monumental tile project for the Beverley Center in Hollywood. She has worked with Suro on various projects since 2003; her platinum-glazed bas-relief work lines a table.
Back out on the floor, I spot the crazy Katherine Bernhardt toucan plates that I first saw on Instagram. They echo a mural she created at Forty Five Ten. It's a strange thrill to see them here, swirly unfired glaze still matte, with a hand-scrawled sign saying not to move them ("no mover").
For wood, the owner of José, everything started with a tequila trip. It was 2012. The party numbered four: Alden Pinnell, art collector and founder of The Power Station art space; John Runyon, former gallery owner turned art advisor; Elliott Hill, an executive for Nike; and Wood. Pinnell had seen a show of Suro's in New York. One of their contacts recommended they have lunch with Suro in Guadalajara. Immediately, Runyon and Pinnell were intrigued by Suro, who hosted them lavishly. Before they knew it, they were invited to the old factory owned by Suro's family, where they were mesmerized by the creative maelstrom they witnessed. Each returned to Dallas galvanized: one to open a restaurant, the others to launch a domino effect of connections. Each, Pinnell told me later, "bounded out of there with these creative ideas."
In his role as art advisor, Runyon was working with Headington on opening The Joule. They might, at the very least, he thought, have Suro make the hotel restaurants' plates. Lunches ensued in Dallas and Guadalajara. The infatuation proved contagious; a partnership was struck. It was Suro who floated the idea that the exterior of the downtown Commissary building that the Headington group was eyeing as a boutique deli be skinned in work by Pardo, the Cuban-American artist who splits his time between New York and Mérida. "You can do the façade in glass, or you can do it in porcelain," Runyon recalls Suro saying. It would be more expressive, he suggested, in tile.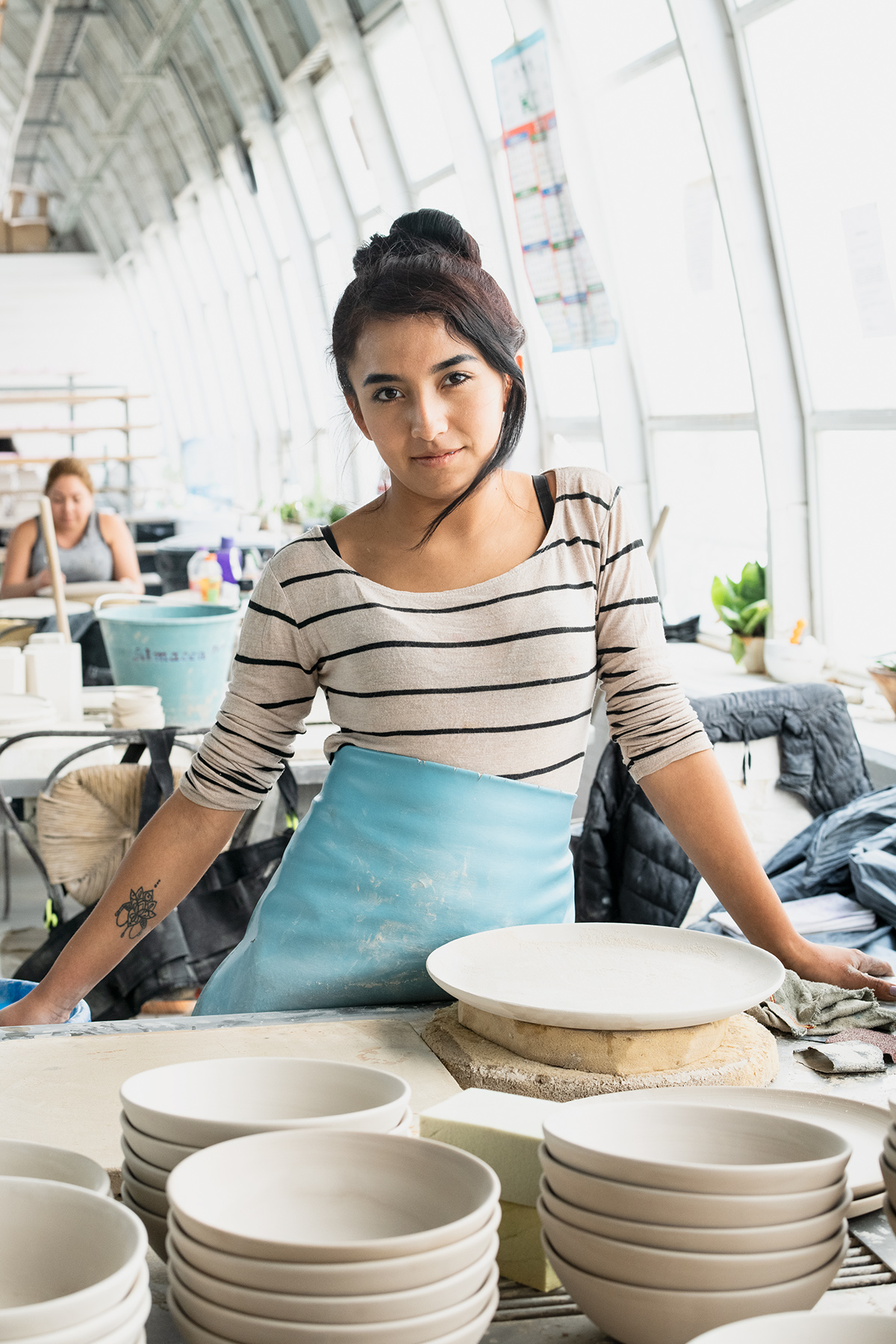 David Droese of the architecture firm Droese Raney Architecture met Suro through Runyon, too. Runyon brought his demonstration binder, and Droese, who was designing Forty Five Ten, fixated on the tile work Suro had recently produced for artists exhibiting at Art Basel. Droese visited the factory, then brought his design team, which went weak at the knees for the tile.
And not just the tile. At the nearby studios of Dávila, they found curators from the Centre Pompidou in Paris in the office and guys in the street making pieces for a show. They might have seen a nondescript French man with a dangling cigarette, perhaps the most influential sculptor in Paris, whose name is Jean-Luc and whose work is exhibited in prominent venues like Dia:Beacon. He and others were all there for the same reason, drawn to the possibilities of this hive.
"They just wanna come down here and collaborate," Droese says. "Because he'll do anything."
I had come to Guadalajara for Suro's PreMaco party, to witness his artistic matchmaking on more intimate display. From the first time I sat down between Suro and Wood at José, I heard about the party from people all over Dallas. In the past four years, Suro has started participating in PreMaco, a Friday through Sunday rush of artists, curators, gallerists, and collectors, that, while a prelude to Zona Maco, is a more languid affair than the Mexico City behemoth.
On Friday, the crowds arrived. I joined the lotus-eaters from Dallas who come back again and again, incandescent with ideas. Riding with Wood, his business partner, three members of Droese Raney Architecture, Runyon, and Pinnell, I overhear designers and architects giddy with creative infusion, every design element catching the eye in this city of Luis Barragán. They are infatuated with possibilities for the redevelopment of Jefferson Boulevard, back in Oak Cliff. Why couldn't we have jungly, leafy medians? Why couldn't we have volcanic stone, steel windows, the colors that appear as brilliant swatches?
Amid the following blur of gallery openings, multicourse luncheons that begin at 3 pm, and dinners, I see the way Suro galvanizes a scene. At lunch at a restaurant where he has manufactured the back bar—a wall of tile with an ombré effect and glazed volcanic stone—I watch from a balcony as Suro enters below, artists and collectors at his flanks. With beautiful villas across the way, on a posh street in the upscale neighborhood of Colonia Americana, we rub elbows with the Consul General of Sweden and a producer of Moonlight and 12 Years a Slave, who answers phone calls involving mention of Brad Pitt.
And later: the party in the factory itself. This is what I was tempted by, when I sat between Wood and Suro at José, and Suro said, "You must come. We have oysters; we have clams; we have everything." And there they are—the oysters, the clams, the mariachi bands. Guests wander through the factory, set with long tables. "It's like four weddings," says Charlie Billingham, a London-based artist whose show will open the next day elsewhere in the city, while his work simultaneously lines the walls at Park House, the Highland Park Village private club that is co-owned by Wood. The Europeans sit on the patio and smoke cigarettes and drink. I meet a woman who owns a museum in Tasmania. Meanwhile, the Dallas contingent wrangles dominoes and demonstrates the shotgunning of beers.
It's a series of fantasies over the course of the weekend. One night, in some kind of dream, Doroshenko and his assistant appear like a mirage around a table. Dávila has just pulled me aside to say that people in Dallas don't understand the richness of the link between Mexico and Texas. "They don't see it," he says. But in the haze of the weekend, I do.
One afternoon—maybe the same day, maybe not—the Dallas crowd slips away from the chaos, unaccompanied by Suro. I join them for a detour to the old factory in Tlaquepaque, as far from the oysters and flowing tequila as one might imagine.
Inside, a startled pigeon crisscrosses under the eaves, while the single craftsman who let us in goes back to intently glazing a piece. Upstairs, works by artists lie buried haphazardly among every mold and casting that has ever been made into a plate or piece of art. We pick our way through the labyrinth around empty Coca-Cola bottles. A Christmas tree blinks. A boombox plays music. Chalk-dust particles hang in the air. We are like scavengers, weaving our way through post-apocalyptic mayhem. The Virgin of Guadalupe. Abandoned shoes and jeans, in a heap as though their wearers had vaporized without warning. Pigeon feathers and droppings. Toward the street side, plastic flaps in a gap between cinder blocks and corrugated fiberglass.
We walk as though amid ancient ruins, skirting layers of detritus, a whole creative maelstrom piled into one place, caught in chaos and fixed in time, as if by the eruption at Pompeii. Those shed clothes. The artistic echoes.
Dust covered, we search fruitlessly for the mold of the agave piña that had once been strapped into the back seat of Suro's car by this very posse and driven back to the new factory to become the gold-plated fountain at José. Wood picks up a casting of a giant revolver. "The hell?" he says. We contemplate the possibility of being buried alive.
Wood has a theory about the highs and lows of life, the things that raise us from banality. "I want a spiky life," he says. "The only way to have a spiky life is to go outside your comfort zone." Suro, he says, creates spikes. "He's the essence of why you live: for fellowship and gathering and art, with food and drink sprinkled in."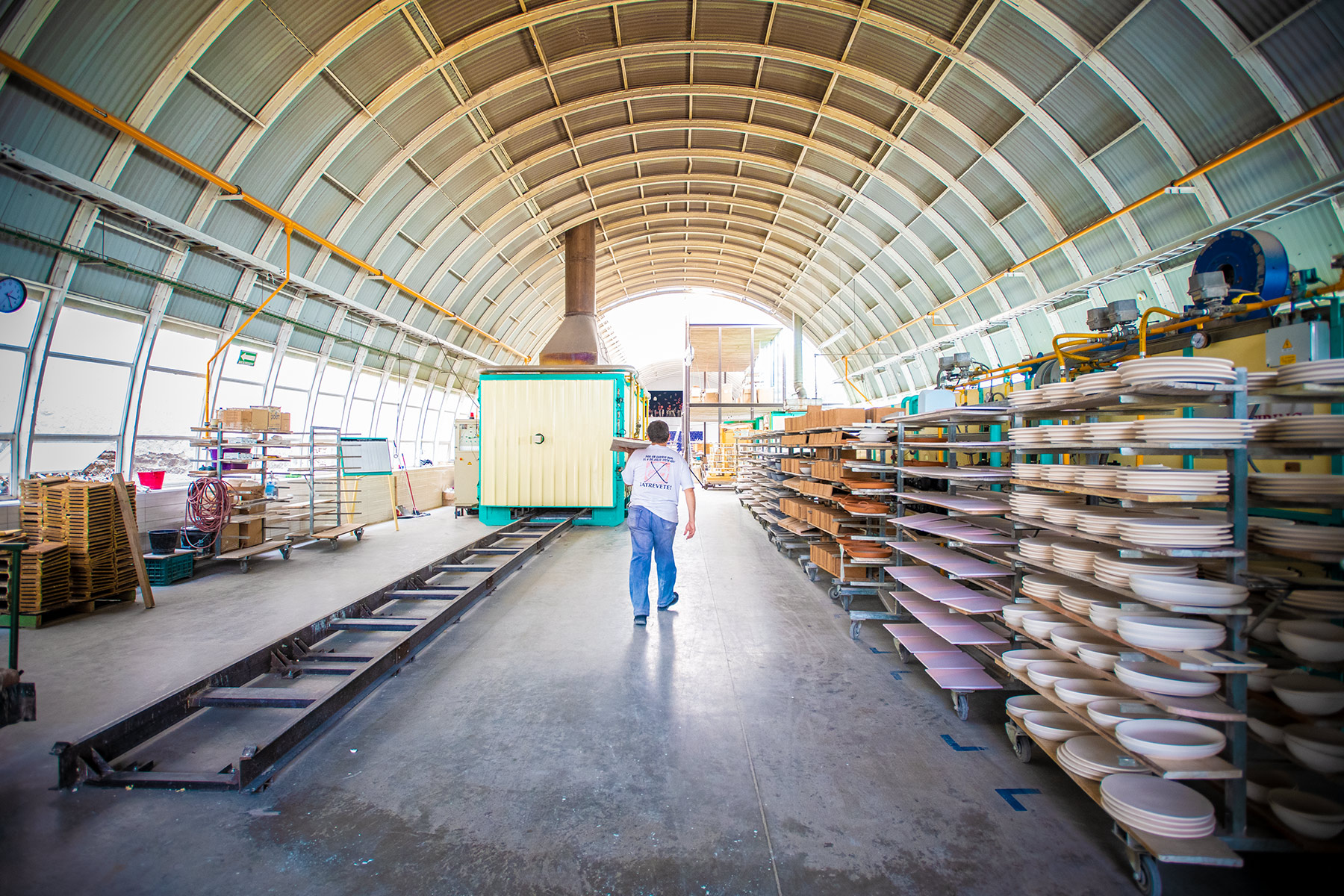 Standing in the creative mayhem, I can see it. I can see how the idea for the reused tile in the bathrooms at José could come about. How Pinnell's Power Station exhibition could, too, when, in 2013, artist Walead Beshty assembled a show from remnants gleaned from the old factory, glazed anew. I begin to understand the fascination and absorption. This is where the epiphany happened. When they realized they could stumble upon a Pardo in the ruins.
On a cloudy day, back in Dallas, Pinnell invites me to his home, a modernist edifice on a tree-lined street in Highland Park, all vertical slats and planes of concrete and glass. To the right, a gallery holds part of his ample collection.
The house was a decade in the making. Lamps that hang in the backyard are from the same mold that furnished chef René Redzepi's internationally attended pop-up of Noma in Tulum. Pinnell came with Suro, who fashioned the plates as well as the lamps. (When Redzepi goes to Mexico, he's known to follow Suro on eating tours of Guadalajara, or they spend time with a chef they know in the Yucatán.)
A ceramic piece in the gallery's entrance has transformed the lamps that Suro's father made in the 1950s, the original design tweaked and flattened into a curtain. The backyard was designed by landscape architect David Hocker, and chairs made by Guadalajaran artisans and volcanic boulders dot the garden.
The centerpiece, though, is the pool, with its turquoise-glazed volcanic tile the color, in this light, of a restless ocean. Suro spent a year honing the variegated effects. And it's because of him that Pinnell has three multiton volcanic boulder planters from the mountains of Jalisco on his upstairs landing—not because they were touched by the factory, but because Suro ensured their migration across the border.
Suro has, Pinnell says, "a generosity I haven't seen anywhere else in the world." He has helped hundreds of artists, "even in the early days when he couldn't afford it." Pinnell's theory is this: Suro is "paying it forward, with no direct benefit except this idea that it will come around. The important thing for him is working with artists. Everything that has happened has come of that."
A few weeks after my visit with Pinnell, I dine with Suro in Dallas, our evening at Bullion a pause in his travels. In the next weeks, he will attend the Venice Biennale Arte, where he has made a total of 40 works for two artists. In Shanghai and Hong Kong, he will look at equipment he would like to add to the factory—a machine that cuts through metal with high-pressure water and tools that would allow artists to foray into blown glass.
Meanwhile, Suro has numerous projects in Dallas. For Lucilo Peña of Billingsley Design and Development Company, which broke ground on three office buildings in the spring, the work of artist Ted Kincaid will adorn walls. For developer Michael Nazerian, Suro made bronze-glazed brick for a project in Bishop Arts, where each apartment in his Bishop North will contain a piece of Cerámica Suro work.
Hocker—whose firm has worked on Temple Emanu-El, Pinnell's Power Station, Forty Five Ten, Sylvan Thirty, and the Belmont Hotel—has Suro-based private projects for people wanting, perhaps, fountains laid with 25,000 hand-stamped bricks. "It's just interesting to have the capability to communicate with someone down there about wild ideas," he says.
My orbit is much more distant, but even I experience the pull of Suro's gravity. Near my home in Oak Cliff, on a moonlit walk, I stumble upon a pile of construction refuse under the incomplete breezeway of an apartment project. Bricks glimmer in the darkness. I pick one up. I hold its cool shape in my hand.
I know exactly where it's from.
---
If You Go
Where to Eat
Hueso
With its bleached bone décor and long tables, Hueso was one of the first restaurants to put Guadalajara on the culinary map. Platter after shareable platter of indigenous-inspired, seasonal food arrives, the work of Alfonso Cadena.
Calle Efrain Gonzalez Luna 2061, Col Americana, Obrera 44140
Xokol (tortilleria and antojeria)

White Subway tile and a spotlit mound of masa greet you: dough in shades of pink, yellow, and charcoal grey get swirled into tortillas that begin a meal. Heirloom maize is the key to the multi-course epiphany experienced in a deceptively casual spot. Xrysw Ruelas Diaz and Oscar Segundo (with Mazahua heritage) are the young chefs behind the ancient arts.
Calle Ignacio Herrera y Cairo 1392, Santa Teresita, 44600
Magno Brasserie
A Euro-chic spot in a tony neighborhood, with a stunning backbar by Ceramica Suro. Think elegant charcuterie, steak tartare, and French-technique finery.
Calle Jose Guadalupe Zuno Hernandez 2061, Col Americana, Obrera, 44140

Where to Drink
Café P'al Real

A super-hip, casual coffee shop serving impeccably roasted coffee sourced from small producers in various states in Mexico. Nab granola and house-made yogurt or fresh papaya on the jungly, shaded patios.
Calle Lope de Vega 113, Arcos Vallarta, 44130
Mezonte

Behind the speak-easy-style portal (think sliding panel in a humble plywood door), is a den of mezcal that brings together traditionally-made agave spirits crafted by the dozen or so mezcaleros and mezcaleras that founder Pedro Jimenez partners with, bringing out small batches you can sip out of clay bowls or hollowed gourds.
Calle Argentina 299, Col Americana, Americana, 44160
Where to Stay
Casa Fayette
Gorgeous, retro Euro-leaning, and a little more intimate, this feels like the posh cabana you've always dreamed of. The Dallas crew I joined tends to stay here. Nearby is Mezonte and a good place to play dominoes; just in case.
Calle Miguel Lerdo de Tejada 2308, Col Americana, Lafayette, 44160
Hotel Demetria

With an art gallery next to it (Barragan-designed), Demetria is a sleek, modern, minimalist edifice with a rooftop pool and unbelievable class in the chic Colonia Americana neighborhood.
Av. de la Paz 2219, Col Americana, Lafayette, 44140
Airbnb

Prices are unbelievably affordable, even for whole apartments. Steel windows, interior courtyards, and sweet neighborhoods made staying in Airbnb my personal preference.
Get the FrontRow Newsletter
Get a front row seat to the best shows, arts, and things to do across North Texas. Never miss a beat.