What is now Ceviche Oyster Bar used to be a mechanic shop called El Carrizal, its yellow exterior with red lettering resembling so many other shops down this stretch of Davis Street. I drove by the humble façade a hundred times in its former incarnation. In March, when Raul Reyes opened the newly azure blue Ceviche Oyster Bar, people were sitting at high tables by the door with tall glasses of Mexican shrimp cocktails, looking as though they'd always dined there. Others filled out a bar in a side room, the only other indoor shelter, with murals designed by Reyes. The place spills out onto the sidewalk, filling shaded picnic tables in daytime.
It was not easy getting here. Reyes wanted to start building three years ago, but turning an auto shop into a seafood bungalow was not without complications. The kitchen, now filled with raw fish, stands where the grease trap was, and it took months to clear city regulations.
Reyes—who opened La Palapa Veracruzana on nearby Jefferson Boulevard and then Mesa, the restaurant that replaced it—grew up near the ocean in Veracruz, fishing and cooking the day's catch. He brings that sensibility here, where mountains of translucent, gray-veined shrimp, oysters, and fillets of red snapper are prepared in plain sight, and the menu, written on chalkboards above you, teems with coastal classics.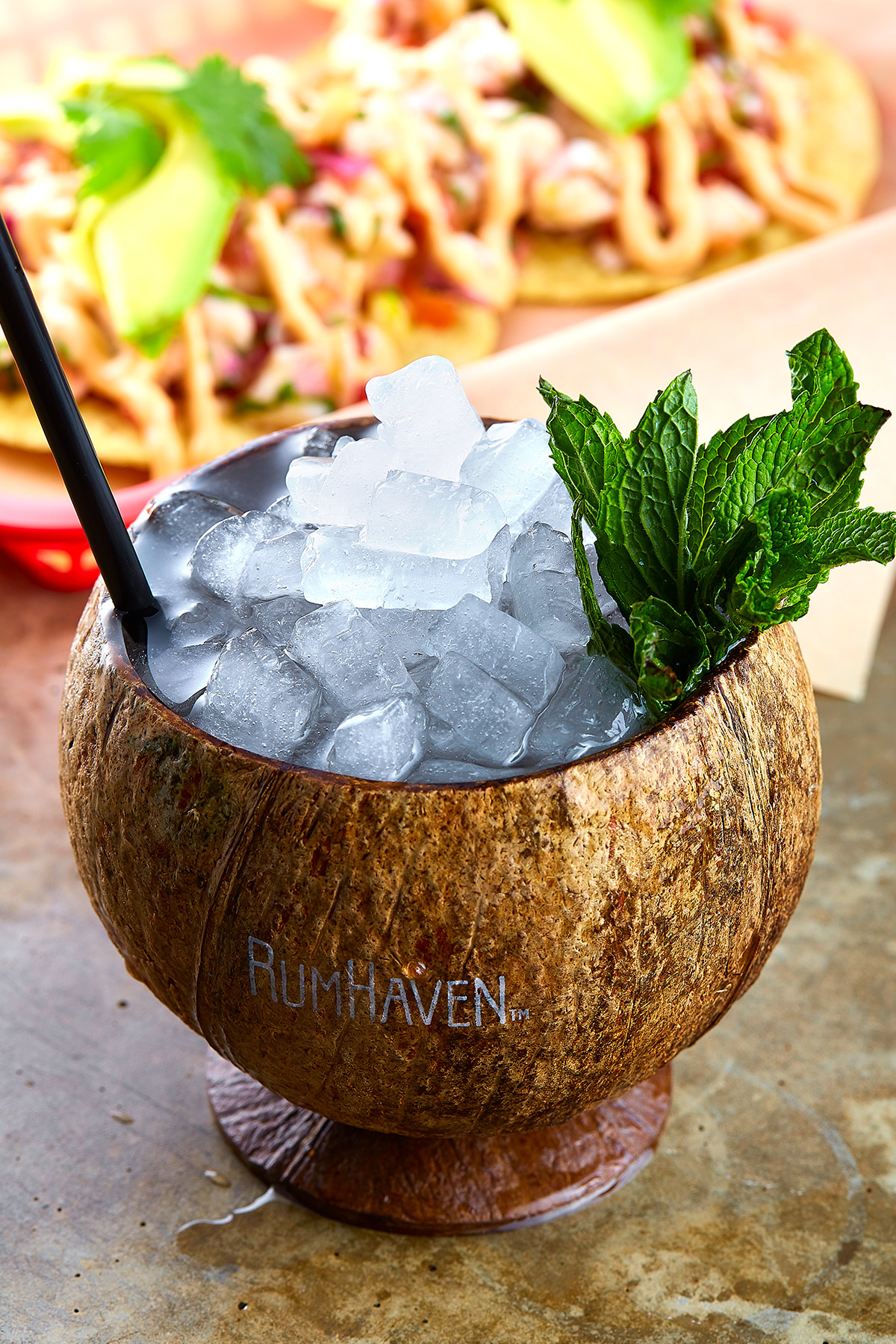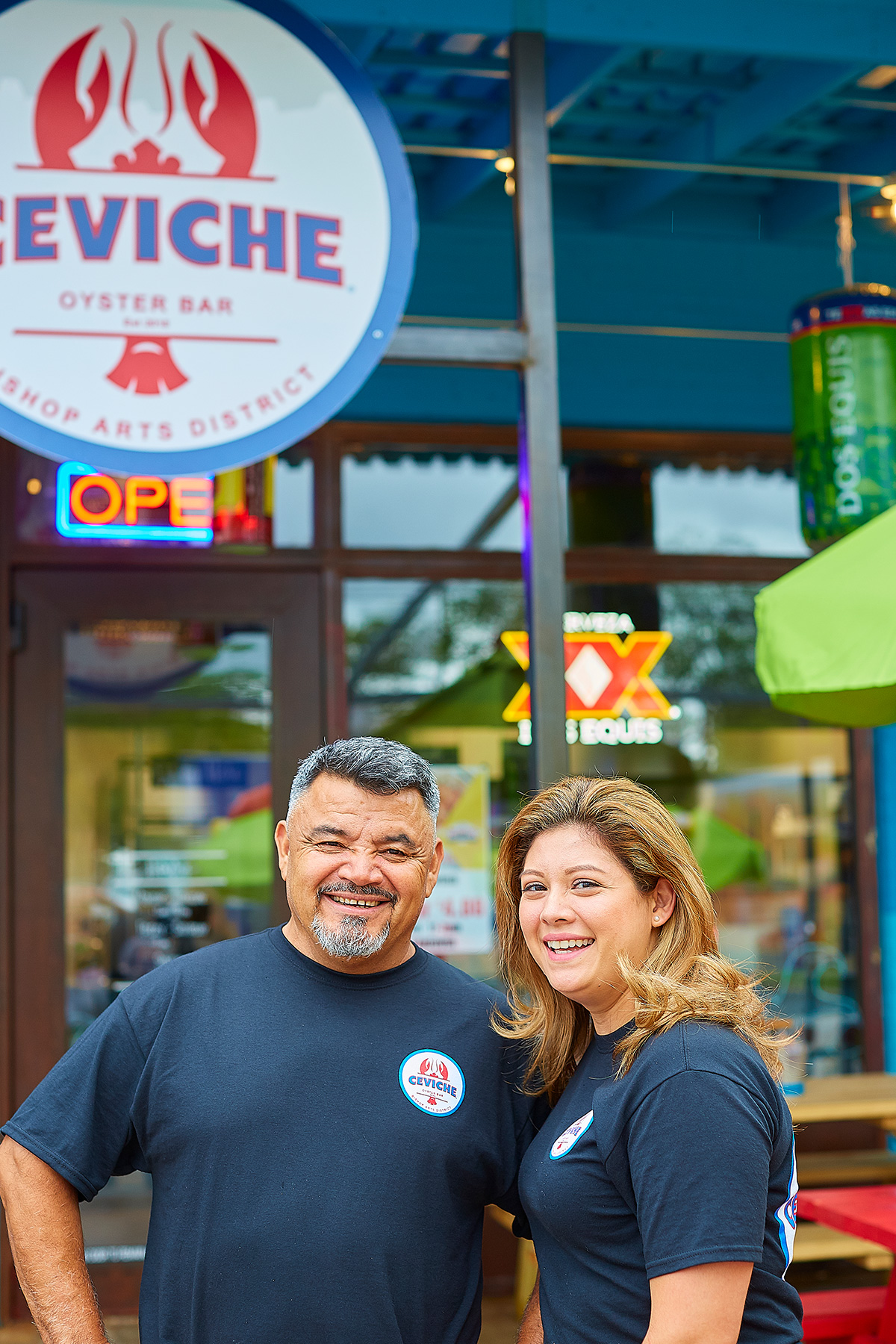 (from left to right) The Coconut Mojito joins a small list of beach-inspired cocktails; owners Raul Reyes and Elizabeth Beltran.
A visit should always include oysters that come by the half or whole dozen; they are some of the biggest and creamiest I've had. The shrimp is also impressively fresh. On some days it seems as though they've emptied the Gulf. And, yes, you want the shrimp cocktail, which turns the sundae glass opaque with its blood red sauce, crowned with creamy avocado and chopped red onion.
You'll want to dip into the campechana, too. A goblet holds the ultimate medley: fat, fresh oyster bellies on the bottom, topped with layers of shrimp and octopus. In its crimson sauce, with avocado and diced red onion, it is delicious refreshment, to be devoured as is or spooned carefully onto saltines.
Both the campechana and shrimp cocktail bask in what some call sangre de tigre, a sauce built on Clamato and Key lime juice, not so much bright as dusky, with a lull of sweetness. "Vuelta a la vida" they call it in Spanish ("return to life"), and many will say it's a reason to come out, hungover, on a weekend morning. It's the kind of thing you stumble in off the beach for. Sun drenched and parched, salt baked onto your limbs, you dip into this cool chalice, and it sets the whole world right.
There exist many forms of ceviche: the avant-garde (with guajillo oil or jicama); the regional Mexican (Acapulco, Mazatlán, or Dorado); the ceviche of Peru, with purple potatoes or maize and leche de tigre, the milky runoff from the lime-cured fish. Reyes keeps his simple with the nuanced tartness of Key lime, which works well with fish that is fresh and sweet.
You can summon the ceviche with fish, shrimp, or mixto (with both), in a bowl or on tostadas. The latter comes as two disks, golden fried, mounded with lime-bright seafood, a pile of fresh pico de gallo, and spicy chipotle mayonnaise that adds creamy richness to the tostadas' crunch. But, really, the star is the seafood, tender and plump.
In many ways, the service matches the beachy atmosphere, which is almost kitschy, with a cabana vibe and the desultory air of paper napkins blowing in the wind, which you secure with hot sauce bottles. Every time I went, it was a joy of casualness at the counter, with no gaffes of inexperience to mar the experience.
The menu includes a variety of other seafood preparations—boiled, grilled, fried, or Louisiana leaning—though I found these were not always the best options. One night, grilled rainbow trout with a side of rice and underdone vegetables proved bland. Another night, salmon was better. The vegetables, on the grill long enough, were tender and juicy, with attractive char marks. The rice was plain but good, and the substantial salmon pavé, with crispy edges and a buttery interior, was cooked as well as you'd find in any more formal kitchen—better, in fact.
I'd scamper off the beach for the po'boy. Go straight for the number with fried oysters. Crispy nuggets, creamy on the inside, are sandwiched into a butter-toasted bun that's pleasantly squishy, with avocado, tomato, and plenty of house-made chipotle ranch.
Baja fish tacos were the only disappointment, each hefty fillet a dry slab under a coarse cornmeal batter. Even moistened with cabbage slaw, they were something I tried in vain to perk up with a lime wedge. There was nothing spectacular coming from the wanly seasoned beans and rice.
But if they have snow crab, order it. A pound of spindly, spidery legs are their own slow reward. Crack the shells and extract the succulent meat with nothing to distract from its muted sweetness.
On a balmy evening, watching pink streak the sky as the sun sets over Davis Street, between Bolsa and the taqueria El Si Hay—which is exactly where Ceviche falls, straddling worlds in a gentrifying neighborhood—you may feel that nothing is missing, that Reyes is somewhat visionary. The only thing I wish: that the cost of a few items fell in the single digits, offering a nod to the location.
Get the SideDish Newsletter
Dallas' hottest dining news, recipes, and reviews served up fresh to your inbox each week.