We don't shed a tear when the local Chipotle closes, but churches and golf courses are different. And so we mourn the passing of Sunset Golf Center, a modest yet important fixture in our town since 1929.
The modest part is obvious when you lay eyes on the place—or what's left of it. Take West Davis west until you cross over Loop 12, roll past several pick 'n' pull car graveyards, and stop before you get to the Yello Belly Dragstrip. You're a half-mile into Grand Prairie now. Look right. That's it: 71 unprepossessing acres of Trinity River flood plain fronted by a sunburned red brick building. You're looking at unset GOLF, according to the sign on the façade.
The importance of the place is harder to discern, unless you're in touch with the spirit world. The ghosts of Sunset are a multicultural group. The place was a melting pot from day one, as other courses around here were not. Though it's hard to prove, it's reasonable to think that Sunset was the first integrated course in North Texas. Until the mid-'50s, blacks could play on Dallas city-owned courses exactly one day a year, on June 19, aka Juneteenth. If we could make them out, we'd see long-dead golfers hit dead-ass range balls and play pasture pool and file in and out of the clubhouse. If it's a Sunday and it's 1955 or later, the drag strip next door provides the deafening soundtrack and the penetrating scent of high-octane fuel. And watch yourself out on the third green if there's a dragster crash, because bits of debris big enough to hurt can fly over the fence.
Après golf, it's cards or dominoes or a dice game called Ship-Captain-Crew and a yell out to Bobby for another beer. One ghost floats on dope smoke and another is drunk and angry and has a knife out. This other one sleeps in a ratty single wide out by the maintenance shed or on a couch in the clubhouse—with a shotgun.
In short, Sunset had all the important elements of a TV sitcom. It was church, rec center, and bar for a blue-collar gang that was not quite country club material. Its nickname was The Office. Some guys spent all day.
"It was all quirky," says Jack Mims, the well-known Oak Cliff artist and a grandson of Sunset's founder. "In some ways, it was all one big anecdote."
Grandpa was Daniel D. Mims, known to everyone as D.D., a tall, laconic man who quit his steady job as a traveling appliance salesman, apparently a unilateral decision that did not thrill Mrs. Mims. With a borrowed $1,500, D.D. secured a lease at Sunset's first location, on Chalk Hill. He improvised nine holes in the rocky ground, and a driving range, and—why the hell not?—an archery range.
The timing couldn't have been worse. The course opened, the stock market crashed, and the Depression began. Sunset survived by being the cheapest golf in town and by shaving labor costs to the bone.
"When we'd run low on balls on the driving range, Daddy would stop the players on the tee and I'd run out there and pick them up," Bettye Mims Danoff told me in 1992. "We didn't have a pickup machine, just me and my brothers Chester and David with a cup on a stick."
The Mims kids would transfer the striped golf balls to canvas
Dallas Morning News
shoulder bags, take them back to home base, then swat some out themselves. Predictably, they got good at it. Chester played some PGA tour events and in the 1941 U.S. Open. His sister, though, became famous.
"Come on! Hit one, girl!" someone would say, and the tiny 6- or 8- or 10-year-old would happily oblige ("I'd always hit a driver," she recalled). Little Bettye—at 5-foot-2 and 100 pounds in her maturity, she was literally little—learned such a dependable stroke that she won big amateur tournaments by the score and would become one of the 13 founders when the Ladies Professional Golf Association opened for business in 1950. She took an all-out, athletic cut at the ball, an approach that enabled a win in a head-to-head match against Babe Didrikson Zaharias, the greatest athlete and golfer of the day, in front of a big crowd.
Bettye was a star on the charming, underfunded
A League of Their Own
-like LPGA tour. She had a reputation as a slow player, not from dawdling over her shots, but because she spent so much time chatting up the gallery as she walked along the fairways. Sunset Golf Center receded from her view. That seems to be why she didn't inherit her portion when D.D. died.
Although she gave lessons there from time to time, "my aunt did not particularly have any interest in the golf course," says Jack. Besides, "she was economically comfortable in her second marriage" to family care physician Dr. Clyde "Danny" Danoff. The Danoffs raised three kids in a big house on a few acres in Oak Cliff that included a stable and a handful of horses. Alas, Dr. D fell dead from a heart attack, making the former Bettye a widow at age 42. She never remarried.
"We never had too many arguments during card or dice games. Never had a fight. Never had to call the police. No DWIs that I know of. We got burgled a couple of times."
And she never lost her upbeat personality. The angels sang on the days glamorous Aunt Bettye teed it up at the family golf course. Once, she brought along Mickey Mantle, the baseball Hall of Famer, an unimaginable brush with greatness for humble Sunset.
Then: crisis! In 1953, the landlord booted the Mimses off the limestone hill. D.D. did not hesitate. He paid $25,000 for land 3 miles down the street—Sunset's final resting place. They repurposed a saggy old frame house into a clubhouse, and the cash register was ringing again. Eighteen holes cost you $2.50. Practice balls with black stripes went for 75 cents for a large bucket. Big spenders rented the higher quality red stripers for a dollar.
Directly across the street from the new location, on what's now a giant junkyard, stood another entertainment center: The Twin Drive In—aka The Jefferson Twin. Inspired, perhaps, by the theater's ability to make money after sunset, soon Sunset lit the purple night. With 1,000- and 1,500-watt lights anchored to about a dozen creosote poles, the illuminated driving range made good money until lights out at around 11 pm.
"It was very popular, with 20 or 25 people hitting on some nights and people waiting," says Bobby Mims (more on him in a minute). "Lots of families. Fun. Like Topgolf is today.
"The drive-in across the street had two theaters, one regular and one showing sort of racy movies with a little bit of skin. They put up a fence so you couldn't see that screen from the street. But I can remember as a kid getting on the roof of the clubhouse with a pair of binoculars to try to get a peek."
In the '60s and '70s, sons Chester and David ran the show; daddy D.D. chipped in here and there until his death in 1957. Eventually, age and cigarette smoke took their toll on his sons. But just in time, the cousins arrived. Jack came home to help out, sacrificing his gig as an art professor at Florida State University. Others from the third generation, such as Kenny and Debbie (Bettye's daughter), did their time, but the key player was to be one of Chester's four kids.
"My 20 hours a week became 60 to 70 hours real fast," Bobby says. "My dad and my uncle were at the gin table. This was 1982."
Bobby, then 27, had been a college golfer and a touring pro who was known for the beauty of his swing. He'd labored in golf's smaller tours and would play the main stage once, when he qualified for the 1997 Byron Nelson. He'd been around, in other words; the home team at Sunset never got around. There was bound to be a conflict or two.
"This old man named Dee Goode had lived there for 20 years, and he played 27 or 36 holes a day," Bobby recalls. In return for golf and lodging, Dee was supposed to keep the course in shape, but Bobby observed that the golf ground had gone to hell, with deep wheel ruts from tractors and carts nearly on some greens. Bobby roped off the problem areas, an implied rebuke that made Dee mad as hell. The older man got in the young man's face. They had a two-punch fight—one miss and one hit.
"It took him a long time to get up," Bobby says.
Dee was the shotgun guy. His successor as Sunset's live-in was Stan Miller, who got his start picking up range balls by hand. "They paid me 50 cents for 500," Miller says. "I worked there all through high school and for a while after high school—mowing greens, changing cups, working the register at night."
Miller's favorite piece of Sunset may have been the eighth hole—"a good par-4 over water, 400 yards," he says—for it was on the eighth green one star-filled summer night that he attempted to lose his, and perhaps her, virginity. But only attempted. The automatic sprinklers came on at exactly the wrong time, and, sadly, the moment was lost.
"I said, 'Oh, shit!' " Miller recalls with a sigh and a laugh. "I had some of my wildest times there back then. I was kind of a hippie in those days. I was single, young, tan, buff, long blond hair. That trailer was pretty run-down—probably good for a deer lease—but I lived there for free. Smoked lots of pot. About all I'd have in the refrigerator was a bottle of Mateus." (Mateus being a popular and popularly priced Portuguese rosé, by the way, the Two-Buck Chuck of the '70s and '80s.)
Who were the other characters in the sitcom?
"Let's see," says Miller. "There was Slick; Dee Goode, who had a country saying about everything. Red; Big Earl Davidson; Smitty. Ned Brocker—"
Brocker was the knife guy. He'd start out fine and if he won he was fine, witnesses say. But Brocker usually imbibed enthusiastically, and if at day's end the golf gods or the cards had been against him, he often unsheathed a 3-inch blade and looked for someone to cut. Ned the Knife required soothing language and careful handling.
As at many golf courses, alcohol fueled some of the fun. After a couple of months in the family business, and after disposing of God knows how many empty whiskey bottles in just-used golf carts, Bobby had a genius idea: a bar. He filled out the forms, paid the fee, got the license. And Sunset began to capture an important revenue stream.
A stream of beer, primarily. No, a river. "Coors Light, Bud Light, and Michelob Ultra were the big sellers. Forty, up to 70, cases a week. Beer cost only $7 or $8 a case back then. As for mixed drinks, it was a lot of Crown and Coke, Crown and 7UP, Jack and Coke, and shots of Cuervo.
"But we never had too many arguments during card or dice games. Never had a fight. Never had to call the police. No DWIs that I know of. We got burgled a couple of times, but we never had an armed robbery, thank goodness."
While the neighborhood around Sunset had never been confused with Preston Hollow, now it was getting, as Bobby says, "a little rough. We needed security."
Two Sunset alums did not linger at the bar. Instead, they toiled and trained. Cue the theme from Rocky. Against all odds, Jesse Patino and Ben Smith reached golf's big time and had stories written about their humble beginnings. They were so Sunset. "They were hustlers," Bobby says.
Both had godlike short games perfected in hundreds of money matches and on their home course's little oval-shaped practice green. Both had rough edges—occasional uncontrolled profanity in Patino's case—that stood out when they reached the PGA's senior tour. Where they weren't exactly welcomed with open arms.
Patino was a 5-foot-6 father of four who ended his formal education after the fourth grade. He painted houses and hung Sheetrock but something, apparently, was missing from his life. He found it the day his truck veered right and down the hill to the little golf course in the river bottom. Patino was 25 when he hit his first golf ball, which is almost always too late in life to become anything more than a recreational golfer. But eventually Patino was holding a club more often than a brush or a trowel, and with another 25 years practicing with (and gambling with) his homemade swing, he qualified for the 50-and-over Senior PGA Tour.
Which is a weird institution, not exactly a meritocracy and as stratified as Neapolitan ice cream. "At the bottom are the true dreamers," wrote Frederick C. Klein in a 2001
Wall Street Journal
profile of Patino, "men who supported themselves outside of golf but honed their skills for the day they could shed the bushels that hid their lights."
The bushel shedders are almost invariably looked down upon by senior tourists with more familiar names, who think the farmers, ironworkers, and tape-and-bed guys who occasionally appear in their midst haven't paid their dues and shouldn't even be there. During a round in which one of the familiar heroes said as much, Patino struck back.
"No matter what I say," he whispered to his caddie between holes, "give me the 6-iron."
On the next tee, Patino called loudly for the 7-iron, hit the 6 close to the pin, then set the hook by muttering that he'd like to see anyone hit a better 7. Patino watched with pleasure as his opponent hit his 7 into a deep and unpleasant bunker well short of the green. Such psych jobs are coin of the realm in rough and tumble precincts like Sunset and Tenison Park and Cedar Crest, but at the top levels of the sport, you rarely see anyone attempt a blatant con like Patino's. It's Not Done.
Ben Smith's collar was just as blue as Patino's. His life journey took him from high school to the Marines to a trailer park a half-mile west of Sunset. Willow Bend Mobile Home Park may have been OK when it opened in 1980, but it's a crowded collection of Band-Aid boxes now, with 2-by-4 decks and carports slapped onto the sides. Also, like Sunset, it's prone to flooding. But it fit Smith. One of his jobs sounds like the title of a country song: mechanic in a bowling alley. He could fix a car or a truck, too; sometimes you'd find him under the hood of a Cutlass or an F-150 in the Sunset parking lot, thus keeping business and pleasure in a tight circle. He worked at the driving range and played 36 holes a day.
"Ben was pretty quiet, but he had a temper," Bobby recalls. "Not a throwing clubs kind of temper but if you beat him, he was very unhappy. After one of the few times I got him, he said he couldn't pay just then, because he had a lot of money out." Smith was booking bets, in other words, on football or whatever.
Smith made the Senior Tour in 1984. In '88, he led a tournament in Utah by four shots going into the final round. If he won, he'd be the first man in history to win a Senior Tour event without ever having played on the regular tour. A writer asked him about the pressure.
"You can't say I haven't paid my dues," said the ex-mechanic. "When you're playing with your own money and you don't have enough in your pocket to pay off, that's real pressure."
Alas, Smith bogied five of the final 10 holes the next day and missed a putt from 14 inches in that bad stretch. He shot 76, two shots away from a win and the big money ($52,500) and a bit of fame. But he lasted in golf's old-guy big league for a decade or so, which is not nothing. He lived out his days in Tomball, near Houston, residing in a trailer.
And so it went at Sunset for the rest of the century. There was The Game at about 3 on weekday afternoons—a little earlier on Fridays—when the colorful cast gathered to play golf for money and celebrate after, featuring very occasional appearances from distinguished alumni Patino and Smith. The Mims family—especially Bobby—continued to work brutally long hours because the dice and card games could go on until midnight. When heavy rains caused the Trinity to overflow, the staff pulled the golf carts right into the clubhouse, newest ones first. The advent of Tiger Woods in the late '90s brought more and more players of all races into the game and thus to Sunset. Business was pretty darn good. Then things changed, as things do.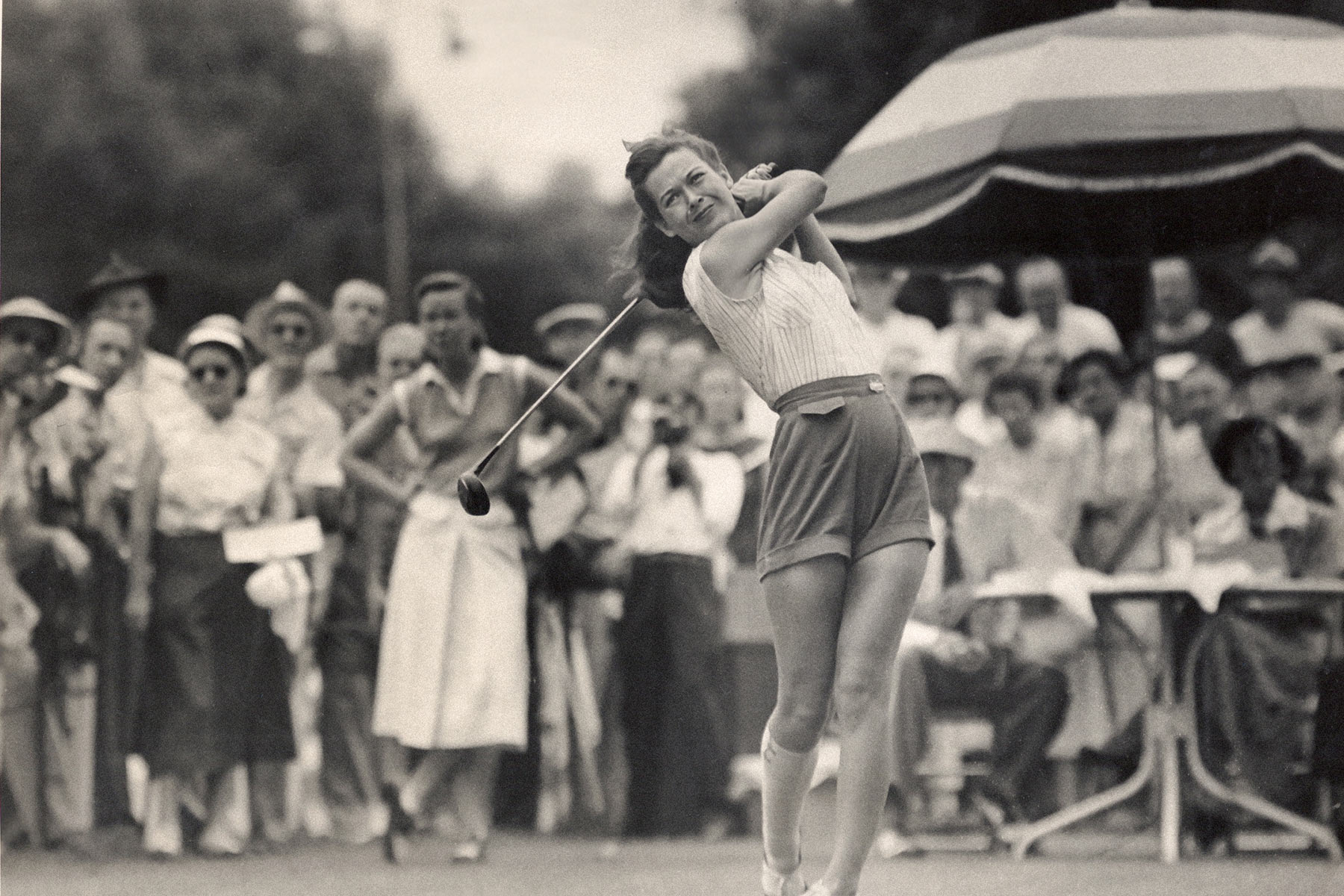 Before Unset: While on the LPGA tour, Bettye Mims Danoff was known for her big swing and slow play (because she spent so much time talking to spectators along the fairway). Sunset moved to its final home in 1953. The brick clubhouse was built in the 1960s.
We've averred that sunset occupied substandard real estate but that's not entirely true. Over the years, various entities paid good money for little pieces of it.
In the early '60s, the sale of 4 acres to the Texas Department of Transportation yielded the funds to raze the old wood-framed clubhouse and build the brick one. An oil-and-gas speculator bought the mineral rights for $190,000. The Trinity River Authority ponied up a total of $900,000 for the land for sewer lines and remodeling in 1998 and 2016. The Mims family sold the place last year, but when the buyer defaulted, they kept his $195,000 down payment. The recent sale to developer Graig Courtwright netted $1.2 million.
Why sell?
"Our business was really good from the late '80s into the late '90s," Bobby says. "But then some high-end daily-fee golf courses came in, like Tierra Verde, Creekview, Tangle Ridge, Mansfield National. And they were out in the suburbs. You used to have to come into the Metroplex to play golf." Also, while the neighborhood around Sunset had never been confused with Preston Hollow, now it was getting, as Bobby says, "a little rough. We needed security."
They turned out the lights for good on the driving range in the mid-'90s, and the staff went home earlier than it had before.
And another thing: while Tiger Woods attracted a lot of new players, he couldn't keep them. By the thousands, Tiger-inspired newbies had bought clubs and Nike clothing, but they lacked the endurance or the depth of interest to discover golf's addictive quality, its drama. Poor things, they don't know what they're missing. The upshot is that for years now, more golf courses have closed than have opened. More than one observer has compared golf to bowling, whose alleys were once ubiquitous and are now a little hard to find.
And a final factor, maybe the biggest one: the fourth Mims generation just wasn't into it, and Bobby's generation had had enough. "No one in the family even considered keeping it," he says. "Everyone wanted to sell."
The new owner's plan hearkens back to one of the best parts of old Sunset. Courtwright acquired the land for his own portfolio, not for the developer he works for, which is a good thing, because this deal may not make a dime. The new venture will use the old clubhouse but not its beer taps. Out on the ground where Bettye, Jesse, Bobby, Ben, and Ned the Knife plied the occult Scottish pastime, the new game is going to be soccer. There are plans for four fields with artificial turf to go in soon.
"It's a fantastic location for the same reason it was good as a golf course," Courtwright says. "It's an underserved area for soccer. Some people think of soccer as a rich kid's sport. But the best players often come from the poorest places. Like Reynaldo."
The head ramrod of the Sunset Soccer Complex will be Juan Martinez, a graduate of DISD's Sunset High School who has had amazing success as a youth coach. He wants to give the place a subtitle: Juan's Field of Dreams.
Yeah, maybe. That little piece of flood plain has a history of dreams and dreamers. Why not use a bigger ball?
Get the D Brief Newsletter
Dallas' most important news stories of the week, delivered to your inbox each Sunday.