This was the year that an underdog like Khao Noodle Shop, without any of the hallmarks of high-end dining, and a place like Homewood, with so many of them, were neck and neck, vying for top billing.
Our dining scene is vibrant in a way that it hasn't been before. Now the best meal might come from someone's mother's recipe for rice noodles, eaten elbow to elbow with others who brought their own beverage. And we got the best little izakaya in Texas, plus a ramen shop that reminded me of my Japanese stepmother's cooking.
Many of the year's top dining experiences happened in restaurants that were small and quirky, with only a handful of seats, democratically priced menus, counter orders, and street food. Two don't even take reservations.
Even fine-dining restaurants like Fauna thought outside the box. The 16-seat room hidden inside Flora Street Cafe brought a tasting menu with billowing dry-ice mist and nonalcoholic cocktails.
Bon Appétit swept in and noticed the same seismic shift that we already had, naming Dallas the 2019 Restaurant City of the Year and choosing our Laotian noodle shop as one of its top 10.
This year we lucked out, and I found myself in the most delicious quandary. Which says to me: we've arrived.
Homewood
RESTAURANT OF THE YEAR
[giflike_video id="3″ /]
The smoked pastrami Reuben is perfect. The perfect sauerkraut and Russian dressing, the perfect beef—from a local ranch, brined five days, the ingredients for its rub smoked overnight over a fire, then ground together and rubbed over the meat before it, too, is smoked. They were considering doing it as a Danish, open faced, but the rye stecca bread's slimness allows the meat's flavors to come through. Next to it, a yogurt parfait with quince and fig-leaf oil is exquisite in ways yogurt parfaits can't and shouldn't be. And that is only brunch.
I had—as we all had—high expectations about the all-star team that Matt McCallister assembled for his opening on Oak Lawn, his return to the Dallas dining scene after the closing of FT33. And it meets them, milling heirloom grains and using them to make fabulous pastas, butchering and curing, tending an on-site garden, sourcing from local farmers and ranchers, fermenting and preserving, filling a wall with Mason jars. That wall is his vision in thumbnail: sophisticated and rustic. Is it New American? It's nouveau something, with its melon gazpacho poured from a pitcher.
In the NorCal-meets-midcentury-modern dining room, with mallard green banquettes and the more informal backdrop of a kitchen hearth, where each dish is intricate, built from the pantry, I had the most exquisite meals of the year.
I loved a silken scallop crudo, retro and smart, with bits of celery leaf and cured ham aioli; and juicy pork with spigarello, ashed hominy, and peanut jus. With one of the most nimble wine lists—an adventurous collection, heavy on biodynamics from small producers—and Maggie Huff building desserts that are wonderful little worlds in one bite, there is an almost seamless movement through an evening's experience. It continues all the way down to the oolong tea or sticky rice pu-erh, properly brewed, a small education in tea.
The hearth fire is more than decor. It is the comforting presence behind farfalle made of stinging nettle and smoked leek, with pork meatballs and wilted turnip greens; 2S Ranch grass-fed sirloin with embered cabbage (hung over the hearth overnight) and a smoked soubise, the char and voluptuousness in perfect balance with a salsa verde's tang; and smoked strawberry ice cream with batons of raw beet and pistachio. That was all in one night.
The seasons were showcased in all their complexity in tomatoes and plums in an olive oil emulsion—a soft pillow the color of saffron—or pale green blueberries or the stewed tomatoes that make a Bolognese more intense. Each ingredient passing and then gone, like constellations wheeling in the sky, so that when I missed one, I was wistful.
Certainly, it's more approachable than what McCallister is known for, with the relaxed garb of the servers, but it's still infinitely nuanced. I'm not sure comfort food had been redefined in quite this way, so that it means a brunch waffle stuffed with ham and cheese and given a puff of rosy choron sauce.
Huff had fun with rhubarb and whey caramel (made from a byproduct of ricotta) and a warm lemon pound cake with lemon verbena ice cream and farm blueberries with crème fraîche, as intentional as the bycatch Gulf fish. Her desserts are sophisticated and nostalgic, dainty but also homey.
[giflike_video id="4″ /]
We didn't know we'd be getting this. Where even avocado pullman toast has seaweed aioli and gomashio. And you can wander through the garden, brushing up against the herbs.
Homewood stands above the others because everything came together, a new model of coherence. Is this new paradigm what we're allowed to expect? And how is it that this magical hybrid didn't exist before? Maybe it was always there and we just needed someone to find the route to it. Now we have.
Khao Noodle Shop
[giflike_video id="8″ /]
Donny Sirisavath grew up at his mother's apron strings cooking Laotian food, and maybe that's why his brick-and-mortar Khao Noodle Shop emerged fully formed, more exciting than anything we'd had in a while. The tiny band of culinary upstarts immediately garnered more awards than dishes on the menu and became ambassadors for Laotian street food, with its thrilling harmonies and funk.
It started with boat noodles that widened people's eyes at Sirisavath's pop-ups. But once within walls, other bites entranced us: mee katee's soothing coconut curry rich with peanut; sukiyaki's fermented soybean, sesame, and coconut cream; khao poon's fermented vermicelli showered with cabbage and crispy rice.
Each bowl or bite was a microcosm of bold flavors and compositions artful as the aesthetic pop of hand-painted stools. It's a brave new world. But it felt like family, headed by a talented chef who has a knack for harnessing wildly addictive flavors.
Like a nimble DJ sampling, he brought a reverent remix, vestiges of tradition layered with love and fresh eyes: pork transformed through jasmine rice and koji spores; pickled greens laced with kaffir lime. They're his own versions but with the patience of a mother's or grandmother's hand.
In his straw-free environment with tin cups and a ken for compost, Sirisavath had us skipping along to the tune of blood and offal. (Craving it, in fact.)
You gather. You eat. You realize you've spent a lifetime looking for this place.
Beverley's
What you find at Beverley's, the airy establishment on Knox that Greg Katz named after his mother, are flowers on marble-topped tables and diners in banquettes. In other words, a proper French bistro, just with caviar and latkes.
Despite the provenance of the name, it's not sentimental, but a chic, breezy spot with upbeat dynamism; a retro, timeless vibe; and the year's most carefree gin and tonic, alongside a roster of equally buoyant spritzes. I loved to be in the space, with lithe and lively blossoms in the flower arrangements and Aperol bottles above the bar, and have a spring meal of asparagus and fava salad with fresh peas and a fried egg (a smart take on the frisée and poached egg bistro salad) or creamy burrata on toast with a smear of pistachio-mint pesto.
Katz grew up in South Africa, visiting grandparents in the Constantia vineyards. (His family moved to Dallas when he was 11 years old.) He has created the neighborhood bistro he always wanted. And if you wonder how the Israeli/Jewish/South African/French combination plays out, I'd direct you to the mahogany-crusted chicken schnitzel or the hummus plate or the wine list with its Chenin Blanc. Katz went on a spirit quest to Tel Aviv for the inspiration behind the skillet shakshuka. And we would be a lesser city without the aforementioned latkes, crisp potato coins lavished with crème fraîche, pickled onions, and caviar—like an hors d'oeuvre at the cocktail party you never want to leave.
[giflike_video id="1″ /]
Bistros are on trend, but there was room for another, where we can dunk golden shoestring fries into a tarragon aioli that accompanies an off-cut bavette steak frites, meaty and charred, and where the burger's caramelized onions and outstanding flavor make it kin to the French onion soup. It's the kind of place where I could go alone or with friends and always be happy. Where, ultimately, I felt like I was from the neighborhood.
The Bonton Market Cafe
[giflike_video id="6″ /]
The whipped honey butter started it all. It's gathered from hives that join the goats and hens that roam the little Eden of Bonton Farms. We loved it, and we wrote about the farm. That, for Bonton, was enough of an accomplishment. It didn't have to become the kind of place we'd return to again and again for impromptu meals, in disbelief that we were minutes from downtown.
The farm grew out of Theda and Daron Babcock's earnest project of community organizing, and then that grew into a market and a breakfast-and-lunch restaurant with golden biscuits (we'll say it was to slather them with honey butter). In this unlikely place (South Dallas) with somewhat unwieldy hours (limited), magical things come to greet you under the oak trees.
Amid okra's moon-white flowers with purple centers, rainbow chard, myriad peppers, and fig-laden trees, these unostentatious dishes reliably prove that you can make something beautiful and special on a small scale.
It's as simple as can be, but the fried yardbird has extraordinary flavor, resting atop Anson Mills grits. Beans and rice with chicharrones have uncomplicated charm. Finely cornmeal-crusted catfish arrives over tangy, smoky collards with a tart, carmine red pepper sauce, and sweet potato hash welcomes the yolks of two beautiful eggs. (The bounty of the farm is never far.)
Featherlight texture prevails in the loveliest brioche French toast with its delicate crust and powdered sugar dusting. And a righteous fried green tomato and pimento cheese sandwich bears a hint of smokiness that haunts me.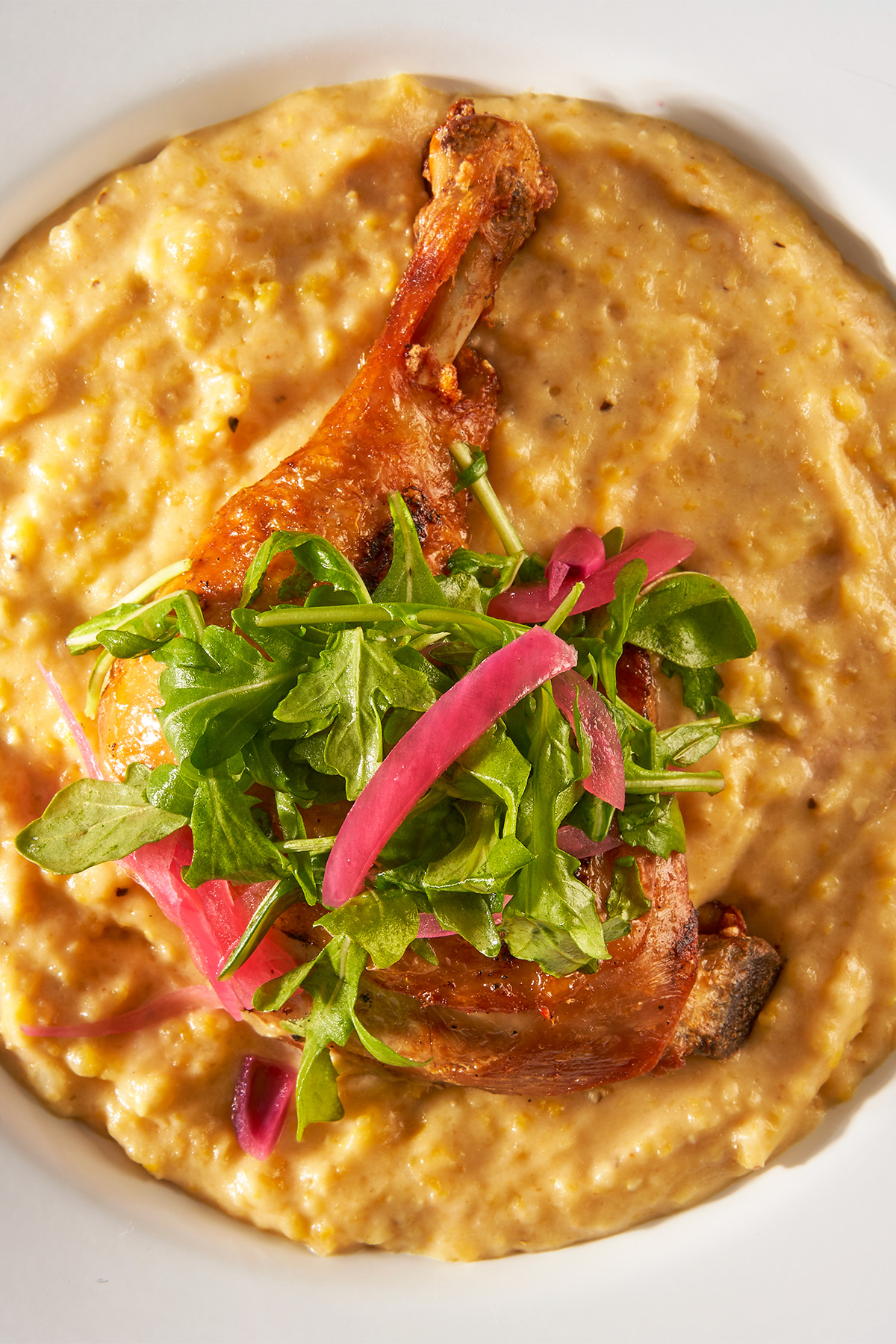 There's a time and place for the complicated. And there's a time for this: dishes with unrehearsed beauty. Maybe nourishment is simple, I always think, as I step back from this reprieve for the soul.
Fauna
[giflike_video id="5″ /]
The wizardry of Peter Barlow (chef) and Aaron Benson (beverage director) was on display in what may have been the most hidden opening of the year. Fauna, nested inside Flora Street Cafe, a place with artistic plating, whimsy, and wickedly focused French technique, alighted, like something from another galaxy, with a mission to turn dining into art and a 12-course tasting menu that took my breath away.
Menus built in crescendos, playing with dissimulation, delighting in miniaturization, upending expectations in a highly curated experience. Visually stunning compositions, daring in their fashion-plate playfulness, came served on what looked like white ceramic tree stumps or geodes. I was mesmerized by the tiny world of a sliver of lettuce heart, daubed with egg yolk jam and edible flowers, or a fluke crudo that looked like petals or leaves in a forest. I marveled at tricks, like the fuchsia prickly-pear snow that poured tableside over a pool of chia seeds and clarified ketchup, a clear gel dotted around the plate that made a season's-end tomato disappear; and an orb of lemon-crab dashi that washed over a squash custard like a wave, taking you to the sea.
Under the crape myrtle chandelier, with service attentive as soft voices and kid gloves, I admired the creativity of a beignet that gushed the decadence of an umami mousse; the exquisite pairing of a nonalcoholic black currant and sweet potato drink with dry-aged squab or akaushi beef; an evening's strange and stirring sensations. There are many occasions when you smell smoke. The kitchen lights braziers, billows dry-ice mist, as the room becomes a stage for a multisensory immersion. It's not dining; it's theater unfolding over time in a fourth dimension.
Two chefs, one sommelier, 16 seats, 12 courses, two nights a week—they work magic, leading you through their woods. So that an evening left an impression like hoofprints of the shape-shifting, fictional beast they conjured—part reality, part myth.
Ichigoh Ramen Lounge
[giflike_video id="9″ /]
At Ichigoh Ramen, the soup-slurping spot that quietly replaced Tanoshii, each broth is a nuanced creation. All of the elements—soup, noodles, toppings, seasonings, and oil—get due respect. For the veggie ramen, an oil of roasted shallots and root vegetables; fish oil (made from three kinds of dried fish) for the niboshi ramen that envelops you gently with a velour of smokiness.
You could argue we haven't had more traditional ramen than this, spare in its toppings (better not to mar the careful balance): menma or seasoned egg or maybe the frilly flower of naruto. A vegetable broth gets Fuji apples and burdock root (secret earthy sweetness) and an infusing sachet of sesame and peanuts (depth and richness). The chicken paitan ramen has the lip-smacking, creamy consistency of tonkotsu.
The broth calls you to admire it, even before you have taken the first sip. They're crafting old-school bulwarks, aiming for classics. In New York, George Itoh managed an Ippudo, the Japan-based emporium of tonkotsu. (Deep Ellum reminded him of Manhattan's grit.) Now he eschews the trendy pork broth and uses other things to build layers.
It's not just a ramen aficionado's dream. Appetizers, like the yaki mochi, grilled and wrapped in nori; eggplant, brushed with blueberry and white miso (like barbecue sauce); or beef tongue, braised into tenderness and smoked over Japanese hickory chips, are likewise simple, with a world of complexity beneath. They get a small sprinkling of sesame seeds or dab of Japanese mustard—total restraint. But the flavors astound me: the simplicity and focus and distinctive balance that reminds me of my Japanese stepmother's cooking. "Old-school" hardly seems to capture it. It's not a time stamp but more an ideology.
Ka-Tip Thai Street Food
Inside husband-and-wife George Kaiho and Yuyee Sakpanichkul's casual Thai counter-order spot in the Farmers Market, a chalk drawing depicts an alley of food stands in Bangkok. Recipes were honed over months at farmers markets and pop-ups at breweries (the kaleidoscopic flavors, a world of tang, funk, and sweet and salty heat, go well with beer).
Kaiho, who is also the talented bar manager at Jettison, is from Japan; Sakpanichkul is from Bangkok. Ka-Tip is a blend of their sensibilities, serving iconic street food that captures the heart. A daytime mellowness pervades in natural materials and minimalism. Not the colorful overwhelm of Bangkok. Only pillows on a long wooden bench splash vibrant color. But the food has serious pedigree and is everything you crave.
And so now we have pad Thai that has great chew, with sautéed tofu, shrimp, bean sprouts, ground peanuts to shower on top, and lime, which you happily wash down with robust, chicory-laced coffee or limeade stained blue from butterfly pea flowers.
Chicken over rice with bold, garlicky flavor has an egg on top that you cut into, one of the oozing pleasures, like the best brunch dish ever. Some things are superb and quiet, not cymbal crashes. Like the yum woon sen, all lime tang, wood ear mushrooms, shrimp that hover just shy of translucent, and ground chicken that looks like feta in the tangle of clear noodles.
[giflike_video id="7″ /]
Then there was the night when, sitting alone, I found I couldn't stop eating the grilled pork salad with toasted rice powder, though my lips were burning, chastened (yet utterly seduced) by the conflation of fiery lash, funk, and charred meatiness I soothed with Thai tea, thick with evaporated and condensed milk.
In that moment, I fervently wished it were Sunday, so I could have the coconut-milk-and-rice-flour pancakes Kaiho makes with custardy centers and crisp edges.
Salaryman
[giflike_video id="2″ /]
To enter Salaryman is to enter something like a Tokyo late-night izakaya, but firmly located here, not a re-creation of Tokyo but a reminder of it.
Like in any hidden Tokyo diner, you put your name on a handwritten list and wait to sit in proximity to others in a warm, communal embrace. This is what Justin Holt wanted from the beginning: a no-reservations place with atmosphere.
The grill smells wonderful. Here, in a space where the walls are indigo-dyed paper and blond wood, adorable ceramic chopstick holders coexist in a stylish, comfortable hodgepodge with whiskeys and chuhais and local pottery's wabi-sabi imperfections.
Holt's team practices the art of dividing a chicken into more parts than you thought imaginable. The shoulder as distinct from the wing, the breast, back or breast skin (chewier versus more delicate), knee cartilage. Enoki mushrooms wrapped in koji-cured bacon lacquered with tare or the plush, torpedo-shaped tsukune meatballs you dip in a wash of egg yolk are things you crave from the grill. You could eat forever in this yakitori heaven.
Misozuke of dusky rose watermelon radish and turnip get buried in miso—house-made, like almost everything, including batches of shoyu, the togarashi, the noodles. The Caesar salad has a twist—garlic and Parm on Little Gem to remind you, but the umami wildly enhanced by cured avocado purée and nori squares fluttered on top.
If you're still learning the language of an izakaya, especially one taken in its own direction, just watch the cooks, standing over the binchōtan and basking in its smoke.
Creamy paitan ramen—the noodles fashioned from Texas-grown yecora rojo wheat—has chashu, savory as smoked ham, and a slick rich as brown butter; gossamer chintan broth is fragrant with lemon oil and tender poached chicken. The wagyu Hamburg steak with truffle petals, sweet potatoes covered with malted soybean powder, and earthy curry with the crispest chicken cutlet are all part of the pulse. This team is playing its own version of a hit, down to the white-chocolate-coated soft serve with dehydrated peach. I'm there. In a place with immediate cult status.
Get the SideDish Newsletter
Dallas' hottest dining news, recipes, and reviews served up fresh to your inbox each week.