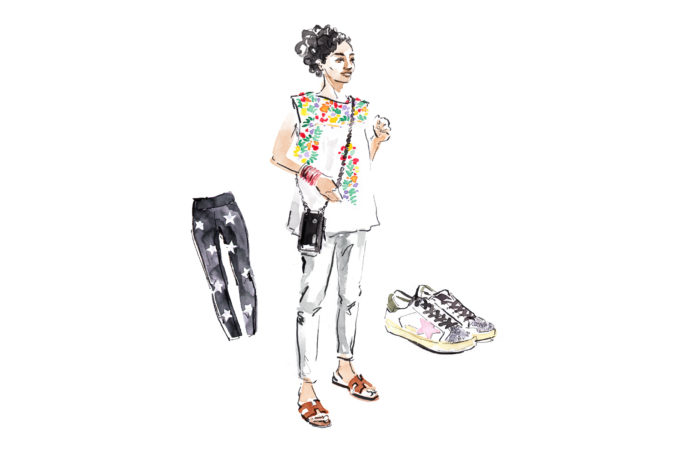 The Dallas Mom Uniform
From Ultracor to Golden Goose, we've spotted a few new basics around town.
Women have long strived to find the perfect mix of stylish and comfortable pieces that go from play date to work meeting to after-school pickup. While you still may spy Uggs, Lululemon, and a Louis Vuitton Neverfull bag in the carpool line (the last decade's most coveted mom accessory), we've spotted a few new basics around town.
Mi Golondrina Embroidered Top

From East Dallas to North Dallas, the most ubiquitous uniform is a Mi Golondrina embroidered top, white jeans, and Hermès Oran sandals. Moms wear them to lunch, shop, volunteer, and PTA happy hour.
Get it at: Mi Golondrina
BuDhaGirl Bracelets
Whether on the way to the gym or the office, an outfit isn't complete without BuDhaGirl bracelets. They come in a variety of metallics and look right at home in a high-low stack nestled next to a Cartier Love Bracelet or an Apple watch.
Get it at: BuDhaGirl
Bandolier iPhone Case
Lakewood ladies like to be hands-free with the Bandolier iPhone case. It goes from field trip to conference call with style and ease.
Get it at: Nordstrom
Ultracor Leggings
Ultracor leggings are so hot they have a waitlist. Preston Hollow moms fresh from a class at The Bar Method will probably be wearing them with their APL sneakers. Consider them today's tennis skirt.
Get it at: Bandier
Golden Goose Sneakers
Highland Park moms buy these $500 Golden Goose shoes as their casual run-around kicks. You may even spy them on their littles, too.
Get them at: Forty Five Ten, Cabana–Canary, Studio Sebastian