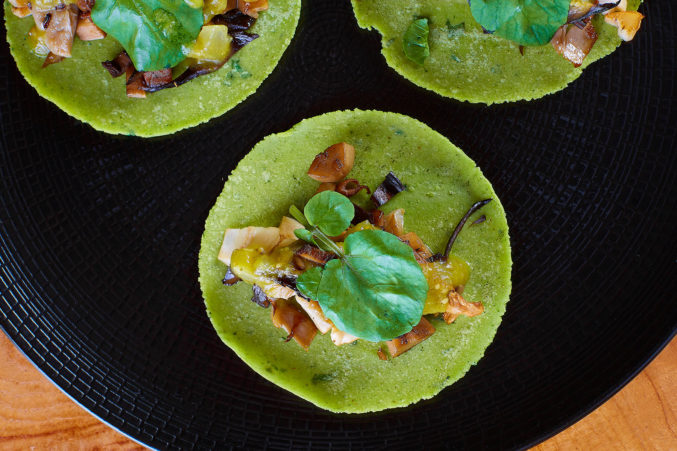 At Tulum, the Coast Is Unclear
The Oak Lawn restaurant wants to take you to a Mexican beach. So how does a great flounder Milanese fit?
Beyond Tulum's heavy wooden front door, you find yourself in a jungle of sorts. It's the bar and lounge area, with banana-leaf fronds patterning the walls and surreal, sepia-toned scenes of animals flickering across a screen. Beyond that, past a driftwood divider, there is the dining room, which would very much like you to see it as a beach, with its walls colored like white sand and resort-appropriate seating. Given all this—and the suggestive name—you might assume that you will be dining on food from the Yucatán Peninsula. Not quite.
Tulum is divided by more than just driftwood: like Madrina, the French-Mexican restaurant it replaced on Oak Lawn, it stands between two things. Owners Valerie and Mike Karns (whose Firebird Restaurant Group also includes El Fenix, Meso Maya, Taqueria La Ventana, and Tortaco) and their interior designer would like you to consider those the jungle and the beach. But that is superficial. The question really is where the upscale fare stands between Mexican and something else. For executive chef Nico Sanchez, who also oversees the menu at Meso Maya, where he is bound by tradition, the answer is a gust of freedom.
At Tulum, rather than chips, they present the crunch and freshness of thinly sliced French radishes and sliced pure-white jicama to dip in a mousse of avocado. You might choose to interpret it as a variation on radishes and butter, or chips and guacamole, but either way it's a twist that brings together several references, intelligently intertwined. It's a testament to Sanchez's creativity that a vegan "ceviche" destined to mound on crispy plantain chips harnesses the textures of raw portobello, shiitake, hen-of-the-woods, cremini, and oyster mushrooms, their silkiness, which has absorbed the brightness of lime and orange juices, mimicking perfectly the texture of raw fish.
One evening, we ordered only small format—the menu is roughly divided into small fare, like Mexican tapas, and mains—beginning with a fiercely charred octopus tentacle. It was plated with a vibrant vermilion achiote sauce that was fruity, sweet, and tart and a grilled heart of palm that echoed the octopus's pearly firmness. Because this is Tulum and not Meso Maya, Sanchez also features a whole, wood-oven-roasted beet, which arrives quartered, steaming from its seams, revealing its magenta interior over a bed of whipped goat cheese.
The sopa verde's tangy broth is brought to life with wild tomatillos, smaller, richer, sweet-tart and intense. In another starter, excellent hand-made tortillas infused with (and quite green from) fresh cactus and epazote are the base for a mixture of mushrooms that have been dehydrated and crisped for texture and smokiness and placed over a rich wild tomatillo sauce.
The work with chiles is complex. Single tamales come plump and round, like little clenched fists: short rib in red chile masa accented with an árbol-tomatillo sauce, lush as a romesco. Or chicken set off with a dusky guajillo sauce and velvety serrano salsa verde, both sauces smooth and soft, the contrasting colors pretty and arresting, freckled with the Chihuahuan cheese that will reappear in the bite-size morsels that the menu calls flutes, not flautas.
If you're looking for Mexican wine, you have a single choice from a wine list that is small and tame: a Casa Madero Merlot from the Parras Valley in Coahuila (not Baja or Guanajuato), a taste from the oldest winery in the Americas. Well-built cocktails include the Oaxaca, which makes sultry work of agaves, or a proper daiquiri with the sweetness of tangerine balanced by the heat of habanero in straightforward, sunny charisma.
Meanwhile, my friend commented one evening that ordering mains felt like looking at the coast of Mexico without setting foot there—seeing the Yucatán while eating the buffet on a cruise ship. You may worry when you spot on the menu flounder Milanese-style with spaghetti squash; lamb chops with white truffle gnocchi; and sous-vide jerk-marinated chicken breast with sautéed zucchini and grape tomatoes, none of which sounds like anything that hails from any region of Mexico. I'm wary of the phenomenon of modern Mexican bending to a meat-and-potatoes inclination with hefty, serious, and conservative-leaning fare. I worried that, at Tulum, we were set for a version of that.
But then it turns out Sanchez's flounder is a splendid rendition of the delicate fish, served with a crisped Parmesan crust and a sash of sofrito. Spaghetti squash ribbons, like unstrung guitar strings, played in harmony with a butternut squash sauce underneath. Braised beef short ribs also wore a sash, this time of Meyer lemon marmalade, its brightness an accent to plump Japanese rice and a glossy, earthy pasilla chile sauce. A special of lump crab-encrusted sea bass perched over a bouillabaisse that whispered enticingly of saffron with a brunoise of celery, fennel, and chayote. It was a beautifully cooked piece of fish. But it was pricey.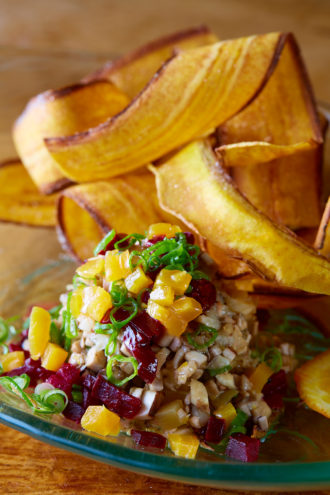 And not all the multi-ingredient entrée compositions worked. One dish placed scallops over a potato purée strongly infused with smoke that balanced the creaminess of the scallops; but the accompanying pan de elote (corn cake), steamed beet, and roasted butternut squash looked like a disjointed assemblage on the plate and didn't come together. Lamb chops that we ordered medium-rare arrived nearly carbonized with a confit carrot and pillowy gnocchi that lacked flavor.
One of the rockiest moments was saved for dessert. A semifreddo I ordered on two occasions to make sure I wasn't just hitting a bad night was full of awkward, chunky bites of white and dark chocolate and unroasted pistachios. Egg whites had frozen in patches in the strange, disheveled creation, plated like a hasty art project. Perhaps the winds of change had inspired this unstructured expression. The most successful desserts were reminiscent of tres leches in their textures or remained traditional in their flavors, like the chilled corn pudding cake with hoja santa syrup.
If Tulum is reaching for something not quite Mexican, don't tell that to our server, who recommended the piloncillo cake, like a warm sticky toffee pudding cake, with a pool of spiced chocolate sauce that reminded him of the hot chocolate his mother made to comfort him when he had gotten in trouble. You could remind him that flounder Milanese is distinctly un-Yucatecan. Then again, spoon into the sponge and custard and you see why he almost wept.