The building permit for the house is dated July 31, 1956, the sixth year of the second-longest drought in Texas history. Allan Shivers was the governor of Texas, a Democrat, as were both U.S. senators, Lyndon B. Johnson and Ralph Yarborough. Mass inoculations were being held to stop the spread of polio. It was the middle of the 20th century, commercial jet travel was around the corner, Elvis Presley was about to make his first appearance on
The Ed Sullivan Show
, the Russians were about to launch Sputnik, and young architects in America were designing homes intended to change the way people lived, in a sleek, efficient style aimed at the future, a style that would later be dubbed midcentury modern. A local contractor named Bobbie Gail Ladd built some of those houses in the humble suburb of Farmers Branch. My parents, Gene and Lu, bought one.
A variation on the ubiquitous earth-hugging ranch houses that spread across the blackland prairie of North Texas after World War II, the houses that Ladd built were one step closer to modernism and notably lacked the purely decorative window shutters so common to the ranches in the neighborhood. Our house instead had nearly floor-to-ceiling panels of glass on sections of the front and back, with ribbons of aluminum-framed casement windows at the top of the bedroom walls. No porch or wrought-iron floral columns, just a single step up from the driveway to a plain front door under the wide eaves of a side-gabled roof with a low enough pitch to hold a coating of sun-reflecting white pebbles (a problematic feature later replaced by shingles). A skylight brightened one bathroom. The carport was turned at a right angle to the face of the house, creating a fashionably modern "L" shape while neatly hiding two cars from the street view. Three bedrooms, two baths, a prominent fireplace that opened on two sides, hardwood floors, and an electric galley kitchen with a pass-through—all of it coming in at a tidy 1,479 square feet and priced at $19,250.
A classified ad in the
Dallas Morning News
in September 1956 described it as a "Brand-New Contemporary," highlighting the "12-foot sliding glass doors overlooking large diamond-shaped patio" and listing the seller as "B.G. (GAIL) LADD," with a phone number to call. This tells us how differently builders operated at the time and also that the house was completed in less than two months, then sat on the market for another half-year before my parents bought it for $750 less than the sticker price.
Eight years earlier, Gene and Lu had escaped the steel town of Bethlehem, Pennsylvania, finding their way to Dallas and a 750-square-foot saltbox in South Oak Cliff. When they wanted a change, my parents moved 20 miles north to the other end of the city, as far north as they had to go, one presumes, to get something they could afford. At 9, I wanted the fireplace that opened into two rooms. That seemed extremely cool, especially when our previous house had no fireplace at all. The prominent fireplace was an MCM detail that could be traced to Frank Lloyd Wright, the godfather of American modernism who believed the hearth to be the psychological center of a residence. (Had I sensed this?)
It wasn't until years later, living in Los Angeles, that I happened upon some photos of houses featured in Arts & Architecture magazine in the 1950s and thought, I grew up in a house like that!
As a kid, this was just the place I called home from third grade through high school. It wasn't until years later, living in Los Angeles, that I happened upon some photos of houses featured in
Arts & Architecture
magazine in the 1950s and thought, I grew up in a house like that! Not exactly, but there were similarities. The houses in question were part of the historic Case Study House Program shown in the magazine that sought to bring modernism to the middle class, as Frank Lloyd Wright had already tried in the 1930s with his "Usonian" houses—the word a synonym for "American" and incorporating his ideas of horizontal lines, flat roofs with wide overhangs, open floor plans, and the integration of indoor and outdoor.
"I remember the inside of your house was different than ours. I had never seen anything like that," one of my neighborhood buddies from that time, Gary Goolsby, recalled when I tracked him down recently. He lives in Carrollton now.
The house was modest, but Gene and Lu liked it so much that they never bought another, its open floor plan and cozy backyard providing a welcoming space for socializing, dinner parties, and countless gatherings of the Dallas Folk Music Society, which my mother helped found more than 50 years ago. For decades, the famous, almost famous, and never to be famous sang and played at Eric Lane, filling the house with the sounds of guitars, banjos, mandolins, and fiddles. A popular performer in her own right, my mother gave the spare room to visiting musicians when they were in town, among them Texas bluesman Sam "Lightnin' " Hopkins, Carolyn Hester, and Charlie King. My father, a writer, worked a day job at what was then called the Dallas Museum of Fine Arts, and it seemed there were always artists and writers around: Otis Dozier, Hermes Nye, Octavio Medellin, Wilfred Higgins, Barney Delabano, Martin Delabano, Marshall Terry, David Searcy, Bryan Woolley, and Ken Gjemre, who started Half Price Books.
After Dad died, Mother stayed in the house, even as it became difficult for her to maintain on her own. On one visit, back in 2004, I urged her to sell it and move into a condo. The neighborhood seemed in flux, with at least one rundown rental on the block. She considered the idea for a few days and even went out to look around North Dallas with a real estate agent. Then she called to tell me she couldn't do it, couldn't leave. Too much had happened here perhaps. As she approached her 90th birthday, she asked if I would come back to help her stay in the house a little while longer. My personal situation was such that I could do so, albeit with some apprehension after 28 years on the West Coast. I did have a new appreciation for the house since coming across those photos of the Case Study homes in Los Angeles and learning about their Wrightian aesthetics. Once back in Farmers Branch, after adjusting to the strangeness of sleeping in my old room, I became newly curious about how all this had happened: the house, the neighborhood, midcentury modern's short-lived manifestation in Farmers Branch. Who was Bobbie Gail Ladd and why had he built these homes in an unconventional style that the Federal Housing Administration was reluctant to finance? These are not questions you think about when you are younger; when you're older, they can be harder to answer.
Some things are evident: valley view estates, the aspirational name for our far from fancy neighborhood of not quite tract homes, located a half-mile north of what is now I-635, was part of the postwar building boom that converted cropland into suburbs and subdivisions. For more than a century after it was founded, Farmers Branch had remained true to its name as a small agricultural community (as late as 1950, the town had an official population of 915), but the critical mass of returning servicemen and their growing families fueled a demand for housing that invoked a familiar rule of real estate. The land became too valuable to farm. Developers, aided by government-backed cheap mortgages, replaced the furrowed fields with the streets and patios where baby boomers rode their first bikes and ate their first outdoor-grilled hamburgers—me among them.
By 1957, the population had passed 7,000, and the residents had voted for home rule rather than be annexed to Dallas. "Nowhere is the striking growth of Dallas County more vividly illustrated than in the once-small town of Farmers Branch," the
Dallas Times Herald
observed. Other subdivisions were Valwood Park, Johnston Park, Chapel Hill Addition, and Brookhaven Club Estates, adjoining the golf course where Jordan Spieth would one day learn the game.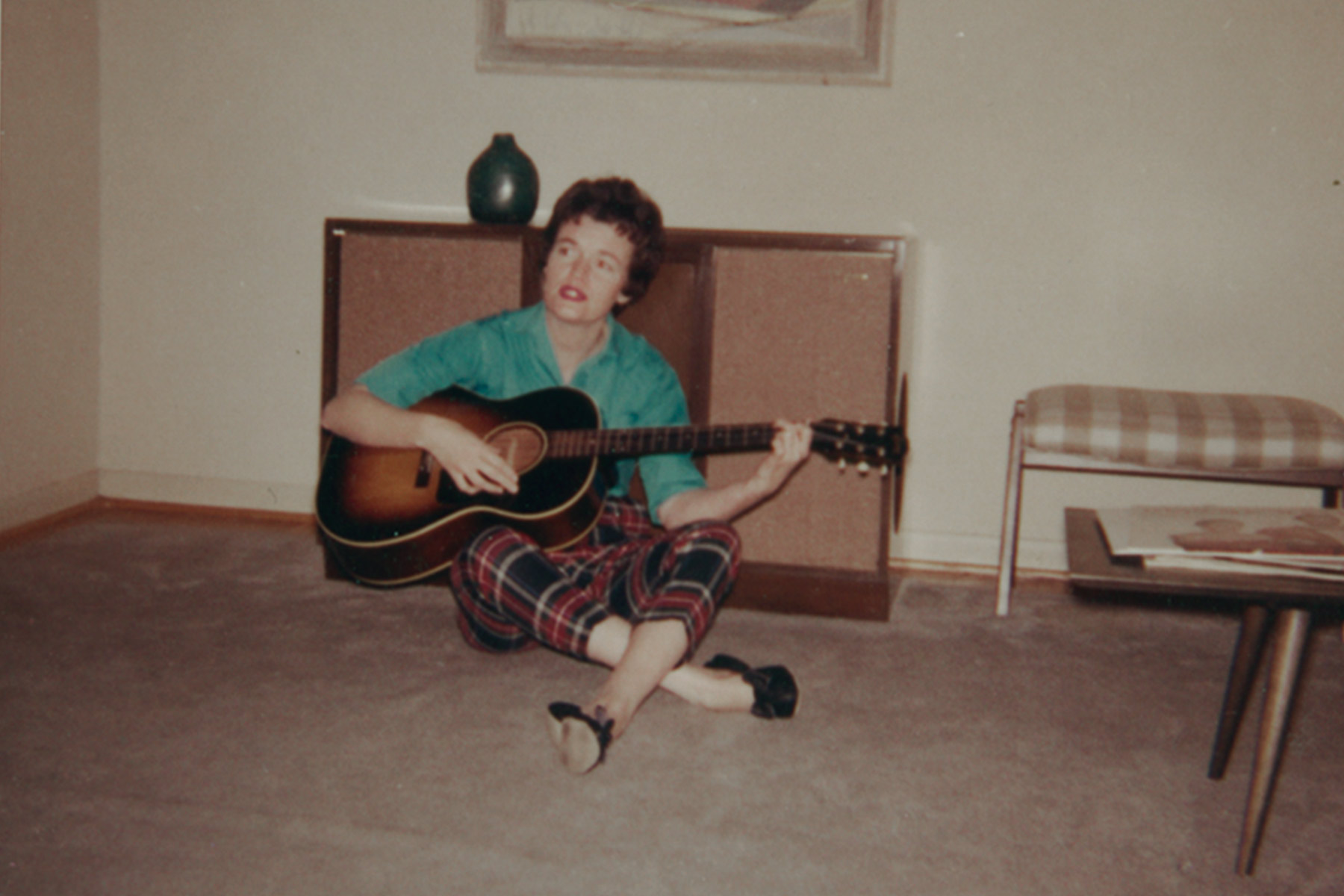 Darling, do you remember me? Lu Mitchell was a popular performer, and her husband, Gene, was a writer with a day job at the Dallas Museum of Fine Arts.
A new era was coming, but when we moved to Eric Lane in that wet, tornado spring of 1957, you could still see traces of the old. The main roads were two-lane blacktops, with fields of cotton and wheat on one side. The first shopping center, the mark of postwar suburban convenience, was still a couple of years off. Where it would soon appear, across Dennis Road (later renamed Josey Lane), at the western end of our block, with a Skillern's Drug and Western Auto, was yet open land leading to what Gary Goolsby and I called "the woods." We took our dogs there and pretended to be Davy Crockett, hunted rabbits with fiberglass bows and wooden arrows before acres of asphalt with parking spaces replaced the trees.
A 1954 map I found online shows our future subdivision as a rectangular development plat, bounded on the south by Farmers Branch Creek, on the west by Dennis Road, on the north by Valley View Lane, and on the east by Webb Chapel Road. I didn't know it at the time, but our contemporary house was hemmed in by history. Webb Chapel is named for the Missouri pioneer Isaac Webb, who, with Thomas Keenan and William Cochran, came to Texas in the early 1840s, when it was still a republic offering free land to settlers. The three men and their families joined the English-financed Peters Colony that stretched from Dallas north to the Red River. They called their allotted acreage Mustang Branch, after the creek, a branch of the Trinity and named either for the wild mustangs in the area or the grapes growing nearby. "The stream provided a focal point around which some members of the Peters Colony chose to settle," explains the Texas historical marker planted at the spot where the creek crosses present-day Valley View, west of Marsh Lane. The name was later changed to Farmers Branch to better advertise its crop-friendly soil. About the same time John Neely Bryan was establishing Dallas farther south on the Trinity, Webb and fellow Methodists built a small log cabin church (the first in Dallas County) near the creek. Its cemetery remains at the southern end of our neighborhood, with headstones marking Webb's final resting place and those of his wife and children.
"Nowhere is the striking growth of Dallas County more vividly illustrated than in the once-small town of Farmers Branch," the Dallas Times Herald observed.
Valley View Lane, the northern boundary, stretching east past the entrance to Brookhaven College and west to I-35E, traces an important 19th-century road, Bird's Fort Trail, that led from points east to a frontier fort ordered built by Sam Houston south of present-day Euless in 1841, a reminder that Native Americans belonging to the Caddo, Comanche, Wichita, and other tribes roamed this section of the southern plains before and after the Spanish and other Europeans got here.
I have often conjured the image of bronze-skinned warriors on horseback cantering across a grassy prairie that would a century or so later become the streets of our neighborhood: Eric Lane, Randy Lane, Lavita Lane, Veronica Road. Whether that ever happened exactly, who can say? But I figured I could at least find out how our house came to exist and why it was built in the style it was—by Gail Ladd, as he was known to my parents.
My mother can't recall how she and my dad found the house, though it was only a half-mile from an earlier wood-sided home where we lived for three years after leaving South Oak Cliff. The architect Philip Henderson, whose firm designed The Quadrangle and Brookhaven College, suggested to me they might have been influenced by visits to the home of Jerry Bywaters, the director of the art museum, where my father worked along with Henderson's wife, the former Jerry Jane Smith. Bywaters' house, on Amherst near SMU, was a decidedly modern flat-roofed, red-brick, one-story structure with an open floor plan designed by the most famous of all Texas modernists, O'Neil Ford, in 1950. I remember going there as a child and being struck by the small lake in back with lily pads that you could see through a wall of glass.
At the records office at farmers Branch City Hall, a clerk took down my address, disappeared for 15 minutes, and came back with a slim folder holding proof of permits for minor remodels and repairs, plus the original building permit, a single sheet of paper. As an archaeological document, the building permit was disappointing. It merely identified the lot number (5), the "addition" as "Valley V.E.," the type of construction (brick veneer), and the owner (builder) as The Ladd Co.—all of which I already knew. I looked elsewhere for building records and developer plans for Valley View Estates, including the Dallas County Records Building, the Farmers Branch Manske Library, and Preservation Dallas—and turned up nothing. Although Farmers Branch has a beautiful historical park that includes the oldest stone house in Dallas County still on its original foundation (Gilbert House, 1856), the city has kept scant records of its post-WWII building boom. Other than a sketchy pictorial history book published in 1996, the Farmers Branch Manske Library has nothing on its shelves about local history, including any real estate brochures or plans illustrating its various stages of residential development. There are some incomplete microfilm reels of the once weekly
Farmers Branch Times
. Missing are the relevant mid-'50s years that might have had a story or two about new developments. The reference librarian did not seem concerned when I pointed this out to her, adding to the mound of indifference I found myself plowing through in search of Gail Ladd and his midcentury motives.
I met with the city's new mayor, Robert Dye, who is 34 and grew up in Farmers Branch, and he promised to locate other sources at City Hall who might assist me in determining what planning went into the neighborhood and what became of Ladd. For whatever reason, this did not happen.
One could conclude that we take our physical environment for granted, without much examination of how neighborhoods were developed and why our homes look the way they do. What does a house say about the people who live in it and the culture that produced it? The absence of sidewalks, for example, in the original Valley View Estates, reminds us that no one walked in many postwar suburbs. (How old-fashioned, walking!) Now people walk, inconveniently, in the streets.
"The way it worked back then," the real estate agent Doug Chitwood explained to me, "is that the farmer sold the land to a developer, who platted the lots and then sold them in groups of six or a dozen or more to different builders." Which explains why Ladd's houses were different from the ones on the next block. The developer of Valley View Estates was a man named Hubert McQueen, whose son Dennis still lives in Farmers Branch, where he runs a plumbing business but rarely answers his phone.
"My dad bought the land," Dennis told me the one time I was able to talk to him briefly. "He built some of the houses and the one we lived in on Phyllis, but most of it was done by other builders."
Cliff May believed that residences should be fitted to their immediate environments, and in the West that meant houses built for outdoor entertaining, gardens, seclusion, and comfort.
Hubert Lafayette McQueen, born in 1920, grew up in the area and built homes in Houston as well. I knew from the City Hall records that he built one of the best-looking midcentury moderns, on Selma, in collaboration with the original owner, but Dennis had no knowledge of this or who built the two houses on Eric that included that bygone amenity, the bomb shelter. Nor did he have any recollection of Ladd. But Dennis was a toddler in 1956. I remember his older brother Steve, who was a star pitcher in Little League and who, I learned from Dennis, died in 2011. He also confirmed the legend that the streets were named after other family members and cleared up the mystery of why, then, there is no street named Steve. "Primrose was originally Steve," Dennis said. But the post office asked for it to be changed because the Farmers Branch ZIP code (75234) can also be listed as Dallas, and there was a Stevens Street in Dallas.
In 1955 the
Times Herald
reported that "Builders in Farmers Branch take peculiar care to make certain units preserve individuality and avoid monotony of appearance." Which might be true technically but does not explain what forms they were following, if any, or their sources of design; meanwhile, the files the city keeps on residential structures from that time do not typically include blueprints. Only about 2 percent of homes in the United States are singular designs created by an architect for one buyer and a specific site. The rest are "contractor-built" housing, improvised from rough plans or blueprints taken from pattern books marketed by architect-designed production houses to merchant builders like Ladd and McQueen. Surely our house came into being this way, an example of what Dallas art historian John Lunsford, a family friend, once described to me as "mail-order moderne." But mail-ordered from where?
"He got the plans from California," my mother remembers Ladd telling her. Which would make sense, California being the laboratory for what became midcentury modern and then possessing a cultural cachet hard to imagine in the California-averse Tea Party Texas of today. "California Contemporary 'Live Modern' " read an Ebby Halliday real estate ad in the Morning News on the same page that carried the Ladd ad for our house in September 1956.
A glance at the photos of the 28 Case Study homes illustrates some of the common elements our house shares (or shared in its original state): sliding glass doors, top-hinged louvered windows, the broad two-sided fireplace, the kitchen pass-through, a flat or low-pitched roof with wide overhangs, a carport, a horizontal basket-weave fence, and outdoor space meant to serve as an extension of the interior. All of this could be traced back to Wright and his Usonian houses. Or not, according to Barbara Miller Lane, the author of the 2015 book about postwar housing development in America
Houses for a New World
. A history professor emeritus at Bryn Mawr, Lane argues that the focus on architects to explain what got built in the suburbs is misplaced and that in "vernacular" architecture, builders "learned from and competed with each other, visited each others' developments, assessed each others markets and profits," more than they cared about what the home magazines or architectural journals were displaying and promoting. She also believes the Case Study houses were not that important ultimately. "Because those homes were considered strange," she told me. "People wanted gables!"
Still, one can imagine that Wright's notions were in the air if not on the page where builders like Ladd were taking their direction. Wright had made his reputation with the prairie style, a spacious and horizontal response to the ornate Victorians of the early 20th century, but the Usonian houses were smaller and single-story, aimed at an emerging professional middle class that was living less formally. As part of their affordability, these homes lacked much storage space and garages, substituting the "carport," a word Wright invented.
The germ of his idea was shared by Californian Cliff May, who conceived what would become the mass-market ranch house at about the same time, adapting the adobe and red-tile Mexican hacienda as a template for subdivisions (fashioned with different materials, including eventually plate glass) in San Diego, Los Angeles, and, yes, Dallas. Like Wright, May believed that residences should be fitted to their immediate environments, and in the West that meant houses built for outdoor entertaining, gardens, seclusion, and comfort more than architectural gesture or curb appeal. The creations of both these men, it could be argued, altered the face of American homes built after World War II, but their midcentury modern offspring never achieved mainstream acceptance, in Farmers Branch or elsewhere, and, being nonconformist, met resistance from mortgage companies and the Federal Housing Administration then guaranteeing loans. Which explains in part why more were not built. Even in our neighborhood of more than 250 homes, maybe a dozen could be called midcentury modern, a term that was not coined until 1984, with the publication of Cara Greenberg's
Mid-Century Modern: Furniture of the 1950s
, a book that demonstrates "that the 1950s, despite the decade's reputation for conformity and kitsch, was a wildly innovative time," design writer Karrie Jacobs pointed out last year in
SOM Journal 10
, a publication of the architecture firm of Skidmore, Owings & Merrill.
Absent the memories of builders or documentation, it's very much a detective story a half-century later to sort out who was influencing whom in the vernacular architecture of Farmers Branch and what Ladd was up to. It's curious how the house my parents bought, though comparable in square footage, is different from the other six midcentury moderns that flank it. The others are all closely related in design to one another, with vaulted ceilings and street-facing clerestory windows. Their protruding rafters are exposed; ours are boxed. The others have slab foundations; ours is pier and beam. Initially I surmised that ours might have been built first and the others after it, but the building permits I located at City Hall show the opposite to be true. At least five of the other six were built by Ladd a year earlier, in 1955 (one house is missing its original permit). Again, why? Why did he fill the last lot with an altogether different design?
If our house came from a pattern book, surely there must be others like it somewhere, but after much searching online and in books and driving countless local streets, I have yet to spot one. On a recent home tour devoted to a dozen homes Cliff May (or his in-house architects) designed around the same time in Casa View, east of Buckner Boulevard, I noticed one that had the same wall of windows to the right of the front door, the same angle of low-pitched, side-gabled roof, and the garage (might it have once been a carport?) set at the same 90 degrees to the front door. By the 1950s, May was adding more contemporary elements like these to his ranch houses. I think it's doubtful that our house was designed by Cliff May, but it might have come from a draftsman imitating May—or Californians like Joseph Eichler, Edward Fickett, Craig Ellwood, and others working in the same style. Not far away, up and down the Marsh Lane corridor around this time, local mass-marketer Fox & Jacobs was building low-cost assembly-line homes that reflected similar contemporary influences and were sold under the label "Flair."
Creativity can be collective, Philip Henderson explained to me in discussing the origins of the now universally adopted open floor plan. "Eating in the kitchen has been a reality for many families forever," he told me. "I believe strongly in simultaneous development in different places as we are all persons doing the same or similar things. Therefore, it is natural to arrive at the same solution independently. I would offer that is how the open plan developed." Form following function.
We think Ladd lived next door to us for a short time in another of the houses he built on the block. My mother, now 94, is not sure but remembers "he was around" and that "he was handsome." I dimly recall his smooth, shiny face. Only now have I calculated how young he was. Using the public records available through Ancestry.com, I found his name and photo in the class of 1948 yearbook from Sunset High School in Oak Cliff. Which means he would have been 25 or 26 when he built the houses on Eric Lane. (McQueen would have been in his 30s.) He did have the help of his father. They worked together as The Ladd Company.
From U.S. Census Bureau records, I learned that Bobbie Gail Ladd was born in 1931 in Comanche, Texas, 130 miles southwest of Dallas. He grew up on a farm there, the only child of Jessie and Annie Ladd, who sometime in the 1940s left the farm and moved up U.S. 67 to Dallas, settling in Oak Cliff, as my parents did originally. How the father and son got into home building we can only surmise, along with why and how they chose to build these homes of the future in a subdivision of Farmers Branch in the 1950s.
I was unable to find anyone in Farmers Branch who remembers Ladd other than former city secretary Ruth Ann Parish, 81, who, on hearing the name, said, "Was he the guy who worked with his father?" I called the Dallas Builders Association, and a staffer there checked their database, which goes back to the 1950s. "We have no record of that company," she said, "or anyone by that name."
Todd Bonneau, who grew up in Farmers Branch and is one of the leading builders of custom homes in the city today, has no knowledge of Ladd or any idea why he would have built these homes on Eric Lane, but he happens to admire them. "I've been thinking about trying to build something in that style," he told me.
It's hard to imagine that Ladd was a fan of Frank Lloyd Wright or his postwar progeny and saw in these plans a blueprint for a new way of living. "He probably picked them up out of some magazine would be my guess," said former builder Alvin Thomas, 94, a Farmers Branch resident who constructed houses in Oak Cliff and East Dallas in the decades following the war using a different method, with no architect or purchased plans involved. "We came up with what people wanted and put it together," he told me.
Sixty years old now, the ones in our neighborhood qualify for historic status as a period style, which in Dallas County offers zero assurance they will survive the bulldozer.
"Nowhere else were houses like that built," Thomas said of the homes on Eric Lane, which he called "the low roof ones." Not entirely true, but his comment is a reminder of how unusual they were at the time in Farmers Branch. And it made me wonder if Ladd was simply a local builder testing the market with something new and different, with plans he got from a magazine like Sunset or a production house. It appears he chose to live in a new and different one himself, at least for a time, but given what we know about the FHA's conservative taste, you wonder how he got any of them financed. Did he and his dad build more houses after Valley View Estates and, if so, what kind? Did they lose their shirts on these "contemporary" homes?
I was hoping to ask Ladd some of these questions directly, but my search for him eventually led me to a photo of his polished tombstone that popped up on Findagrave.com. From public records and a stepdaughter in Denison, I subsequently learned that he died in 2004, at the age of 73, of cancer, in Sherman, where he was living with his last wife, the former Betty Jean Smith. He is buried across the Red River in Bokchito Cemetery outside Durant, Oklahoma, in a plot that he and she purchased years earlier. His obituary, a short one, was published in the
Durant Daily Democrat
, and it offered few details of what he did with his life other than working with his father "building homes in the Dallas area" and later operating a cabinet shop in Lewisville. It said, "He was a member of the Baptist faith, enjoyed woodworking, making furniture, camping, fishing and hunting." No obituary ran in the
Morning News
.
I earlier assumed that Ladd had descendants and that I would find them. Not so. He appears to have been married four times but fathered only one child, a daughter, who predeceased him. I was unable to locate any of his earlier wives. The stepdaughter in Denison, Sandra Chesser, from his last marriage, told me her mother was hard of hearing and would not be able to talk to me but that she would mention my inquiry to her and report back. For whatever reason, this did not happen, and she failed to respond to further messages I left. During our one phone conversation, she told me she was not aware that her stepfather had been a builder but that "he was a very smart man and could look at anything and figure it out." She also said he was "pretty much a loner and kept to himself" and that he worked as a cabinetmaker until he retired.
From homebuilder to cabinetmaker is not a typical career arc, but maybe that reveals something significant about Ladd. As a woodworker and craftsman, he must have been a hands-on builder, so different from most contractors today, who build on a larger scale, with bigger crews armed with nail guns, cordless drills, and power saws. And it might explain why the houses on Eric Lane still look pretty good after 60 years. But he did it to little acclaim or even acknowledgment, to judge from my efforts to retrieve some evidence of his methods and purpose half a century later. Such is the lot of the men who create the places we call home. Bobbie Gail Ladd wasn't just anybody, yet his life provides a stark reminder of how easy it is to vanish completely from a world to which you added some value.
In architecture, the vogue of middle-class modernism did not last long, at least not the Frank Lloyd Wright-Cliff May-Case Study styles that had captured the attention of shelter magazines like
Sunset
and
Better Homes & Gardens
in the 1950s. As Barbara Miller Lane pointed out, many in the general public thought them strange. Sixty years old now, the ones in our neighborhood qualify for historic status as a period style, which in Dallas County offers zero assurance they will survive the bulldozer. (Even O'Neil Ford homes have been razed in Dallas.) Unconventional when they were built, by today's standards of hulking curbside villas and faux châteaux, these homes would be regarded by many prospective buyers as too small and understated. Unless updated, they lack exterior wall insulation and large kitchens, but a discerning minority might yet find them desirable for their efficiency of scale and elements of style evoking the era of
Mad Men
. It's ironic that midcentury modern is all the rage in furniture now, but the houses that once showcased that furniture are in diminishing supply.
At the end of the 1960s, the fashion in new construction turned to split-levels and sheds, followed in the 1980s by the wave of new traditionals and a return to more decorative revival styles. You can see those changes plainly illustrated by walking south from our neighborhood across the bridge spanning Farmers Branch Creek and into the area developed in the '70s and '80s. It's convenient to say that the '70s killed midcentury modern, as a landscape designer told me recently, but I'm not sure what that means other than perhaps a rising affluence and pretension that encouraged mass-market homes to get bigger and bigger while neglecting the finer points of design and proportion. Meanwhile, architect-designed modernist homes are popping up again in Dallas, but they tend to be large and expensive, only distantly related to the postwar middle-class models.
Unlike the older neighborhoods of Dallas, in Farmers Branch, whatever existed before Pearl Harbor and the Normandy invasion is mostly gone, replaced by midcentury subdivisions. And more than a few of those houses are being replaced now by Millennium Mansions, to borrow local architectural historian Virginia McAlester's' term—two-story willy-nilly aggregates of stone veneer and style, with prominent entryways, steep roofs, and quick-drying notions of vintage grandeur, some right down the street.
To the east, a newer development of larger and more expensive homes along Farmers Branch Creek took the name Valley View Park Estates in the '80s, further confusing anyone old enough to remember Gail Ladd or Hubert McQueen. I asked Robert Dye how that happened. It's not something he's had to think about.
The area surely looks and sounds different than it did in the late 1950s. Mature oaks, maples, elms, and crape myrtles throw welcome shade over lawns and driveways that 60 years ago, when brand-new, were bared to the sun and empty of landscaping that might have impeded the all-day athletic contests Gary Goolsby, the Wells brothers, and I mounted during the scorching summers. At the end of the block, a blue and white Chase Bank sign rises in roughly the spot where, as a fledgling driver, I once plunked a 1965 stick-shift Corvair into a drainage ditch that ran alongside two-lane tar-topped Dennis Road. Since transformed into a six-lane boulevard, that same stretch of (now) Josey is so full of cars at rush hour that it's difficult to access from Eric. Walking the streets today (some sidewalks have been added), one can sometimes hear the sound of Tejano music coming from behind backyard fences, an indication that Farmers Branch, once predominantly white, is now almost 50 percent Hispanic. Depending on the wind direction, you can also hear a low roar coming from I-635.
My 2004 fears that the street was headed in the wrong direction have been allayed. Most houses are holding their own, many showing signs of facelifts and remodeling, evidence the owners plan to stick around. The neighborhood remains an eclectic, unusual all-American mix: tradesmen and professionals living side by side in standard brick ranches, new builds of two-story stucco-sided whatever, humble traditionals, and the smattering of midcentury moderns, a Range Rover in one driveway, a Ford F-150 in another. Wheelchair ramps indicate the age of some residents, while a new generation of kids plays in the streets. Texas stars are mounted proudly on many walls, some "He Is Risen" crosses planted in the flower beds. When I see those things, I think of planting a different sort of sign in front of our house, one that reads: "Endangered Species."
Not long after I returned to Eric Lane, I called a general contractor to come over and discuss some repairs that were needed. When he pulled up in his truck, I went out front to greet him. We were standing in the driveway in front of the low-slung sandstone brick façade, with the wall of windows behind us, when I mentioned I was not sure how much money I wanted to put into the house. He gave me a knowing gaze and said, "You understand that if you ever sell, whoever buys it is going to tear it down."
What? I did not understand. Really? "It's such a good house!" I wanted to shout. Not to mention, Lightnin' Hopkins once played in there! Carolyn Hester sang in the backyard! This was Lu Mitchell's house! Gail Ladd built this house! I didn't say those things out loud, but they passed through my mind before the contractor, sensing my surprise, quickly added, "Maybe not."
Get the D Brief Newsletter
Dallas' most important news stories of the week, delivered to your inbox each Sunday.