Masa Made Modern
Anastacia Quiñones, or AQ as she is known, was one of Dallas' early modern Mexican chefs, having been at the helm of Alma, a local pioneer of the cuisine. The restaurant shuttered after mere months; Dallas wasn't ready for it. So instead, she went on to lead the kitchen at Komali, spent time teaching in DISD's culinary arts programs, ran a Mexican concept at Kitchen LTO, and took a stint at coffee-and-brunch emporium Oddfellows. Then, earlier this year, things began to fall into place. "I had been working on the concept for three years," the chef says of her reimagining of The Cedars Socíal. "For some reason or another, it just never worked out until now." Everything came together when she partnered with restaurateur Monica Greene and bar manager Leann Berry to open the newly accented restaurant in February 2018. The former restaurant and cocktail lounge has kept its midcentury flair and fireplace. But slight tweaks let diners know what kind of experience they're about to embark upon. Mexican movie posters line the back hallway. The patio is decorated with stringed lights. A folkloric angel floats above the main room. It is in this space where AQ and her staff shine, with a balanced ahi tuna aguachile, spiced with habanero and cooled with mango, and crispy skin-on chicken thighs in mole, served with sweet plantains. And, oh, the tacos—available during lunch in a shipping container out back and as daily specials, they demonstrate AQ's understanding of the tortilla's potential, beginning with fresh masa. "Tacos are just as important as mole," AQ says. "Dallas is starting to appreciate that."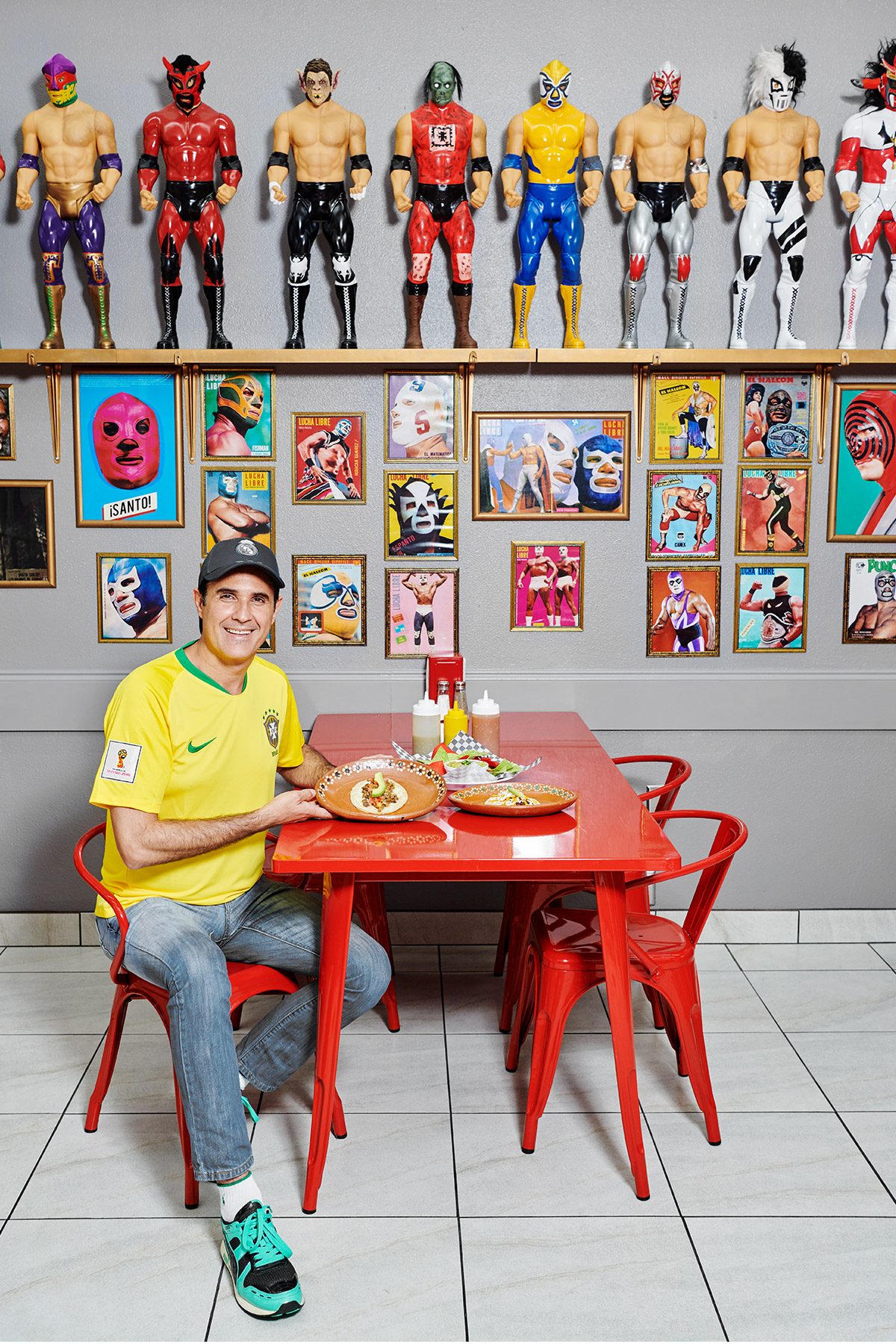 Man of a Thousand Masks
"Every Sunday I used to walk away from my house, run away from my mom without her permission, and go to the wrestling matches," says Rodolfo Jimenez, who, with his wife, Zulma Vanessa Hernandez, owns Maskaras Mexican Grill in Oak Cliff. "My mom would beat my ass, because, of course, I went without her permission. But I was happy. I got to see the wrestlers." Thus began Jimenez's obsession with lucha libre, masked Mexican wrestling. In order to afford his habit, young Jimenez would buy cheap luchador masks near his home in Guadalajara and sell them at school. With that money, he would purchase masks directly from the wrestlers. Jimenez's collection now numbers more than 1,000 official masks and more than 2,500 custom-made one-tenth-scale replicas. Maskaras was opened in 2016 as much to share regional Mexican dishes as it was to house the restaurateur's impressive collection. Maskaras also contains photographs of Jimenez with scads of celebrities, journalists, actors, and musicians—from Al Pacino and Jorge Ramos to Billy Crystal and Vince Neil—from his time in the entertainment business. Before he launched himself into the taco business, Jimenez was a model and actor who traveled to Hong Kong, Morocco, and Germany for fashion shows; starred in several telenovelas; and hosted Univision's Spanish-language morning TV show ¡Despierta América! Now he plays host to customers at one of Dallas' best taquerias.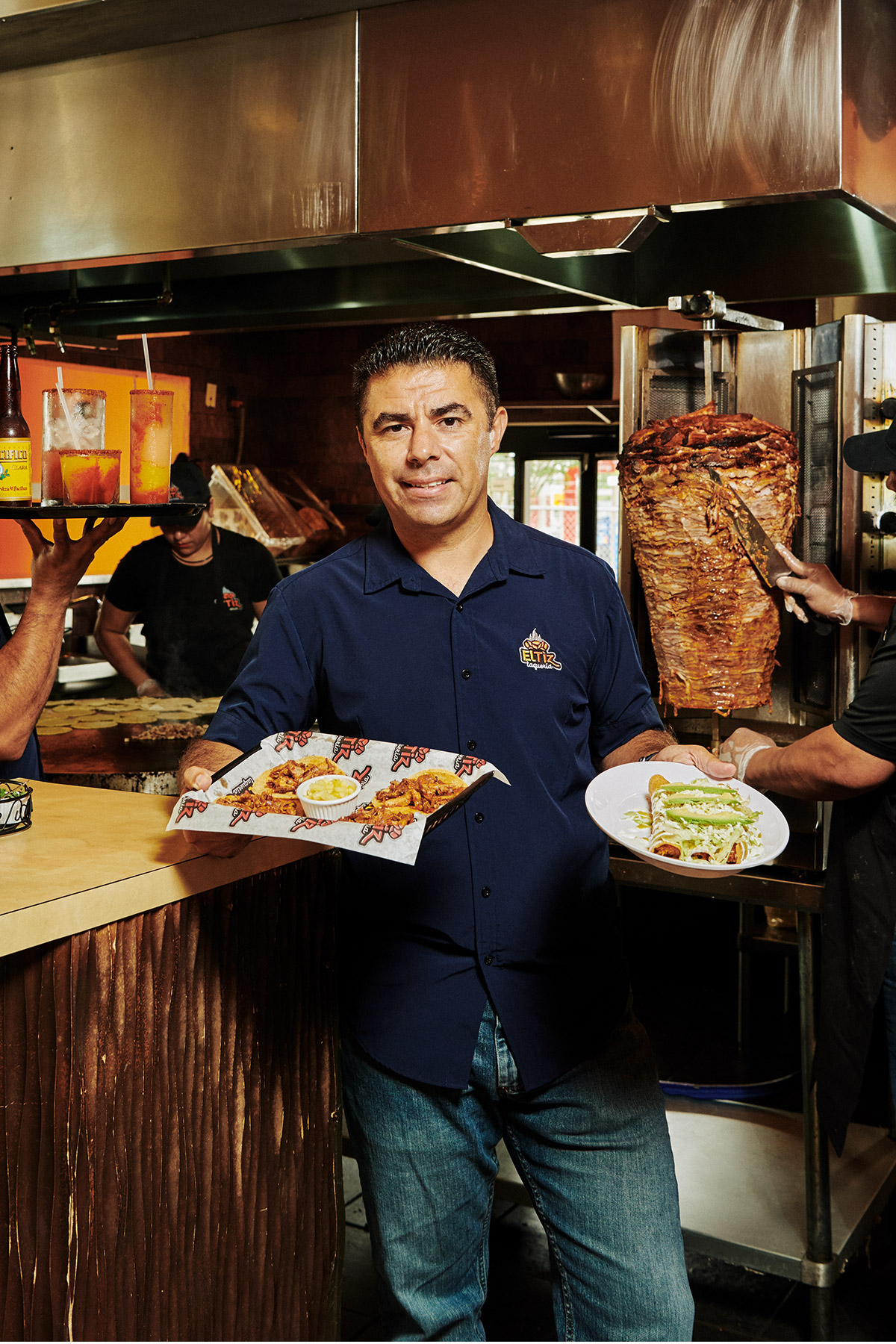 Escape From Mexico City
Leonardo Spencer of El Tiz
Leonardo Spencer owned his first business at the age of 12. With the help of a loan from his father, he bought a casual restaurant with his brother for the equivalent of $200,000 in today's U.S. dollars. "I could have bought the fanciest car in Mexico with that money," Spencer says. "I bought a burger place instead." He's been in the food business since, from selling ice cream and owning fast-food franchises to working as the food-court buyer for Costco and running concessionaires, all of it in his native Mexico. Then, in 2007, he received a call from the principal of his daughter's school. A stranger had been taking photographs of the 3-year-old for days, and she was likely at risk of kidnapping. "At the time, there was a paranoia building across Mexico about the kidnappings," Spencer says. He sold most of his business holdings and moved his family to Dallas, where he began working with Mico Rodriguez and the M Crowd Restaurant Group. When a real estate opportunity came up, he decided to open his own restaurant—El Tizoncito, or El Tiz for short. The Mexico City-style taqueria highlights the city's iconic taco al pastor and cheese tacos, including choriqueso, flautas, and chuleta con queso, in a contemporary setting. El Tiz nails everything from the food to the decor so well that whether you're walking into the original Oak Cliff location or the restaurant on Lemmon Avenue, the sense of being in the southern capital envelops you like a corn tortilla wrapped around thin slivers of darkly spiced pork.