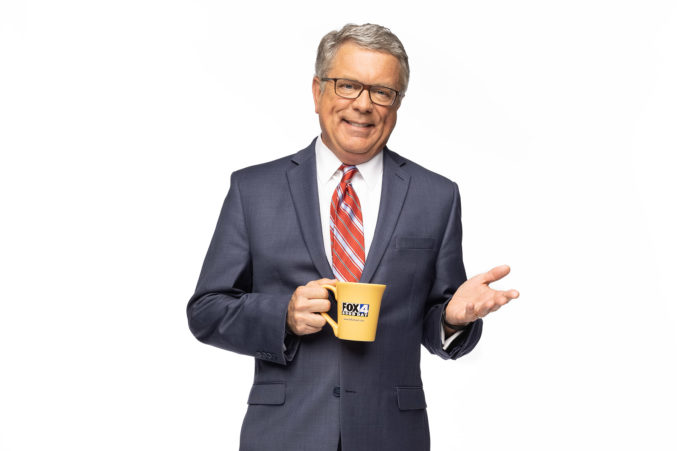 A Conversation With Fox 4 Morning Anchor Tim Ryan
The early-rising, flat derrièred news anchor reflects on nearly three decades at the station.
You just notched your 28th year at the station and 23rd anchoring Good Day. What's the secret to not getting fired? [laughs] You know what? Put your head down, do your job every day, and have fun. And I'm past the point where I worry about it, so I think that's the key. I don't worry about getting fired anymore.
Did you seriously worry about that earlier in your career? I think in this business everybody's a little bit paranoid. You're always looking over your shoulder. You're working on two-year contracts. Anybody who gets into this business is, by nature, a little bit insecure.
How come I can't find any embarrassing clips of you on YouTube? I only make dumb mistakes off camera.
What time do you have to roll out of bed in the morning? Alarm goes off at 2, and the really sad part is my body wakes me up every morning at five minutes to 2.
The station just moved the start time of the show from 4:30 to 4. How super pumped were you when they told you about that? I decided to come in at the same time and just try to be a little more efficient on proofreading scripts.
Well, the extra bump in pay for that 30 minutes on the air must have been nice, right? I'm sure whoever got my extra pay is enjoying it immensely, yes.
Give me your makeup tip for the perfect smoky eye. [laughs] My makeup tip is that I'm grateful that most people in the morning listen and don't watch. I spend 45 seconds putting makeup on in the morning. Usually the makeup people come in a little bit later than we do, and we're on the air by then. And they kinda come in and they'll touch up Lauren and then look at me and shake their heads and walk out.
Speaking of your co-anchor, Lauren Przybyl, how long did it take for you two to settle in to the chemistry that you have now? I would say you're the lovable curmudgeon, and she seems more bright and cheery. I've always been that way, and it's too late to change. We met when she was in for an interview, and so I had some say. Can you work with her? Or, more likely, can she work with you? We get along. We got along very well from the beginning.
I understand that you have a concealed handgun license. Are you a decent shot? I'm actually a better instructor than I am a shooter. I probably go to the range once a month. You want to come shootin' sometime?
I'll go to the range with you if you come shoot sporting clays at Elm Fork. I'm way better with a shotgun than I am with a pistol. You've got a deal.
You took up cycling—if you don't mind my saying—later in life. What got you in the saddle? When I was 60, two friends were doing a 150-mile ride over two days. I said, "Good for you. I'll be there at the finish with three beers in my hand." This was five years ago. That same year, though, one of those guys gave me his old bike, and I picked it up two years later. Now almost every weekend, I ride with the Plano Bicycle Association, 50 miles on Saturday, 50 on Sunday.
How do you look in Lycra? My wife, Beth, tells me the only time it looks like I have a butt is when I'm wearing my bike shorts.
What's it like being the second-most handsome Tim in Dallas media? It's a daunting challenge getting up every morning and facing the pressure of being that good-looking and that funny. It's been a good name.