When a trio of Parisian culturati descended upon North Texas to prepare for the Kimbell Art Museum's "Balenciaga in Black" exhibition—a collection of ebony designs by the venerable designer Cristóbal Balenciaga, first organized and shown in Paris by the fashion museum Palais Galliera—they made one important stop: Denton, Texas. There, on the UNT campus, sits the Texas Fashion Collection, a giant storage space outfitted with UV-filtered lights, humidity control, and three levels of locks and alarms. It contains a stunning assortment of Balenciaga pieces, 340 in all. The Parisians' borrowed two dresses and two hats (
pictured
) to add to their own assemblage of 72 dresses and accessories.
Bird of Paradise HatrnWinter 1955
Tiered Lace Dressrn"This is one of the first dresses that he ever made for me. This gown always brought compliments. Many women tried to buy it when I took it to the dressmaker in Paris for special pressing."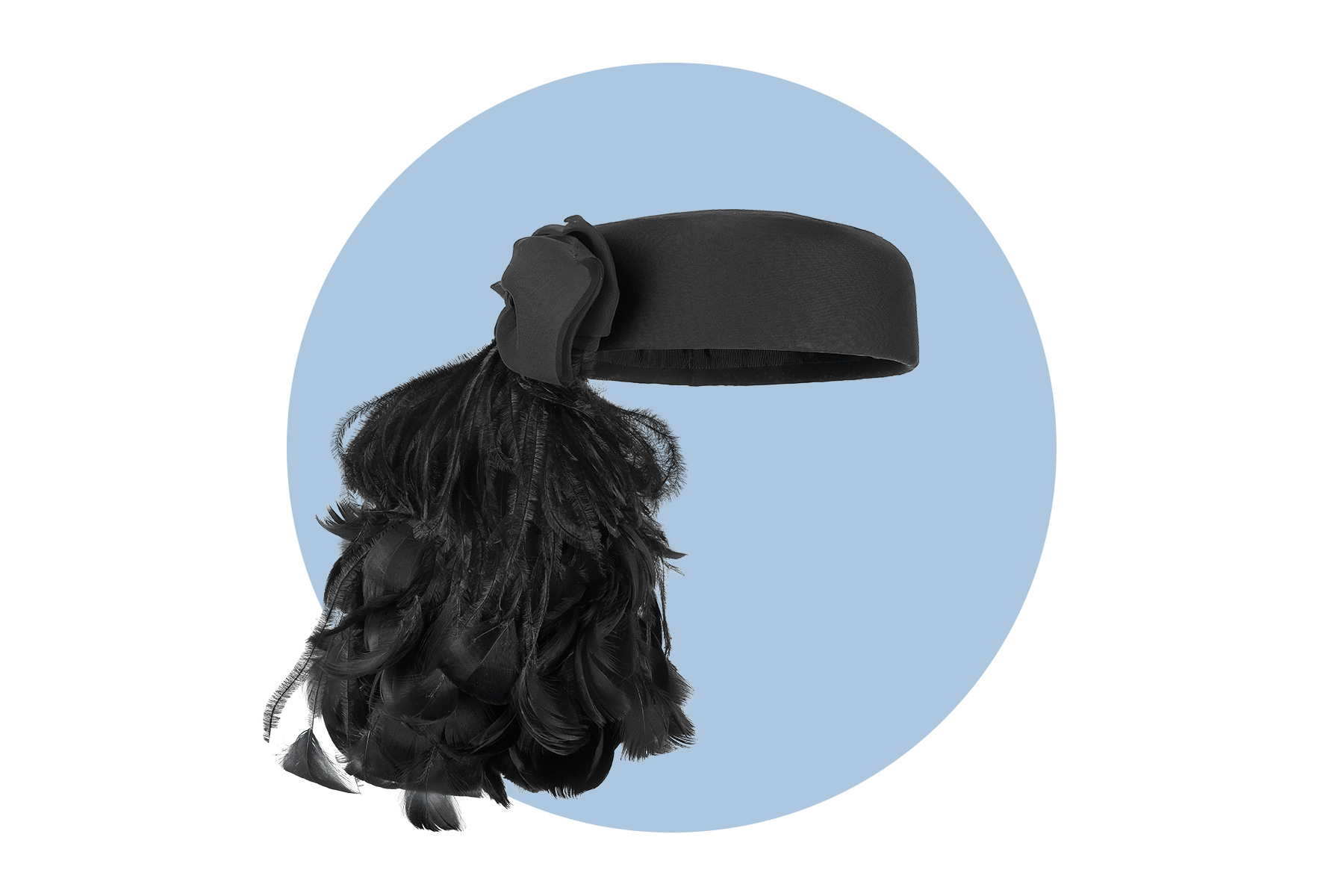 Those four items, as with most of the Balenciaga items in the Texas Fashion Collection, were donated in 1975 by Claudia Heard de Osborne, a Dallas debutante who became an international socialite after marrying a wealthy Spaniard, and who also became a dear friend of Balenciaga and an obsessive collector of his avant-garde designs. In fact, de Osborne was so dedicated to her hundreds of Balenciaga acquisitions that she sipped pea soup every day for lunch in her suite at the Ritz Paris so as not to gain an ounce. And after Balenciaga's death, in 1972, she asked her husband to bury her in Balenciaga, so as to be properly dressed should she reunite with her Cristóbal in the afterlife. (She passed in 1988; we don't know if her husband fulfilled her request.)
Yet, it's possible de Osborne would turn in her grave if she saw the Balenciaga designs of today, with throwback sneakers as chubby as semi tires and rubber clogs festooned with bric-a-brac. The Cristóbal Balenciaga she knew was the couturier's couturier, a mentor to Givenchy, de la Renta, and Ungaro, and a graceful innovator creating entirely new shapes—the balloon, sack, and tunic dresses, among others—with little ornamentation. "Balenciaga was known for his incredible elegance," says Annette Becker, director of the Texas Fashion Collection, "while a lot of other designers were kind of popping bows all over the place or other extraneous design elements."
There might be no better way to study this impressive architecture than through "Balenciaga in Black," the absence of color allowing the viewer to focus on the construction. And at the Kimbell, visitors should be sure to look for these four special pieces, made in Paris by a Spanish designer for a Texas native.
Get the ItList Newsletter
Be the first to know about Dallas' best events, contests, giveaways, and happenings each month.