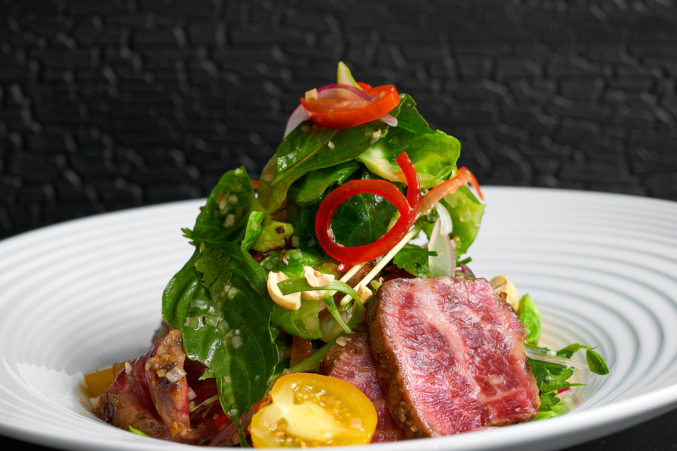 Kent Rathbun Returns with Imoto
But don't call it a comeback. The restaurant's Pan-Asian flavors aren't quite there yet.
Imoto, the pan-Asian restaurant that replaced Kenichi in the redeveloped Victory Park, marks Kent Rathbun's return to the dining scene after a two-year hiatus. Unapologetically in love with fusion, sleek, oozing confidence, the upscale, clubby restaurant he co-owns with his wife, Tracy, opened in June.
The vast menu plucks from everywhere: there are nods to Korea is gochujang butter, glances at Japan in cherry blossom-smoked salmon and to Thailand in a rare beef salad with pea tendrils and toasted cashews. A black dragon roll with dark forbidden rice, shiso, and habanero is one of the most frequent plates to slide across the sushi bar. Imoto seems to want to seduce with every East and Southeast Asian flavor could possibly desire, mixed in with Rathbun's signature vibes. The result, more often than not, was a disappointing collision.
This is not true of the sushi and sashimi, which are excellent. Executive sushi chef Jimmy Duke is one of the city's handful of chefs who made their way through the sleek, precise style training of Nobu. Imoto's quality and freshness of seafood is on par, not surprisingly, with Tracy Rathbun's cousin restaurant, Shinsei. Order sashimi, and it comes in a glass bowl mounded with ice, which glows from within like a swimming pool at night. Delicate snapper, rolled like wavelets, received a garnish of sour-salty plum (ume) and a crackle of crispy tofu skin. Fluffy snow crab had a marine hint and natural sweetness. Sushi rice is perfectly warm. There is a finesse in the raw bar that places it on par with Nobu and Uchi.
But aside that Thai-style Wagyu flat-iron steak salad, purple-rare and fabulous, almost everything else I tried lacked balance, larded with eager sweetness and exaggerated flavor. Slices of tempura avocado with a yuzu tofu cream were mushy, their red-chile batter overly spicy. Duck Vietnamese-style spring rolls' meat was mashed to a paste and pushily accented with a sweet chile condiment and spicy peanut sauce. Carmine-red tomato-lemongrass soup came with togarashi wontons that tasted like nothing at all, and roasted-banana Malaysian curry featured overcooked noodles, undercooked sweet potato, and very little depth.
At the end of one meal, an icy, slushy trio of ice creams left a fat layer coating our mouths. That evening had been a roller coaster of poppy, umami-forward, and sweet flavors. The word imoto means "little sister" in Japanese. I would go for the sushi bar. But what is the word for the mess a younger sibling would make?
In This Post