Kim Askew Is Ready for the Fight
Kim Askew is so dang good at being a lawyer that, after 35 years of practice, they had to name an award after her.
If you ask Kim Askew why she has two mounted ducks hanging in the corner of her otherwise classically appointed corner office at K&L Gates, she'll tell you a story that explains her success as a lawyer in a nutshell. Back in the '80s, early in her career at Hughes & Luce, she was representing litigation head Bob Mow in a duck hunting case. The issue was whether Mow and his duck blind were on the Oklahoma or Texas side of the Red River. On one side he was legal; on the other he was not.
The seemingly simple case involved complex water boundary issues of accretion, avulsion, and erosion. If a river moves gradually, through erosion or accretion, the state borders move with it. But if a river suddenly leaves its old channel to forge a new one, through a process known as avulsion, the boundaries don't change. While Askew was cross-examining the game warden, getting bogged down in topographic maps and property surveys, she suddenly stopped to ask him where he was from. It turned out he wasn't from Texas or Oklahoma. "Well then, you clearly don't know any more about this than I do!" Askew quipped. She won the case.
She now has Mow's office (the firm merged with K&L Gates in 2008), and she's kept the ducks as a tip of the hunting cap to her former mentor, who passed away in 2014. They hang opposite a china cabinet full of plaques and mementos of an illustrious career—the awards are too numerous to list. Last year, Askew was named the inaugural recipient of the Dallas Bar Association Distinguished Service Award for three decades of work in the Dallas-Fort Worth community. The award is named after her. I sat down with her in March to talk about her life and her legacy.
---
D Magazine: Have you seen a big reaction from your clients to the #MeToo movement?
Kim Askew: As you know, companies should already have procedures in place for handling any kind of discrimination or harassment complaint in the workplace. I think what #MeToo has done is to really bring it into the public space. It has gotten traction, and it should. I think people are hearing these women now, and companies are taking action.
D Magazine: Are you surprised at how swift the response has been?
Askew: The world changes, and I'm just happy to see it. I'm glad to see it as an employment lawyer, and I'm happy to see it just as a person. I'm a black woman. Any type of conduct like this is offensive. Throughout the years that I have been a lawyer, this is the kind of stuff that I have worked on with my clients to make sure it does not happen in the workplace.
I also am involved in it personally. I sit on the board of the National Women's Law Center, which houses the Time's Up program, which is the program that was put in place by the actors and actresses in Hollywood. It's a way for these women who believe they have been victims of sexual harassment and sexual misconduct to understand what the issues are and to identify lawyers who might help them.
D Magazine: What made you pick employment law as your area of practice in the first place?
Askew: You know, I was a partner when I started doing employment cases. I didn't do them before because it used to be that you couldn't have jury trials under Title VII. When it was amended [in 1991] to allow jury trials, my clients, whom I had represented as a commercial litigator, said, "Well, we have these great employment law experts, but they don't do jury trials. So learn these statutes or be in the courtroom with them, because we need lawyers who know how to try these cases before juries." So that's why I started doing it. And, of course, I love my commercial dockets. But employment cases are people cases. It's about what happens to people in the workplace. They're usually quite interesting.
D Magazine: You are a native of Savannah, Georgia. What was it like growing up in the Garden of Good and Evil?
Askew: It's a beautiful place, lovely. It's the Old South. I had a wonderful childhood in Savannah. But I grew up in Savannah during civil rights turmoil. I was in junior high when the schools were integrated and we were bused. We had parents who threw rocks at our buses. We had kids who didn't want to sit with us in school. And I thought, OK, be real smart. Get good grades. I just made friends with everybody. Our parents made sure that we stayed rooted and grounded in those situations. They were like, "You're gonna have to be the ones to change the world. Education is one way you do it."
D Magazine: Did those experiences influence your decision to go into law?
Askew: At some point I just knew I wanted to be a lawyer. I saw lawyers growing up. And because of the times, these were African-American lawyers. They probably were doing a little bit of everything. They probably were doing whatever they could get their hands on. You know, with law firms in Savannah at that time, I can assure you they were not working in white law firms. They were probably the solo practitioners, but they were also helping out with civil rights issues, because, again, they were lawyers. They know what the everyday citizen does not know. But the thing I remember about them was that they helped people to be less fearful at a time when people were fearful.
D Magazine: It's hard to believe that the Civil Rights Act was enacted more than a half-century ago, in 1964.
Askew: You know, the Civil Rights Act—these were all new laws going on the books. I'm still amazed that I lived in a time when black people could not vote. And even after those laws were on the books, what happens when you go to vote and there's still people who may be there to try to stop you from voting. You don't have to take a test to vote anymore. That's what lawyers helped people to do, and that's what I saw. I saw the way they interacted at church, the community center, the YMCA. Wherever we were, they'd be in the community, and I thought, You know, that's important. That's what I wanna do.
D Magazine: Was Georgetown Law a tough adjustment?
Askew: I took off a year after college because I needed to make some more money to go to law school. I worked on the Hill some. I loved D.C., and I loved Georgetown from the beginning. It was right there in the heart of everything. The law school is literally at the foot of the Capitol. So you could run to the Hill. You could see Congress in session. And any time a professor said, "You know, this case is gonna be argued in the Supreme Court involving this issue," you could just go down to the Supreme Court. And, of course, there were probably more black professionals in D.C. than any other major city in the country, so as a young person looking for mentors and trying to figure out what you're gonna do in your life, that was pretty fascinating.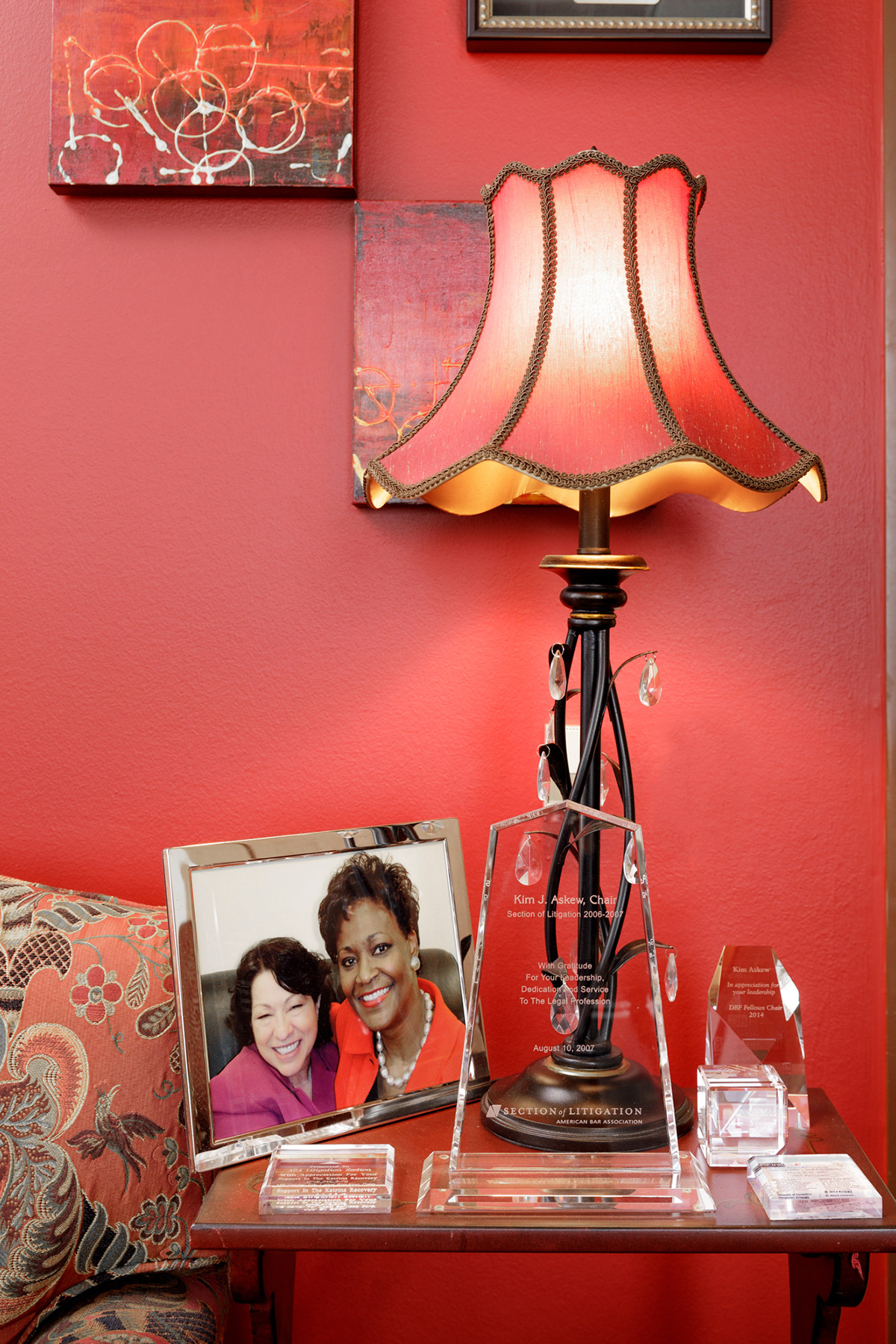 D Magazine: Did you ever have a moment in law school where you thought, I've made a huge mistake? Or was it always a natural fit for you?
Askew: Anybody that tells you they didn't have a moment in law school where they went, "Really? Why?" isn't being honest. I had a couple of those moments. I remember one. I told my mom I was having trouble, and she told my uncle who lived in New York. On the following Saturday there's a knock on the door, and there was my uncle who said, "You're fine! You're as smart as everybody else. You're gonna get through this school. You're gonna be a great lawyer one of these days."
You know, I still remember it. And, of course, he took me to a good meal, and bought me groceries, and maybe I got a pair of earrings. All the things that make you feel better and empowered again. My uncle has passed away now, and those are the things you look back on very fondly and you go, "You know, they were right." He had seen the world as I had not seen it. He had seen a tougher world than I'd seen. Because he did live through segregation. He was like, "You are gonna get through Georgetown." And it was like, "Yes, sir!"
D Magazine: What made you decide instead of going straight into private practice that you wanted a judicial clerkship?
Askew: There weren't a lot of black law clerks in those days. I applied to several judges and I got more than one clerkship offer. I decided to clerk with Judge Jerry Buchmeyer in the Northern District in Dallas. I had never set foot in the state of Texas in my life prior to deciding that.
D Magazine: What was your biggest takeaway from working with him?
Askew: This was a time when women were really first starting to come into the courts. I think that the large law firms in Dallas had just started to make women partners. You were starting to see them in court, and I was just fascinated being able to watch women trial lawyers. The judge would bring the juries back after cases were over, and they'd talk about what they thought. My co-clerk was also a woman, and the judge would say, "Now what did you think of X lawyer?" That was always fascinating. You got to hear what they thought about women lawyers, and they were always so encouraging. And he would say, "My law clerks are gonna be trial lawyers." It was a good way to start practice.
D Magazine: When you started your first firm job at Hughes & Luce, were you the first black woman attorney?
Askew: Yes, and I was one of the first women in litigation. When I was finishing up my clerkship, it would've just been so much easier to go back to Washington, D.C. There were more lawyers of color. Across the board in Dallas, I will tell you that there were only two African-American lawyers that practiced in large law firms. I wanted to have a big firm practice. I thought, I'll just go back to D.C. But it was my judge who called people. I did not know this. I was a partner when I found out about this. Tom Luce and Vester Hughes, they said, "You know, Jerry Buchmeyer said I've got this really smart law clerk. She's gonna go back to D.C. You should try to hire her. She'd be great in your firm." And that's kinda how I ended up here.
But I loved Hughes & Luce because I thought it was a place where they did great law. They had the spirit and the belief in what the practice of law should be. You can always go to a law firm where you bill lots of hours and you'll be burnt out and miserable, and I knew that just wasn't what I wanted as a black woman. And that's not what I saw those lawyers doing who were helping poor black people in the civil rights South. And I thought, You know, I just wanna be where I think I can be a lawyer that makes a difference, and not just to the big companies that I represent, but to the world around me. It's the only firm job I've ever had.
D Magazine: What do you see as some of the biggest issues for young women coming into the profession today?
Askew: Gender equity is still an issue. There are pay disparities in the profession between men and women. There are great discrepancies between men who are equity partners and women who are equity partners. They will continue to have to address those issues. There are still issues with women who choose to become mothers and what their trajectory in the law looks like after that. We've made a lot of progress, but there is so much more work to do.
I think that's why there has to be diversity in the profession, because somebody has to say, "Wait a minute! Stop right there!
D Magazine: You had an opportunity for a federal judgeship during the Clinton administration, but you turned it down.What do you think of the current state and county judicial roster? Before the March election, Texas Lawyer reported that of the 60 trial courts in Dallas County, 19 of them are presided over by black female judges.
Askew: When I first started practicing, there were very few women on the bench. In that first group of women that started running, the prevailing thought was, "Well, we support incumbents." I remember going to my law firm and saying, "If we only support incumbents, there will never be women or lawyers of color on the bench, so we gotta do something about that. And wait a minute—here's a lawyer who has been trained in a big firm just like I am. Surely they could handle a bench." They got it. We started supporting women and lawyers of color. But I think that's why there has to be diversity in the profession, because somebody has to say, "Wait a minute! Stop right there!"
Because people do what they do. They don't even think about it. Well, here's a black woman in the room going, "Hold it. I'm raising my hand. I'm waving my hand. How we gonna have black lawyers or women lawyers on the bench if you only support the incumbents and 90 percent of the incumbents are white men?" Most of them were very qualified, but they were white men. And in our system, you get to run if you think you're qualified. May the better person win. That's what it should be.
D Magazine: Who's your favorite Supreme?
Askew: You know, as a lawyer, I will not pick one. I honor and respect the Supreme Court; I think they do a great job for our country. I have met most of the justices. I was very lucky and blessed through my work with the ABA to have served on the Federal Judiciary Committee when Justices Sotomayor and Kagan went before the Senate Judiciary Committee. I was able to head the committee when we conducted the investigations and then to testify before the Senate Judiciary Committee.
That was another moment in history. My mother was on the phone telling everybody, "That's my daughter." I used to laugh because I thought, you know, I tried these billion-dollar lawsuits. And she's like, "Well, are you getting your rest? You know, you probably should eat Wheaties a little more." But the Supreme Court nominations she got. She thought that was important. And as a woman, I think she was just so happy to see two more women going on the court.
D Magazine: What do you want your legal legacy to be?
Askew: I'm still writing it. I wanted to come into the law and change it, and open it, and to give service. I think I'm writing that every day. The Dallas Bar Association awarded me the Distinguished Service Award last year, and then they named it after me, so that'll be on the wall as long as there's a Belo Mansion. And, you know, to me, that's the legacy. I think what my mother would've been most concerned about is that it says distinguished service. 'Cause I think that's what we're supposed to do. We're supposed to serve.