Since 2011, when
we last published our list
 of the best steakhouses in Dallas, we've seen the arrival of a new steak age. I visited 20 steakhouses to determine the best 10, and two of the top three represent the new guard. Once again Pappas Bros. Steakhouse tops the list, inviolable in its timeless grace. But the other two are game changers. At Town Hearth, Nick Badovinus has turbo-charged the genre with whip-smart culinary feats and the primal draw of proteins that sizzle on the open kitchen's wood fire. At Knife, John Tesar practices the esoteric craft of dry-aging, letting enzymes work their tattoo of funk, while the rest of the menu mines the modern vein.
You can still order a de rigueur filet, of course. But with inventive methods and responsible sourcing, Dallas' innovative chefs are bound to build an even better steakhouse.

Pappas Bros. Steakhouse
Pappas Bros.
manages to make miracles of meat happen every night. It feels effortless, and that's the point. The vast fleet of serving and kitchen staff is there to ensure that the evening runs like a smartly scripted play performed by a veteran cast.
"This is what it means to slip into something that will never go out of style."
It's distinctly pleasant to hear the simple clink of cutlery and the soft sounds of conversations flowing around you in a well-appointed room. The place conjures images of Vienna in its old-world elegance. Nothing is too much. Not even the unbelievable feat of the breathtakingly tall New York-style cheesecake they bake slow and low, to a texture like a cloud.
All of which makes Pappas Bros. the quintessential steakhouse. No detail is left unattended to, from the polished and professional staff that brushes away table crumbs with rounded scrapers into a serviette to the turtle soup that comes with an optional small snifter of sherry poured tableside. Salmon rillettes arrive in a little glass jar with toast points and whipped chèvre, while four sommeliers watch from the wings, ready to discuss the merits of an unusual find from the impressive wine list or to elucidate their relationship with the vineyards they feature on a deep-dive rotating basis.
Above all, the steaks are outstanding. It is impossible to choose the best: the lean filet, evenly red-pink and so tender we swooned, or the rib-eye whose waves of flavor rippled over my taste buds.
But Pappas Bros. is not stuck in the past. Its commitment to service is so relevant, in fact, it amazes. There is more class in this place's petit filet than in all of the tomahawk steaks in town. This is what it means to slip into something that will never go out of style. This is what a steakhouse dinner should feel like: a calm, steady course expertly charted from beginning to cossetted end.

Knife
John Tesar is the wizard who practices the dark arts of dry-aging in this meat-curing laboratory. He was our first chef to take on the modern steakhouse genre, using the shaggy funk of petrifying flesh to deliver shivers of pleasure.
Inside The Highland Dallas,
Knife
is chic and mysterious. You'll find minimalist lines, such as in the ice and crudité sculpture with a tarragon-heavy green goddess dip. There is something clean about the way a crack selection of charcuterie is laid out on a board, with whole-grain mostarda to accent chicken liver mousse, smoky 'nduja, spicy soppressata, turmeric-pickled cauliflower, and cornichons. Even the plated desserts express an unmatched level of sophistication, like the lunar hazelnut, milk chocolate, and passion fruit composition with a creamy gianduja mousse.
Entering the restaurant from the hotel lobby, with its retro palms and fountain, you can't help but notice the meat cave. The vision elicits cravings it would be good to satisfy. "We only have it every so often," your server may say of the 240-day dry-aged rib-eye, listed under "exotic." Try the 32-ounce, 45-day dry-aged Akaushi rib-eye, with its brawny crust, and experience two pleasures: the cut's silky interior and the gristly ends, where all the complex umami rush of aging comes together. There's money in those bites, the Akaushi beef's suppleness carrying the flavor like butter. Or, for a totally different experience, try the 10-ounce sous-vide culotte, cooked over red oak. Such "new school" cuts make Knife the most egalitarian steakhouse of the bunch.
The check comes in a dark silver envelope with black letters spelling out "The Damage," and you have to admire the finely earned joke: dry-aging's dark arts matched with dark humor.

Town Hearth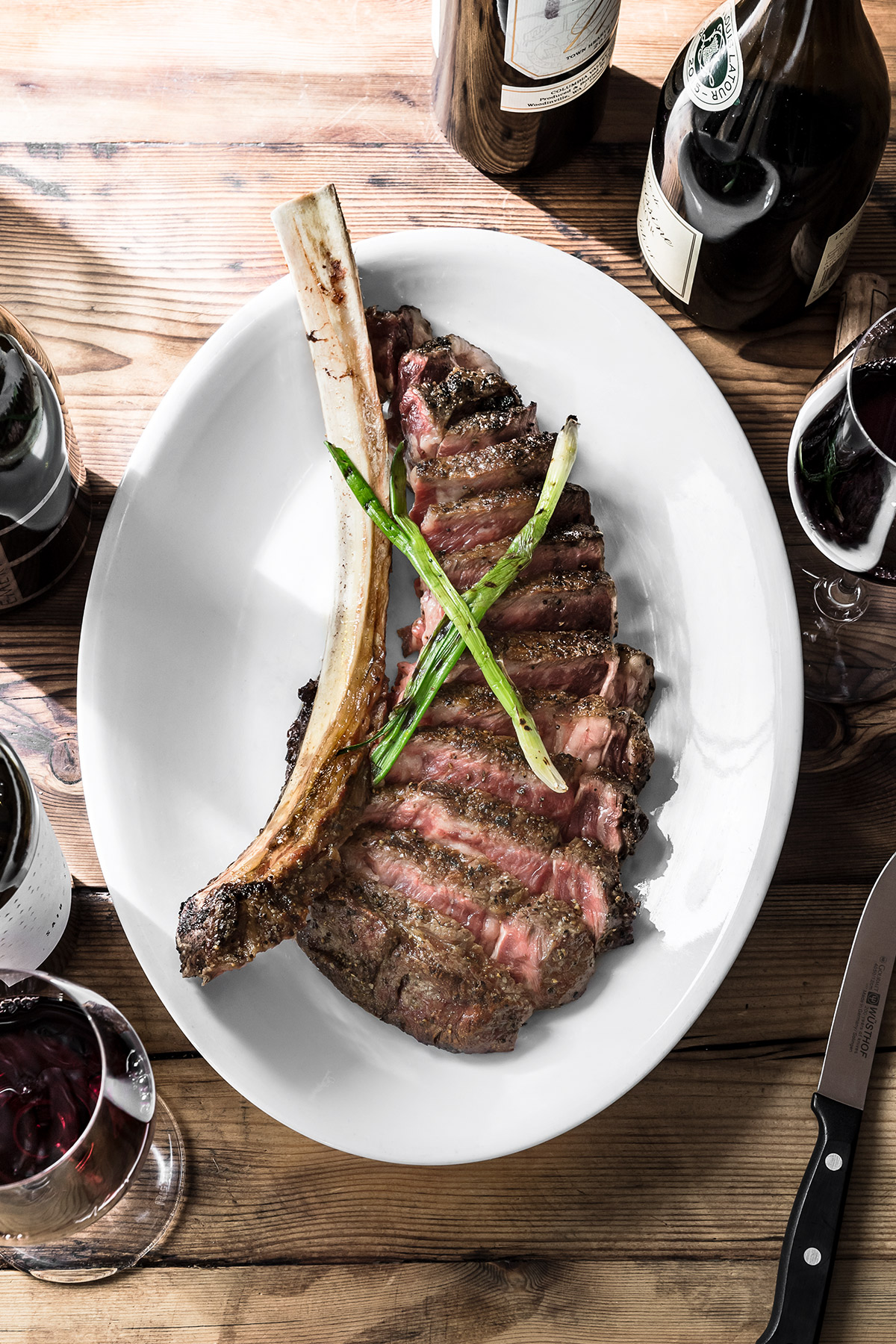 Bad boy Nick Badovinus reigns as the king of fire. At
Town Hearth
, the modern steakhouse he designed from the ground up, the amped-up atmosphere is fittingly brash and full of bravado, from chandeliers to rock music to a vintage motorcycle. But the food is dead serious and dialed-in, from the excellent throwback cocktails—a balanced sky-blue Aviation or Pimm's Cup—to masterfully prepared monster cuts.
"The shape of the feast is a string of knockouts that come in rapid-fire succession."
The Brick, a 24-ounce, 45-day dry-aged strip, is sliced in the kitchen and presented with a single grilled green onion. The imposing bone-in, 90-day dry-aged Battle Axe rib-eye, whose char and nutty intensity obscure all thought for a second, is a powerful example of primal decadence. Badovinus' relationship with Southeast Family Farms in Alabama brings a heartbreakingly tender wet-aged Charolais-Angus cross, carcass-hung 21 days. All are kissed by the wood fire.
Primo seafood includes hunks of sweet, butter-basted lobster thrown over the flames and a Dungeness crab seafood cocktail. There are plush dry-aged meatballs, oysters Rockefeller, an absurdly prime carpaccio with horseradish, and a side of elotes with lime and cotija cheese. Outrageous poutines topped with burrata and duck eggs fuel the welcome delirium. (Yes, it's best if you've come with a crowd.) It's not over until you've sunk a spoon into the King's Napoleon, layers of toasted marshmallow and peanut butter mousse. When it comes to the steaks, you'll feel the salt sink in (there's a heavy hand with seasoning), but the shape of the feast is a string of knockouts that come in rapid-fire succession, making an evening irreverent, extravagant, and unforgettable.

Al Biernat's
"Rest assured, steaks arrive exactly as you order them, with perfect seasoning, perfect char."
Dining at the original
Al Biernat's
is like being transported to an eccentric Tuscan villa. It nods to Mediterranean influences with vaulted ceilings and Roman columns, yet surprises with a little whimsy, like the fresco of Chihuly-esque orbs above the bar, or a ring of pesto sauce painted around a bowl of red fish with artichoke ravioli and cream sauce, punctuated with a perfect lemon note.
Escargot lolling in a brandy-roasted garlic butter alongside ricotta tortellini and strips of cured pancetta, a side of luxurious creamed spinach, and au gratin potatoes under a blanket of Gruyère cheese would all be fitting after a day of Alpine skiing. Even more so with a glass of Duckhorn Cabernet—big, oaky, and American—or a sinewy Bordeaux from a wine list that's clearly somebody's baby.
Rest assured, steaks arrive exactly as you order them, with perfect seasoning, perfect char. The petite filet mignon has terrific flavor. And one bite of the 30-day dry-aged Kansas City strip, sourced from McKinney butcher Local Yocal Farm to Market (with whom the restaurant has an exclusive relationship), is sufficient to prompt a spiritual experience.
Because personal attention is what makes the place, when your smart, young server asks what you'd like next, order the eponymous Al's coconut cream pie, lush with coconut in a flaky crust, and Al's coffee, boozed up and topped with whipped cream.
Or, dare I suggest, skip the steak. You can find happiness here simply sitting at the bar, enjoying an impeccable martini under the improbable rainbow-colored heavens above.

CBD Provisions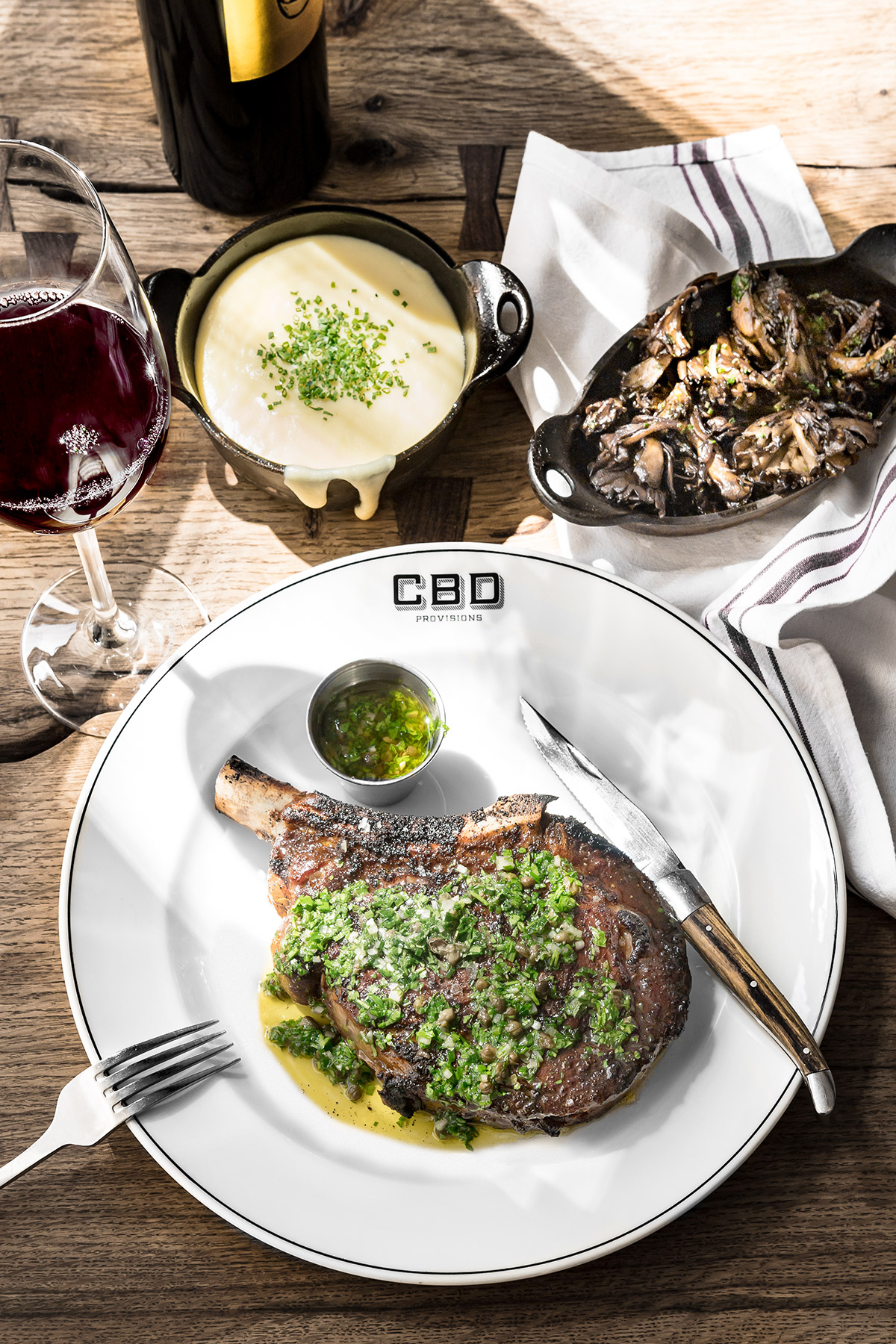 CBD Provisions
has consistently done wonders with house-cured meats, a grass-fed steak tartare that's one of the most outstanding in Dallas, and an impressively lush roasted bone marrow drizzled with black truffle vinaigrette. Late last year, it expanded its off-site butcher shop at Commissary, deepened relationships with 44 Farms and A Bar N Ranch, and became a contender: the best little steakhouse that wasn't, exactly. But now is.
"CBD Provisions has consistently done wonders with house-cured meats."
Execution and sourcing are as careful as the rustic-chic finesse of a sleeker, better wedge, with soft Little Gem lettuce, blue cheese, and oven-roasted tomatoes. The family-style 44 Farms rib steak served on a wooden board with horseradish potato salad already left you in awe of the animal. Now, the expanded roster of Texas Wagyu and grass-fed Black Angus cuts—boutique and premium in so many ways—peaks at a $140 dry-aged porterhouse and finds its apogee in the 28-ounce côte de boeuf, dry-aged to 45 days, all buttery richness, with the complex notes of nuttiness, blue cheese, and wet earth.
Throw in sides like silky-smooth aligot potatoes and charred, lemon-basted Chinese broccoli; a glass of Côtes du Rhône from the wine list, rejiggered to fit a steakhouse mien; a grown-up ice cream sandwich; and a perfect, foam-topped macchiato. It's more than enough to keep other places on their toes.

Bob's Steak and Chophouse
At the original
Bob's
on Lemmon Avenue, the original menu hangs in a red frame between horse racing memorabilia and boxing photos. Back in 1993, when Bob Sambol and Del Frisco's founder Dale Wamstad opened the steakhouse in the old Del Frisco's location, it was called Bob and Del's. At the time, it only consisted of the shotgun room from the long wood bar in the front to the raised platform of tables in the back.
Not much has changed over the last quarter-century, aside from the restaurant's sideways expansion and the abandonment of Del's name. Well, that and Bob's felony charge for swindling an investor. And then the sale of the brand to Omni Hotels & Resorts. And, in 2009, the sale of the original restaurant to a former customer in bankruptcy proceedings. But when you walk up to the hostess stand and see the familiar fishbowls of matchboxes and the gum ball machine full of giant sour balls, you realize this is still the Turtle Creek neighborhood Bob's, the Bob's where T. Boone Pickens once conducted business and Emmitt Smith once knifed into T-bones.
The menu still includes the same côte de boeuf bone-in rib-eye and duck with green peppercorn sauce. A warm, crusty boule with a slab of butter and a glass jar of pickles and peppers still arrives unsummoned. The prime steaks, cooked flawlessly, are still accompanied by a single glazed carrot. And the perfectly firm cocktail shrimp are still behemoths, served beached on strangely limp lettuce that is more than made up for with a ketchupy sauce that packs a vigorous horseradish bite.
Save the surprise for the veal porterhouse chop, perfectly paired with a glass of Ken Wright Cellars Pinot Noir. A good 2 inches thick, cooked the palest pink all the way through, the velvety meat is a revelation. Afterward, depending on your company, sip a Grasshopper or have a glass of grappa. Imagine that it's 1993 again. Back when Bob owned Bob's and the Cowboys ruled the world.

The Capital Grille
The Capital Grille
chain got its start in Rhode Island, but this outpost in The Crescent is all Dallas. When the wood-paneled and leather-upholstered throwback opened in 1998, it quickly became a second home for the office building's lawyers and wealth managers, who stowed wine in rented cubbies and drank Stoli Dolis late into the night at the bar.
These days, the young servers aren't all clued in to the fact that the key to the restaurant's signature pineapple martini is to shake the infused vodka in the mini cocktail shaker until it's too cold to hold; that's the only way to get the lovely layer of foam on top. But such failings are soon forgotten when the bread basket arrives with soothingly warm chunks of pumpernickel studded with golden raisins.
Side dishes feel extravagant but not overdone. The crock of French onion soup is mozzarella-encrusted decadence; bright green French beans are sweetened with the surprising but welcome appearance of ginger butter.
Many of the steak options are gilded, crusted with Gorgonzola or Kona coffee. The dry-aged New York strip au poivre with Courvoisier cream was a miss; the spicy black peppercorn crust completely overwhelmed the beautiful meat. But the porcini-rubbed bone-in rib-eye, aged 25 days in-house, was a thing of beauty. The ground mushrooms and 15-year aged balsamic added an almost foie gras-like earthy depth and sweetness to the fork-tender meat.
Desserts are all made in-house and include ubiquitous standards. The coconut cream pie is a standout, its tantalizing crust both crisp and chewy, like a coconut macaroon. When we asked the server if we could add an unwarranted scoop of ice cream, he brought a sampling of four flavors with biscotti to boot. To the end, a lavish yet personal touch.

Nick & Sam's Steakhouse
"If Frank Sinatra came to Dallas, this is where he would dine."
Phil Romano and Joe Palladino's shadowy celebrity hot spot is its own world, a clubby den of glitz very much like New York, Miami, or heyday Hollywood, with art deco murals and a pianist at the baby grand. If Frank Sinatra came to Dallas, this is where he would dine.
Glide in, lurk at the bar, and schmooze over complimentary caviar. Catch vistas of the dining room as servers whiz by. They will play the beam of their flashlight over the tableside forensic display of raw cuts, slightly ghastly under cellophane like something out of David Lynch's
Twin Peaks
. They'll return to carve and serve the dry-aged chateaubriand filet ($240), named The Dirk. Or the dry-aged long-bone cowboy rib-eye ($105), beautifully marbled under a knob of truffle butter. The crust is dark with char, the inside a deep fuchsia-pink.
The steaks are matched by the wine list, a dizzy roulette of prices that seems to say, "Go big Cab or go home," and by icons like the Caesar, with silky, fresh-cured anchovies and crunchy hearts of romaine (possibly the best in town). It's not the place I'd go for the sheer flavor of the meat, but you're not here exclusively for the steak or sides. You're here for the well-heeled, moneyed world, the air of celebrity vertigo. The puff of blue cotton candy across the room; rose petals on a neighboring table. It can only be
Nick & Sam's
.

Ocean Prime
You know they can deliver on seafood here. The chilled crabmeat cocktail comes in an elegant coupe that billows dry-ice mist, swirling around half a dozen pristine hunks of crabmeat you might deign to anoint with a Louis sauce. But
Ocean Prime
takes the second word in its name just as seriously, with steaks that come out on hot oval plates after a salubrious stint at 1,200 degrees. Some of the meat is sourced from Rosewood Ranches in Ennis, tied to the family of Dallas heiress Caroline Rose Hunt. There is a tender 6-ounce filet mignon with respectable char and the option, among the au poivre and béarnaise, of a Maytag blue cheese crust. The accent of umami flavor is rather brilliant, and a final pass under the broiler makes it puff and leaves it alluringly bronzed. Seek out off-menu specials like a grass-fed, wet-aged, bone-in cowboy rib-eye with exquisite flavor.
"The chilled crabmeat cocktail billows dry-ice mist, swirling around half a dozen pristine hunks of crab."
The wine list, with more than 50 wines by the glass, includes a number of usual suspects, but look for the proprietary Cameron's Cuvée Bordeaux-style red blend made for them by Trefethen. Simple spears of asparagus might be over-steamed, but there's an excellent, thick hollandaise on the side to dip them in. And there are Gouda tots and black truffle mac and cheese that's evenly coated and gooey. Add to all that service that's unusually respectful of conversations.
The Ocean Prime franchise has spots in Beverly Hills, Denver, Phoenix, and other cities. If you forgo the famous 10-layer spiced carrot cake available at them all, you might be interested in a house-made pink strawberry-pineapple sorbet, topped with an almond tuile.

Sēr Steak + Spirits
SĒR
, atop the Hilton Anatole, is a place to feel special and take flight. Elevate to the 27th floor and round a corner to where hostesses stand by the collection of vintage hood ornaments and decorative magnums of Belle Epoque Perrier-Jouët Champagne. Track a course to the floor-to-ceiling windows that display a view of all of Dallas and ogle from this perch. Whatever you order is a plus.
Amid the panoply of meats that includes a strong Black Angus selection, plus elk and Colorado bison, find the spinalis, a Texas Wagyu rib-eye cap, a winning cut whose espresso rub and chocolate bordelaise are not too much. You might find your streamlined knife won't cut through the bison steak if you order it stylishly rare. But the chef-driven flair works in other places. An outstanding poké tower, layering ahi tuna with avocado and a voluptuous swish of wasabi aioli, looks like a composition of modern art.
Sides are chic, such as foraged mushrooms with embered onions, mac and cheese with andouille crumbles, or bone marrow butter-gilded mashed potatoes. The Broken Baker, with lamb bacon bits and crème fraîche, is our pick for the best baked potato in Dallas.
The music is terrible, unless you approve of generic elevator schlock and live piano renditions of Andrew Lloyd Webber. And the service can drag. But then you've got the view.
Get the SideDish Newsletter
Dallas' hottest dining news, recipes, and reviews served up fresh to your inbox each week.