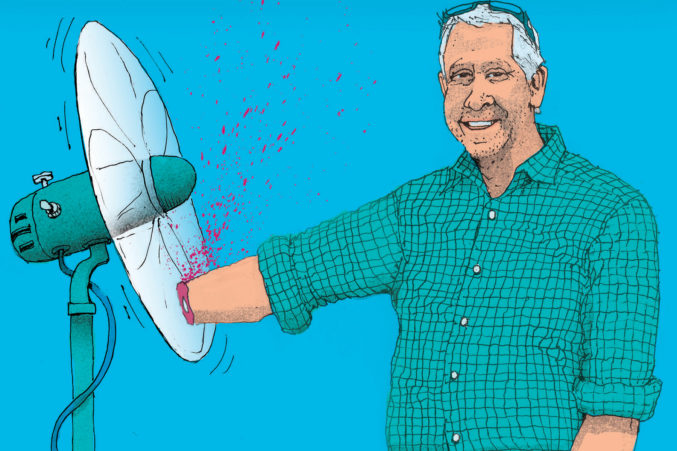 Brett Shipp Hits the Fan
He quit his TV job to run for office and save our democracy. Now what?
On a recent Monday morning, a little after 10 o'clock, Brett Shipp finds himself sitting on his poolside patio, drinking coffee, reading the paper. For 22 years, he chased the news as a reporter for ABC Channel 8. Now he's lounging. He says it feels amazing but also, yes, like he should be doing something.
"You go from 100 mph on a freeway to crashing into a brick wall when you get beat," he says. "It's hard to believe that it's all over so fast. It's weird."
In December, Shipp, who is 59, stepped away from the newsroom to run as a Democrat for Rep. Pete Sessions' 32nd Congressional District seat. It didn't go well. Either because he waited too long to enter the race (his assessment) or because his campaign slogan was "New Leader Shipp" (ours), he didn't make it out of the primary, finishing third.
And now? Once a man has followed the siren song of politics and then foundered with only 16 percent of the primary votes, surely he can't reverse course and safely navigate back to the newsroom's safe harbor.
"Nobody's told me that," Shipp says. "No one has said I couldn't get back into journalism." He says he might go into management. Maybe he'll do independent work. It is also possible that he'll stay in politics. Anything except public relations. "Dude, that's not me," he says. "I don't see myself going into PR. I see myself as a community protector, that kind of do-gooder stuff."
To help him along, we asked three people to give Shipp advice. They all formerly worked in local TV news and have made the pivot to different careers.
Sarah Dodd (former CBS Channel 11 anchor and reporter, now lobbyist and public affairs exec with Dodd Communications): "The same qualities that make you a great investigative reporter are the same traits that will make you a terrible employee. So start your own business, or get back in the newsroom."
Robert Riggs (former Channel 11 reporter and co-host of The Texas Daily): "Listen to Sting: 'Turn the clock to zero, buddy/Don't wanna be no fuddy-duddy/We're starting up a brand new day.' Also, start listening to my favorite podcast, Unemployable."
David Margulies (former Channel 8 reporter, now public relations exec with The Margulies Communications Group): "The hardest adjustment I had after leaving TV news was realizing people really took the time to stop and have lunch. There is life after TV news. Owning your own business pays better, and you don't have to wear makeup anymore. Brett will do well."