Come December, my thoughts tend inexorably toward home, and so they turn just as predictably toward France, where I was born, and where the winter season brings memories of firesides and fattened geese. So it felt like an answer to unspoken prayers when chef Bruno Davaillon's Bullion finally opened at the end of 2017, a restaurant to fill the void where chestnut-stuffed roast game and profite-roles should be.
Several years ago, I spent 10 days shadowing Davaillon, when he was at The Rosewood Mansion on Turtle Creek. I knew at Bullion I would find his concentration of flavor, the elegance of his restraint. I didn't know I would discover an even greater focus, as though feeling for the first time the true heartbeat of his cuisine. It must have been hard for the Michelin-starred chef to sit on his hands for 18 months after leaving The Mansion.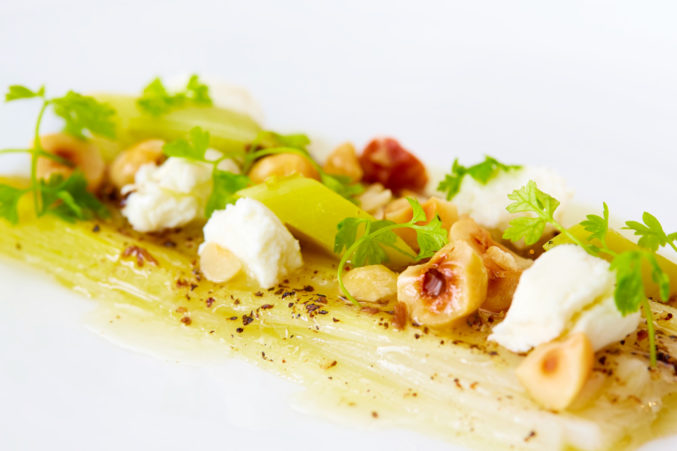 In this modern French brasserie, a lighting designer's genius has made everything feel soft, dislodged from time. Fine surfaces—the curves of midcentury-style furniture—reflect light. The whole place, inside and out, is ensconced in gold. Within exterior walls of golden scales, people bask in the muted luster of a gold-leafed ceiling, looking more worldly and refined than they should. Beyond the Midas touches, the restaurant is furnished with Christofle silver, Limoges china, and Garnier-Thiebaut linens, all purchased from manufacturers founded under the reigns of Louis Philippe and Napoleon Bonaparte. You could eat a single French fry and still appear regal in these surroundings.
But Bullion is as much about the indulgences being prepared in the kitchen as it is the trappings of the dining room. The restaurant is far more intimate than any place over which Davaillon has presided—for example, as executive chef at Alain Ducasse's vast Mix restaurant in Las Vegas, before the staid and storied Mansion. Bullion's size suits the chef's aim. Here, he wants to showcase the dishes of the vraie cuisine française, the true cuisine of France. Davaillon does not go for panache. He does not do Escoffier dollhouse preciousness; the fundamental shape is simplicity.
One evening, crimped, coin-shaped ravioli each contained a single tender snail and bathed in a butter sauce that sent up tendrils of anise-flavored Pernod, a sauce so good we sopped up the last of it with morsels of gougères, puffy and hot, like little popovers. That night, we had velvety sunchoke soup, accompanied by a decadent compound butter that we spread on a demure square of toasted brioche. I sighed. This—this simple, divine soup poured from a rustic earthenware pitcher—was what I had wanted.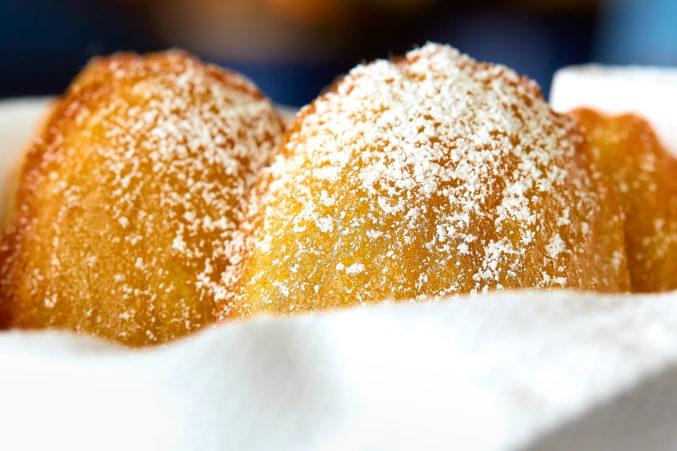 Pâté en croûte, a pastry-encased checkerboard of meat, perfectly seasoned and sculptural, was beautiful the evening I had it, knowing the next night it might change. I sat with a view of the glassed-in garde-manger where a hanging ham haunch kept company with other curing meats. There sits the pâté en croûte, ready to be cut off in thick slices. There are the verrines, layered aperitifs presented in glass jars, the kind you would use for putting up things like the shredded pork rillettes Davaillon's father taught him to make. In my mind were his stories about Sunday lunches at his aunt's farmhouse, which ended with a humble tart. You feel that lineage, though the setting and context are vastly different.
I tried to remember the poached and pressed foie gras torchon he had served at The Mansion. Had it been so luxurious and silky? No, it had not. This finer preparation, one he learned from Ducasse—the foie poached whole and set for two weeks—delivers an otherworldly smoothness. When the savory-sweet rush fills your mouth, a hush descends on the table.
None of this is flashy. It is all about technique.
Look to the panisse, morsels of fried chickpea custard (uncomplicated, just milk, eggs, fennel seeds, and cornmeal), perfect beyond anything they have a right to be.
Or the pike quenelles, the specialty of Lyon, so tied to place that it felt like a miracle to see them there, printed as the Monday plat du jour. I had been nervous that the sauce Américaine, with wonderful, voluptuous pieces of lobster, might upstage the fish dumplings with their delicate flavor and texture. I needn't have worried. They were lobster-scented clouds. I could eat them every Monday for a year; they would not lose their magic.
And so Davaillon continues his gastronomical tour of the real France, not a brasserie cliché. In a scallop dish, Alsace makes an unexpected appearance. Bring a forkful of cabbage to your mouth and discover that he has also done wonders with an Ibérico ham broth underneath. Peasant food was never so fine.
The cod brandade was not the Portuguese version of the dish I had expected—a rustic purée—but instead cod belly dressed up with croutons, confit tomatoes, lemon supremes, and a brown butter caper sauce, a Provençal version of the dish, also developed with Ducasse.
I am used to a creamier cassoulet, where the beans have rendered into the body of the stew. Davaillon has lightened it, assembled the duck confit, house-made sausage, and white beans to order, turning the hearty country dish into something more refined. It was wonderful, but there was almost something missing. A deeper sense of rootedness?
As with the cassoulet, I didn't love everything with equal ardor. I wanted to shake the stiffness out of some of the entrées.
For the poulet patte rouge rôti, the breast is presented separately from the dark meat, which has been tucked up into a painstaking roulade. Between the two is a gulf, a question mark. Technically, it is flawless. Ironically, I found myself wishing for a simpler, more viscerally satisfying roast chicken.
A few prime proteins were cooked ever so slightly past perfect. This was the nature of my frustrations.
For all this, pastry chef Ricardo Sanchez's desserts strike precisely the right final note. Sanchez was most recently at Flora Street Cafe. Now he's at Bullion, wanting to try his hand at something more French. There is a mille-feuille, its Arlette pastry so crackly you break into it with all the pleasure with which you'd shatter a crème brûlée. There is a baba au rhum that has soaked up a light vanilla-citrus sauce and accepted the tart wisdom of a passion fruit compote; a baked Alaska licked by blue flames, with a heart of ice cream that has the surprising freshness of a just-plucked fig. And there are madeleines, perhaps the best you'll ever have, shaped like shells with a subtle crunch on the outside, a moist and tender crumb.
That we kept Davaillon in Dallas is a coup. We have every right to suspect that he will relax into himself even further. His cooking is imbued with originality—and a very particular, focused warmth. I understand the warmth. It is tied to the distinct pleasure of coming home.
Get the SideDish Newsletter
Dallas' hottest dining news, recipes, and reviews served up fresh to your inbox each week.