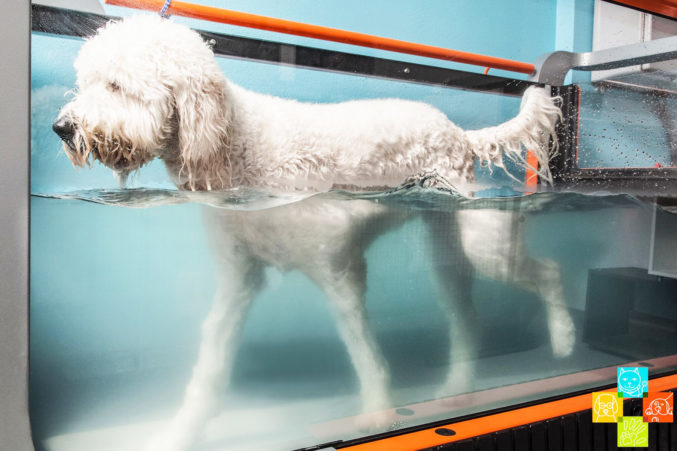 The Best Dog Services in Dallas
Dogs: they're just like us. They love to be pampered. So where do you send your pooch when they need a therapeutic massage or acupuncture?
All dogs may go to heaven, but until then, they deserve the best. To that end, here's where to go to pamper your pooch.
Where to go when you need to…
…SEND ROXY TO REHAB to run on an underwater treadmill. The underwater treadmill offers buoyancy, allowing your pet to exercise comfortably—with minimal stress on the joints—in circulating, soothing warm water, while the resistance workout builds strength in animals with orthopedic issues following injury or surgery, those with neurological conditions, or for pooches who have put on a few unwanted pounds. HEAL Veterinary Hospital
…BALANCE YOUR CHIHUAHUA'S CHI with the centuries-old practice of Chinese herbal therapy. With a laundry list of certifications and training in holistic pet health, clinic owner Dr. Pam Montgomery-Fittz will carefully select herbs that work synergistically to bring about your dog's health and healing. Vitality Pet Care
…ENCOURAGE GOOD VIBRATIONS via shock wave therapy. Dr. Douglas Stramel uses the high-energy sound wave treatment, commonly used in human orthopedics and sports medicine, for dogs suffering from pain and inflammation. The noninvasive therapy promotes bone and cartilage health and increases blood flow, which means less need for prescription meds. Advanced Care Veterinary Services
…WORK OUT THE KINKS at a chiropractic clinic. Just like us, dogs can get a little stiff. Dr. Gene Giggleman, a former president of the American Veterinary Chiropractic Association, performs adjustments on dogs experiencing pain anywhere from neck to tail. Giggleman treats pet patients on Fridays from noon to 4:30 pm, on a first-come, first-served basis. Get there early. Lines are known to form around the building. Parker University Animal Chiropractic Clinic
…TRY AN ALTERNATIVE via acupuncture therapy. Over the last few years, Dr. Jennifer Smallwood has seen her number of four-legged patients grow by leaps and lap dogs. The ancient Chinese practice encourages healing by balancing energy in the body, enhancing circulation, stimulating the nervous system, and releasing anti-inflammatory and pain-relieving hormones. Smallwood uses the technique to treat dogs with arthritis, cancer, and other illnesses. Integrative Veterinary Wellness
…FEED THEM WELL with raw meat. Considered the Whole Foods of local dog chow purveyors, Raw by Canines First dishes out raw holistic dog food and treats in formulas for all appetites: frozen raw, freeze-dried raw, air-dried, dehydrated, and kibble. Owner Greg Raupers' private label brand, Harbor Hound, includes a bone broth made from local grass-fed and pasture-raised beef and chicken, and he's currently working with a Texas ranch to produce grass-fed Wagyu beef treats. Raw by Canines First
…TREAT FIFI TO A SPA DAY. After 13 years, the Oak Lawn day care and boarder, The Pooch Patio, is moving from its cozy Fairmount Street cottage in mid-June to a spacious 9,200-square-foot space with four turfed outdoor yards, five temperature-controlled indoor play spaces, 65 lounge suites, cat condos, The Bark Boutique retail space, a 2,200-square-foot Spaw Style Bar, and event space for birthday paw-ties and bark-mitzvahs. Amenities include doggy TV and nine live webcams for owners to watch their pups at play. Busy dog moms and dads can take advantage of the Patio's pet taxi service and group training classes. The Pooch Patio
…GIVE YOUR POOCH A PENTHOUSE VIEW at the newest Barking Hound Village outpost. Located near SMU Boulevard, it boasts just under 8,000 square feet of beautifully designed canine accommodations: roomy suites, fully furnished VIP rooms, and the Penthouse Suite, which is outfitted with a twin bed, rug, cushions, and a smart TV for watching reality shows on Animal Planet. With 3,000 square feet of outdoor play area with K9Grass, bone-shaped pools, and two indoor play areas, there's plenty of room to roam. Barking Hound Village
…SOOTHE SQUIRREL-CHASING MUSCLES with a therapeutic massage. A doggy rubdown with a local certified canine massage therapist might be just the thing to relieve pain, reduce anxiety, soothe sore muscles, restore range of motion, and, naturally, make Rover feel good all over. Canine Pawsitive Touch, Kneaded Pets, Tamarah Wild Canine Massage Therapy
…GIVE THEM THE GOODBYE they deserve. The Pet Loss Center offers thoughtful end-of-life services with a range of memorial packages—cremation and celebration of life services—to commemorate your fur baby. They can also save fur clippings, take a paw print, and drop off ashes at your home. The Pet Loss Center
…REMEMBER YOUR LOVED ONE with a beautiful garden. Best known for her ornamental landscapes and bespoke edible gardens, Monica Rose has seen a rise in clients requesting tree plantings to honor a beloved pet. She'll also install memorial butterfly gardens with nectar plants and mark the site with river rocks engraved with the pet's name. Edible Landscapes Dallas