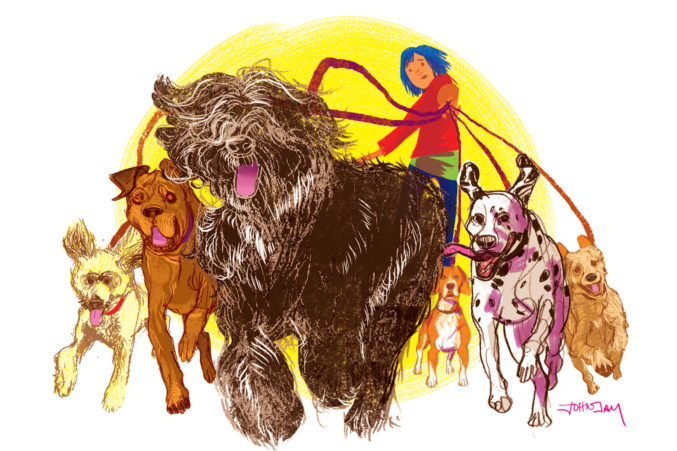 Starting from Skratch
If you need your dog walked, kid tutored, pantry organized, or any other task an eager teen can feasibly complete, there's a Dallas-based app for that.
Scott Bennett and Ronen Akiva are two dads whose children had a very modern problem: they couldn't fit a standard minimum-wage job into their activity-packed schedules. So Bennett and Akiva came up with Skratch, an app that gives busy high school students, ages 14 to 19, the opportunity to earn cash by taking care of your odd jobs and the freedom to do so between extracurriculars.
"It's about meeting kids where they are," says Bennett, pointing out that kids are also learning the importance of responsibility and cultivating professional relationships.
How Skratch works: teens register and select their preferred tasks (dog-sitting, lawn-mowing, and so on), while individuals or organizations ("sponsors" in Skratch nomenclature) can post jobs they need done—anything from tutoring to tech assistance. The two are connected by neighborhood and task. Rates are preset and payments are made to the "Skratchers" through the app. To keep kids safe, adult sponsors are screened against Texas' sex offender registry, and parents receive a message as soon as their children accept a gig and throughout the process.
The app is now available in 30 Dallas-area ZIP codes, with plans for expansion throughout North Texas within the next 12 to 18 months and nationally in a few years.
Here, a sampling of "Skratchers" available for hire.
Alec, 18, Dallas
Extracurriculars: VP of Student Congress, BBYO, National Honor Society, Key Club, Spanish National Honor Society, Young Men's Service League
Gigs completed: Taught a 7-year-old how to ride his bike, tutored an 11-year-old in math, helped a family move furniture and set up for a large dinner party
Saving for: "A nice trip once I'm in college."
Grown-up dream job: To live on the West Coast and be the CFO of a multinational firm
Evan, 16, Plano
Extracurriculars: Student council, National Honor Society, AV tech, school ministry
Gigs completed: Working at an elementary school carnival. "I got to see the little kids running around and having fun because of what I was doing there. I have also gone to a house and cleaned windows, vacuumed floors, and organized rooms and closets."
Saving for: A car stereo system
Grown-up dream job: "I want to go into the engineering field, and I have always thought NASA and space was cool."
Kara, 17, Dallas
Extracurriculars: Theater, BBYO, improv, singing
Gigs completed: "I've completed a few tutoring gigs as well as numerous pet-related jobs. The most interesting job I've ever completed for Skratch was this one gig where I took a dog to a dog park. I literally got paid to play with dogs. It was really a dream come true."
Saving for: "I've been saving up for college."
Grown-up dream job: "Lawyer by day, rock star by night."
Kiara, 17, Dallas
Extracurriculars: Band, symphony orchestra, health program
Gigs completed: "My most interesting gig was when I went to help Linda Koop, former member of the Dallas City Council and a Republican state representative from Dallas County, make her campaign signs."
Saving for: "Not only college itself but housing, the classes, books—I would like to help out my parents in any way I can."
Grown-up dream job: World-traveling neurosurgeon
Mason, 15, Richardson
Extracurriculars: Varsity cross-country, track, soccer
Gigs completed: Garage cleanup, practicing soccer with a kindergartner. "There was one gig where all I had to do was scoop ice cream for little kids at a school festival. It was fun and super easy—plus, free ice cream."
Saving for: "Nothing in particular, but it feels good to have money I earned myself when going to the mall or out to Whataburger with my friends."
Grown-up dream job: Architect designing buildings worldwide
Miranda, 17, Dallas
Extracurriculars: Color guard, orchestra, speech, debate
Gigs completed: Helping with kids and around the house, and some tech work. "I once accepted a gig face-painting at a neighborhood block party. I have art experience but never face-painted before. The adults were very kind and brought supplies."
Saving for: "Fees for my extracurricular activities."
Grown-up dream job: Criminal lawyer in a large city like New York