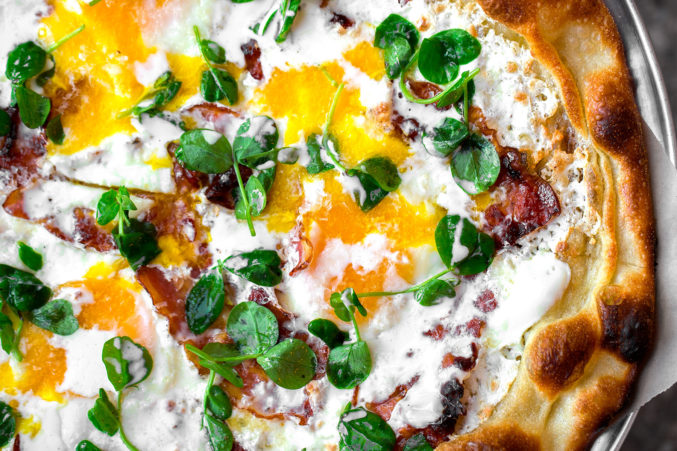 Eat This Now: Jonny Slapps Pizza at Perfect Union Pizza Co.
This pie, with its gooey mozzarella cheese and runny eggs, has a proven flavor combo.
The pizzas at Nick Badovinus' latest restaurant, in Highland Park Village, are delightful and the crust is largely responsible. The restaurateur is secretive about the recipe, but here is what we can tell you: after the dough has been fermented for 24 hours, 8 ounces are hand-stretched into 13-inch pies. They are then brushed with olive oil, sprinkled with salt, and oven-fired at 700 degrees for approximately three and a half minutes. The result is a crispy crust with a soft and chewy interior and a slight tang. It makes for a solid foundation for Badovinus' carefully chosen toppings and house-made sauce. One of his favorite pies is the Jonny Slapps, a white sauce pizza topped with guanciale (dry-cured pork jowls), gooey mozzarella cheese, runny eggs, fresh pea tendrils, garlic flakes, cracked black pepper, and sea salt. "It's just super-fun and really tasty," he says. "It's a proven flavor combo that works."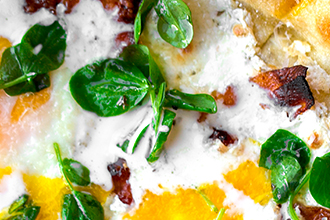 CHEESE
Each pie has 4 ounces of hand-shredded Lioni Latticini mozzarella. The cheese company started as a small family-run business in Brooklyn in 1980 and has since become a prominent distributor of mozzarella in the United States.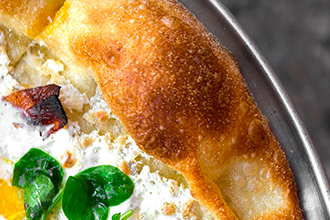 CRUST
The dough is punched down twice during its 24-hour fermentation period and dusted with semolina.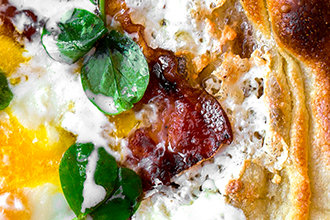 GUANCIALE
They use nine thin slices of guanciale from Zoe's Meats, an artisanal cured meat company in Santa Rosa, California.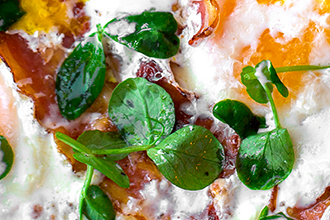 PEA TENDRILS
In addition to fresh pea tendrils, each pizza is topped with garlic flakes, cracked black pepper, and more Jacobsen sea salt.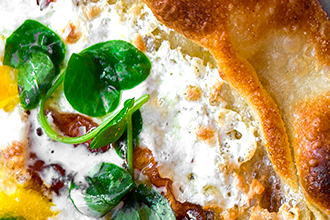 SAUCE
For the white sauce, 3 cups of cream are poured into a 2-quart pan and simmered on low, stirred occasionally until it has been reduced to a third of its original volume. Sea salt—from Jacobsen Salt Co. in Portland—is added.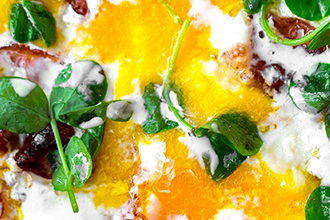 EGGS
Three farmstead eggs are cracked on the pizza halfway through the cooking process. It's long enough so that the whites are able to set but the yolks remain runny.