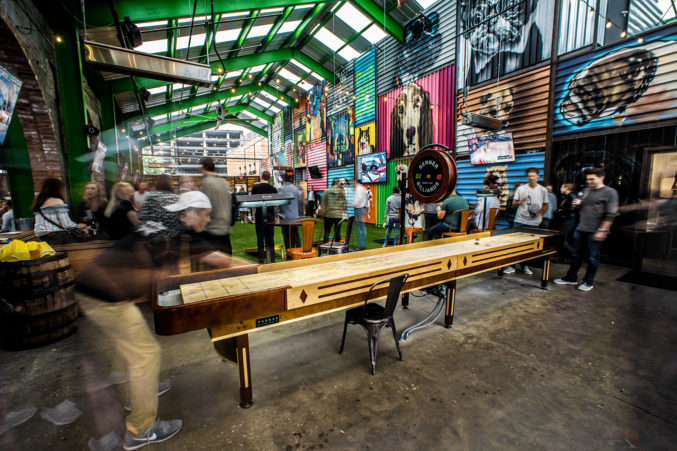 The Ghosts of Spring Break Past Reign at Deep Ellum's Backyard
Relive your youth—or celebrate it—at the neighborhood's newest and rowdiest bar.
After navigating past a raucous three-way argument in the parking lot, I walked into Backyard, a giant bar-and-games complex in Deep Ellum. It was 8 pm on a Sunday night, and I was way too sober. I was expecting a laid-back Sunday-funday scene. Instead, I felt like I'd stumbled into an enormous frat party.
Backyard was packed full of drunken twentysomethings. The music was too darn loud. It looked like a scene out of a spring break movie. I won't lie: I felt old. But that was nothing a little liquor couldn't remedy.
First, though, I wanted to scope out this sensory-overload-inducing place. I walked past the busy seating area to the back wall, decorated with colorful portraits of pets painted on corrugated steel. All around me, people played pool, pingpong, cornhole, shuffleboard, and giant Connect Four. A basketball game flashed across rows of TVs. I watched as two guys in flip-flops filled dozens of plastic cups with Dos Equis for an epic battle of beer pong. Meanwhile, a woman walking an overwhelmed-looking bulldog snapped photos for Instagram.
On my way back to the bar, I dodged a couple dancing to a Chainsmokers song and wound my way through a group of beefy men—all of whom were, inexplicably, wearing colorful ladies' dresses. I stopped to examine a cake that had been left out for someone's 21st birthday. A second later, my ankles were bathed in liquor when a waitress carrying shots dropped one a few inches from my feet.
Finally, I pushed up to the bar. Backyard vends both food, like sandwiches and salads, and craft cocktails, including four 20-ounce "double downers." A few thrown elbows later, I had a drink in hand. And when "Havana," by Camila Cabello, came on, I caught myself bobbing to the beat. I was finally ready to join the party—at least for a few minutes.
In This Post