Hike where the Comanches took their last stand. Take a Humvee tour of an ancient volcano. Spend the night with lions, tigers, and lemurs. Make gourmet s'mores under the stars. Whatever your pleasure, we've found 10 wild ways to lose yourself this summer. All of them are in Texas. Some are closer than you'd think.
Rough Creek Lodge & Resort
Glen Rose, 2-hour drive
There's way too much to do for just one weekend at Rough Creek Lodge, much of it kid-friendly: hiking, biking, archery, fishing, zip-lining, disc golf, hayrides, horseback riding, rock climbing, paddle boating, rocketry (yes), and, of course, swimming. There's more. Space prevents a full accounting. And it's all run like a luxury Rosewood property, because that's what the GM, Paul Boccafogli, did before he opened the place in 1998. He traveled the world, opening Rosewood resorts.
But I went with a single focus: guns. I've got a buddy—let's call him Eric, because that's his name—who is a bit obsessive with his hobbies. Not long ago, he developed an interest in guns. He has acquired a small arsenal. He regularly shoots at a range and stays up late watching YouTube videos of speed shooter Jerry Miculek, then bores his friends by describing those videos in detail.
Me, I pick up a shotgun once a year to shoot clays, only because I own some shotguns. Neither of us has much interest in killing birds (though Rough Creek will clean and pack them for you). So we devised an odd version of a three-gun competition on our bro trip to Rough Creek.
Beam With Pride: Don't be fooled by the name. Everything on Rough Creek's sprawling 11,000 acres is high-end, from the first-rate sporting clays course to the chandelier-lit dining room, where chef Gerard Thompson serves his modernized take on rustic American cuisine.
With our guide, Jeff Graham, who has worked the 11,000-acre Hill Country property since it was a cattle ranch, we started on the sporting clays course. I left my shotguns at home because Rough Creek has something called a Beretta Room from which guests can take their pick. It's a great course, every bit the equal of Elm Fork's, in Dallas, which is world-class. Without rubbing it in too much, I destroyed Eric, even though he had Jeff's expert coaching to compensate for his ineptitude.
It's all run like a luxury Rosewood property, because that's what GM Paul Boccafogli did before opening Rough Creek in 1998.
On the pistol range, we used Eric's SIG Sauer Something-or-Other and his Beretta Whatever. I don't know anything about handguns. So of course he shot better than I did.
It came down, then, to the rifle. Rough Creek is one of the few places near Dallas with a 1,000-yard rifle range. Eric and I each put 20 rounds through my bolt-​action .30-06. The steel is all Japanese, make undetermined, brought back from World War II by my grandfather. Jeff said the scope, with its janky crosshairs setup, was unlike anything he'd ever seen; he manned the spotting scope, giving us feedback on our accuracy. Eric and I were equals at 200 yards on a steel target, but when it came to dialing it in on a scoring paper target at 100 yards—well, he got lucky. And the wind gusted during my turn.
Back at the lodge that night, over a bottle of Pinot Noir and some fine hanger steaks, we criticized each other's marksmanship, complained about how sore our shoulders were, and chatted up the bartendrix, a student at nearby Tarleton State. There's no question in my mind that she was impressed. As were we. —Tim Rogers
Rancho Pillow
Round Top, 4-hour drive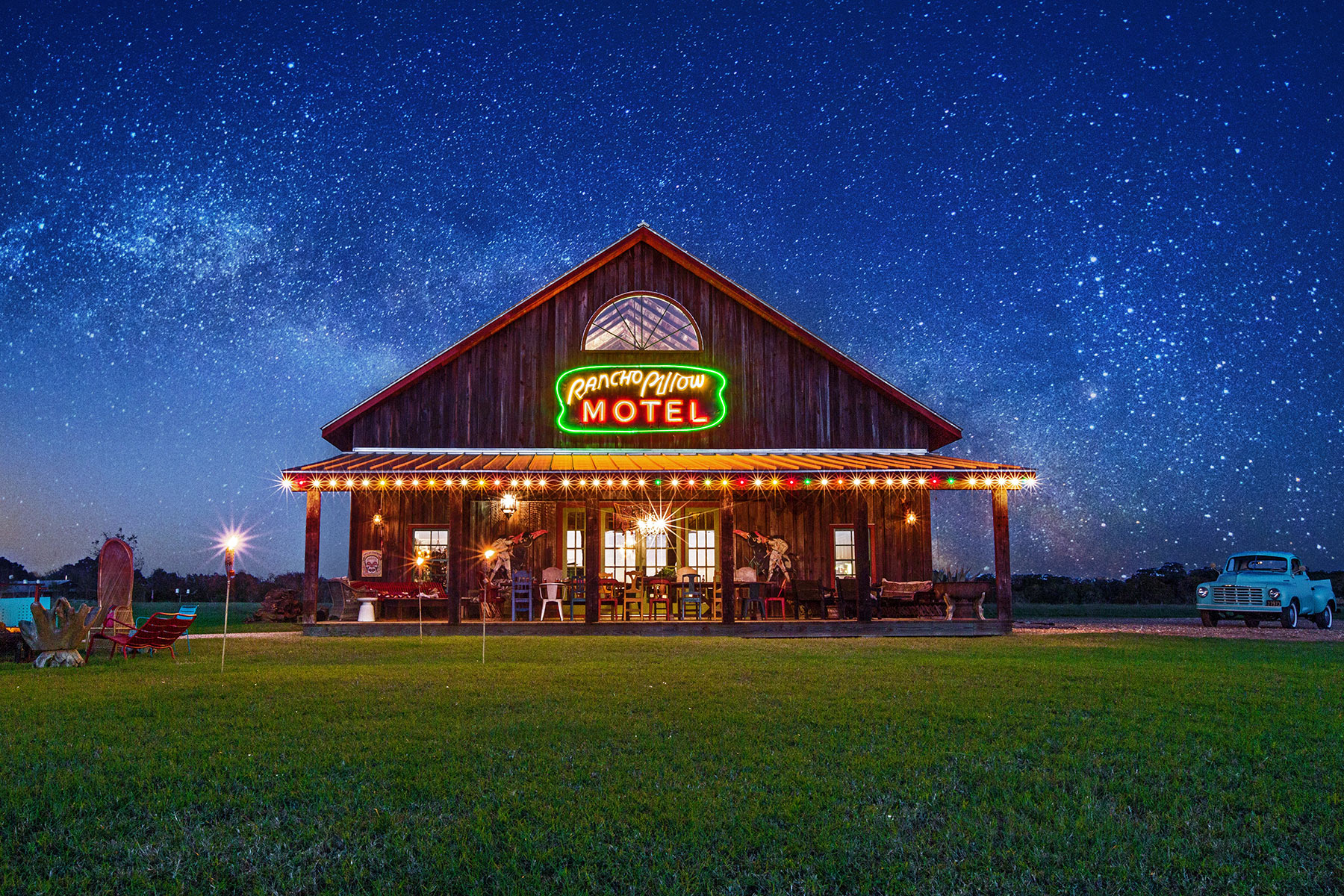 With my artist mother, I venture south to join the artists, collectors, and treasure seekers who converge twice a year on the sleepy town of Round Top (population: 90) for Antiques Week. Our destination is Rancho Pillow, a bohemian oasis on the prairie, one collector's whimsical creation that she has invited others to enjoy.
Owner Sheila Youngblood wanted a personal sanctuary where she could go after treasure hunting in Round Top. She found it on 20 acres with a 19th-century farmhouse. Two years ago, she opened up to guests a haven of artsy hideaways that blend eclecticism and history. An Airstream trailer houses the Australian folk band that will play in the evening. A luxurious tepee is hand-painted inside with a vision of the sky. And the 18th-century barn, whose timbers Youngblood had shipped from New York, is filled with folk art that reflects her vibrant style and love of Latin American art.
There's artful whimsy in everything you see and plenty to do—or not do. Dip in the saltwater pool. Soak in the outdoor bathing cabana's tubs, pampered by salts. I could spend all my time on the wide, deep porch, reading the poems of Hafiz and Octavio Paz, the wind on the prairie alive, and my mind caught up in the stories objects tell.
And I find more treasures when I drive into town, stopping along the way to admire knickknacks, curios, and decadent piles of vintage carpets.
There's artful whimsy in everything you see and plenty to do—or not do.
More senses ignite when we return that night for Rancho Pillow's Feasts in the Field, two evenings of suppers based around the open fire pit. Steve McHugh of the acclaimed restaurant Cured in San Antonio is our chef, and the crowd draws from all over the country. Something magical happens under the tent, amid pressed-glass goblets and mismatched vintage china collected "in the fields." We commune, watching the smoke and fading embers, nibbling charcuterie and fennel and cauliflower pickles, and then passing family-style plates around the long tables—fire-roasted lamb and leeks, roasted lemon salad, a mesquite cake. Later, by the fire pit, someone plays the guitar under the stars.
I sleep under a sumptuous canopy tent on a king-size mattress, with an accent carpet spread over the grass. I could be with Bedouins in Morocco, or another faraway place. The wind is part of it. So is Youngblood's imaginative, creative energy. It stirs you. I take the gust with me when I leave. —Eve Hill-Agnus
Magnolia Market at the Silos
Waco, 1.5-hour drive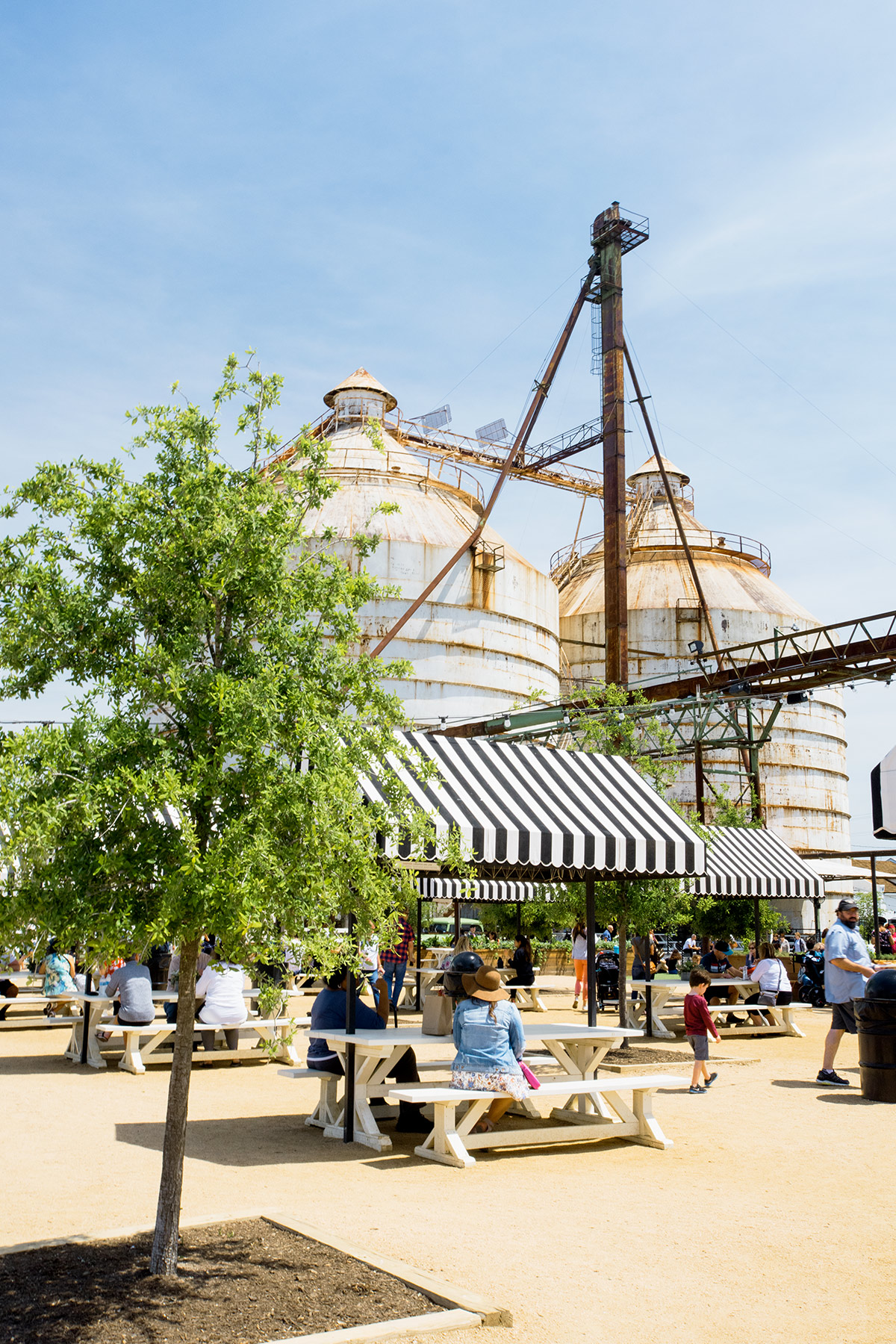 Growing up near Disneyland prepared me well for the Waco of today. Because, for fans of HGTV's Fixer Upper and its charming star couple, Chip and Joanna Gaines, modern-day Waco is the Happiest Place on Earth, except instead of Sleeping Beauty's castle, there are 120-foot grain silos, and in lieu of felt mouse ears, "#DEMODAY" t-shirts. The Gaines' Magnolia empire now encompasses everything from a home decor line to a quarterly magazine, and the Magnolia Market at the Silos, perhaps the most-hyped half-city block in the state, is the center of it all.
As with any tourist attraction, enjoying the experience begins with managing expectations. Just as I never saw any actual princesses sleeping in real castles as a kid, Magnolia visitors should not expect to meet Chip and Joanna, nor will they step inside a silo. For now, the rusted towers simply exist as an excellent Instagram backdrop. Other notes: souvenirs don't come cheap, and, most important, you must never, ever (ever, ever) visit on a Saturday. Magnolia is no weekend side trip on the way down to Austin, as I found out a couple of winters ago, waiting in line behind literal busloads of ladies on a blustery Saturday to get inside the market.
Lesson learned. This time I took a couple of days off from work for a trip with my favorite Fixer Upper fangirl—my mom. Because the Gaines-operated houses were already booked solid through the end of the year, we booked a Thursday stay via Airbnb at the Shotgun House, a one-bedroom tiny home that got the Fixer Upper treatment in season three (and earned a fair amount of press when the owners put the house on, then quickly off, the market for $950,000 last November). The house looked just like it did on TV, and a pair of Magnolia cupcakes sat under a cake plate dome on the kitchen counter. Outside, tour vans and trucks slowed for passengers to snap photos of the reborn shack.
It was a quick walk to the Silos, where we breezed right into the market to peruse the modern farmhouse paraphernalia, scoped out the food trucks lining the courtyard perimeter, popped into the quaint garden shop, and watched families play cornhole on the turf in the middle. The only line we ran into was at the Magnolia Bakery, so we skipped it. That left us plenty of time to check out other decor shops around town, including The Findery down the street and the small Harp Design Co. store, opened by Joanna's frequent collaborator Clint Harp.
The next morning, we woke up before sunrise to get breakfast at Magnolia Table, which had just opened in the former Elite Cafe space. The parking lot was already filling up at 6:15, and there was no wonder why. The cafe was the picture of white-tiled perfection, and my mom declared the biscuits the best thing she had ever eaten.
After our Friday checkout, we drove by the Silos and saw the bakery's line wrapping around the corner and down the entire length of the block. Several streets away, families were parking on grass and unfolding strollers. Do visit. But only on a weekday. —S. Holland Murphy
Palo Duro Canyon
Texas Panhandle, 6-hour drive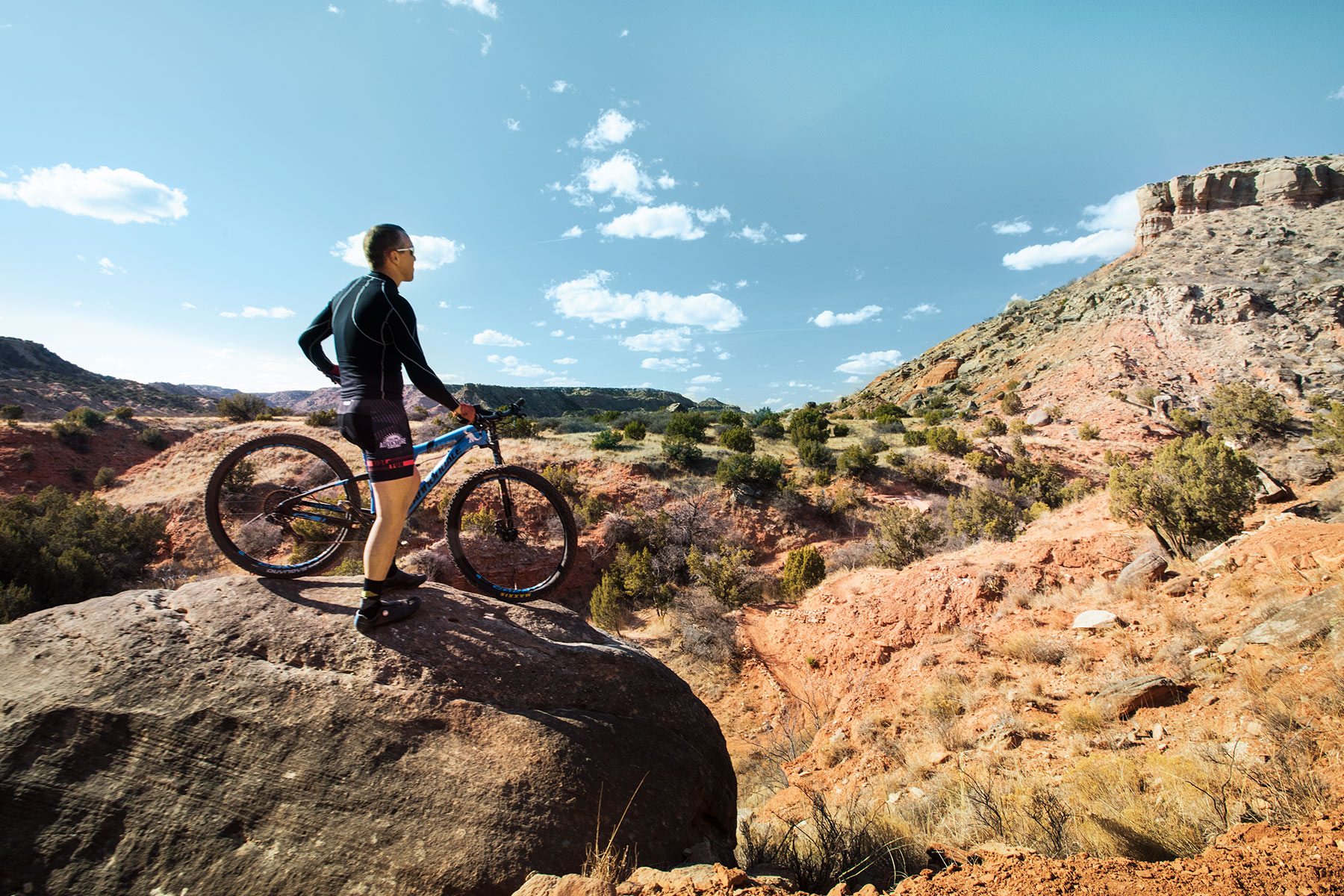 Palo Duro is called the "Grand Canyon of Texas," and as the United States' second-biggest canyon, it deserves the title. Yet something about the comparison doesn't feel accurate. Palo Duro is a staggering interruption to the endless flat of the Texas Panhandle—the desertlike prairie inexplicably sinking into a maze of cliffs and wide-open vistas. This landscape doesn't inspire awe like the Grand Canyon. Rather, Palo Duro delights in its subtleties, which invite closer inspection.
This is where Georgia O'Keeffe first painted the West, struck by the way the ancient geology of the canyon's stratified sedimentary walls captures radiant color and dazzling shifts in light. It was also a stopping point for Francisco Vázquez de Coronado and his conquistadors on their fated journey toward a fictional city of gold, the place where the Comanches made their last stand, and the spot where Charles Goodnight established the JA Ranch. It's that history that makes an exploration of the canyon feel like a layered, transfixing experience—an engagement with both the beauty and mystery of a place.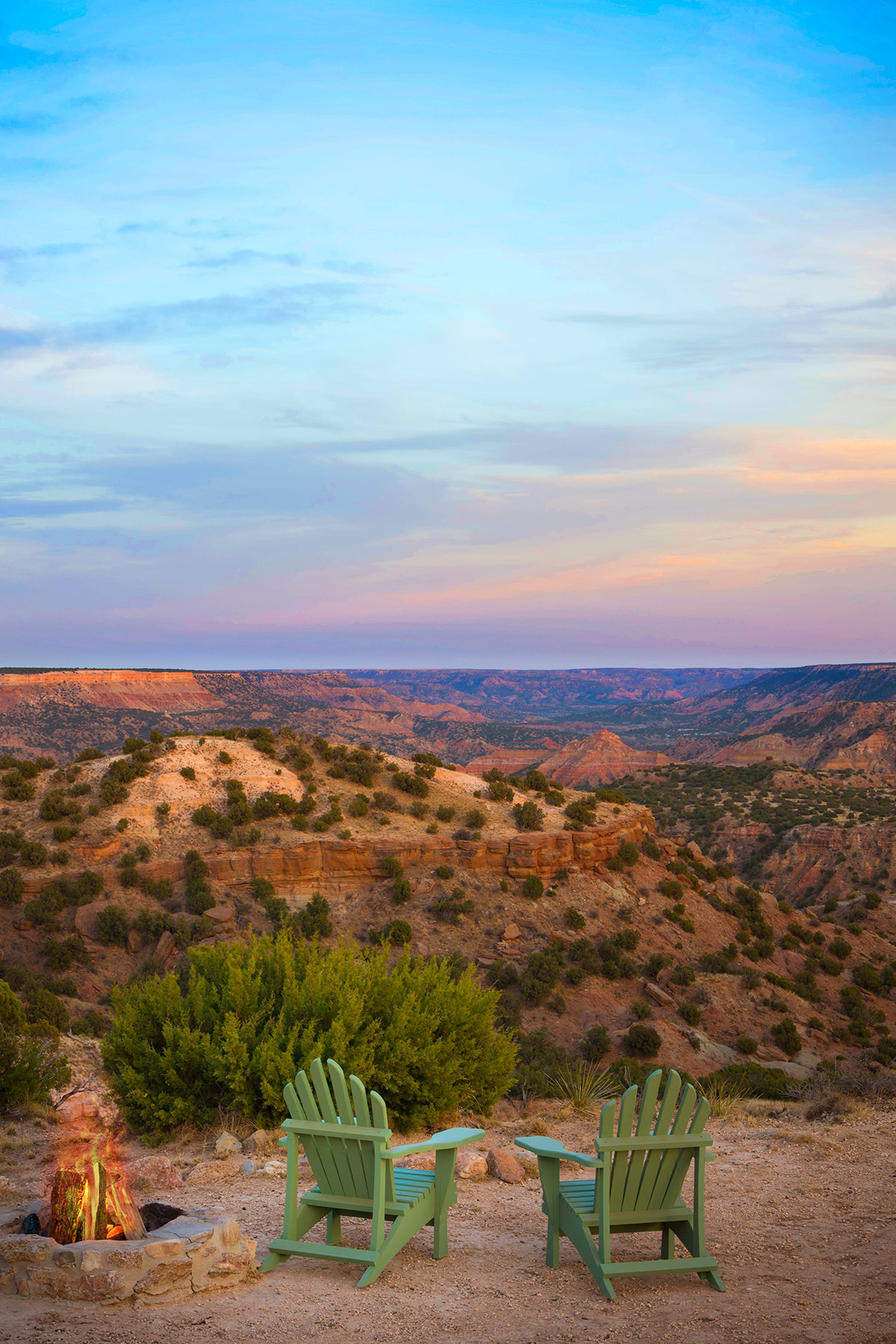 An exploration of the canyon feels like a layered, transfixing experience—an engagement with both the beauty and mystery of a place.
These days, Palo Duro Canyon is home to one of Texas' most popular state parks, attracting hikers, mountain bikers, equestrians, and campers particularly during the milder spring and fall months. A prime home base for exploring its natural wonders is the Doves Rest Cabins, started by Jeff Means (a veteran of the corporate and luxury travel industries) as an upscale take on Airbnb. Means and his partner have built a collection of comfortable cabins on some of the choicest spots along the canyon rim; for the best view, pick the SkyHouse or ChairLift cabins. From Doves Rest, it is just a few minutes' drive to any of the state park's trailheads, as well as the Palo Duro Riding Stables, which offers guided tours for riders of all levels.
Palo Duro's most popular hike winds along the canyon floor toward the famous Lighthouse hoodoo formation, but there are dozens of miles of trails that wander throughout the canyon. Although it can be brutally hot in the summer, the park still attracts visitors for the Texas Outdoor Musical, which tells a schmaltzy, comedic version of the history of the state. And while you are hiking the Panhandle, Caprock Canyons—another dramatic setting along the edge of the Llano Estacado—is well worth the hour drive for more challenging trails, a prairie dog village, and a chance to glimpse the official state bison herd.
While there aren't many dining options nearby—Amarillo is 30 minutes away—a trip to Palo Duro is really all about soaking up the outdoors. After a day on the trail, you couldn't ask for a better retreat than Doves Rest. The cabins feature a well-equipped kitchen, propane grill, fireplace (stocked with more firewood than you would ever need), and fire pit overlooking the canyon. After you settle in, you won't want to go anywhere. —Peter Simek
Cibolo Creek Ranch
Marfa, 8.5-hour drive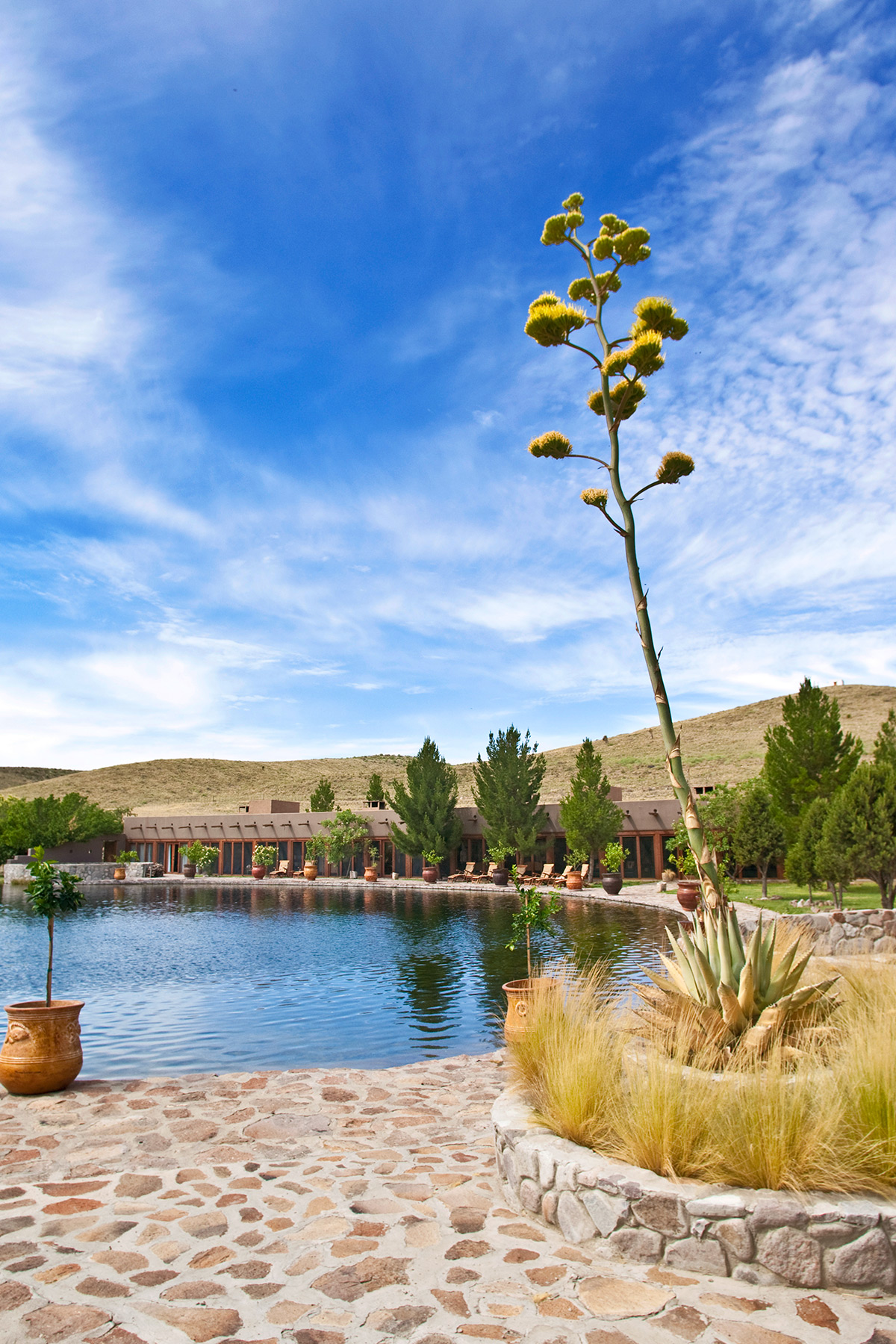 Cibolo Creek Ranch has a laundry list of things going for it. It's got history, wildlife, and charm. You can ride horses and partake in shooting sports. And you should. But without the setting, the full-day drive from Dallas wouldn't quite hold the same appeal. (To shorten the journey, land your private plane on Cibolo's runway.) I first discovered this when I turned onto the long stretch of unpaved road at the ranch's entrance, and the Chinati Mountains soaring ahead stole my breath. I'd driven for hours past tumbleweeds and dust and pump jacks. I needed the mountains.
As I approached the Cibolo Fort, the largest of three 19th-century structures and where most guests stay, I was greeted by roaming bison, several miniature horses, a cantankerous goose, and two affable ranch dogs. This was just the wildlife on the property. The surrounding mountains are home to deer, elk, coyotes, and mountain lions.
Strolling around, I came across a historical marker on a courtyard wall. Cibolo, which encompasses 30,000 acres, is one of the oldest ranches in Texas. In 1857, pioneer Milton Faver settled here to use the property as a trading and agricultural post for its ideal location next to Cibolo Creek. John Poindexter later bought the ranch in 1988 and restored the landmark, maintaining its structural integrity and bringing it to life as a resort. The result is striking: modern luxury grounded in historic authenticity.
The blend is most apparent in each of the fort's 25 guest rooms. Western accents and antique furniture create a rustic vibe that's elevated by cushy beds and artistic touches. I stayed in the queen suite poolside, with an excellent view of the water. But I didn't drive all that way to sit alone in my room.
Cibolo, which encompasses 30,000 acres, is one of the oldest ranches in Texas.
The next morning, fueled by good food and company, I watched the sun creep over the mountains and drench the farmland in gold. I climbed in the back of a heavy-duty Humvee, and Aaron, my mountain tour guide, expertly maneuvered the monster around steep curves and up rock-strewn paths, which sit in the basin of an ancient volcanic crater. He pointed out Native American rock pictographs and copper deposits. I looked an alpaca in the eye. But none of this was a match for the view when we reached the top.
The powder-blue sky and waves of Chinati Mountains sprawled for hundreds of miles. On one side of the peak was Texas; on the other, Mexico. I walked to the ledge and stood there silent for a few minutes, basking in the panorama. I felt sure of one thing: I'd be back. —Christiana Nielson
Center for Animal Research and Education
Bridgeport, 1.5-hour drive
Animal enthusiasts travel from all over the country to spend the night buried under a comforter in a gorgeous suite while lions and tigers roam nearby. (Like, really nearby.) Fortunately for Dallasites, the Center for Animal Research and Education is just 70 miles away, in the heart of Bridgeport.
Situated on 20 acres, CARE is maintained by founder and executive director Heidi Krahn, her staff of one, and a handful of volunteers. The nonprofit specializes in rescue, education, and research, and is home to more than 40 animals, including African lions, tigers, mountain lions, black and spotted leopards, bobcats, ring-tailed lemurs, llamas, and a coati (which I learned is basically a fancy raccoon). Krahn has been passionately caring for big cats for 30 years. Some are rescues, others transferred from different facilities and zoos, and some were bred as pets and then surrendered. Every animal has a distinct personality and a story, and Krahn is eager to share as she guides guests through her property. (Public tours take place on Saturdays and Sundays at 11 am, 1 pm, and 3 pm, for a suggested donation of $20 per person, ages 7 and up.)
But it's the overnight stay that turns this into a singular experience. Relax in one of two adult-only suites located on the property. Krahn designed the rooms to blend almost seamlessly with the animal habitats to provide an intimate experience—lions and tigers are literally just feet away. Guests who stay can dine on the terrace that overlooks the large cats, or on the deck of CARE's new 8,000-square-foot mountain lion enclosure, with Apollo and Lakai, who were recently transferred from the Dallas Zoo.
The best part, though, is the behind-the-scenes tour with Krahn. You get to feed raw chicken to the cats (through a fence, of course) and fruit to the lemurs. Later, drift off to sleep to the sound of lions Araali and Zuberi grunting back and forth. It's more soothing than it sounds. Promise. —Catherine Downes
Living Waters On Lake Travis
Spicewood, 4-hour drive
At Living Waters on Lake Travis, the main three-story straw-bale house was built by Joanna Long, a painter, massage therapist, and sound healer. Its foundation was blessed by monks, and a vial of water—the living water in the property's name—is under the floor. I'm here for a soulful retreat.
Situated in a waterfront neighborhood, the secluded compound has an eco-friendly ethos at its core. It's reflected in the three cabins designed by architect Marley Porter. Their roofs angled for rainwater collection, they look like tiny houses with a modernist bent, masculine angles and feminine curves meeting one another harmoniously. Porter's design creates its own energy. I find myself thinking in terms of healing auras.
My cottage is intimate and snug, with a carved wood sink and loft bed. I can do misty morning yoga on the platform that overlooks the Pedernales River, whose water I can see beyond the fringe of trees. We're close to nature, sitting on the boat dock as the sun sets, or lolling in the hot tub near an outdoor fireplace. Deer peer at us, silhouetted at the top of the embankment that slopes down from the native garden's mosaics to the stowed kayaks at the water's edge.
When I climb up to my bed that night, I feel taken care of, body and soul.
On a hike in Grelle Recreation Area, 15 minutes away, I catch sight of more deer, wild boar, a profusion of birds, and a lone coyote, who lopes away across the Hill Country bluff. Nearby, at Krause Springs, blooms are coming out in the gorgeously tended butterfly garden with wind chimes, palms, and native plants. A path leads through the picnic grounds to a natural spring that flows over a moss- and fern-draped waterfall into a rock pool below, maintaining 68 degrees all year, making it a cold-water gem in the summer.
Back at Living Waters, a pillow infused with ylang-ylang essential oil welcomes my cheek. Property manager Todd Barber doubles as a massage therapist. He has a degree in exercise science and experience in deep tissue, trigger point, myofascial release, and reiki healing. He brings all of these together intuitively. My hourlong massage extends well beyond, and I sink into a reverie, as rain patters on the roof of the treehouse room where he does all his work. I am a new person when I leave. When I climb up to my bed that night, I feel taken care of, body and soul, and part of the greater rhythms of life. —Eve Hill-Agnus
Kimpton Hotel Van Zandt
Austin, 3-hour drive (if you're lucky)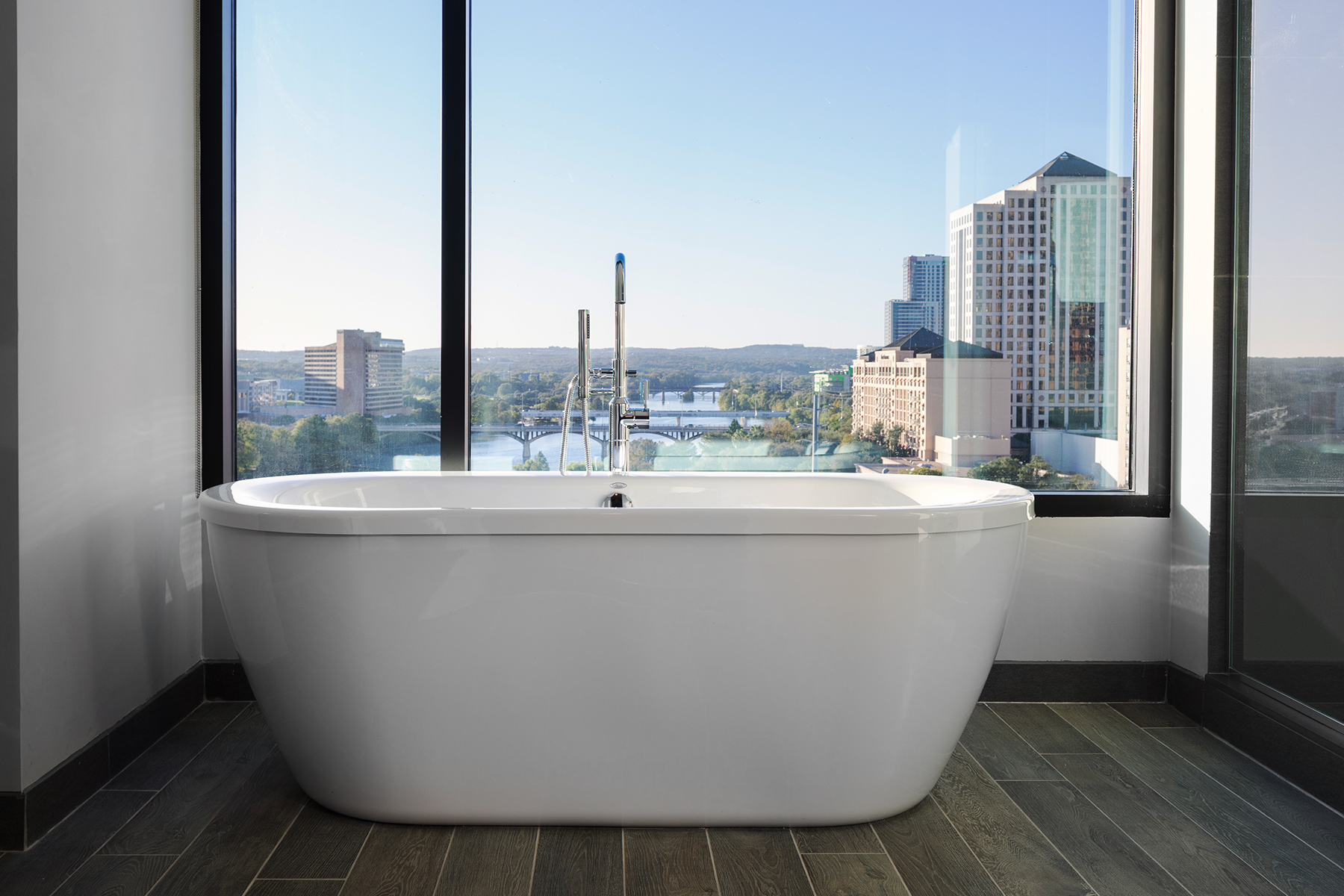 It was one of my dumber ideas, to go to Austin for a last-minute getaway during the second weekend of SXSW. By the time we had spent an additional hour taking a mandatory detour across the Congress Avenue Bridge at the pace of a stoned pedicab driver, my wife was no longer speaking to me and I had made a twofold pledge: once I handed the keys to the valet at the Kimpton Hotel Van Zandt, I would start drinking and never set foot in a car again.
We stepped into the lobby under a chandelier of trumpets, a mini concert in full swing to the right. The lead singer of Vita and the Woolf, a cross between Sarah Jaffe and Florence + the Machine, was shaking her sequins as hotel guests lounged on leather couches and sipped glasses of Chardonnay. I abandoned my bags at the concierge desk and grabbed a margarita from the bar during the complimentary wine hour. Things were looking up.
The Mark Zeff-designed Hotel Van Zandt, opened in 2015, is built for music. It's named for Fort Worth native Townes Van Zandt, and art by his oldest son, J.T. Van Zandt, adorns the walls. Wallpaper patterns are musical vibrations, and light fixtures are fashioned from trombone pulls. There's a record player in the lobby where guests can request songs, and a writer's lounge at the back of the bar where aspiring musicians can collaborate. If you come at any time other than SXSW, there's still a musical act every night at Geraldine's, the hotel's restaurant, and a jazz brunch on Sundays.
That night, seated at a small table in front of the stage at Geraldine's, I continued to make good on my pledge with a house Manhattan, made from Austin's Nine Banded Whiskey. We shared small plates of bourbon-glazed cauliflower and bone marrow with pickled okra. Houston singer-songwriter Andrew James performed a set, the acoustics impressive under the arched ceiling. As the band finished, Willie Nelson stood up from a table somewhere behind us and tipped James on his way out.
The next morning we walked along the riverside trail to Forthright for brunch. Fortified by a gorgeous slice of avocado toast and coffee from Dallas' own Tweed Coffee Roasters, I spent most of the afternoon in the depths of the spa tub, gazing out the floor-to-ceiling windows at Lady Bird Lake and the bridge that almost killed me, the rolling, spring-green hills stretching to the horizon.
Around twilight we walked down Rainey Street, past the bungalows overflowing with revelers, to dinner at James Beard nominee Emmer & Rye, where roving "dim sum" carts brought around dry-aged beef tartare and a stunning chicken liver tart topped with strawberry jam. We had scored last-minute concert tickets for Nathaniel Rateliff & the Night Sweats, so we headed back to Geraldine's for the private show. Willie's harmonica player, Mickey Raphael, made an impromptu appearance.
The next morning we left early, hitting the road as crews dismantled barricades. Next time, I'll just fly. —Kathy Wise
Fort Worth
40-minute drive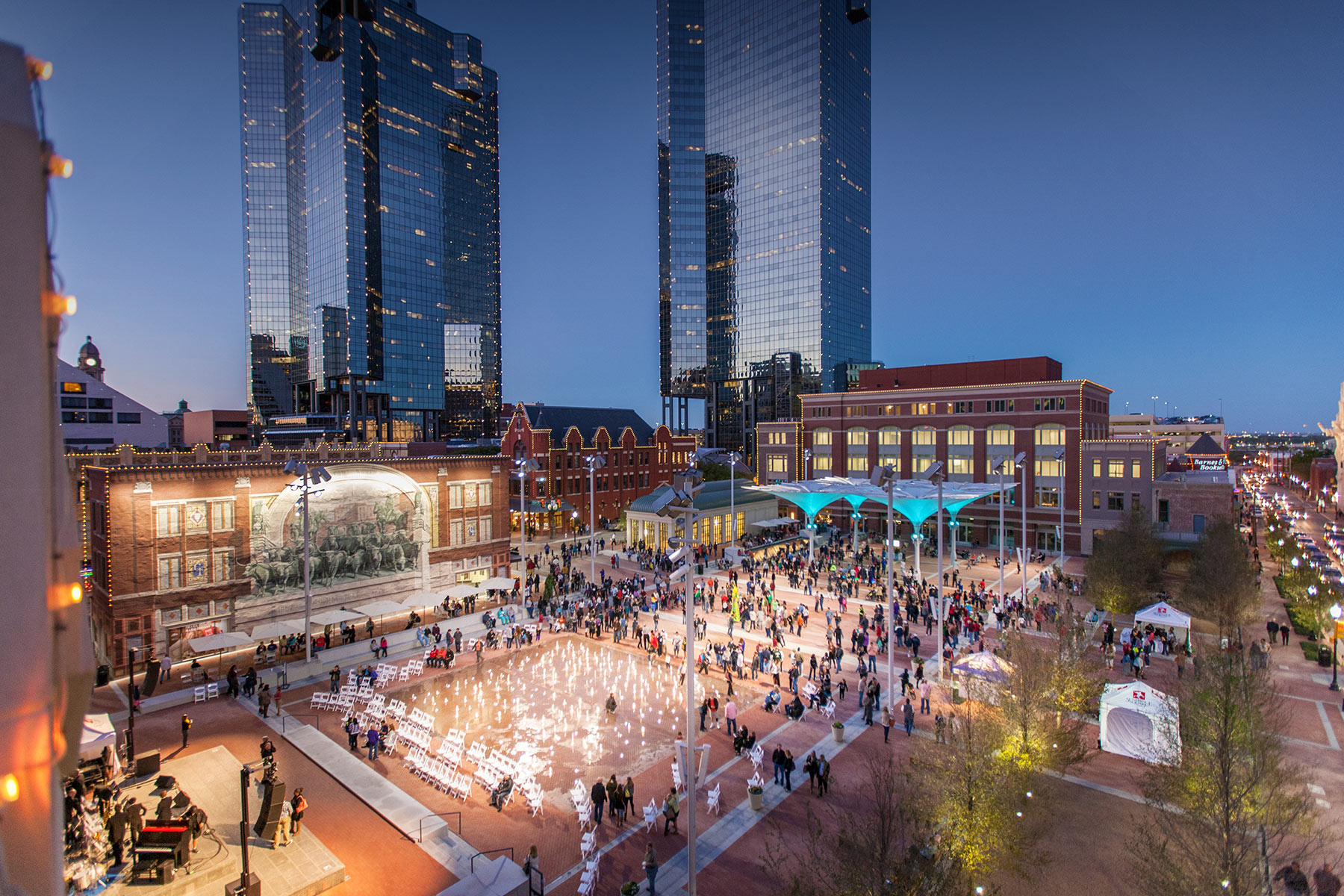 It's a Friday night at the White Elephant Saloon and a man in impossibly tight Wranglers sends his dance partner spinning past him, holding her hand tight as her arm extends at the elbow. She shoots back to his chest, each of them carefully scooting boots to avoid hitting the other three couples that crisscross the tiny wooden dance floor like pinballs. This is Texas' last big city to really feel like the imagined Texas. The red bricks of the Stockyards still lead you to aging honky-tonks and custom bootmakers and horse stables. Downtown, cowboy-hatted businessmen stroll past the art deco towers that have housed oil companies for decades. But if you spend your whole trip in these moments, you'll miss the Fort Worth that's sprouting all over the city.
There are the cocktail lounges, restaurants, theaters, fitness studios, and art galleries that populate the Near Southside, a 1,400-acre neighborhood abutting the Medical District. There is the loud nightlife that pours into West Seventh on the weekends. The Cultural District's museums embody the disparate personalities of their city: the cowboy art of the Amon Carter, the class of the Kimbell, the daring of The Modern.
Stay at the Omni downtown and you'll be in the middle of it all. Chances are your room will have unobstructed views of the whole city. My fiancée spent her Saturday morning in the Mokara Spa, where she was whisked away from a waiting room flooded with sunlight into a dimly lit massage room that smelled of essential oils. I walked to the redone Sundance Square and sat on the plaza at the Bird Cafe. Have brunch here—the pulled goat scrambled into duck eggs was fantastic—and watch a small army of kids dart through a couple hundred in-ground nozzles that shoot water a dozen feet in the air.
This is Texas' last big city to really feel like the imagined Texas. The red bricks of the Stockyards still lead you to aging honky-tonks and custom bootmakers and horse stables.
From downtown, rent a bike (Fort Worth has docking stations!) and ride along the newly redone South Main Street, past all the century-old warehouses that are morphing into storefronts and apartments. Steer over to Magnolia Avenue, a meandering boulevard that helped spur this area's redevelopment two decades ago. Many of its old standards are as good as ever. The Usual is still a daring cocktail bar without pretension, one that has the gall to combine apple brandy and mezcal with bitters and agave nectar and name it for Ted Cruz with a hint of King of the Hill ("That Boy Ain't Right"). Shinjuku Station has become one of the city's most venerable restaurants—an always-packed Japanese izakaya serving up small plates of seared baby octopus and snapper sashimi.
That's not to say the Fort Worth you've always known has gone anywhere. Reata, in the heart of downtown, is still filled with cowboy regalia and serves up the best frontier cuisine this side of Buffalo Gap. Sit on the roof, order the night's game special (mine: perfectly charred duck breast over a bed of grits and spinach fried crisp), and close the evening with a cup of pecan coffee. You didn't forget you were in Fort Worth, did you? —Matt Goodman
Collective Retreats Hill Country
Wimberley, 4-hour drive
I've spent enough nights in an REI nylon tent that if I'm going to spend money on a vacation, I want to sleep someplace with four walls. But when I visit Collective Hill Country—a "seasonal luxury retreat" located just outside Wimberley—I finally get the glamping appeal.
"Tent" does not seem like an adequate term for these stylishly decorated, wood-framed, canvas-walled structures. There are 12 of them scattered along a ridgeline that overlooks the idyllic 225-acre Montesino Ranch. "You don't get views like this in most of Central Texas," says assistant general manager Eddy Young as he gives me a tour of the property a few weeks before it opens in late April. The Hill Country location is the fourth from Collective Retreats, which operates similar properties in Vail, Yellowstone, and New York, partnering with local landowners to offer people five-star experiences in undeveloped places where you wouldn't want to be contained by four walls.
Tent doors roll open to reveal stunning views of the green-saturated Montesino Valley. Enjoy the view from your king bed with a morning French press coffee, or recline in an Adirondack chair on the wood deck to watch the sun set over the Blanco River.
Grab a picnic lunch and head out on one of the many hiking trails that traverse the property. Better yet, book a tour on the nearby Wimberley Zipline Adventures to see the Texas Hill Country as it's meant to be seen—whizzing along at speeds up to 30 mph along the 10 lines that crisscross cedar- and oak-studded valleys.
The adjacent Montesino Ranch is a working ranch. You can take a tour on horseback or arrange a time to visit John Stanley on his 9-acre organic farm, Back to the Garden, which supplies Collective Hill Country with most of its produce. Three- to five-course farm-to-table menus are created by head chef Jordan Schneider and served in the spacious communal lodge. Dishes change daily depending on what Farmer John pulls out of the ground.
"Tent" does not seem like an adequate term for these stylishly decorated, wood-framed, canvas-walled structures.
For me, no camping experience—no matter how glamorous—is complete until I smell like a campfire, so I was happy to discover a fire pit on a lower ridgeline. I gathered a blanket and supplies for fancy s'mores—think grapefruit-infused marshmallows and homemade shortbread cookies—and settled in to watch the stars twinkle in the big Texas sky.
Because there is no air conditioning, Collective Hill Country is closed during the worst of the summer heat, but it will reopen September through April. Beds are heated in the winter months, and every tent has a wood-burning stove as well as a full en suite bathroom. If you're traveling with kids or a friend, ask for a rollaway or a tent with twin beds. Or go alone and savor the silence. —Megan Kimble
Get the TravelClub Newsletter
Explore the best deals, inspiration, and opportunities for your next travel destination to escape in style.
Author