While still an undergrad at the university of Texas at Arlington, Kevin Rubén Jacobs rented the cheapest storefront space he could find—a shabby ground floor unit in a two-story brick building in East Dallas, surrounded by tumbledown bungalows and vacant lots—and opened Oliver Francis Gallery in 2011. There was no parking lot, so collectors had to navigate cracked sidewalks past barking junkyard dogs that lived on the lot next door. And yet, it was here that Jacobs' gallery, familiarly known as OFG, grew into one of the most vibrant and necessary art spaces in the city.
When the gallery opened, Dallas' art scene was experiencing something of a homegrown boom. Although the recession hit the city's cultural sector hard, and some of its most acclaimed galleries, such as And/Or and Road Agent, closed shop, a new generation of artists emerged to fill the gap. Many were fresh out of college; some had recently arrived from other cities, armed with degrees from top-notch MFA programs. Others were emboldened by mentors like UTA art professor Stephen Lapthisophon and SMU's Michael Corris to sidestep the long-standing obstacles to artistic activity in Dallas—limited patronage for local artists, the lack of public funding, entrenched hierarchical attitudes—and focus on the modest advantages of a tight-knit community, accessible spaces, and relative affordability. They mounted exhibitions in their apartments, in empty storefronts, and in vacant warehouses. This new energy, born from a dissatisfaction with the established pecking order of Dallas' art world and an increased connectedness to the wider international scene, was enabled in no small part by the internet and social media.
Part commercial gallery, part experimental art space, Oliver Francis Gallery functioned as an art scene clubhouse. Artists lived and made studios in the apartments upstairs. Exhibition openings were house party-like happenings. And Jacobs proved a prescient tastemaker. He exhibited artists with Dallas roots, such as Puppies Puppies, Josh Reames, and Jeff Zilm, who have since gone on to garner considerable acclaim internationally. He opportunistically networked his way into showing blue-chip artists such as Josh Smith. Eventually Dallas' top-notch collectors and museum curators took notice. Even Mayor Mike Rawlings braved the junkyard dogs to attend an opening.
And then, in 2015, Jacobs shut down Oliver Francis Gallery. He quit his job as curator of The Goss-Michael Foundation and disappeared from the art scene. He turned his gallery into a powerlifting gym, and Facebook soon filled with images of his swelling physique. Jacobs earned a bronze medal at a local powerlifting competition, and instead of hitting the galleries on the weekends, he became a regular at WinStar World Casino and Resort, where he immersed himself in a newfound obsession with Texas Hold'em poker.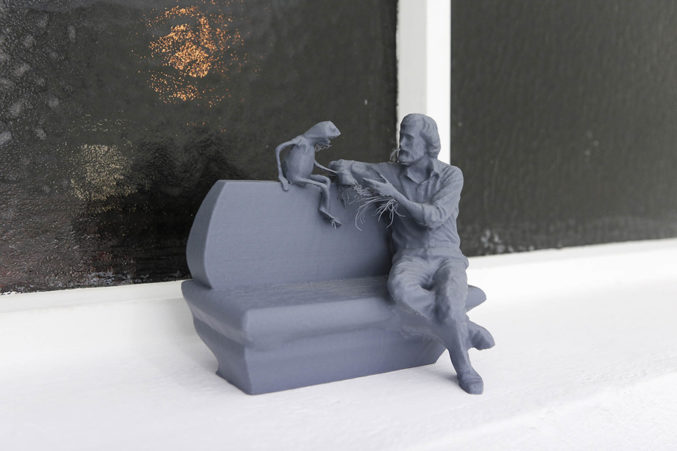 "This was happening all while battling major depression," Jacobs says.
Put simply, Jacobs was burned out. But why? On the one hand, Oliver Francis Gallery enjoyed a tremendous amount of success. Curators, press, and collectors all praised Jacobs' work. He earned invitations to art fairs around the world (though, conspicuously, he never got invited to the Dallas Art Fair). He showed artists who went on to be coveted by top galleries and picked for the Whitney Biennial, a career-making exhibition for emerging artists. But the gallery never matured into a viable commercial venture.
"I did not receive support from collectors, despite the track record I produced," he says. "That was probably due to the fact that I wasn't trying to create a luxurious buying experience. It represented the exact opposite of what collectors expected when they walked into a gallery."
Coupled with the lack of financial support for emerging artists was the problem of visibility. By the time Oliver Francis Gallery closed, Dallas' youthful art scene had been sustaining itself largely through self-generated momentum. With few reputable galleries taking notice, few opportunities for public funding, and limited collector interest, the artists were working in something of a vacuum.
"The scene is small, and no one wants to piss anyone off," Jacobs says. "Art press in Dallas is often noncritical, overly congratulatory, and unwilling to connect Dallas to an international context. I wanted to be taken seriously. Dallas artists are in a tiny bubble, and it's difficult to connect to the international art scene. Part of my mission for the gallery was to introduce Dallas artists to the rest of the world, instead of getting their work bought for someone's bathroom."
Having fallen short of that ambition, Jacobs kicked around, working odd jobs. By the beginning of 2017, he had saved up enough money to blow town for a while. The plan was to fly to Berlin and make his way across the globe to Shanghai to visit a friend before returning to Dallas. But after three hours in the German capital, he had another idea. What if he simply reopened his Dallas gallery in Berlin?
In November, I rang the bell of a five-story apartment building in a quiet corner of Berlin's Kreuzberg neighborhood, and Jacobs came to the door. He led me through an open-air corridor, through a cobblestoned interior courtyard, and into a small white-walled room on the ground floor. Inside the space were artworks by a familiar name: Dallas-based artist Jesse Morgan Barnett. Barnett's work, inspired by a prolonged correspondence with a Russian man who volunteered to be the first recipient of an experimental head transplant surgery, is consistent with the themes, approach, and quality Dallas came to expect from Oliver Francis Gallery. Only now, it is located up the street from König Galerie, one of the world's leading galleries and one that exhibits two artists—Isa Genzken and Katharina Grosse—who have had solo exhibitions at the Dallas Museum of Art and Nasher Sculpture Center, respectively.
Things came together for Jacobs in Berlin surprisingly fast. In June, he found a space in the Charlottenburg neighborhood where he plans to open a small project space. In August, he found a home for the main gallery in Kreuzberg. The locations are in two of the most art-rich neighborhoods in one of the leading art cities in the world.
Jacobs giddily describes the experience as "a bit of a dream." He has already received German media coverage, and he says his opening exhibition was packed. Still, there is certainly a lot left to prove. Can he find the right artists, connect them to the right collectors, and establish himself as an up-and-coming tastemaker? At least in Berlin, his new gallery, renamed Pushkin & Gogol, is better positioned to earn Jacobs his sought-after place in the international conversation.
The gallerist's safe landing across the pond is a success story, but it raises a pressing question for those who'd like to see Dallas grow into an international art center of its own merit. Jacobs was something of an artist ringmaster while he was in Dallas. Will his departure only serve to inspire more people to give up on Dallas?
In some ways, the city's cultural ecosystem has matured since the early 2010s. Local art institutions have shown more interest in exhibiting Dallas-based artists, and a new generation of collectors has been more eager to embrace and support the local scene. New art spaces and galleries have opened, including the expansion of Paris-based Galerie Frank Elbaz to the city. But opportunities for exposure for Dallas artists are still limited. There is always the lingering question: would it be better to just leave?
"Artists in Dallas are getting tired," Jacobs says. "There are incredible artists and projects in the city, but there's nothing exotic about it. They get overlooked. It's quite sad."
Get the FrontRow Newsletter
Get a front row seat to the best shows, arts, and things to do across North Texas. Never miss a beat.