It might be tempting to call Sweet Tooth Hotel an Instagram trap, a manufactured backdrop for selfies à la the Museum of Ice Cream, which swept the coasts last year and inspired a slew of candy-coated knock-offs. But that would do the Dallas-based project a disservice.
When it opened in May, the Victory Park pop-up "hotel," created by spouses Jencey and Cole Keeton, featured five rooms sweetly designed by local artists. Due to the success of the temporary installation, which closed its sold-out run at the end of August, the couple decided to present their hand-picked roster of artists with a new challenge: the Space Race-inspired theme "1955."
"Rainbow Rocketship"
The Bender Brothers and Jojo Chuang
From Sweet Tooth Hotel's first iteration, Milan, Ariel, and Aaron Bender (aka the Bender Brothers) have been the extra-strength glue holding the project together. The talented fabricators behind Built by Bender have had a hand in building out almost every room of the new installation, from the creation of Rob Wilson's hand-carved alien "Astral Pals" to the retro television in Drigo's "Astral Diner." "We're really hands-on and bounce every idea we have off of Cole and Jencey," Ariel says. "Sometimes they know what we're going to do, sometimes they don't. They trust us to do something that's going to look cool and be a part of their vision."
For "1955," the Bender Brothers teamed up with Jojo Chuang, a Taiwanese designer based in Richardson, to create their own installation, a rocket ship fueled by rainbows and controlled by visitors. "I think Jencey and Cole always wanted to shine a light on cool new faces," Chuang says. "They created a dreamy space for people to experience what this kind of show can be, and what the local art community can do."
"Personal Space"
Hatziel Flores
While doing research for his "1955" installation, Hatziel Flores began noticing a theme. "It was like every single movie poster during that time had a robot," Flores says. But he wasn't a fan of the damsel in distress that was often cradled in the evil invader's arms. So he designed his own '50s movie poster starring a female astronaut, and spray-painted the backdrop onto the walls of his Sweet Tooth room.
"The characters themselves, which have to be cut out, painted, and outlined, were a little more complicated," the graffiti artist says. "I want it to look like people are inside the poster when they're taking a picture."
Flores designed the poster's leading lady so that she would really pop in photos. "I came up with dozens of different expressions, animated them, and looped them, so every time you take a picture with her, she should look a little different," he says. "There are some other little secrets here and there. It'll be really fun."
"Blow"
Jeremy Biggers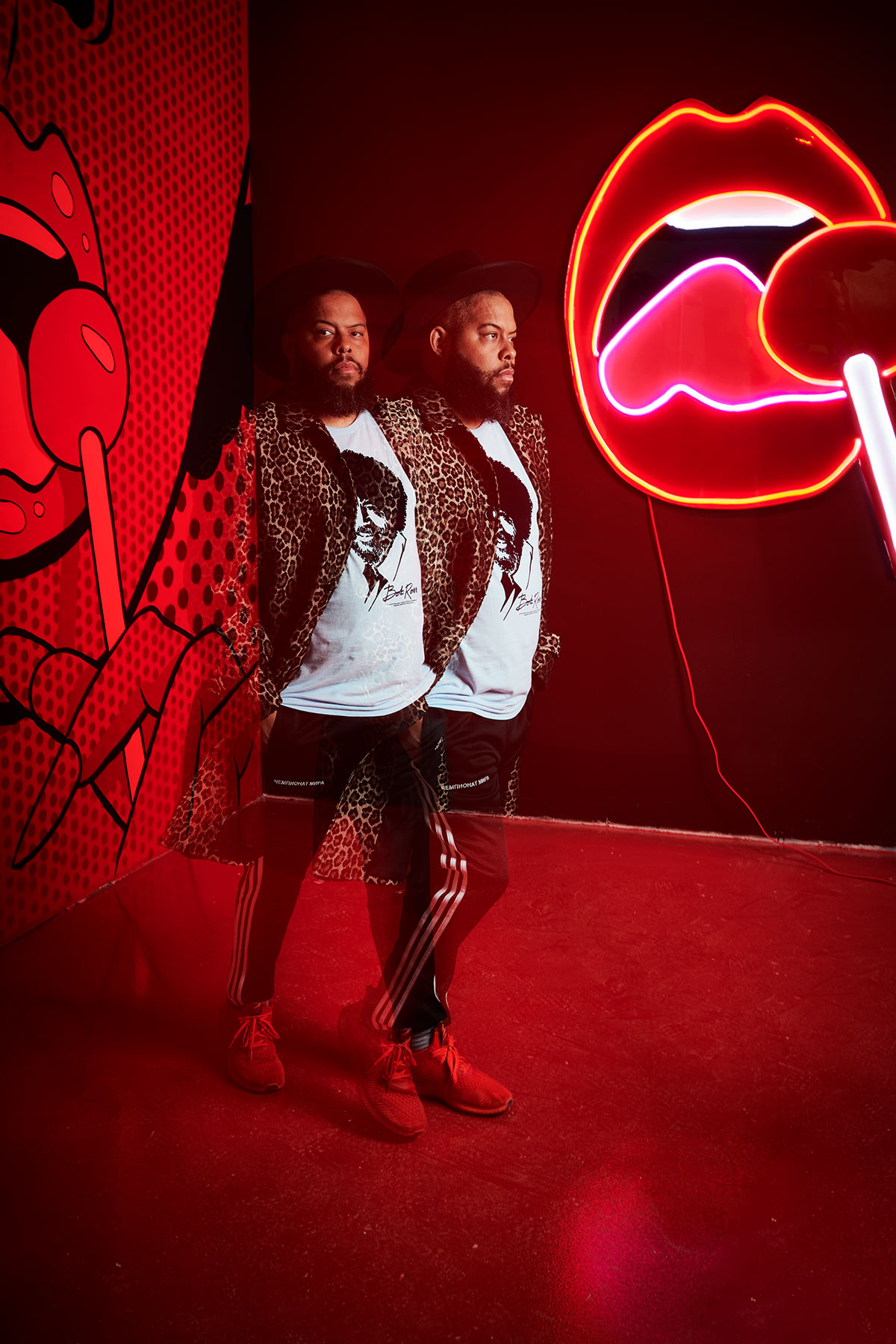 Jeremy Biggers, known as Stem & Thorn to his nearly 14,000 Instagram followers, has tried his hand (successfully) at almost every medium, but the artist is most known for his hyperrealism—and for his oversize images of glistening lips.
Anticipating Sweet Tooth's inevitable social media component, the artist set out to create something a bit more experiential. "I definitely wanted to challenge myself to step away from realism and just really dive into that theme of 1955," Biggers says. The result is pure pop art, with heavy Lichtenstein and Warhol influences. There's also an interactive wall featuring 192 handmade pinwheels, a representation of the decade's simpler times.
"It was tedious, and I never want to see another pinwheel," he says. "But it was worth it."
"Astral Diner–The Greenhouse Effect"
Drigo
Drigo is used to people posing with his pieces. Search "The Hill Shopping Center" geotag on Instagram to see couples and kids alike using the artist's work as a backdrop. The three-dimensional aspect of Sweet Tooth, however, presented a new challenge. "I really wanted to consider how things would come out in a photo," Drigo says. "I've never really worried about that. I've never had to consider a person's average height, or if something is going to get bumped into and broken."
"Astral Pals from Beyond"
Rob Wilson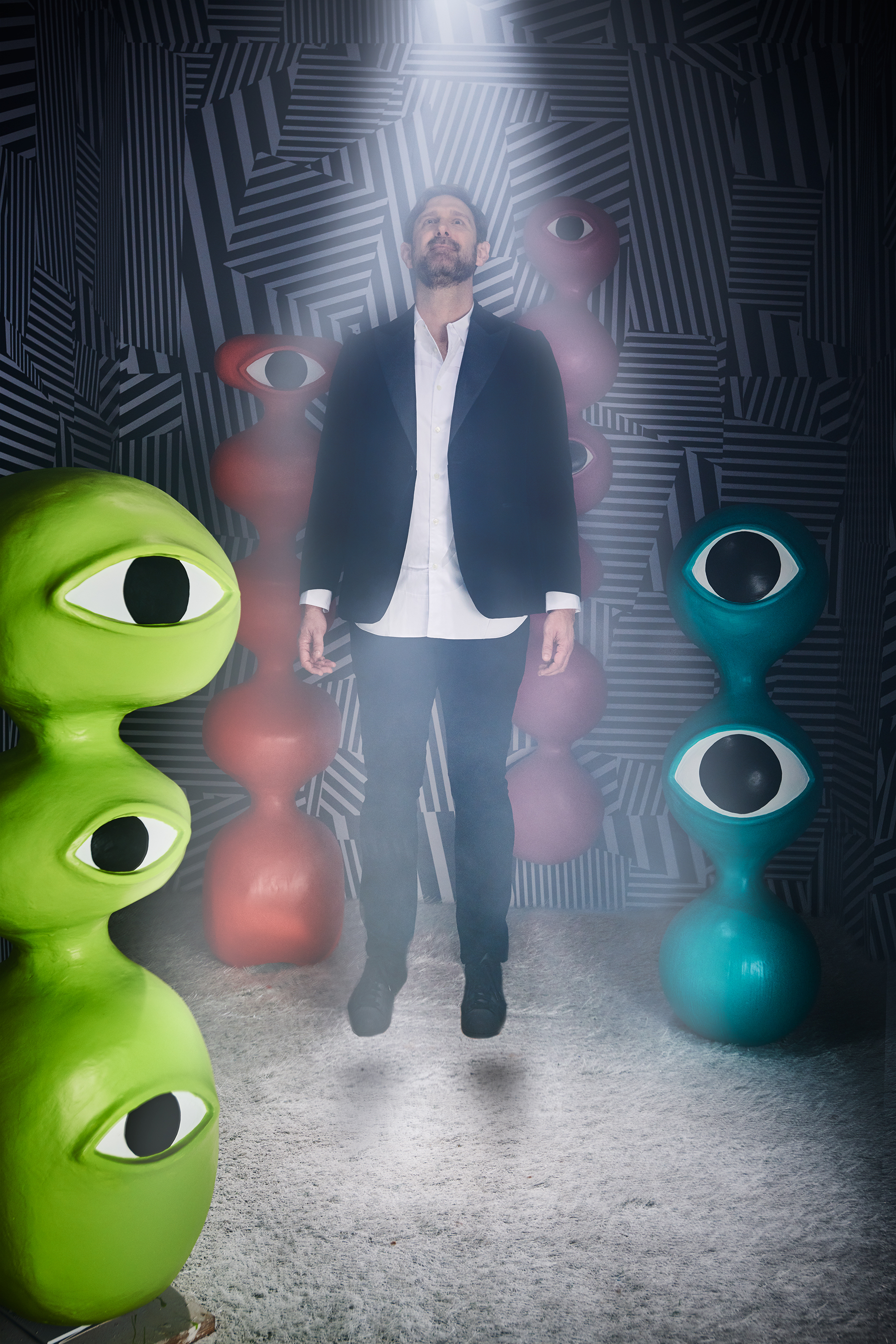 Sweet Tooth has allowed several of its artists to step out of their comfort zones, but perhaps no one more so than Rob Wilson, whose signature style is bold, graphic, and always flat. "The idea of doing something three-dimensional was super exciting," says Wilson. He collaborated with Rob and Jencey to create a 2D illustration, featuring the trippy Razzle Dazzle camouflage used on ships during WWI and four aliens of Wilson's own invention, which the Bender Brothers then hand carved to bring to life. "I've been calling them Astral Pals," he says.nbsp;
On being a part of both Sweet Tooth experiences so far, Wilson is thrilled. "This isn't a bunch of local artists who all knew each other. We all come from very different creative backgrounds, and Jencey and Cole brought us all together in a truly collaborative way — it's not a weird manufactured thing," says Wilson. "All these different worlds are coming together in a really wonderful way."
"The Great Conjunction"
Shamsy Roomiani
Botanical goddess Shamsy Roomiani's installation is the first thing you see when you walk through the doors of Sweet Tooth Hotel, along with a custom neon sign featuring a language the artist created herself.
"It basically means that this is the place where all these worlds are coming together to create something organic and special," Roomiani says. Her moody, ethereal vision consumes a wall of Sweet Tooth's gift shop, which masquerades as a quaint 1950s grocery store.
"The story is that a rocket ship crash-landed, and the wall is being corroded with all these organic, weird, alien things," Roomiani says. "It's definitely not normal."
Get the FrontRow Newsletter
Get a front row seat to the best shows, arts, and things to do across North Texas. Never miss a beat.