In the decades since she earned an MFA at SMU, jewelry designer
Julie Cohn
has bound custom baby books, created pres­entation materials for high-level business deals, formed a feminist art collaborative called Toxic Shock, and designed home accessories such as rugs and curtain finials. But at the heart of her work has always been artistry. "I always knew I wanted to be an artist," Cohn says. "I had plan A, and didn't even entertain anything else but plan A. That's all I wanted to do."
As Julie Cohn Design Jewelry is coming up on seven years, we stopped by
the artist's Lakewood home
to visit her design studio; gaze upon the meticulous garden designed by her husband, acclaimed landscape architect David Rolston; and chat about everything from shopping to therapy (which, in Cohn's book, is sometimes one and the same).
On shopping:
"I do almost all my shopping at the resale shop. It's like treasure hunting; you never know what you're going to find. Most frequently I go to Clotheshorse Anonymous. It's a sanity thing I do with my friend Debra. That's our Saturday outing. It's like going to the flea market. I will plan any trip I have around a flea market. We just went to Portugal, and I planned it so we could go to the one in Lisbon."
On her Otomi collection:
"I got really inspired by this Dries van Noten runway shot from a previous season where he had this fabulous black-and-white Otomi shirt with this incredibly baroque gold skirt, and it was just like, 'that's it.' It sparked an entire collection for me. Everything about it, the high-low, primitive-modern."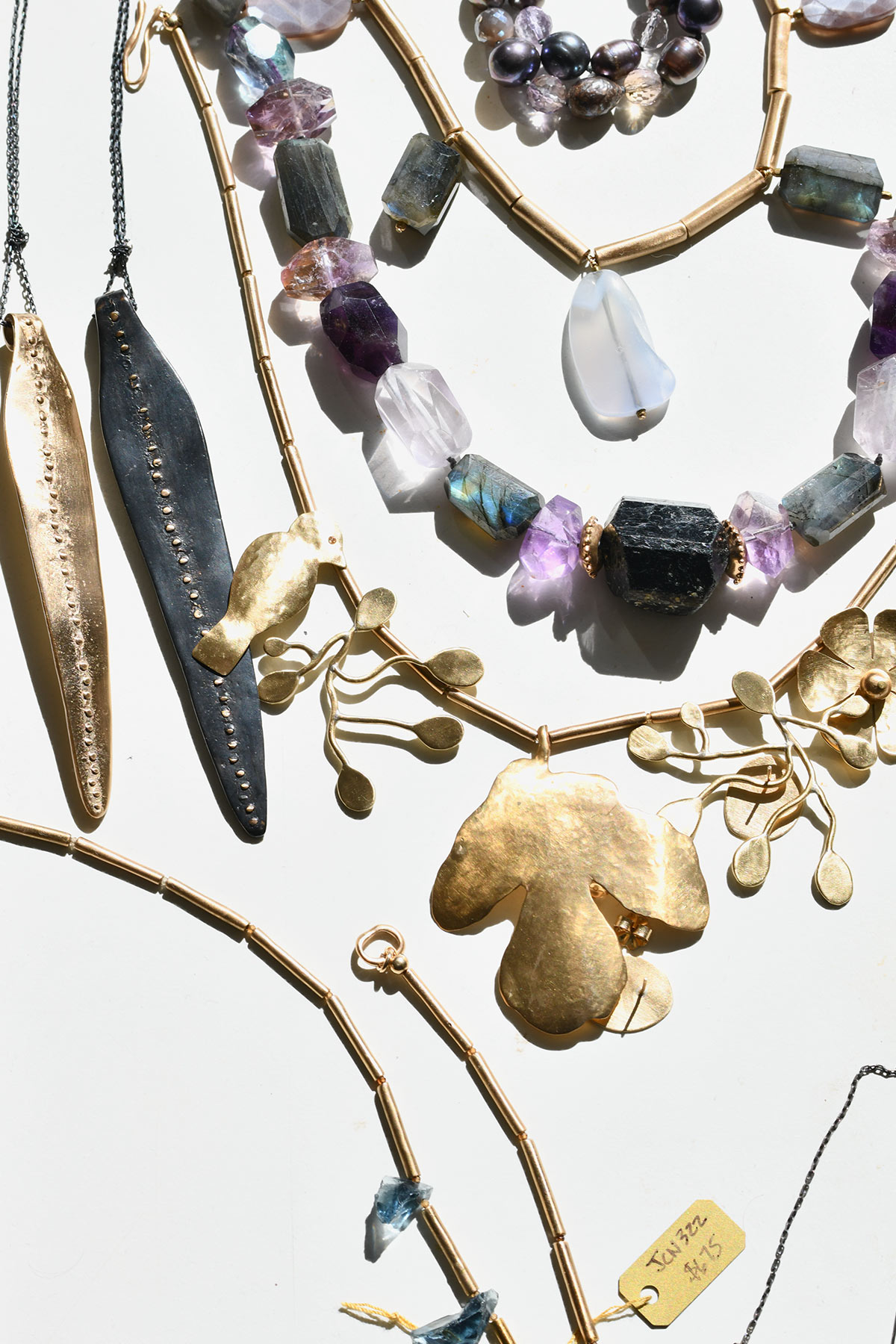 Cohn working in her home design studio. //  Pieces from Cohn's most recent jewelry collections: Otomi, Archipelago, and Organic Geometry.
On her style roots:
"I grew up in a tract home with French Provincial furniture. Then my mother remarried somebody who was from Dallas, and he had fabulous taste. He had built a very important modern house in Preston Hollow, and, next door, his sister had built another midcentury modern house by a different architect. That was my first entrée into, 'Wow, this is what a curated life looks like.' The dishes are pretty. The upholstery is pretty. That rug is pretty. I was just like,
Ding
."
On adopting a child at 45:
"I never said, 'No, I don't want kids,' but I just thought, I don't really want to stop working. Work is what makes me get up in the morning. We'd been together 20 years at that point. My husband said, 'I just need to know, is this ever going to happen?' We went to my therapist, and she said, 'I can't believe you didn't work this out before you got married.' She said, 'Julie, you need to shit or get off the pot and let Dave know by Monday.'
It just completely freaked me out. I called my best friend, who had three boys, and I said, 'Do you think I can do this?' She said, 'If you want to, I think you can do it.' Dave came home from work, and I said, 'The dog did something in the yard, and you can only see it from upstairs.' He walked upstairs, and I had two Champagne glasses out. I had written in spray paint in the yard, YES, in big letters. He's like, 'Yes? Yes? We're going to adopt? We're going to do this?' We adopted from China. I wanted a funny child, and I got one. She is just hilarious. She's so smart and wise and not the wretched child I was growing up."
On mentoring:
"My staff, which is awesome, is mostly Booker T. grads, so they're in art school right now. A partner and I had this company called Two Women Boxing, and we did handmade books and presentation materials, portfolios and all of that. We did that for about 15 years. I think we employed more than 50 young women over that time period. I realize this whole mentoring thing—working with younger people, helping them develop their own voice, their own path, find out what they're good at—has been the thread throughout my whole career. And now it's playing out in jewelry."
On meeting her husband:
"I was in graduate school at SMU. The painter across the hall from me kept saying you have to meet my friend Dave. It was pre-cellphone, the days of when you put a note on someone's door. We just kept missing each other. I went for a drink after class, to this bar on Greenville called Bar Tejas, and I saw a group of people that I knew. I went and sat down. My friend had a very specific description. She said he was in his 20s, but he was graying at the temples. Within 15 minutes—we should have known then—we had an argument about whether my friend's sculpture was masculine or not. We got in this feminist conversation about it, and that was what our first argument was about."
On the secret to a happy marriage: "
Therapy. Learning how to listen, learning how to communicate, and learning how to compromise. I think it's the hardest job you'll ever have. You learn a lot about yourself. You see your own blind spots. It's not all one person or the other. The type of therapy we're doing right now, which I really love, is called dialectical behavior therapy. It's about just exactly that, listening. Nobody's right or wrong, and coming to consensus."
On work:
"I'm a workaholic, because work is my sanity. I love working. I've never had a problem disciplining myself to go in the studio. It's more disciplining myself to get out of the studio. But five days a week I try and walk the lake with my girlfriends that are artists."
On community:
"There are six families that all raised their kids together. We all do different things—doctor, production, attorney, one who works with Dallas Public Schools and volunteers. We do a lot of potlucks. That's the weekends. What was so cool for me about raising my kids with these families, is it was such a support group.
Okay, my child did this. What the hell do you think?
It was a source of real life feedback where I didn't have to go read a parenting book."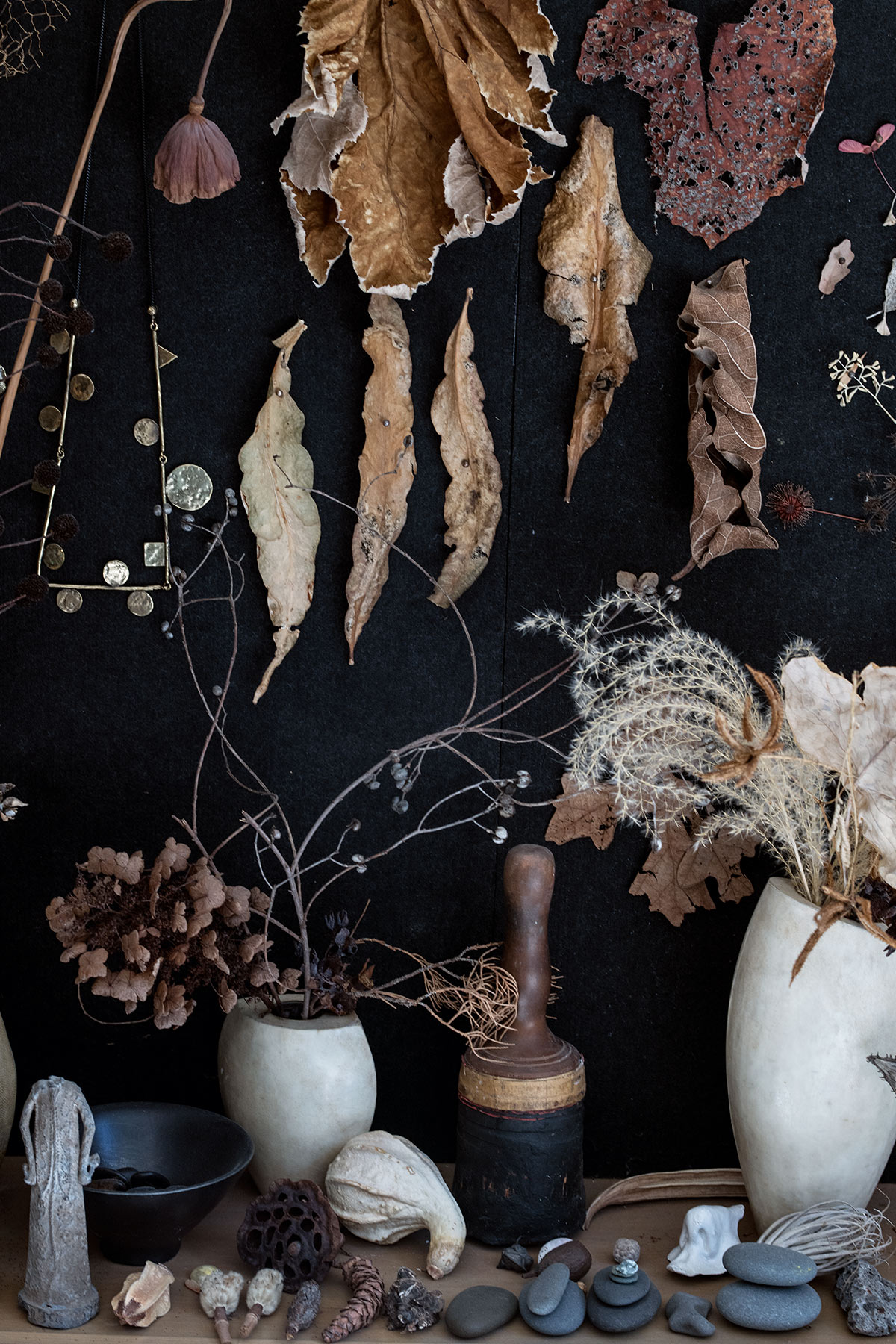 Cohn picks up leaves and rocks during her morning walks around White Rock Lake. "It's about the shapes and forms," she says. "I like the pattern of decay in some of the leaves." // Hand-forged bronze Sunflower earrings ($350) cover the eyes of a wax cast of Cohn's face (made years ago for an art installation).
On starting a jewelry line:
"I had a small child, and I did not want to be a stay-at-home mom. I was very late in life to be a mom and I just was going batshit crazy. I've made things my whole life. As a kid I embroidered, we made candles, and so to not have something to do was freaking me out. And making jewelry was really just like therapy. And so for the first two or three years, I just made stuff. I didn't have any idea what I was doing. At first it was just, like, for a few of my friends, and then my neighbor commissioned me to make three rings for his wife."
On her former art collaborative, Toxic Shock:
"I think we started in '82. We would get together and have dinner—there were five of us—and talk about work, talk about dating, talk about issues. Just a women's dinner party. At some point, there was a group show that was at City Hall, a themed show. We thought, we should all do something together. It started taking a very feminist turn. It coincided with the Guerrilla Girls out of New York, but we had never heard of them. It was that same sort of, hold the mirror up to the art world. We started poking the bear more. We did a bunch of different things. One was actually a three ring binder that was the resumes of all the people in power in the Dallas art community. That lives at the [Dallas Museum of Art].
Then we, because everybody's lives got so complicated, at some point we just stopped. Then we just started having dinner, doing potlucks. Then conversation just started to be about getting older, and relationships, parents getting older. I have said a number of times, we need to tape this conversation, because this is really what feminism is about. It's about community. It's about collaboration. It's about support. It's about getting older and how you deal with transition in life."
Get the AtHome Newsletter
Enjoy Dallas' best trends, hot properties, and tips from local designers to help you nest in style delivered weekly.