While the sale of fur may now be banned in San Francisco and Los Angeles, Dallas remains a fur town. Just ask retailers like Marcene Reiss, president of Bifano Furs. Celebrating its 100th anniversary in 2019, the Dallas-based master furrier hasn't seen even the slightest dip in business over the last few years. On the contrary. "We have so much business we don't have to advertise," Reiss says. And so robust is the company's word-of-mouth, by-appointment traffic, Bifano doesn't even have a website.
Creating classic furs like their silky, lightweight Midnight Mist minks—from patternmaking to creation—is still the company's mainstay, but a good portion of Bifano's business now comes from its clients' desires to restyle a fur they've inherited or repurpose it as a fashion accessory, a bed covering, decorative pillows, or a throw for their private plane. For some, cashmere just doesn't cut it.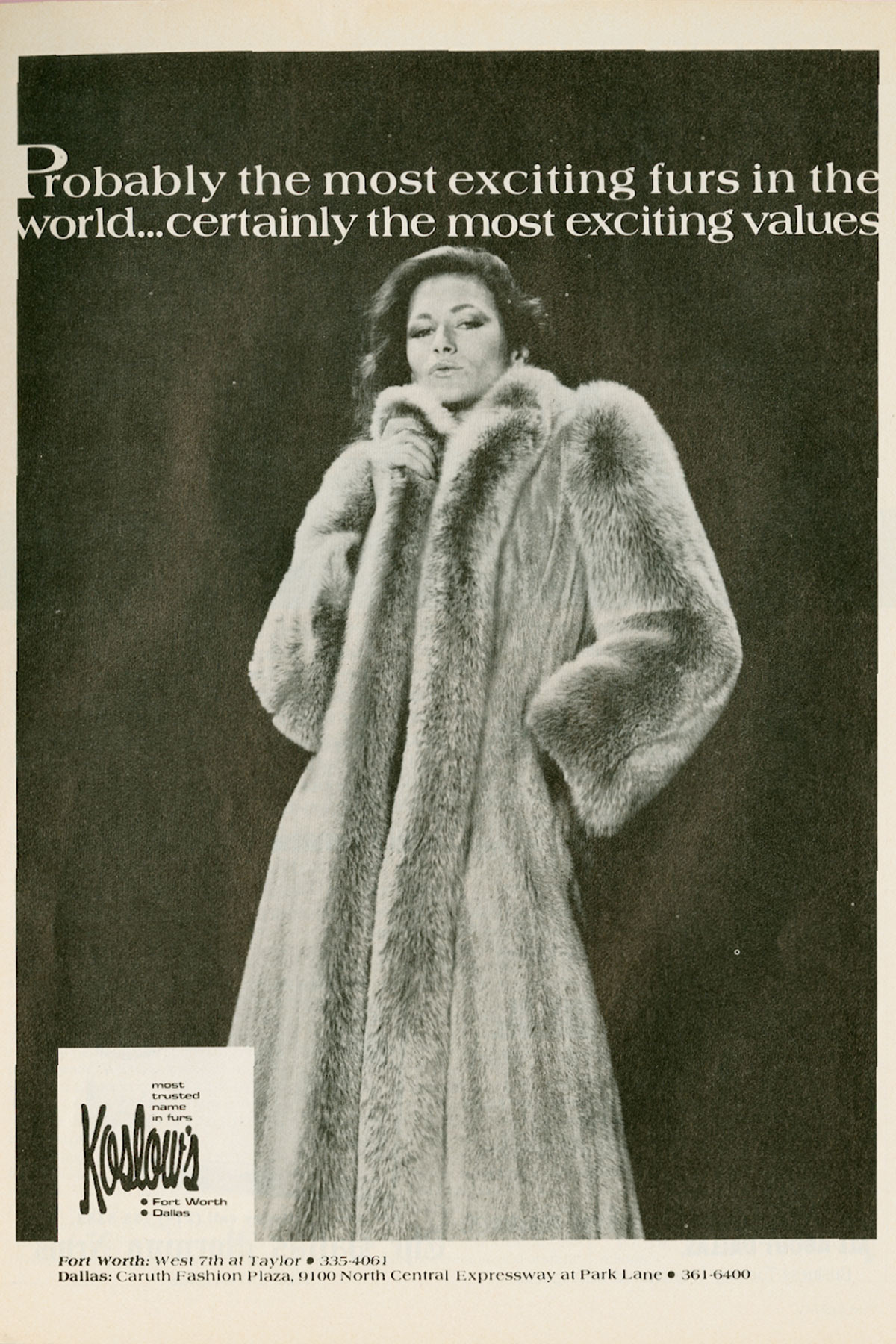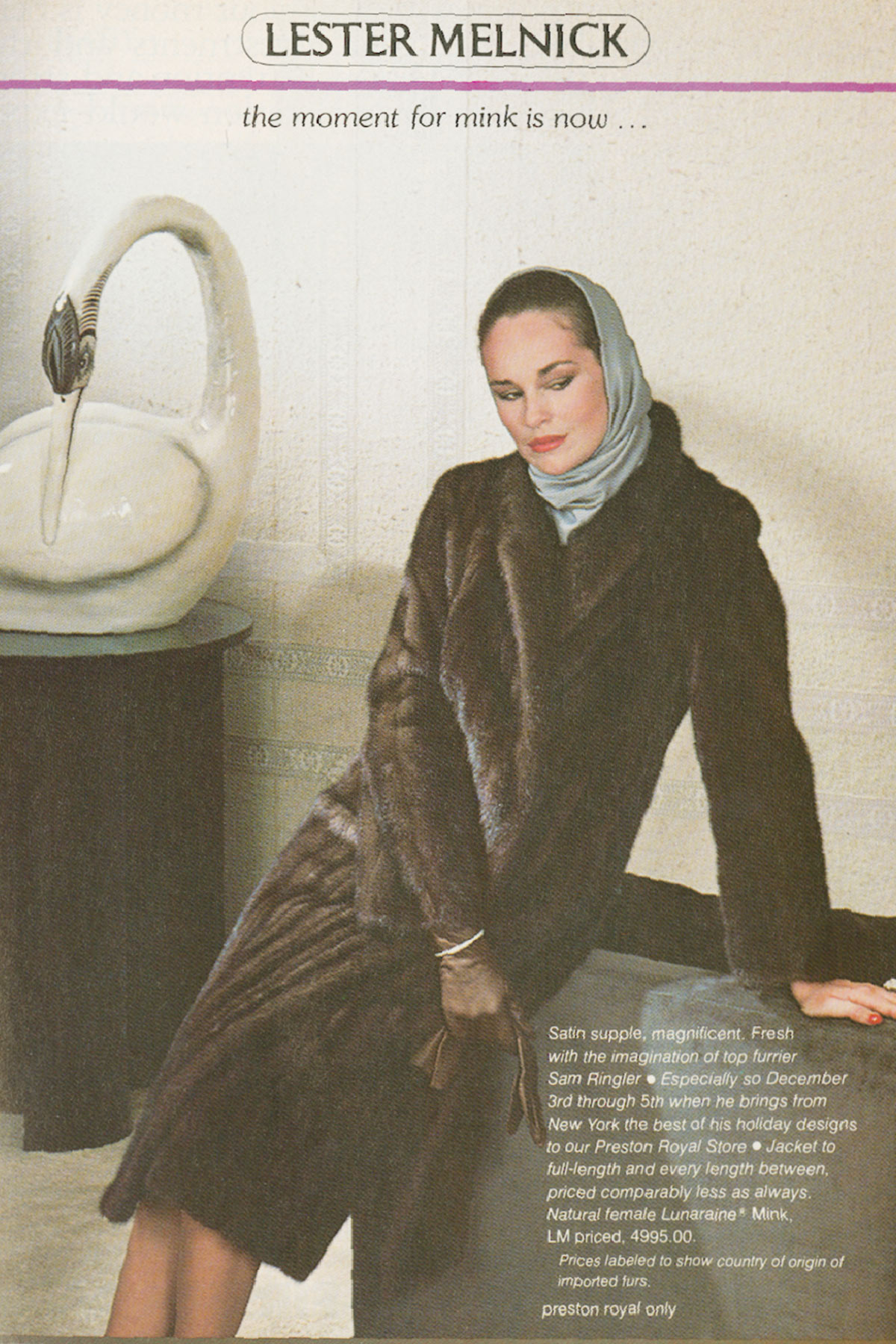 Fur's finest moment: There was no better time to be a furrier in Dallas than in 1980. The city was rich and looking to spend. These are six of the eight fur ads that appeared in D Magazine's December 1980 issue. A couple of months earlier, the magazine published a feature, "Slink in Mink," that said furs could be found everywhere from Cowboys games to PTA meetings.
For those who don't have fur in the family and aren't interested in spending the cost of a Kia on a full-length black sable mink, more and more are on the hunt for vintage, says Traci Peraza-Williams, proprietor of Space 137 Vintage, located inside Lula B's antique mall. Peraza-Williams, a vintage-biz veteran who has outfitted musicians like Leon Bridges and Lauryn Hill, sees vintage fur as a middle-ground solution to satiating demand. "Banning the sale of fur doesn't kill the appetite for fur," she says.
Ken Downing at Neiman Marcus remembers a time the plush impostors were called fun furs "because you could tell."
Others prefer faux fashions to hand-me-down fox. "It's an interesting moment; we're seeing a lot of designers not using fur," says Ken Downing, senior vice president and fashion director for Neiman Marcus. Among those premier design houses choosing to go fur-free are Burberry, John Galliano, Donna Karan, Versace, Michael Kors, Jimmy Choo, Giorgio Armani, Ralph Lauren, Vivienne Westwood, Calvin Klein, Gucci, Givenchy, and Stella McCartney, who has long designed her collections without the use of fur or leather. Reasons for the change of heart involve technological advancements allowing for the fabrication of luxe fur alternatives, changing consumer attitudes, and sustainability plans. (Whether synthetic fur is truly sustainable depends on whom you ask.)
The fashion director remembers a time the plush impostors were called fun furs "because you could tell." As for today's synthetic doppelgängers, Downing reports seeing Neiman Marcus customers snapping up faux versions from Givenchy and Stella McCartney. "A faux fur and knit bomber jacket has been one of our most popular," he says.
For Downing's mother, who he remembers yearning for a mink stole, faux fur started as a necessity and became a passion. "She ended up knitting a mohair stole," he says. "She combed it with a dog brush, creating the illusion of fur. She still loves a good faux fur."
According to Kristina Bowman, a local society photographer for more than 30 years and vocal anti-fur campaigner, wearing real fur is no longer glamorous. "Given my profession and the ridiculous fact that Dallas women break out their fur coats when the temperature hits a bone-chilling 70, I had an internal dilemma in not wanting to photograph something that truly offended me," she says. "I decided a few years back to politely ask people to remove their furs before I took their photos." That practice has opened up dialogues on the subject.
"I always tell my friends that I have a six-minute video I would love to show them and if they can sit through it, without closing their eyes, and still wear fur after watching it, I will never say another word to them about it," Bowman says. "I'm proud to say, I've successfully converted many."
Stylist and personal shopper Delisa Schlachter sees outerwear trends going sustainable—vintage or passed down—or turning to high-end faux styles, "but I'm not seeing many of my clients buying furs right now," she says. "They would rather invest in an awesome statement piece, like something from Dries Van Noten."
Capera Ryan, Dallas native and deputy chair of the Americas for Christie's, can hardly remember a brisk day when she wasn't wrapped in fur. Her lifelong love affair started with her first rabbit fur coat. She was 3. Even then, the raven-haired toddler, in a bundle of white cottontail, was mindful of how the jacket made her feel—glamorous, just like her much-idolized mother and grandmother. Ryan, who asked her grandmother for a mink coat 10 years later, says she's never felt uncomfortable wearing fur anywhere in the world, from Dallas to Aspen to London to New York. "I'm sitting here at the airport on the way to Paris with my purple Oscar de la Renta mink on my shoulders and my Fendi mink sweater packed in my bag," she says.
Ryan isn't alone in her affection for the plush coverings. "The more colorful and crazy, the better," says Deborah Scott of her collection of fashion pieces. "I just got a fabulous, short patchwork fur in the mail today," she says. "I can't wait to wear it with a jumpsuit." The co-founder of Park House Dallas, a private social club in Highland Park Village, instructed her Los Angeles interior designers to install extra coat closets throughout the club space. Because, she told them, "Dallas girls love their fur."
Get the AtHome Newsletter
Enjoy Dallas' best trends, hot properties, and tips from local designers to help you nest in style delivered weekly.