This piece is a feature from our special edition, Dallas and The New Urbanism
.
The magazine examines the successes and pitfalls of the urbanist movement in a region well known for its dependence on the automobile.
---
There are anchors of activity in every city. When successful, they stimulate the neighborhood. Where people can safely walk and bike, storefronts and coffee shops become more attractive. The city gets a higher return on its infrastructure investments. Developers win by delivering the amenities people need: housing, office, retail, restaurants.
The presence of more people on the streets also deters crime. One need only remember downtown Dallas of the early 1980s. It was a single-use central business district then, bereft of housing and pin-drop quiet after sundown. As people left the city center at night, crime filled the empty spaces.
Today, many of those office buildings have been converted to residential, and those conversions in turn have brought retail and restaurants and bars. Klyde Warren Park now sails over a highway that once divided downtown from the rest of the city, spurring further development in the connective tissue between them. It is something of an aura effect. When an anchor connects a mix of uses, the success extends into neighboring communities and rebounds back to increase value at its core.
There are opportunities like this all over the region. We have highlighted six that represent four distinct types: office centers, medical centers, parks, and universities. Some, like the rolling hills surrounding the University of North Texas at Dallas and Paul Quinn College near the Inland Port, are at the beginning of their journeys. Others, like Fort Worth's successful mix of retail and restaurants within walking distance of four medical centers, embody their city's existing vibrancy and yet still have room for growth. And then there is Legacy in Plano, which shows what can happen when a single-use area thoughtfully expands to multiple uses day and night.
Each of these anchors offers unrealized potential, where a single use can be converted to multiple ways of encouraging job, housing, and entertainment options.
Southwestern Medical District & Baylor Medical Center
Healthcare powerhouses that need to think beyond healthcare
The Southwestern Medical District—Children's, Parkland, and UT Southwestern—is just 4 miles northwest of downtown. The flagship of Baylor Scott & White is not even 4 miles east of those same towers. They collectively employ close to 50,000 people and annually attract millions more in patient visits. Yet the only reason to go to either is if you're sick or trying to keep from getting sick. You'll want to leave the minute your appointment is over. So will your doctors and nurses at the end of their shifts. Neither district provides much incentive for either employees or patients to linger. Yet both of those groups are potential customers for much more than the primary reason they came, one for work and the other for care.
Baylor has been in East Dallas since 1903. Even with the decline of the area, starting in the 1970s, Baylor stuck to its roots. But the problems of the neighborhood affected how it grew. The medical center turned inward, walling itself off.
The Southwestern Medical District, meanwhile, exists near what used to be the edge of town. The streets are wide, built when Harry Hines Boulevard was a truck route. In time, the district became a sea of concrete, with less than 7 percent tree canopy cover. Its streets are perilous for patients; the intersection of Harry Hines and Inwood is almost impassable for pedestrians.
So what can Dallas do to better integrate its fortresslike medical centers with the rest of the city? How can it encourage development to bring in more housing, retail, restaurants, and services for employees and patients?
The answer lies 32 miles to the west. Fort Worth has figured it out.
The Near Southside, 1,400 acres in the shadow of downtown, is one of the city's most successful mixed-use neighborhoods. Four hospitals flank the district like totems. These include the public hospital, John Peter Smith, as well as Baylor Scott & White All Saints, Cook Children's, and Texas Health Harris Methodist. Residential neighborhoods fan out like wings from Magnolia Avenue, a thriving boulevard with an array of restaurants, bars, coffee shops, and office space. It is a joy to walk and, deliberately, slow to drive, all blinking red lights and spacious crosswalks. Hemphill Street and Eighth Avenue carry cars north and south. Bikes make the most sense for the wide, dedicated lanes of South Main, which take you past repurposed warehouses into downtown. The neighborhood feels like a completed puzzle.
The challenges in Dallas are not mirror images of those in Fort Worth. But the underlying principles that made the Near Southside a success are there for the taking: nearby housing, amenities, and the ability to walk to work. Who, for example, decreed that medical buildings can exist only for a single purpose? Why can't a major new research facility occupy five floors with apartments on the top 10? In fact, the apartments could help pay for the lab.
The Texas Trees Foundation has identified the Southwestern Medical District as one of the city's largest urban heat islands. Thousands of patients visit it every year, yet there are 8 miles of missing sidewalks. The foundation has developed an innovative $60 million plan to encourage walkability by narrowing too-wide streets, installing bike and walking paths, and encouraging low-scale retail. Parkland Hospital's former building presents an opportunity to bring workforce housing and amenities.
Baylor needs to recognize the new desirability—and the value—of its location. It held on when things went downhill. Now the curve is strongly uphill. Trips between Uptown and Baylor account for the third-most short trips in the city's core. Instead of being cordoned off by bleak surface parking lots and buildings that do not interact with the street, it has the opportunity to maximize value by fitting smoothly as the connective tissue between Old East Dallas and Deep Ellum.
Baylor and the Medical District have jobs and visitors, providing the critical mass needed for walkability. In an era when employees want to live and play near where they work, the next evolution of these districts is to allow them to.
---
The University of North Texas at Dallas/Inland Port
A tabula rasa within eyesight of downtown Dallas
A single crane rises out of a hilltop to the east, appearing moored in a sea of deep green that welcomes you to this part of southern Dallas. The development is happening between Camp Wisdom Road and I-20, a total of nearly 600 acres that already includes a growing university in the midst of hills and mountain cedar trees and creeks. Soon, if all goes according to plan, an adjacent plot will be home to housing and retail and restaurants. It will be one of the largest mixed-used developments to come to southern Dallas in generations, and it will serve the first public university within the city limits.
The University of North Texas at Dallas currently occupies about 30 acres on a tract of 264. President Bob Mong says the university's mission is simple: "Serving an urban population and seeing an urban advantage." The University of North Texas at Dallas, in the past two years, has seen a growth rate of 41 percent. During fall 2017, a total of 3,509 students were enrolled here. Next year, 4,000 students are expected. In time, the university is expected to grow to 30,000 students, with 6,000 faculty and staff.
Developer Mehrdad Moayedi says this is what attracted him to an adjacent 294-acre tract. His company, Centurion American, envisions 800 residences, both in multifamily rentals and town­homes. Lancaster Road would be bordered with retail, with mixed-use buildings behind it. There would be a few lakes in the middle of the project, connected by trails.
In 2016, DART opened a Blue Line stop on the southern edge of the university, not far from where Moayedi is planning his development. Across I-20, the Inland Port stretches south, providing about 17,000 jobs with companies such as FedEx and Amazon. Neighborhoods inside the four census tracts immediately surrounding the university and the development land count about 22,000 residents. Moayedi is inviting existing southern Dallas restaurants to expand to serve the neighborhood with new stores. Existing residents, university students and faculty, and commuting warehouse employees support a mix of retail uses that would invite commuters to become residents, creating the kind of upward economic spiral that lifts an entire section of the city. A single crane can be a harbinger.
---
Las Colinas Urban Center
The rebirth of a business park that was built ahead of its time
The traditional office parks scattered throughout the region, like shopping malls and medical centers, are straitjacketed by their limitation to a single use. Between 14 and 22 percent of suburban office space is in some stage of obsolescence. Up to 30 percent of office parks have gone out of business.
When founder Ben Carpenter unveiled the master plan for Las Colinas in 1973, he envisioned something more than the typical office park. There would be golf courses, creeks reimagined as Mediterranean-style canals, a country club, hotels, even an equestrian center (it had been a working ranch) and a movie studio. Then the savings and loan crisis took its toll.
But Las Colinas never really stopped trying to achieve its original vision. The canals were built, and the area grew to 9,000 residents. The original Urban Center, so named because it was supposed to be the heart of the entire development, still accounts for 30,000 of Las Colinas' 120,000 employees, despite occupying only 7.3 percent of its land, and is home to five of the 10 Las Colinas-based Fortune 1000 companies.
But the "Urban Center" never was urban. It was only a more concentrated office park within the larger Las Colinas development.
The key to the Urban Center's future is to add a tier of new users. And the effort has begun.
The city of Irving decided to turn a problem into an opportunity. As a first step, the city constructed a new promenade around the lake, making the entire body of water accessible. It built the Campion Trail system to the east of the Urban Center, stretching 13.4 miles through Valley Ranch. Although the office center was built for commuters, the sidewalks are wide, and there are crosswalks with caution lights.
The key to the Urban Center's future is to add a tier of new users. And the effort has begun. Gables' new Water Street development takes advantage of the lake with 316 new apartment units above 60,000 feet of retail, restaurants, and services. A half-mile away, the Toyota Music Factory brought an 8,000-seat music venue to the city, along with 300,000 square feet of retail and restaurant space. Plenty of challenges remain. The Urban Center itself is built around Williams Square, a football field's worth of concrete that badly needs reimagining.
Luckily for Las Colinas, reinvention was written into its DNA. As each step pays off in increased economic activity, Irving can take the next in turning its Urban Center into a truly urban center for the region.
---
Fair Park/MLK Jr. Boulevard
A historic area poised to triumph over years of racist mismanagement
In 1966, the State Fair of Texas thought it had a problem. The corporation behind the fair had commissioned a study that found middle-class, white fairgoers experienced "intense emotional discomfort" when they encountered the "other side" of the city, the predominantly black neighborhood surrounding Fair Park. The study included a suggestion: "The solution for all of these conflicts, at least in terms of Fair Park's location, is simple. All that is required is to eliminate the problem from sight. If the poor Negroes in their shacks cannot be seen, all the guilt feeling revealed above will disappear, or at least be removed from primary consideration."
Taking that advice to heart over the next several years, the city and State Fair began seizing those "shacks" through eminent domain and paving over the land to create parking lots. Black-owned businesses were replaced by fences. That's how one of Dallas' greatest assets—277 acres of public parkland roughly adjacent to downtown, a treasure-trove of magnificent art deco buildings, the home of the Cotton Bowl and performance pavilions—became a symbol of neglect and waste.
Today, about 75 percent of Fair Park is asphalt, with 9,251 parking spaces. Another 6,000 parking spaces sit on 70 acres owned by the State Fair just outside the park. Institutional year-round tenants, including art and science museums, have fled. Of the nearly 1.8 million square feet of built space at Fair Park, only about 60 percent is leased and occupied for most of the year. Some of those buildings are in a state of disrepair, which is why voters in 2017's bond election approved $50 million for improvements and maintenance.
In the South Dallas-Fair Park neighborhood, where there were 70,000 residents 50 years ago, there are now closer to 30,000. Available housing has declined by more than 50 percent from 1970 to 2013. The median household income in South Dallas-Fair Park is a little less than $25,000.
So what's the fix? First is the public-private partnership that is already in the works to take over management of the park. Next, the city needs to consolidate all its various departments that have some say in the park—from the park department to the Office of Cultural Affairs—into one entity, so the private partner knows who it is dealing with as a public partner.
Crucially, Fair Park needs to appeal to multiple users, not just once-a-year fairgoers. Those fairgoers have long been considered the primary users, and every bad decision for 50 years has resulted from that simple premise. With the neighborhood's participation, park management needs to have the authority to make the kind of sweeping changes that install residents as Fair Park's primary users. With one simple decision, the reversal of the fortune of an entire section of the city can begin.
Those fairgoers have long been considered the primary users, and every bad decision for 50 years has resulted from that simple premise.
The city's housing policy and market value analysis will lay down the markers for development. Martin Luther King Jr. Boulevard is today a forlorn street of deteriorating buildings, and the area around it is pockmarked with empty lots. But appearances hide the underlying strength of a community with a deeply ingrained sense of shared history and self-support. The potential for renewal lies in small-scale, organic services and retail the street could provide when the park opens up to embrace it.
Start with the fencing around Fair Park. Tear it down. Install pedestrian and bicycle paths connecting the park to the neighborhood and to the two nearby DART rail stops. Acres of blacktop parking need to be replaced by the smaller footprint of well-designed, easily accessible parking garages such as those that dot the SMU campus. Huge barrier roads like Robert B. Cullum that ring the park—built for once-a-year fairgoers—need to be significantly reduced in size to encourage easier interaction between the park and the residents.
Where MLK meets S.M. Wright Freeway, the abandoned Forest Theater is
due to be renovated
. The downsizing of S.M. Wright provides an opportunity to remake the theater as an anchor of one end of a newly blossomed commercial district, with Fair Park at the other end.
The redesign of Fair Park should have one mission in mind: to make it a true park residents can enjoy. New activity encourages new residents to move into the neighborhoods. With visitors year-round and a rebound in residential, MLK could regain its rightful place as the living heartbeat of the city's black community.
---
Oak Cliff Deck Park
How to make a highway a place for people to play
Ask for examples of how even highway-strangled Dallas can successfully adopt the principles of new urbanism, and it won't be long before someone mentions Klyde Warren Park. Opened in 2012, the 5 acres of green space top eight sunken lanes of Woodall Rodgers Freeway, bridging together the downtown Arts District and Uptown.
According to the American Institute of Architects, the park has stimulated $1 billion in new development within a quarter-mile since it was first announced in 2009. Visit on any reasonably pleasant day, and you'll see crowds of people enjoying the food trucks and the open lawns. There are yoga classes, salsa dancing, outdoor concerts and film screenings, and any number of other activities.
So expectations may be high for a superficially similar deck park proposed in Oak Cliff, this one 6 acres spanning I-35E between Marsalis and Ewing avenues, connecting the Dallas Zoo on the east side to Jefferson Boulevard in the revitalizing North Oak Cliff. The deck park is wrapped into the building of the Southern Gateway, a $666 million state reconstruction project of I-35E and State Highway 67 expected to be finished by the end of 2021. The park already has about $40 million in public funding—a little more than $7 million covered in the city's 2017 bond package, the rest coming from the North Central Texas Council of Governments. And, as with Klyde Warren, supporters of the Oak Cliff deck park are seeking deep-pocketed donors and grants to fill out the rest of an estimated $80 million price tag.
In some ways, those supporters welcome the comparisons. "The development around Klyde Warren Park is close to $1 billion," says Mike Gruber, a lawyer and civic leader. "There's no reason that you can't have that occur with this Southern Gateway project. It is a magnet that will draw the success you see on Jefferson Boulevard and in Bishop Arts."
Gruber notes that the park will have one immediate advantage that Klyde Warren didn't in its proximity to the zoo and the zoo's 100,000 monthly visitors. Ideally, the park will form something of a public green connected to the zoo's entrance.
But Edwin Cabaniss, the developer behind Oak Cliff successes like The Kessler Theater and chair of what he calls the "start-up campaign" phase of building the deck park, is very aware that Oak Cliff presents a different set of circumstances than Klyde Warren, which was built to connect two parts of town already rich in investment and economic development.
The park will have one immediate advantage that Klyde Warren didn't in its proximity to the zoo.
That's why Cabaniss has latched on to an idea that you didn't hear come up during the building of Klyde Warren Park: an equitable development plan. This is to ensure that lower-income residents can remain and profit from the development sparked by the park, bringing the successes of North Oak Cliff east in a way that's welcoming to mixed uses and mixed incomes. That plan is in its very early stages, but Cabaniss says it's proceeding with a "bottom-up" mentality, one that he says will remain true to Oak Cliff.
Cabaniss says zoning and the city's tax increment financing program are crucial. The Oak Cliff Gateway TIF district, which abuts but doesn't quite cover the Southern Gateway, includes the most dramatically redeveloping parts of North Oak Cliff, the Bishop Arts District, and Jefferson Boulevard. A TIF isn't in place for the Southern Gateway, but a market value analysis forming the basis of the city's new housing policy identifies the neighborhoods surrounding the highway rebuild and deck park as a proposed reinvestment area. The city specifically sees it as an "emerging market area," marking it as both ripe for growth and, eventually, in need of stabilization to prevent the worst downsides of gentrification.
"When you look at all the infrastructure that's been built in the north part of the city, it's night and day," Gruber says. "The right infrastructure works."
---
Legacy West
The boom that will only grow louder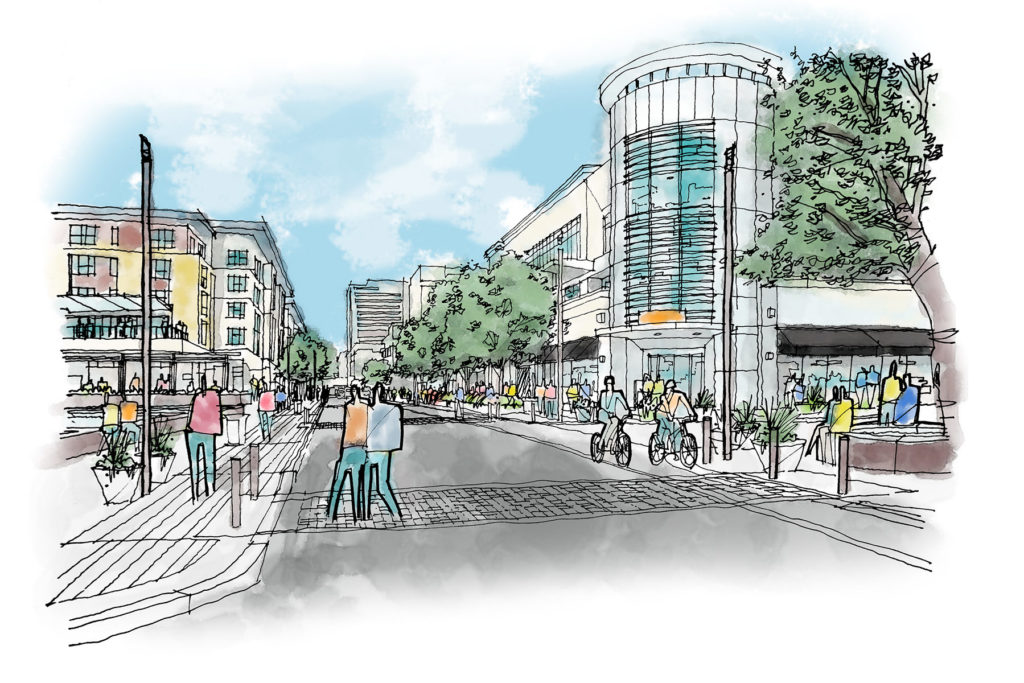 Ever since Ross Perot assembled 4 square miles of land in Plano, moved his EDS headquarters to it in 1985, and renamed the area Legacy, his master-planned business park has served as the major catalyst for the explosive growth of Collin County. Today, approximately 80,000 people work there, and they are expected to be joined by another 20,000 over the next three years, creating an employment base rivaling downtown Dallas'.
From the beginning, the 165 acres that would become Legacy Town Center and 255 acres that are now Legacy West were zoned for high-rise offices, hotels, retail, and residential. The remainder of the site was divided between regional office and corporate campus zoning.
Fehmi Karahan developed Legacy Town Center and the adjacent Shops at Legacy. Robert Shaw of Columbus Realty Partners was brought in to create an adjacent multifamily area called Legacy Village. Under a plan created by Andrés Duany—the famous architect of Seaside, Florida, and co-founder of the Congress for the New Urbanism—Karahan and Shaw started in 1998 by carefully cultivating in their separate spheres an urban neighborhood that encourages walkability and people-watching under tree canopies and shop awnings.
One success leads to another. In 2014, Karahan made the jump from the east side of Dallas North Tollway to the west. He wanted a long-term capital partner who would understand his vision. "What Fehmi and Robert had created on the east side of the Tollway—we really started to see this fantastic opportunity to lean into future development," Invesco's Greg Kraus says. When Karahan showed Invesco his plans to extend the urban village concept, the investment group immediately got it. "It's not just about creating short-term value," Kraus says. "It's going to take five to seven years for the retail to curate or for the area to prove itself through tenant performance." Since Legacy West was announced, Toyota has moved its U.S. headquarters, and Liberty Mutual and JPMorgan Chase have located major operations there.
Legacy West was announced as a $2 billion project. Its valuation currently stands at $3.2 billion, and Karahan estimates that when fully developed, the project will reach $4 billion.
The master plan for the entire Legacy business park is still in place, now managed by a board of directors chaired by Karahan. This unusual governance structure, established by Perot, gives confidence to relocating companies that the ethos underlying the area will remain intact.
Success, however, will eventually put pressure on the original plan. Employees who are not lucky enough to live in the 621 apartments or in nearby single-family homes find themselves on the Tollway either to Dallas or Frisco. As success grows, so does congestion both to and from Legacy and within it. Already, Plano is working on various ideas, such as internal trolleys and buses, to lessen reliance on cars within its 4 square miles. Companies in Legacy business park may find, as others around the country have, that their lush, green office parks isolate employees who would prefer more choices and activities within walking distance.
Legacy Town Center and, now, Legacy West work because they are walkable. Walkability becomes its own ethos, and in the next phase of Legacy's life, it will spread.
---
Head to this link to buy a copy of the issue and learn more about our July 11 urbanism symposium at the Dallas Museum of Art.
Get the D Brief Newsletter
Dallas' most important news stories of the week, delivered to your inbox each Sunday.