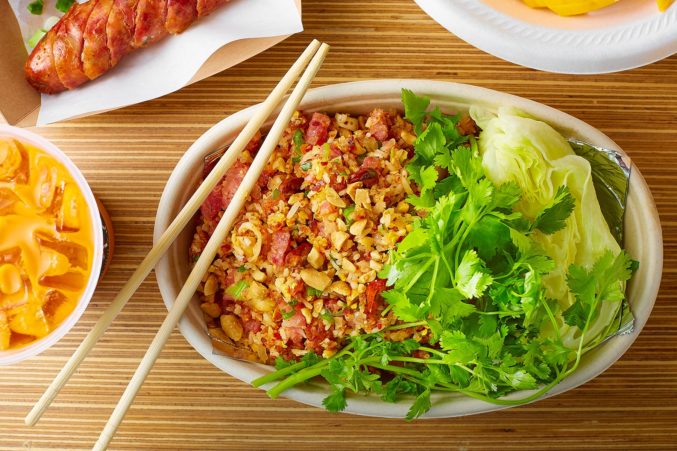 Zaap Kitchen Imports Lao Street Market Flavors to Greenville Ave.
Don't let the fast-casual setting fool you. Zaap might as well be a Laotian street market.
On a blackboard wall are maps of Laos relative to its neighbors, Thailand and Cambodia, drawn invitingly in chalk. But Zaap Kitchen's sense of place is mostly present on its plates. At the casual, counter-order restaurant, nothing may better represent the hallmark Lao balance of salty, sour, sweet, and pungent than the crunchy-chewy rice salad nam khao, a confetti-flurry of roasted peanuts, shallots, herbs, and fried rice nubs laced with red curry, which you wrap in a lettuce leaf.
The Lao version of green papaya salad is darker and murkier than the ones you might know, funky with fish sauce, tangy with lime, and with an insistent heat that makes its presence felt even if you have ordered it mild.
Lao pork sausage is crisp in its casing, its filling textured with bits of gristle and fat and fragrant with garlic, lemongrass, and kaffir lime leaf. The soups, which lean Thai, are ordinary but good. Savory-sweet "dancing" pork riblets, sprinkled with fried garlic on top, harken to comfort food. A dessert of coconut milk-drenched sticky rice comes with a half mango, perfectly ripe and the color of farm-fresh egg yolks.
Were the surroundings not so recognizably fast-casual, I might guess I was visiting a street market. Focus on regional specialties here, and you'll find yourself transported.
In This Post