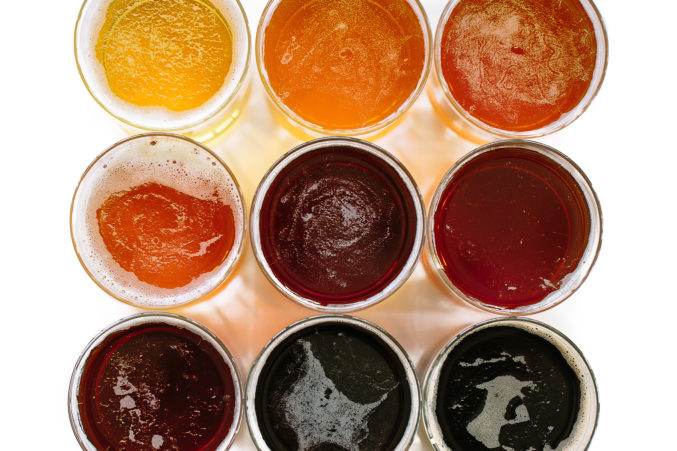 Drink the Best Summer Brews in Dallas
It's summertime and the drinkin' is easy. Try some of the best seasonal offerings from local brewers.
Meet Dallas' new seasonal brews. Some are bright and floral, others rich and chocolatey. One is even a back-to-school blend of peanut butter and raspberry purée. Here are our top nine picks, from lightest to darkest:
Passiflora White IPA, Community Beer Co.
A tropical blend of passion fruit purée and Mosaic and Citra hops.
Deep Summer, Deep Ellum Brewing Co.
A refreshing ale with hibiscus, lemon peel, and chamomile flowers.
Come and Take It, Peticolas Brewing Company.
Fruity and floral, this Cascadian Kolsch pairs well with grilled meats.
Lion's Share VI, Lakewood Brewing Co.
An anniversary blend of four barrel-aged beers with flavors of chocolate, candied fruit, toffee, coconut, and vanilla.
Somethin' Shady Porter, Texas Ale Project.
This easy-drinking porter is brewed with dark roasted malts that mimic the flavors of coffee and chocolate.
Peanut Butter and Jealous, Noble Rey Brewing Co.
Peanut butter extract and raspberry purée are added to this rye cream ale.
La Chingóna Double IPA, Four Corners Brewing Co.
Golden Promise malt and white wheat add a warm sweetness and smooth body.
Bringin' Mexi Back, White Rock Alehouse & Brewery.
Noble hops give this unfiltered Mexican-style lager a mild floral flavor with a hint of bitterness.
Spearmint of Destiny, BrainDead Brewing.
The brewery's Export Stout is aged in Witherspoon Distillery bourbon barrels for six months before it's infused with spearmint and cacao nibs.