Best Classic Cocktails
The atmosphere here is lived-in and stylish, with warm lighting, vintage furniture, and vinyl spinning. This Deep Ellum bar also favors a time-honored approach for its beverages. Sip a fizzy French 75, citrus-y daiquiri, or a Bloody Mary that's an exact replica of the one served at Harry's New York Bar in Paris.
Best Bar With a Patio
There's nothing fancy about the patio at this Oak Lawn bar, and that's why we like it. Indulge in generous happy-hour pours while you sit back in wobbly plastic chairs and jam to the '80s-centric jukebox. Shoot some hoops on the ad hoc basketball court, and you're guaranteed to make new friends.
Best Bar With a View
Located on the 19th floor of the newly renovated Statler hotel, Waterproof delivers a breathtaking, up-close view of the Dallas skyline. Nurse a craft cocktail while perched at the indoor bar or head to the patio and recline on the fashionable lounge furniture. Maybe even dip your toes in the pool.
Best Lesbian Meet-Up
There hasn't been a great lesbian bar in Dallas since they drained the pool and closed Buddies II. What we do have is a lively roving cocktail party hosted by Dee Pennington and Carolina Clammer on the first Thursday of every month. Locations range from Sue Ellen's to Mattito's to The Lodge.
Best Bar Food
Jackson Tran has been serving Vietnamese comfort food at this midcentury Lakewood dive for nine years—dishes like pork banh mi, kimchi fries, Vietnamese fried chicken, and perhaps the best pho you'll ever taste. The kitchen also makes a mean pizza, but Tran's menu (including some recipes from his mother) is what people come for.
Best Bar for Beer
At this roomy Deep Ellum bar, choose from nearly 100 rotating brews on tap (with a solid local lineup). They're on a wall-size list, color-coded for convenience. Your Coloradan friend with a refined porter palate will be happy as you sip a cold one in the vast courtyard under a chandelier and strings of lights.
Best Cocktails That Push the Envelope
The cocktails at this lounge, located in the basement of the Joule hotel, are some of the most intricate in Dallas. Barman Chad Solomon and his team seamlessly blend top-shelf spirits with fresh flowers, exotic spices, and house-made tinctures. And the drink menu changes seasonally, so there's always something new to try.
Best Bar With Games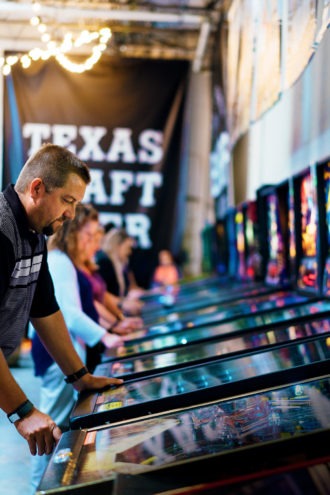 This arcade and bar from the team behind Bishop Cider Co. offers 24 ciders on tap and more than 150 games. Challenge your pals to a game of pinball (there are 18 options to choose from) or take a stroll down "Fighter's Row" and go nuts on one of the fighting games. All-you-can-play for $10.
Best Karaoke
Norazo has the kind of dark, elusive entrance you want in a place where you plan to sing and shake your tambourine like nobody's listening. There's a three-hour flat rate for a private room if you order food and drinks from the full bar. "Gangsta's Paradise" requires Korean fried chicken.
Best Sensory Overload
You and your family can get lost in this over-the-top dining and entertainment center for hours. Grab a cocktail from the bar and a snack from the chef-driven menu and hit the bowling lanes, two-level laser tag, high ropes course, rock climbing wall, bumper cars, and arcade.
Best Wine Bar
Located in the basement of the old Sears and Roebuck building, Checkered Past has the feel of a private cellar and a menu dedicated to wines made in Dallas, available by the glass or bottle. Evening festivities range from classic jazz performances to magic shows and flower-arranging tutorials.
Best Vegan Bar Food
This spot doesn't just begrudgingly include a few vegan items on its late-night menu. Anvil serves up comfort classics for vegans who soak up their alcohol with chili-cheese fries, loaded nachos, and all the soy chicken dishes one could dream up.
Best Bar to Catch a Local Band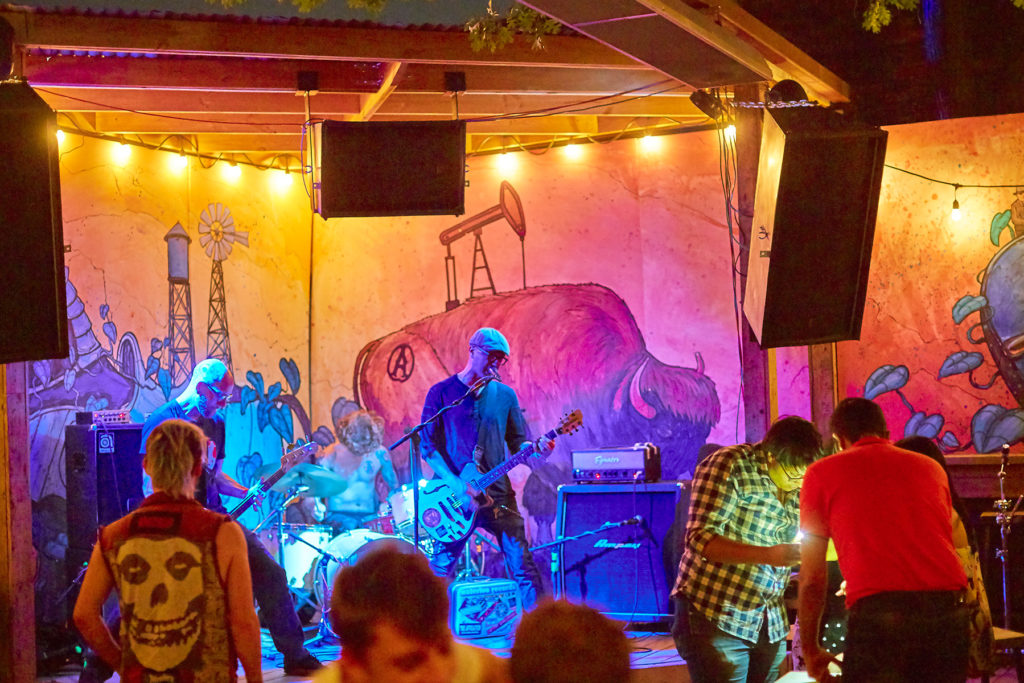 Armoury D.E.'s snug back patio houses a stage that gets you up close and personal with local bands—punk, electronic, indie, or otherwise. A few nights out of the week, you can catch a free show with several North Texas acts who probably just landed their first album on Spotify. The eclectic cocktail lineup and Hungarian-inspired food are an added bonus.
Best Live Music Venue
The bands you love play here before graduating to bigger rooms and pricier tickets. The storefront venue on Elm Street creates a memorable, intimate experience for fans of acts like Mitski, Big Thief, Japanese Breakfast, Soccer Mommy, and Drab Majesty on their way up.
Best Place to Dance
You don't have to sacrifice nuance or quality to get down at this club known for hosting the best DJs in the country. Underground house, darkwave, Euro-dance nostalgia, and juicy pan-Latin beats are all game on this main floor.
Best Gay Bar
Willie Nelson recorded his video for "Cowboys Are Frequently, Secretly Fond of Each Other" here. Lady Gaga delivered an impromptu performance of "Born This Way" on the sunken wood dance floor. With six bars, free line-dancing lessons, and nightly karaoke in The Parlor, there's never a dull moment.
Best Dive Bar
This North Oak Cliff mainstay has done a fine job tweaking itself without changing its personality. Relatively new things you may notice: matching cups. Attentive bartenders. Occasional live music and food pop-ups. But this is still a 50-year-old neighborhood bar, one of the last remaining melting pots along development-flooded Davis Street.
Best Sports Bar
There are enough TVs and little enclaves here that you can watch whatever game you'd like. Lose your mind with everyone else over the Cowboys in the main bar area while the Rockets break expats' hearts in the offset living room. But the near- daily half-price food and drink specials are for everyone.
---
View a Map of the Best of Big D Winners
Editor's Choice: Bars & Clubs