Step 1:
Drill a hole in your skull.
Step 2:
Stick an electrical wire deep inside it.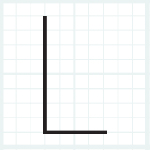 Last June, Kathy Smith, a traveling nurse with Klarus Home Care, was at the residence of a 94-year-old dementia patient, attempting to draw blood. She knew him well. Every month she'd come stick him, and every month he'd remark about how nervous she was, an unwitting reference to Smith's condition.
"I'm sorry," she would say, informing him again of her diagnosis. "I just shake."
Smith, who is 61, was told in the mid-1990s that she had essential tremor, a movement disorder that in the ensuing decades caused increasing trembling in her hands, head, and legs. At times, she'd feel shakes inside her body and her voice would grow unsteady. About four years ago, she felt it taking a turn for the worse. Two years after that, she had an episode in which she successfully drew a patient's blood but struggled to transfer it to the vial, nearly pricking herself along the way. Medication followed, but it came with constant drowsiness and four-hour naps. It didn't help much, anyway.
Then, in June, Smith's hands defied her such that she couldn't draw blood from her nonagenarian dementia patient. This is it, she thought, and cried. Her four-decade career as a nurse was over.
With the symptoms intensifying, last year Smith started seeing a neurologist at the North Texas Movement Disorders Institute in Bedford. It was there that Dr. Madhavi Thomas identified that Smith might do well with something called deep brain stimulation. Like so many in North Texas who choose to deal with their movement disorders through surgery, Smith did her research, which eventually led her to Dr. Michael Desaloms, a neurosurgeon with Dallas Neurosurgical & Spine.
As it happened, Desaloms had helped bring the procedure to Dallas nearly two decades earlier. Today, he has built one of the best reputations around, drawing deep brain stimulation patients from outside the state and country. Last year he started doing his procedures exclusively in Collin County at Baylor Scott & White Medical Center–Plano. Smith scheduled an MRI and set a surgery date for October 4.
The idea of deep brain stimulation sounds a bit like medieval torture. Surgeons drill holes in a patient's skull (while she remains awake), then poke probes through her brain (still awake) so they can insert devices (again, not asleep) that continuously pulse electricity into the brain using batteries embedded in the chest area. The electric pulses can turn off the uncooperative parts of the brain. In addition to movement disorders, DBS has also shown preliminary promise in treating things like severe depression and Alzheimer's (although the research is new enough that Desaloms hardly raises an eyebrow). The subhead of a Smithsonian story in 2014 went all-in, calling DBS "the most futuristic medical treatment ever imagined." Yet Desaloms is hilariously nonchalant about the technicality involved. There are more advanced brain surgeries; this one, he says, is about experience and know-how.
Before the medication levodopa came to be the go-to Parkinson's treatment, nearly eradicating surgery as an option, movement disorders like Parkinson's and essential tremor used to call for procedures not all that dissimilar from the one used today. In the 1930s, doctors determined they could neatly cut out or destroy parts of the brain to reduce the unwanted symptoms they were causing, be it tremors or, in the case of a lobotomy, some sort of psychiatric disorder. Of course, there is a big downside to taking out a piece of the organ that allows thought: the patient can't think as well.
A sort of frame for the head that pairs with imaging technology to give surgeons a set of Cartesian coordinates for any spot in the brain—called a stereotactic apparatus—was invented in 1947. Parkinson's became the star of the up-and-coming stereotactic surgery technique, accounting for 25,000 surgeries worldwide by the time levodopa hit the market in 1968. Surgeons got better about targeting the procedure by creating lesions, using heat, on the smaller bits of gray matter causing unwanted movement. Doctors were quite literally burning holes in people's brains.
Desaloms had wanted to be a doctor for as long as he could remember, having grown up on TV shows like Marcus Welby, M.D.; Trapper John, M.D.; and St. Elsewhere. The brain started to pique his interest in med school at Baylor College of Medicine in Houston, and neurosurgery as a specialty fit in nicely with his ambition. "When I was young, I wanted to do the hardest thing and the most critical thing and treat the sickest patients," says Desaloms, now a husband and father of three. "I was just fully invested in being a doctor."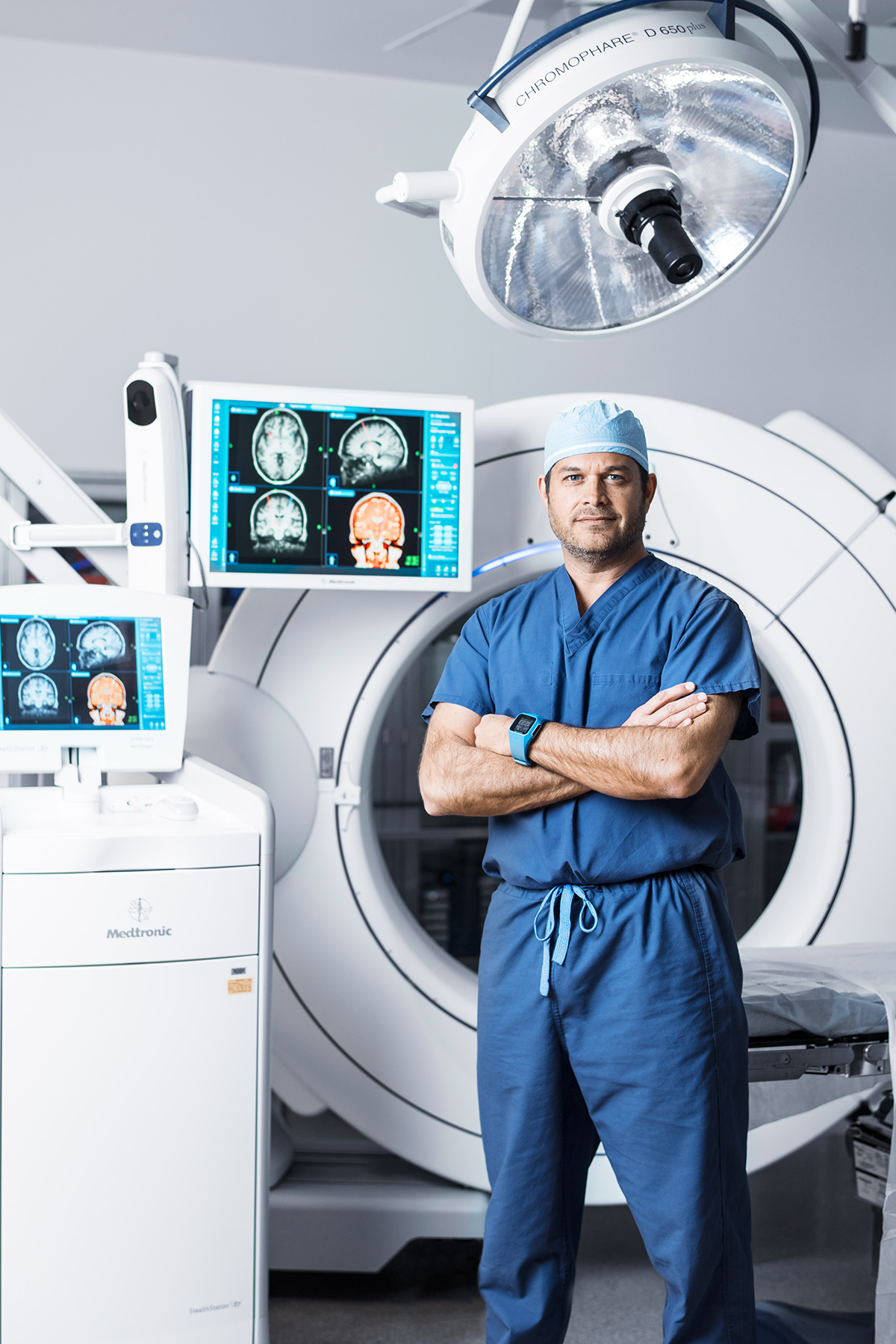 A French group invented deep brain stimulation as we know it in 1987, but for years skepticism kept the method from wide deployment. Meanwhile, in the '90s, Desaloms was doing a residency in Houston under a chairman who remained one of the few neurosurgeons still operating on Parkinson's and tremor patients. He'd do two or three thalamotomies—burning the hole—per year. Desaloms was fascinated.
Levodopa's main drawback is that, after five to seven years, the body starts to go through periods in which the meds appear to "turn off," and patients experience something called dyskinesia, the type of jerky, uncontrollable movements seen in Michael J. Fox. As the drug's effectiveness wears off, surgery appears more and more attractive. But the hole-burning method also carries a significant downside: the results are dramatic but temporary. It can't keep up with the progression of the disease.
"They'd leave the hospital, skipping down the halls," Desaloms says. "But in three or four years, they'd be back to their Parkinson's."
Desaloms trained for deep brain stimulation procedures during residency, which he finished in 1998 before promptly moving to Dallas. But even here, he treated his first Parkinson's and tremor procedures with the hole-burning technique. The FDA didn't clear DBS for Parkinson's until 2002. Since then, neurosurgeons across the country have had better and better luck talking neurologists into referrals. Desaloms now does two DBS procedures a week and has built a three-month waitlist. Even with the increase in popularity, you won't find many DBS-capable neurosurgeons in North Texas. "You can make a lot more money doing other types of neurosurgery," Desaloms says. "If I did it every day, I'd go out of business." Yet the quality of life increases are some of the most drastic and satisfying that brain surgeons encounter.
Smith's procedure would be pushed back to October 10, a fact she happily accepted. She'd been nervous. By the time the new date rolled around, for some reason, Smith was more at ease. The staff gave her a light IV sedation to get her through installing the frame, which screws into the forehead. She was fully awake for the rest.
Once the frame was on, doctors took an inter-operative CAT scan, fusing the resulting image with Smith's outside MRI. Using the frame as a guide, Dr. Desaloms and his team calculated the Cartesian coordinates at which they'd install leads, the devices that provide electrical stimulation. They drilled two nickel-size holes on top of Smith's skull—a part of the process that can be disconcerting for patients, mostly because it's so loud—and then listened to the brain talk through a process called micro-electrode recording. Various parts of the brain have their own unique sound. "That tells us where we are," Desaloms says. Once the electrodes are in, they test how it's working: Smith was told to turn over a cup as if pouring out water, a first glimpse at her steady hand. Testing is preferred, but Desaloms says they've gotten so good at mapping the brain that they'll occasionally put patients to sleep for the entirety of the three-and-a-half-hour procedure.
After the surgery and a month and a half of healing, Smith saw Dr. Thomas to get her device turned on. She says that when the device first activated, she felt an indescribable head buzz. It can be difficult to form words when the settings are cranked too high. But Thomas tweaked them just right so that Smith's head stopped shaking completely, and that's when Smith broke down. "My husband was there with me and was just amazed," she says. " 'You're not shaking! I can't believe it. You're not shaking.' "
The major upside to deep brain stimulation versus burning holes is that DBS is so adjustable, which helps in the short term but also provides a better prognosis as the disorder advances. Thomas saw Smith every two weeks for the first couple of months; even now, Smith has the freedom to turn her settings up or down, to a small degree, as needed. Crowded social situations tend to bring slightly exaggerated tremors, so Smith ups the electrical pulses. She can also turn them off completely. When she does, she quickly goes from an almost unnoticeable shake in her hands to something fairly severe in her hands and head, the type of tremor that would make it unsafe to be a nurse. Turn the device back on, and voilà—nothing. She can be a nurse again.
When Smith's condition forced her to give up her job last June, she was sure that's all she wanted, just a little more time so that she could walk away from the job she'd had for more than 40 years on her own terms. But a funny thing happened early on the February morning she was scheduled back at Klarus. She woke up at 2:30 dreading the paperwork, and surprised herself by deciding she might actually be done with nursing. She'll apply for early retirement at the end of the year, and she's not sure what will fill her time until then. Maybe it'll still be nursing, or maybe volunteering, or maybe something else entirely.
"I don't know," she says with delight. Her voice is steady.
Get the D Brief Newsletter
Dallas' most important news stories of the week, delivered to your inbox each Sunday.