Best Extremely Dallas Luxury Shopping Experience
Visiting the 37,000-square-foot downtown flagship is a must-do Dallas experience. Stop by the Copper Bar for a $10 glass of Prosecco, then leer at the eerie prints of Elizabeth Taylor's possessions, request a sample of celeb-fave Vintner's Daughter skin care serum, whiff Le Labo's musky scents, and try on just-off-the-runway looks before dining at the fourth-floor restaurant, Mirador. Your trip is not complete until you crack the lemon pavlova.
Best Crafting Space
Old-lady things are in (see: silver hair, overblown florals, and cat-emblazoned everything), so surely needlecraft is the next big trend. The cozy shop, holed up in the back corner of a Casa Linda strip, hosts classes that run the gamut from garment sewing to longarm quilting and stocks limited-run indie fabrics you won't find at Jo-Ann.
Best Hardware and Design Materials Store
This is where you get those fantastic final touches—bronze Edgar Berebi door hardware, perhaps—that have your neighbors complimenting you through gritted teeth because they didn't think of it first. The staff is happy to guide you through the selection process.
Best Fashion Jewelry Designer
Madison McKinley
Inspired by ranch life in Wyoming, Madison McKinley's eponymous brand mixes vintage elements with modern designs to create handcrafted pieces that stand out on a shelf. Find a braided gold wire choker in her online shop or butterfly cameos framed with diamonds, and feel good that almost everything is produced in Dallas.
Best Place to Shop for Shoes
Husband and wife Sebastian and Kobie Ahmadi's airy Snider Plaza boutique—a mainstay since 2000—has a reputation for style (particularly footwear) that's worth its weight in Pedro García sandals, Aquazzura flats, or Golden Goose sneakers.
Best Vintage Furniture Store
This is your go-to for hot-again midcentury furnishings—George Nelson desks, Hans Wegner and Charles Eames armchairs, Arne Jacobsen floor lamps, and other museum-quality pieces. Wlodek Malowanczyk and his wife, Abby, who passed away last year, opened Collage in Laguna Beach in the mid-1980s before moving to their Design District space in 1990.
Best Pet Store
Jack & Jill Pet Market
When you want to spoil your pup, head to Jack & Jill. Inside the Oak Lawn boutique, you can treat the fur ball to a Jax & Bones bed, an all-leather pet carrier, or a Puppia harness that doubles as a chic vest. A greeting from the store's namesake French bulldogs is an added bonus.
Best Home Accessories Store
The sleek, pastel color palette at this Uptown shop includes inventory that easily blends with modern and traditional aesthetics alike. We've often found they have just the thing to finish out a room—like a bubble chandelier or an antique bench.
Best Place to Buy Jeans
TTH Forty Five Ten
It's not the largest selection of denim in town, but it's one of the most well-edited. Taylor Tomasi Hill, former fashion editor and current style director of Forty Five Ten, has culled a selection of Re/Done Levi's and Grlfrnd vintage-style jeans that nail the high-rise-straight-leg fit beloved by the cool kids.
Best Record Store
Josey Records' 808-deep selection gives it a legit claim here; if that is your preference, so be it. But Good earns a slight edge with its stellar Live From the Astroturf in-stores (Steve Earle was a recent guest) and its new pocket-size spinoff on Garland Road, The Good Pagoda.
Best Luxury Consignment
Sure, you can buy Balmain for a song, but what makes LGS truly stand out from the consignment crowd is the professional sit-down-and-discuss reselling experience. It feels less like hawking used duds and more like a high-end business transaction.
Best Place to Buy Pots
One great pot can change a room or backyard. Jacksons has them stacked high and deep: large and small, glazed, Italian, traditional, and modern, all in stunning colors. The family-owned business now also stocks outdoor furniture, fire pits, fountains, and yard art. A dangerous one-stop shop.
Best Children's Clothing Boutique
Moms Nasiba Adilova and Miroslava Duma are international street-style stars with distinctive taste, so you know everything they've selected for their petite Highland Park shop—from $10 organic-cotton onesies to $150 taffeta Sunday-best dresses—is there for good reason.
Best Toy Store
This Inwood Village institution has been entertaining kids—and, let's be real, adults—for nearly 30 years with its choice selection of plush toys, games, accessories, and flatulence replicators. If you have a party to attend, the in-the-know staff will help put together the perfect gift basket.
Best Stationery Store
The selection here fits feminine and masculine needs, for large or small occasions. Basically: anything. Seriously—they have so many cards. And the friendly staff always offers you sparkling water each time you walk in.
Best Vintage Clothing Store
You might initially find yourself overwhelmed by the bountiful racks overflowing with multicolored sequins, floral-print dresses, lavish furs, and acid-wash denim. But once the initial shock fades, you'll come to realize that everything here is organized by style, easy to sift through, and incredible.
Best Affordable Women's Clothing
The throwback pieces at this "L.A. meets Texas" boutique average around $58, each item affordable but still chic. And the store's minimalist design is practical. Its small handful of racks means customers don't have to scour through bundles of clothes to find the perfect one-shouldered blouse.
Best Garden Shop
This location fills two blocks with every essential outdoor landscaping need—shrubs, perennials, trees. But they also offer the hard to find (fiddle-leaf figs), the trendy (succulents), and the giftable (wind chimes and candles). They also have a pot in every color, size, and shape.
Best Athletic/Outdoor Wear
No neon spandex or flashy patterns at Outdoor Voices. Instead: neutral, soft, recycled-plastic leggings and tops that are well-priced and well-made. The Austin transplant, only a year old and conveniently located by the Katy Trail, is a welcome departure from other athleisure brands. Its simple slogan—Doing Things—tells you all you need to know.
Best Kitchen Accessories Store
We love to shop the well-considered selection of gourmet foods, kitchen utensils, and table linens. But we really love the nostalgic pop-up supper club. Owner Coryanne Ettiene mixes up seating arrangements and directs the flow of getting-to-know-you conversation while Chef Jeff from Rye prepares a table-side meal.
Best Floral Shop
Grange Hall's reputation for a top-end mix of curiosities extends to its florals, too. Succulents sit in sand art, porcupine quills are artfully placed in a vase, and butterfly and beetle figurines adorn flowers. Pop in to shop the designs, or order a custom arrangement for delivery.
Best Vintage Refurbishing
Many of the smart finds in this 15,000-square-foot showroom have been refurbished in-house. Scout's team excels at revitalizing tired old pieces with a glossy coat of lacquer or a grain-revealing stain, updated upholstery, or whatever it might require. Also, you can commission your own furniture makeover.
Best Museum Store
The Lotus Shop, just down the block from the affiliated Crow Collection of Asian Art, continues to be full of surprises, whether it's a trunk show of Kashmir scarves, artful Chinese and Thai bud vases, striking jewelry from Fort Worth designer Kori Green, or sushi play sets from Melissa & Doug.
Best Men's Clothing Store
Owner Deavon Moore spent a decade as a menswear buyer at Nordstrom and that experience shows. She carries quality goods from cool-guy brands—like Rodd & Gunn's printed linen button-downs and Ursa Major's skin care line—making shopping a cinch for the modern man who lives in denim.
Best Outdoor Furniture and Accessories
Stori Modern
Jean Liu personally selects everything that appears in Stori Modern's six collections. Her criteria: each item must be beautiful and unique but also highly functional, with top-of-the-line construction. The eco-friendly brand is online only, a direct-to-consumer model that ensures customers get the best pieces at more affordable prices.
Best Women's Clothing Boutique
For 10 years now, owners Liz Thompson (a veteran buyer) and Jackie Bolin (a former fashion editor) have supplied Dallas women with the freshest looks from design houses around the world, ranging from R13's rock-and-roll shredded denim to Thierry Colson's billowy cotton dresses.
Best Place for Good Vibes Only
Lakewood moms dig boho wear from local brand Folksie, and single ladies love the Saturday rap yoga sessions, but the succulent bar is the store's biggest draw. With an inventory that has included cactus pool floats and mod "hotel" fishbowls, the Deep Ellum shop isn't for everyone, but sometimes you need to be basic and find a safe space where you can build a terrarium.
Best Contemporary Furniture Store
Lloyd Scott and Josy Cooner Collins stock their showroom with a collection of heirloom-worthy furniture, but we keep coming back for conversation pieces like Moooi's The Killing of the Piggy Bank vase and a cactus-shaped sofa from Baleri Italia by Hub Design.
Best Souvenir Shop
Here you'll find humorous, punny, slogan-emblazoned t-shirts (and caps, coasters, posters, and mugs) that irreverently celebrate the Dallas spirit. A sampling: Let's Taco Bout Dem Cowboys; Y'all Can Kiss My Dallas; Don't Uptown My Deep Ellum; and My AA Center Serves Booze. New designs come in all the time; the store stays topical.
Best Traditional Furniture
Step inside and you'll feel transported from Cole Avenue to the Hamptons (where its flagship is located). There's a comfort and warmth to the vignettes, full of antiques and new pieces alike. And don't miss the coffee-table books.
Best Socially Conscious Store
Inspired by their travels to Morocco, Argentina, Ireland, Mexico, and beyond, Carly Nance and Rachel Bentley's home decor brand The Citizenry is always introducing new globally inspired handcrafted collections. The best part: the duo collaborates with local artisans to bring its modern designs to life, supporting fair wages and positive work environments around the world.
Best Eyewear Boutique
The Oklahoma expat wooed us with its gleaming-white showroom, stellar customer service, and unique frames. We've got our (four) eyes on chunky sunnies from Jacques Marie Mage and Ahlem's updated take on wire-rim frames that are handmade in France. The pairs are pricey (most are around $450), but it's worth standing out from the hordes of Warby Parker wearers.
Best Gift Shop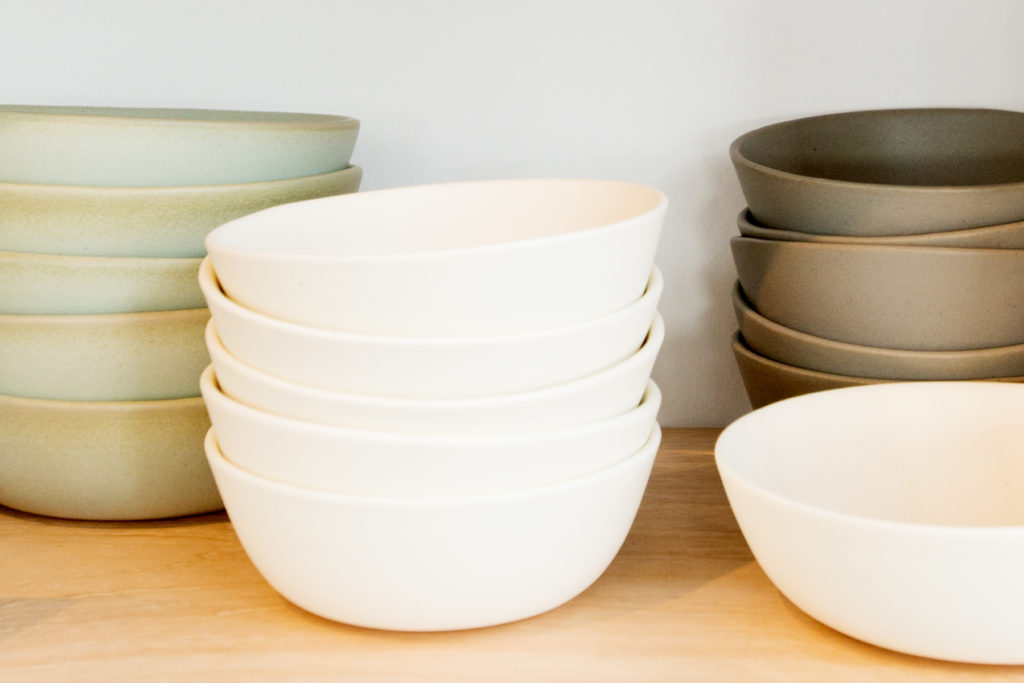 Jennifer and Adam Littke stock their charming Oak Cliff mercantile with handmade ceramics, textiles, tableware, and more, focusing on utilitarian design and craftsmanship. And they will beautifully wrap your purchase in marbleized paper topped with a dried floral bouquet. You won't need that for their pièce de résistance: the $6,000 Malle W. Trousseau Kitchen Set.
---
View a Map of the Best of Big D Winners
Editor's Choice: Shops