Which All-Natural Dallas Nail Salon Is Right for You?
Pink Pedi and Vivian's Boutique Spa both offer toxic-free services and locally made products. We took a look at what sets them apart.
Two new Dallas salons treat your tips with all-natural, non-toxic goodness, but which do you choose to treat yourself? We break it down.
The Neighborhood
Lowest Greenville
The Look
The beauty is in the details. Pedicure chairs and cabinets were all custom-built by a woodshop in the owner's hometown of Ennis, Texas. White quartz, vintage furniture, and elegant wallcoverings add to the sophisticated Southern aesthetic.
The Owners
Kristin Barton, a former Wall Street financial analyst who'd always dreamed of opening a day spa
The Soundtrack
Feel-good songs that might be found in a Nancy Meyers movie
The Edge
The salon also offers facials, waxing, and massages featuring all-natural products from McKinney-based FarmHouse Fresh for ladies and Carrollton-based Jack Black lotions for gents.
Something Cool
Set against a wall of salvaged tin from a downtown Dallas building, the vintage shoeshine-inspired pedicure chairs are truly next level. The buttery, light blue fabric keeps things comfortable while a sliding wooden shelf covers the sink, making it easy to maneuver in and out.
The Price
Manicures, $25–$55; pedicures, $40–$75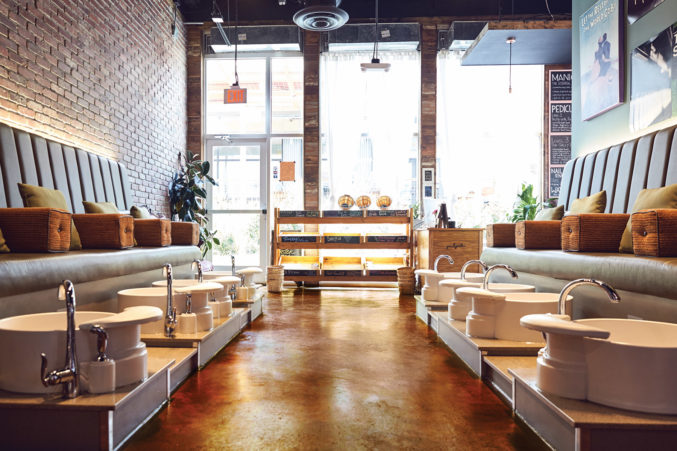 The Neighborhood
North Oak Cliff
The Look
Exposed brick, greenery, and Edison bulbs hanging from the ceiling add warmth, but the farmers market-style display of sweet-smelling handmade bath bombs and sugar scrubs is the first thing you'll notice when you walk through the door.
The Owners
Former fashion designer Lucy Dang and her husband, photographer Brandon Lyon
The Soundtrack
Something close to—if not actually—the Indie Pop Chillout playlist on Spotify
The Edge
This month, the salon is launching an official line for its homemade bath bombs, lotions, and sugar scrubs called Purpose, which will be available for sale in the store and on the website.
Something Cool
For pedicures, guests are given a mini bushel basket and their pick of lotions and scrubs—all made in-house with natural ingredients and ever-changing scents—from rows of wooden crates. For manis, guests slip on fingerless anti-aging collagen gloves for mega moisturizing during the service.
The Price
Manicures, $28–$68; pedicures, $38–$98
SaveSaveSaveSave
SaveSave
SaveSave