Canton
"World Famous Canton, Texas"
Year Founded: 1850 | 2016 Population: 3,836 | Drive Time: 60 Minutes | Best time to go: First Monday Trade Days takes place Thursday through Sunday before the first Monday of each month.
First Monday Trade Days
, the largest continually operating flea market in the country. If you prefer to shop without the chaos, visit when the fairgrounds are empty. You'll find a charming downtown courthouse square surrounded by specialty boutiques, antiques stores, and home-cooking restaurants.
Denton
"Denton. Original. Independent."
Year Founded: 1846 | 2016 Population: 133,808 | Drive Time: 45 Minutes | Best time to go: The Denton Arts & Jazz Festival celebrates the soul of the city with music, dance, drama, and the visual arts. The free event takes place next year April 27–29.
One O'Clock Lab Band
is still performing concerts and making records. And the street party is still happening in the cafes and bars around the downtown square. Denton has been a college town since 1890, when Texas Normal College and Teacher Training Institute, now the University of North Texas, was established. In 1901, the institution that would become Texas Woman's University was founded. The colleges brought an influx of people into the city, which at the time was an agricultural trade center with pottery and blacksmith shops, flour mills, and cottonseed oil mills. Today, there may be more than 50,000 college students, but if you aren't one of them, you won't feel out of place. The square hops with multi-generational visitors day and night. Start your day trip with a stop at the
Discover Denton Welcome Center
on the Hickory Street side of the square. It's staffed by energetic students ready to convince you "Denton is the perfect place to forget boy bands and popped collars, traffic jams, and monkey suits." They also sell products made by local artists and serve as the headquarters for online radio station
DentonRadio.com
.
Pilot Point
"Pointing the way since 1845"
Year Founded: 1845 | 2016 Population: 4,269 | Drive Time: 60 Minutes | Best time to go: Bonnie & Clyde Days Celebration happens in October. One of the big robbery scenes in the movie Bonnie and Clyde was filmed in Pilot Point, and every year they host a daylong celebration filled with bank robbery reenactments, a soap box derby, a classic car showcase, food, beer, and live music.
Driving the back roads to this small town near the eastern shore of Lake Ray Roberts is half the fun of taking a day trip here. Head north on the Dallas North Tollway until it ends, near Prosper, and then wander northwest along the hilly farm-to-market roads that bend and roll past scenic horse farms divided by white fences. Eventually you'll find the town square near a ridge at the intersection of Highway 377 and FM 455. In the mid-1800s, wagon drivers, called "pilots," used this high ground as an observation point for crossing the Elm Fork of the Trinity River, and the spot was referred to as the "pilot's point." Pilot Point boomed in the late 1800s when the Texas and Pacific Railroad began carrying freight and passengers to and from the town. Despite (or perhaps because of) vigilante hangings of cattle rustlers, the large farms and cattle ranches thrived. Emil Flusche, a Catholic impresario, published leaflets convincing German Catholics to settle here. Soon, a church, orphanage, and home for unwed mothers were established. All was relatively quiet until 2003, when Pilot Point made national headlines. Wes Miller, owner of
Farmer's & Merchant's Gallery
, commissioned a local artist to paint a Michelangelo-inspired nude image of Eve on an exterior wall. The local police threatened to arrest Miller because Eve's bare breasts would "victimize children" by exposing them to hardcore pornography. The ACLU of Texas sued the city and its police department in 2005. The city backed down, and now the partially concealed mural—along with an additional naked Lady Liberty resting on an American flag—are both visible on the north wall.
Old West Coffee Cafe
. Owner Don Decker is usually on hand, and he's got a few stories he'll be more than happy to share.
Grapevine
"Aged to perfection"
Year Founded: 1844 | 2016 Population: 51,971 | Drive Time: 30 Minutes | Best time to go: The annual GrapeFest is the largest wine festival in the Southwest. The four-day celebration in September features live music, food, and more wine than you can taste.
Thanks to several vineyards and wineries in the area, and 12 wineries and tasting rooms in the historic downtown, it's natural to think that Grapevine took its name from wine production. Not so. In 1843, Sam Houston and members of the Republic of Texas Commissioners gathered for a campout at Tah-Wah-Karro Creek, also known as Grape Vine Springs, to meet with the leaders of 10 Native American nations. There is nothing to substantiate the amount of wine consumed, but a peace treaty was signed, and the territory around Grape Vine Springs and the Grape Vine Prairie, both named for the abundance of wild Mustang grapes, opened for homesteaders. Fast-forward to 1974, when DFW Airport opened for business. Grapevine turned on the charm for the millions of people who used the airport. Eventually, mammoth hotels such as the
Gaylord Texan Resort
and
Great Wolf Lodge
joined
Grapevine Mills
mall as over-the-top destinations. Many felt the town had lost some of its appeal. But there is a lot to love in Grapevine. You just have to know when and where to go. Christmas shopping on Main Street is a must. The streets swell with carolers, shoppers, and Christmas music. The town is also nice on a Tuesday, when the streets are empty, free parking spaces are bountiful, the tasting rooms and shops are open, and the pace is slow.
Corsicana
"Live, work, play!"
Year Founded: 1848 | 2016 Population: 23,987 | Drive Time: 60 Minutes | Best time to go: Derrick Days, held next year on April 28. At this annual festival there are parades, carnival rides, rodeos, and a fierce chili cook-off.
During the mid-1800s, the fates of many small Texas towns were determined by the chicanery of railroad companies. If new tracks ran through a small community, it had a better chance of prospering. Townships without service tended to disappear unless they got lucky with an oil rig. Corsicana thrived because it snagged both prizes. The agricultural production was successful enough to attract the Houston and Texas Central Railroad in 1871. When the Texas and St. Louis line connected with Corsicana in 1880, the small town became the area's leading shipping center for cotton, grain, wool, and hides. But Lady Luck had even bigger plans for Corsicana. While digging for much needed water, the Corsicana Water Development Company accidentally struck black gold on June 9, 1894. It was the first gusher west of the Mississippi. Corsicana's oil economy prospered into the 1950s. By 1953, the town was home to around 21 millionaires. Corsicana's reputation changed forever in 1896 when master baker Gus Weidmann and Tom McElwee moved from Wiesbaden, Germany, to open a fruitcake bakery. Today, the
Collin Street Bakery
continues to ship the original, old-world recipe fruitcakes all over the world. No day trip is complete without a visit to the factory on West Seventh Avenue. Most of the 25-block historic downtown has been restored without kitsch. A walking tour is the best way to appreciate the magnificent Italianate, Romanesque Revival, and Classic Revival architecture funded by the oil boom.
Mineola
"A national Main Street city"
Year Founded: 1873 | 2016 Population: 4,719| Drive Time: 90 Minutes | Best time to go: Each October the town throws a party to honor the trains that helped establish Mineola. The Iron Horse Festival, this year on October 29, features live music, food, games, carnival rides, and pie and chili contests.
Beckham Hotel
,
Lake Country Playhouse & Historic Select Theater
, and
Munzesheimer Manor
, now a lovely bed-and-breakfast. Check the town's website for a list of historic buildings.
Decatur
"Eighter from Decatur, county seat of Wise"
Year Founded: 1856 | 2016 Population: 6,648| Drive Time: 60 Minutes | Best time to go: The seventh annual Decatur Swirl takes place this year on November 4. The shops will all be open, and vendors serve local food and Texas wine.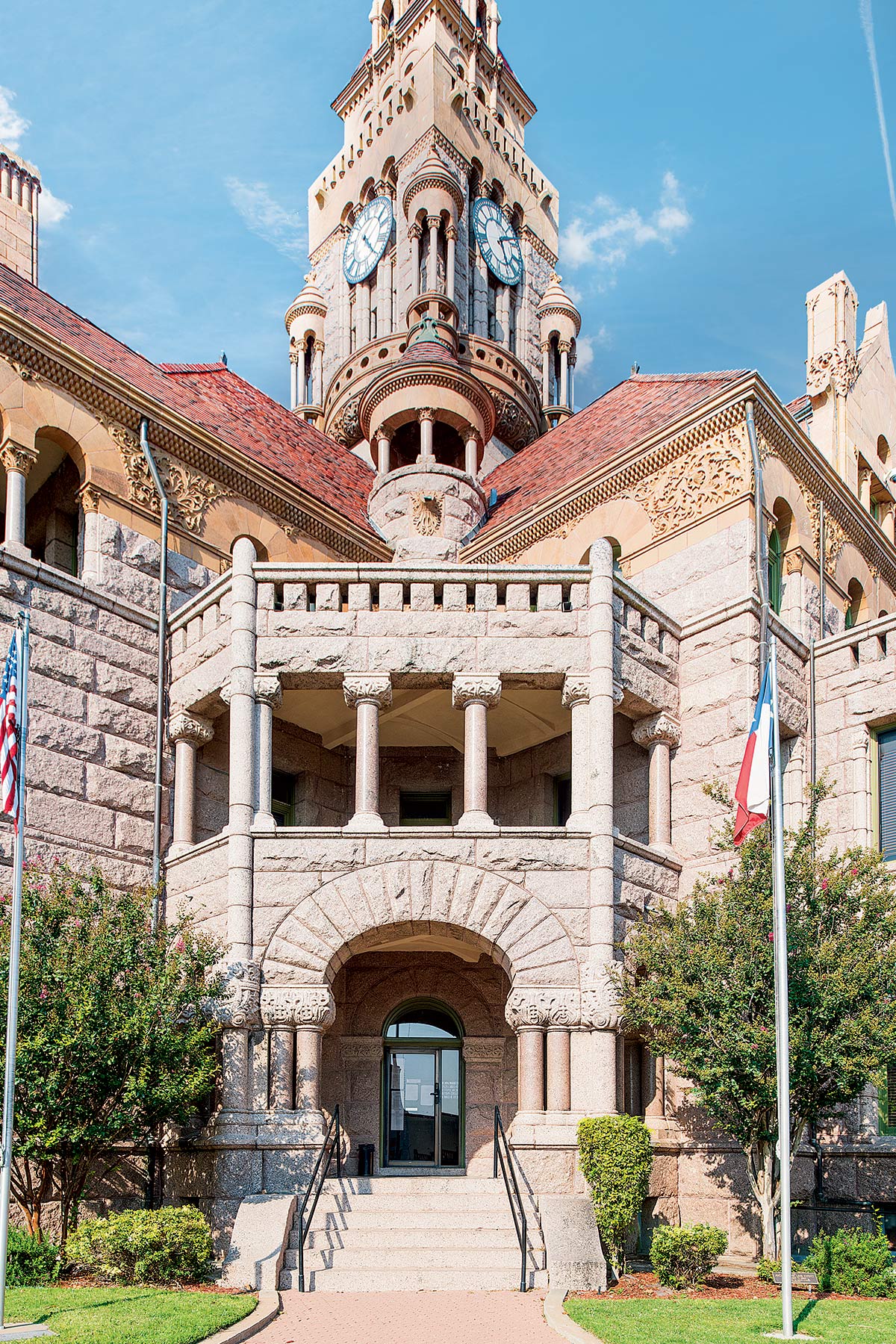 Wise County Courthouse
in the middle of the historic downtown square. Known affectionately by locals as The Pink Lady, the Romanesque Revival building, opened in 1896, was designed by J. Riely Gordon. The well-known Texas county courthouse architect (he designed 18; 12 are still standing) used Texas pink granite and terra-cotta friezes, turrets, and dormers to add grandeur, and then topped it off with a bell tower set above the massive clock. An organized tour will take you all the way to the top, above the bell. On a clear day, the views are stunning. Locals take their city slogan—"Eighter from Decatur"—seriously. There are several versions of how a term from shooting craps came to represent a Texas town. The most popular story goes back to the turn of the century, when a young man who loved shooting dice and a girl named Ada would roll the dice and say, "Ada from Decatur, county seat of Wise." It caught on. Bob Wills and his Western swing band recorded a toe-tapping tribute.
Waxahachie
"A place in your heart, Texas!"
Year Founded: 1850 | 2016 Population: 34,345| Drive Time: 30 Minutes | Best time to go: Savor the town square and a large outdoor sale at Junk in the Trunk, a quarterly community-wide flea market event that mimics the town's historic mule and market days. The next one will be November 25 from 9 am to 1 pm.]
Gingerbread Trail
, held in June. Queen Anne Victorian, Gothic Revival, Bungalow, Romanesque, and Greek Revival are a few architectural styles you'll see. Downtown also has plenty of historic buildings, such as the Sims Library, the
Ellis County Courthouse
, and the
Ellis County Art Association & Museum
, which features the work of local and regional artists. Julie and Bruce Webb moved to Waxahachie in 1987 and established what is now the highly respected
Webb Gallery
. "We love the sense of community in Waxahachie," Julie says. "It's still a quaint town with a good diversity of businesses, and we all respect each other."
McKinney
"Unique by nature"
Year Founded: 1849 | 2016 Population: 172,298| Drive Time: 30 Minutes | Best time to go: Arts in Bloom Festival, which happens in April. This three-day festival features more than 150 artists along with local food, Texas wine, and live music.
William S. Peters might go down in history as one of the first commercial real estate developers in North Texas. The time was 1841 and Peters, an Englishman, convinced the newly liberated state of Texas to give him license to lure 600 settlers to the area. The state agreed, and Peters offered free grants of 640 acres to families willing to brave the threat of attacks by Native Americans, wild animals, and unpredictable weather to establish a new life on the prairie. The covered wagons came and Peters Colony prospered. By the late 1860s, the fields yielded healthy crops of cotton, corn, wheat, and oats. Once the Houston and Texas Central Railroad laid tracks, in 1872, the economy rocketed. The prosperous business environment in what is now McKinney hasn't stopped. The Neoclassical Revival courthouse sits in the center of the historic town square. The covered wagons have been replaced by Lexus SUVs and BMW sedans, but the brick streets and old streetlights have been preserved. Crowded restaurant patios line sidewalks decorated with large, colorful flowerpots.
Harvest Seasonal Kitchen
features locally grown produce from Water Boy Farms, an organic farm in nearby Lucas, co-owned by Robbin and Rick Wells. Harvest's executive chef and master gardener, Andrea Shackelford, and her staff work the farm when they aren't in the kitchen. It couldn't be more of an American idyll.
Carrollton
"Where connections happen"
Year Founded: 1878 | 2016 Population: 133,351| Drive Time: 30 Minutes | Best time to go: Festival at the Switchyard on November 4. The city of Carrollton honors the role of the railroad with a daylong celebration and free concert. This year's has the Toadies and Everclear.
The historic town square of Carrollton sits in the shadow of a 110-foot grain silo. Once a symbol for the agricultural prosperity in the area, the interior of the silo is now a rock climbing gym. Overhead, an elevated DART track runs high above the original train tracks that contributed to Carrollton's success. The lines of people in covered wagons, waiting at the gristmill to have their corn and wheat ground into flour, have been replaced by families picnicking on the grass around the gazebo in the center of town. Most nights there is a free concert or movie night scheduled, and the area swells with residents walking from their apartments less than a block away. Carrollton has emerged as a lucrative hub for the restaurant business. It's a short drive for hungry diners who live in Coppell, Lewisville, North Dallas, and Addison. Chef Bartolino Cocuzza's
Amici Signature Italian
has been popular since it opened in 1991.
Sid's Rainbow Grill
is the spot for honest burgers and chicken-fried steak.
Twisted Root Burger Co.
, one of the first Dallas chain restaurants lured to Carrollton, was followed by
Monkey King Noodle Company
and
Cane Rosso
. "Carrollton is the best and easiest city I've worked with," says Jay Jerrier, owner of Cane Rosso. "The city and the landlords work together and try to create a community that is best for the residents."