The gentle beeping of her home security system roused Debbie Tobolowsky from bed. It was about 7:15 on a Friday morning, and her husband, Ira, had just opened the back door leading to the garage, headed off to work. Debbie had stayed up late the night before, working on details for their eldest son's wedding rehearsal dinner, checking on the white daisy arrangements, perfecting the seating chart. The event would be a production. Theirs was a large, prominent Jewish family with more than a dozen lawyers in it, including State District Judge Emily Tobolowsky. George Tobolowsky, the noted Dallas sculptor, was Ira's brother. One of his cousins was actor Stephen Tobolowsky, who played Ned Ryerson, the insurance salesman in Groundhog Day.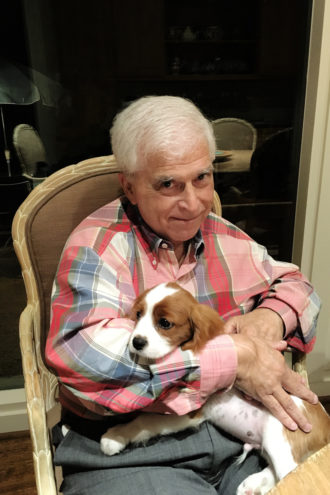 Debbie knew that Ira was trying to leave the house without waking her. Her 68-year-old husband had a debilitating spine condition that turned his back into a portrait of pain. His shoulders were hunched, and he struggled to raise his arms above his chest or turn his neck, but he had learned to lift himself quietly from bed without disturbing his wife of 39 years.
About 30 minutes later, as she was getting ready in the bathroom, a blaring alarm startled her. She ran to the security system control panel in the bedroom, saw it said "Fire," and headed to the living room. From the back windows, she saw smoke drifting across the swimming pool. She opened the door to the garage, and hot, black smoke hit her face. The alarm company called, and Debbie told them to send help.
Debbie grabbed her purse and wedding ring, and leashed Oliver, their Cavalier King Charles spaniel. Within minutes, firefighters arrived and asked how to get into the garage. Debbie gave them a remote.
As soon as she stepped outside, she called Ira. Her call went straight to voicemail. She dialed his cell again and again. No answer. Firetrucks crowded their cul-de-sac as neighbors gathered on their lawns. Smoke billowed from the eaves of their sprawling brick ranch in North Dallas. Debbie thought, Why isn't he answering? Then it hit her. She ran to a firefighter who was looking through the garage windows.
"How many cars are in there?" she asked.
"Two," the firefighter said. "Why?"
Debbie screamed, "He's in there! My husband is in there! Get him out!"
The remote wouldn't work, so firefighters smashed through the garage door. As smoke blackened the sky, they sprayed water into the garage, then searched for Ira. Paramedics raced up the driveway with a gurney. After a couple of minutes, they bowed their heads and pushed the empty gurney away. Debbie fell to her knees.
---
A homicide detective named Scott Sayers arrived at the house wearing a button-down and tie. Detectives routinely respond to house fires involving deaths, but Dallas' 34-member homicide unit was stretched thin in May of last year; they'd already caught 10 murders in the past week. The detective asked Debbie: "Do you think this was an accident, or could someone have done this?"
"What do you mean?" she asked. She couldn't think of anyone who wanted to hurt her husband.
Sayers poked around, then told the family that Dallas Fire-Rescue would lead the investigation. Investigators combed through the wrecked garage, trampled by firefighters wielding axes and high-pressure hoses. They had broken through walls and tossed the family's belongings from a second-story media room into the swimming pool. While firefighters were trained to use the least destructive measures—to help preserve evidence—that took a back seat to putting down flames.
It appeared that Ira had made it down the steps into the garage, walked past his wife's car, and approached the driver's side of his Lexus. They found his burned body there, lying in a small space between the closed driver's side door and a wall lined with mops and brooms. He still had his wallet and phone. Had Ira's car caught fire? His phone? Investigators searched for flammable liquids, examining shelves packed with Clorox wipes, Windex, and paper towels. Gasoline fumes hung in the air.
Then they found their first big clue. In the back of the garage, lying beside cardboard boxes, they found a large plastic juice bottle with no label. It held a few ounces of what appeared to be gasoline. Investigators asked Debbie if she or Ira drank juice. Was there any reason for that plastic bottle to be in the garage? No, she replied. They asked if the couple kept gas in containers. No, she said. Her husband couldn't operate a lawn mower. They kept no fuel or gas-powered equipment.
Investigators took photographs of the bottle and placed it in an evidence can for testing. Was it possible, they wondered, that someone had snuck up on Ira in daylight, in one of the city's safest neighborhoods, doused him with fuel, and set him on fire?
The fire department was skilled at uncovering the cause of fires. Murder investigations were another matter. But now it appeared they were on the hunt for a killer.
---
Michael Tobolowsky woke in a haze to the sound of his older brother, Jonathan, screaming. A half-hour after their father had been found dead, Jonathan had gotten a call from his fiancée. Ira's three sons were at a beach in Destin, Florida, for Jonathan's bachelor party. The sons quickly booked return flights to Texas.
At a window seat, watching the landscape drift by below, Michael struggled to process the idea that his father was gone. The 28-year-old had decided to become a lawyer after spending summers in his dad's office, learning how to write motions and briefs, following his dad around the courthouse. At 6-foot-4, Michael had attended Trinity University on a partial basketball scholarship, gone to law school in San Diego, and was in his third year with a civil firm in Dallas. He spoke to his father every day, always ending with, "All right, good shit. Talk to you later, Pops."
Before the flight, Michael had learned the fire might have been set intentionally. The thought infused his grief with rage. Cramped in his window seat, Michael felt his hands aching and realized both fists were clenched. All he could think about was Who?
Back in Dallas, by midmorning, fire investigators still hadn't roped off the house with police tape. Relatives and friends walked all over the yard. TV reporters broadcast live from the cul-de-sac. The investigators kept asking whether Ira had enemies. Sure, family members said, nearly every lawyer makes enemies. Ira had practiced law for more than 45 years. They could run through a list of people Ira had defeated or angered at one time or another. But among them, one stood out.
---
Steven Aubrey, middle son of a Dallas orthodontist who died in 2004, was fighting an inheritance battle with his mother, who believed he'd come unhinged. He stood well over 6 feet tall and carried 220 pounds packed with muscle, which he flaunted in online ads for his services as a masseur. He promised strong hands, professionalism, and discretion. Aubrey had graduated from W.T. White High in Dallas and majored in finance at Texas A&M. He lived in a $1 million house in Austin with his longtime partner, Brian Vodicka, who had attended law school but was on disability for medical conditions.
After the death of his father, Aubrey had grown unhappy with how his 79-year-old mother, Betsy, and oldest brother, Buck, had handled the estate. Aubrey accused Buck in court filings of taking advantage of their mom and funneling family assets into his own name. Over the years, the feud grew more heated, and Betsy came to fear her son. "He has absolutely gone crazy and is on a rampage like no other," she wrote to a relative. By the end of 2012, she'd had enough and sent Aubrey an email saying she had cut him out of her will.
Aubrey responded a few hours later: "You have 3 days to change your mind and apologize to me or else. Or else I will make it my mission to make the rest of your life miserable, as you deserve. EVERYONE you have ever known will know what has happened and the poor choices you have made. It is sickening to watch you make threats with the money that dad made while you played bridge. I guess I am lucky that what I got from you is thin good looks but poor Buck got the 'lazy never had a job' part of you. … I don't know a single mother who would do what you have done. You should never have had children."
But Betsy refused to change her will or apologize to her son. About two weeks later, she called police to report a break-in at her home. A few pieces of art with sentimental value had been stolen. But she also discovered that someone had let loose in her house four pet-store rats. Everyone in her family knew she was terrified of rats. She suspected her middle son, though Aubrey said in an email to her that he had nothing to do with the rats. Betsy and Buck told the court that they thought Aubrey might hurt them, and a judge issued peace bonds forbidding Aubrey from contacting them for one year.
Aubrey responded by calling the judge a lesbian and continuing to file lawsuits against his mother. Eventually, Betsy sought help at a small law office on Lovers Lane run by Ira Tobolowsky.
---
Ira first met Aubrey in August 2014. They sat across a table from each other at a deposition in downtown Dallas. Aubrey, 53, working without a lawyer, was there to question his mother. Some lawyers take passive roles in depositions, objecting to questions for the record but then letting their clients answer them. Not Ira. After Aubrey asked his first question—for his mother to state her name—Ira objected. For the first hour, the mother barely talked, as her lawyer sparred with her son. Over the four-and-a-half-hour deposition, Ira objected more than 200 times. From the transcript, it's clear the interruptions frustrated Aubrey.
Aubrey: "Can you just be quiet?"
Ira: "You're wasting my time."
Aubrey: "I don't care about your time."
Two weeks after the deposition, a fax machine in Ira's office churned out a 118-page lawsuit in which Aubrey petitioned the court for a temporary restraining order against Ira. After the machine finished printing, Aubrey faxed the lawsuit five more times. Ira fumed as the machine spat out hundreds of pages, until his paralegal finally unplugged it. Ira searched online for the suit, but it was never officially filed.
The next week, Aubrey tried to set a deposition for September 26, during Rosh Hashana. Ira thought Aubrey did it just to irritate him and asked for a date change.
Aubrey faxed his response: "Jews spend these days working to amend their behavior and seeking forgiveness for wrongs done during the past year. My suggestion: you attend the scheduled deposition and amend your behavior while there. Perhaps God will forgive you for your many wrongs during the past year and previous depositions." He included a list of Jewish holidays, asking if Ira planned to take off work for all of them.
Ira filed a motion for contempt. "ANTI-SEMITISM SHOULD NOT BE TOLERATED BY THIS COURT. PLAINTIFF'S RESPONSE IS FRAUGHT WITH INNUENDO AND OUTRIGHT ANTI-JEWISH REMARKS THAT ARE INSULTING, CRUEL, AND EVIL."
Aubrey's response: "TOBOLOWSKY'S PATTERN IN ALL OF HIS FILINGS IS TO RANT AND RAVE IN BOLD UPPERCASE LETTERING WHEN HE WANTS TO COERCE THE COURT TO BELIEVE SOMETHING THAT IS NOT TRUE."
The legal battle dragged on as Aubrey filed lengthy motions against his mother. Responding to them began to consume Ira's law practice. But nearly every time the men appeared before a judge, Ira won. Given the venom of Aubrey's filings, Ira and his paralegal, Leigh Allen, joked about locking the front door, and they did for a time. Ira wondered aloud whether Aubrey was violent. But mostly he laughed about the case, Allen says. "We felt like we were fighting the good fight," she says, "defending a mother against her hateful son."
Three days before Ira was set to question Aubrey under oath in a deposition, Aubrey nonsuited the case. It was the legal equivalent of: never mind. Ira had won, but by that point, Aubrey had accused him of bribery, witness tampering, and a host of other crimes. In one filing, he compared Ira to an "ISIS butcher." After all that, Ira was not ready to walk away. And, in any case, he figured Aubrey wasn't finished with his harassment.
---
Ira enlisted a longtime colleague, Steve Schoettmer, a former linebacker for Duke University who worked at Thompson & Knight, to file a defamation suit against Aubrey in the summer of 2015. "He just desperately wanted them to stop," Schoettmer says. "And he'd become resigned that the only way they would stop was if a court ordered them to." "They" were Aubrey and his domestic partner, Brian Vodicka, whom Ira made a co-
defendant in the defamation suit.
But Ira also wanted to end Aubrey's ability to sue his mother by having him declared a vexatious litigant, a rare designation that, if granted, would require Aubrey to get approval from a judge to file further motions or lawsuits. Ira and his paralegal prepared a 367-page document detailing Aubrey's history. In two years, he had filed seven lawsuits against his mother in different courts. He had also sued her lawyers, her accountant, and three judges. Ira showed Aubrey's pattern: he'd file a lawsuit and clog the court with motions. If rulings didn't go his way, he'd sue the judge and demand recusal. If that didn't work, he'd nonsuit and file in a different court.
In February 2016, Judge Eric Moyé declared Aubrey a vexatious litigant and ordered him to pay his mother $250,000. He could no longer sue his mother, his brother, or Ira without permission.
But Ira continued with the defamation suit. In April 2016, five weeks before the fire, Aubrey and Vodicka came to Ira's office for a deposition. It had been a bruising couple of years for the couple. They had been involved in another contentious lawsuit in Austin, after they'd invested hundreds of thousands of dollars in a real estate deal that turned out to be a Ponzi scheme. They had to sell their $1 million house, and they moved to an apartment in Dallas. They'd spent nearly $2.3 million fighting the case and still owed about $400,000 in legal fees. Aubrey had become estranged from his family. Ira had defeated Aubrey at every turn, stripped him of his ability to file lawsuits, and now was coming after him for defamation.
During the deposition, Ira and his attorney, Schoettmer, thought the 56-year-old Vodicka was impaired. He kept closing his eyes, mumbling about being in the bathtub that morning. Schoettmer asked if he was on medication.
"Yes, sir," Vodicka said.
"Tell me what the medication is for?" Schoettmer asked.
"It's anti-Ira medication," he said.
After about 30 minutes, Ira stopped the deposition and asked the men to leave. Aubrey and Vodicka refused.
"You invited us to be here. We're here," Aubrey said.
"And it's over with, and I'm asking everybody to please leave," Ira said. The men lingered, and Ira grew more stern. "Steven and Brian, will you please vacate my office now. These are my offices, this is my property, and I'm asking you all to leave. … I'll be forced to have you escorted out of here."
The men left.
---
Two days after the fire, more than 1,200 people packed Congregation Shearith Israel for Ira's funeral. The police department assigned extra officers to patrol. Rabbi Adam Roffman acknowledged the anger felt by many over Ira's death. The familiar words of Ecclesiastes—to everything there is a season—would provide no comfort on that day, the rabbi said. "If there was a time for Ira to die, surely that day was not Friday," he said. "If there was a time to lose Ira, it was not now."
Police officers eyed the crowd packed with judges and attorneys. Ira's cousin Emily, the state district judge, was there, as was Judge Moyé, who had been presiding over the defamation case. Sheriff's deputies had been patrolling Moyé's home that weekend and had instructed him to carry a gun, fearing that he, too, might be in danger.
The day after the funeral, on Monday, fire investigators asked Dallas police homicide detectives for help. Detective Bob Ermatinger got the case. He had worked at the Dallas Police Department for three decades and was one of the detectives who had appeared on the A&E series The First 48, the title a reference to the premise that if cops didn't solve a case in the first two days, their odds of doing so decreased by half. Ermatinger came across as folksy on the show, tearing up with victims but coming down hard on suspects.
By the time Ermatinger got the Tobolowsky case, 72 hours already had passed. Investigators believed the perpetrator might have been burned, because Ira had been doused in a confined area of the garage. They needed to find the killer before any injuries had time to heal. Investigators had about half a dozen suspects on their list. That included: Debbie, neighbors, a lawyer Ira was trying to get disbarred, a patient of a plastic surgeon that Ira had defended, a lawn worker's son who had asked the family for money, and a potential client who had called Ira at all hours and left bizarre phone messages. Some of the suspects cooperated and provided alibis; others were looked at only on paper.
But after talking to Ira's relatives and colleagues, detectives turned their focus to Aubrey and Vodicka. The level of hostility the men had displayed toward Ira—and the fact that he'd recently defeated them in court—pushed the men to the top of their list.
On May 17, the Tuesday after the fire, detectives went to Aubrey and Vodicka's Dallas apartment. They planned to take the men in for interviews, according to search warrants. But no one answered the door. Two detectives noticed the blinds on a window were open and angled upward. When they returned later, the blinds were closed. Both men's cars were in the parking lot.
The next day, Aubrey and Vodicka were scheduled to appear at a hearing in Ira's defamation case. Security was tight in the courtroom, as extra sheriff's deputies stood guard, but the men didn't show. From the bench, Judge Moyé announced his recusal. "I think at this point," he said, "with the allegations which have been made related to Mr. Aubrey and his implication in the death of Mr. Tobolowsky and related issues, I don't think that it is unreasonable for a judge other than myself to hear this case."
Later that day, detectives returned to the men's apartment. No answer. Aubrey's car was gone. Ermatinger called their phones and left messages and also sent them texts. No response.
Detectives began monitoring the men's credit card transactions and discovered that Aubrey's card had been used that day to book a room at the Crowne Plaza hotel in Dallas under the name Alexandra Krot (a friend who did spend the night at the hotel, police later learned). That night, at 9:30, Ermatinger got a judge to sign search warrants to examine Aubrey and Vodicka for burns and search their apartment. He was looking for combustible liquids, empty containers, medical supplies to treat burns, and gas receipts, according to the warrants. No one was at the apartment when police arrived, but detectives seized an Apple desktop computer and paperwork for burner phones.
By the next day, Thursday, detectives had learned that the men shared a second apartment, on Southwestern Boulevard. Plainclothes detectives watched and waited until about 3:30 pm, when they saw Aubrey and Vodicka get into their car, heading out for a late lunch. Police cars surrounded the men. Detectives jumped out with guns drawn and screamed, "Get down on the ground!" according to a complaint Aubrey would later file with DPD.
For the next nine hours, Aubrey was kept in an interrogation room, according to his complaint, which he provided to D Magazine. Detectives came by every so often and told him they were looking for a doctor to examine his skin for burns, according to a written statement from Aubrey's lawyer, Phillip Hayes. When a doctor finally arrived, he asked Aubrey to strip so he could examine him.
Ermatinger says Aubrey had red marks on both arms. But a SWAT doctor couldn't definitively say what the marks were from. "The doctor explained to us that it could be from the flash of a fire, it could be burns, or it could just be a sunburn," Ermatinger says. He says too much time had passed.
Ermatinger didn't have any physical evidence linking them to the crime scene. But the men remained strong suspects. They did not have good alibis, telling detectives that at the time of the fire, they were at their apartment. Phone records, detectives told the Tobolowsky family, showed no activity on the men's cellphones from about 9 pm the night before the fire until the next afternoon, meaning their phones were not pinging towers and may have been turned off. The records did show cell activity before and after that time period.
Ermatinger would have to wait for crime scene technicians to search the men's computers and process the juice bottle found in the garage for fingerprints.
---
Michael Tobolowsky, the middle of Ira's three sons, stepped in to help with his father's law practice. At the time of Ira's death, his firm had never been busier. He had cases pending, clients waiting, deadlines looming. Michael needed to file extensions and reassure clients that they hadn't been forgotten. But as he read through his dad's email, one case drew his attention: Aubrey's.
The Thursday after Ira was killed—the day police detained Aubrey and Vodicka—more than a dozen Tobolowsky family members gathered at Ira's sister's house, around the block from the scene of the fire. Not knowing that police were interrogating suspects, the family set up headquarters, working on laptops at the kitchen table. At about 7 pm, Michael and his girlfriend stepped outside to get some air. They crossed the street and walked into the alley that runs behind Ira and Debbie's house.
Michael felt that he'd lost not just his dad in the fire, but the backdrop of his favorite memories. It had been a noisy, lively home, where the three Tobolowsky boys kicked soccer balls down the halls, shot carrots from slingshots, and slid little brother Zach down the stairs in a cardboard box. As Michael and his girlfriend walked down the alley that night, the air still smelled of smoke. Michael didn't think he'd ever be able to smell a campfire again without feeling ill.
He stopped to talk with a neighbor, then heard his girlfriend shout, "Michael!" She was staring at the wooden fence behind his parents' home. Michael saw a hole surrounded by what looked like black paint. It appeared to have been made recently. For someone of his height—the 6 feet and 4 inches that helped get him onto the team at Trinity—it provided a clear view to the garage where his father had died.
"Holy shit," he said.
The next morning, Detective Ermatinger had a look at the fence. He, too, thought it looked as if someone had drilled the hole. Crime scene technicians took the board for processing.
Detectives remembered seeing a drill at Aubrey and Vodicka's apartment and obtained warrants for another search. When they searched it the following week, they found an Apple MacBook in the process of having its hard drive wiped clean, according to a later search warrant. They seized it for testing. From the two apartments, they also collected a cordless drill and bits, two red gasoline containers, a yellow propylene tank with a torch attachment, a blue propane torch, two cans of paint, and a couple of pairs of shorts and pants.
Aubrey refused to talk without a lawyer and said he couldn't afford one. Detective Ermatinger called Assistant District Attorney Gary McDonald, who helped find a public defender and also subpoenaed Aubrey to testify before a grand jury, a tactic prosecutors sometimes use when dealing with uncooperative witnesses. A few days later, the prosecutor questioned Aubrey before jurors. It would be a violation of law for anyone to reveal what exactly was said that day, but the proceedings didn't produce an indictment.
---
Last September, Michael left his law firm and took over his dad's practice full time. He had spent months debating the decision. He had his dream job, working in a civil firm on big contingency cases. He worried that his father's small practice might feel lonely, but he couldn't stand the thought of shutting it down. Now he spent every day behind his father's old mahogany desk. There were things about the office Michael wanted to change: the old wallpaper, the red and pink bathroom tiles. But he couldn't bring himself to touch anything that had been his dad's.
He focused on keeping his father's clients happy, but the murder investigation was a constant concern. The medical examiner had released preliminary findings. His father had died of burns, smoke inhalation, and blunt force injuries. The family desperately hoped that Ira had been knocked unconscious before the fire had been set.
Michael filled a whiteboard with evidence and photos of Aubrey and Vodicka. He still researched other suspects, but the more he learned about the two men, the more he believed they were responsible. Michael decided to keep representing Aubrey's mother and to move forward with his dad's defamation case.
His mother was furious. "How dare you do this to our family?" she said. "We have lost too much. What if I lose you, too?"
It didn't take Aubrey and Vodicka long to resume their legal filings, trying to undo Ira's work. Aubrey once again tried to get his mother removed from the family trust. Michael alerted the courts to Aubrey's designation as a vexatious litigant, but that designation only applied to Aubrey as a pro se litigant. Vodicka had reactivated his law license and could file the lawsuits on his partner's behalf, sidestepping the need to get approval. Michael wanted to get Vodicka disbarred, to shut them down for good.
On September 12, Michael went to the courthouse for a hearing in the defamation suit. It was his first chance to see Aubrey and Vodicka since his dad's death, four months earlier. When Michael walked into the courtroom, his heart raced and his hands clenched into fists. He made a point to look both men in the eye. He wanted to see if he could tell whether they had murdered his dad. As the hearing went on, Schoettmer and Aubrey sparred, trading insults. It grew so tense that the judge ordered the parties to leave the court separately.
Michael and Aubrey emailed about the cases, and their discourse quickly turned contentious. "As luck (or bad luck) would have it, you were born into a filthy and dirty family," Aubrey wrote. Aubrey filed another lawsuit, this time accusing the Dallas Morning News of defamation for its coverage of the case. He was also suing Judge Moyé, Schoettmer, and Debbie.
Debbie had never been sued before, and she was frightened. Someone sent a blank piece of paper to her house, in an envelope with Aubrey's return address on it. To her, it seemed to be saying: I know where you live.
---
Last fall, after work, Michael stayed up late in his East Dallas town home watching true crime shows: I (Almost) Got Away With It and Real Detective. They made him feel normal again, somehow. He got to repeatedly experience that climactic moment when the cops finally caught the bad guy, the satisfying ending that his family longed for.
In the shows, murders were solved by single-minded detectives who were obsessed with their cases. In real life, the Dallas detectives were distracted and overworked, running from one murder to the next. 2016 was a tough year for the Dallas Police Department. A gunman ambushed officers downtown in July, killing five. The Tobolowsky family mourned the tragedy, but they knew it meant their case would take longer to solve. And then came the fiasco with the Police and Fire Pension System, which, teetering toward insolvency, drove scores of older, experienced cops to retire before they'd planned to in an effort to preserve their pensions.
As the months passed, the family began to lose hope that the police could solve Ira's murder. In 2016, there were 171 murder cases in Dallas, and police solved just half of them, falling below the national average of about 60 percent.
It had occurred to family members to take matters into their own hands. Debbie worried about keeping her boys leashed. "I don't know how serious they were, but I thought they could have very easily gone and done something stupid," she says. "I told them, 'Do you think your father would want you in jail for the rest of your life?' "
Most of the family thought Aubrey had killed Ira. But he was still free, living not far away in North Dallas. One afternoon Ira's sister saw Aubrey in Bed Bath & Beyond, and her knees buckled.
The family came to believe that investigators had bungled the case. Why had they waited six days before picking up Aubrey and Vodicka? If the men had burns, they'd had time to heal. Michael learned that the fence board with the hole had not been sent for testing to determine whether the black substance on it matched the cans of paint found in the men's apartments. He didn't believe police had collected all the available video footage. The family began filing their own public records requests to obtain footage from DART buses, but most agencies deleted video after 30 days. The family had tried to stay out of the detectives' way; now they regretted it.
They'd call detectives and get no response. Michael called one detective every single day for a week. Nothing. If a prominent North Dallas family couldn't get police to respond—one that had so many lawyers and a state and federal judge among its relatives—what must it be like for others with less means and access?
Michael contacted the investigator who had been hired by his parents' insurance company to examine the fire scene. A 29-year arson investigator, he told Michael that several days after the fire he had bagged a dozen pieces of evidence that he was surprised authorities had left behind. He had carefully archived the items to preserve chain of custody. He told Michael that he'd ruled out all other causes—faulty wiring, car fire—and was convinced someone had poured an ignitable liquid on his father and set him on fire. He found nothing in the garage that matched the fuel source. It had been brought into the garage that morning by the killer, he said. Also, he told Michael that there was a 50-50 chance the suspect had suffered burns. If so, it might look like a sunburn, he said.
The family had debated hiring a private investigator and finally decided to call around. They talked to a retired FBI agent who charged a $25,000 retainer. They talked to another guy who told them, "I'm gonna do some stuff, but I can't tell you because most of it's illegal." A third told them, "If you want to solve the case, you're going to have to do it yourselves."
In early October, Michael got an email from a pair of private investigators. "We are private investigators who simply have a low tolerance for scumbaggery and this case really bothers us," they wrote. Michael liked the email and agreed to a meeting. The pair offered to start pro bono, see what they could find, and Michael agreed. The family had put up a billboard on Central Expressway offering a $25,000 reward. If the investigators could solve the case, the money was theirs.
---
As the family was taking an active role in searching for Ira's killer, Dallas police were running an undercover investigation into the website masseurfinder.com. Aubrey regularly posted ads there, showing a picture of himself shirtless.
His ads read: "My goal is to offer male massage at its very best for ALL men of any curiosity, any size or any age. Professionalism and discretion are assured. I am a muscular 6'5'', 220 lb fit and masculine masseur—smooth, friendly, easy going, intuitive, skilled and GIANT STRONG hands."
A police officer sent a text message to "Massage Bi Steve" in response to the ad and set up an appointment at the Hilton Anatole on Stemmons Freeway. Aubrey knocked on the door and walked in carrying a massage table, according to court records. They "started a casual conversation that turned into a sexual conversation," the officer wrote. Aubrey agreed to masturbation and sexual intercourse for $300. Officers booked Aubrey into jail on a prostitution charge.
That night, the Tobolowskys' private investigators got word of the arrest and went looking for Vodicka. In Aubrey's absence, they hoped he might talk. One of the PIs spotted him pulling into his apartment complex, carrying takeout. The PI identified herself as merely "an investigator" and offered to put him up in a hotel in case the media got word of Aubrey's arrest and swarmed. Vodicka agreed.
While in the parking lot, Vodicka asked, "Do you know Debbie Tobolowsky?" The PI answered yes, and Vodicka said, "Will you please tell her that I'm sorry, and I never meant for any of this to happen?"
The second PI soon joined them, and the three went to a hotel room. One of the PIs had a video recorder, disguised as a pen, in his pocket. As they chatted, watching the Chicago Bears play the Green Bay Packers, one PI raised the subject of Ira's murder.
"I mean, do you think he's capable of doing something like that?" There was a long pause. "Well, I guess everybody's capable, to some degree, but," the investigator said.
"I don't know," Vodicka said. "I'd say, if there were anybody that he would bust out of the gate, you know, cross a line, it'd be his brother. And he hasn't done anything, you know, like that on his brother."
During the hourlong exchange, Vodicka said nothing definitive about Ira's murder.
---
In mid-November, Detective Ermatinger went to Michael's law office to let him know where the case stood. He brought another detective, Dale Richardson. After the men took seats in Michael's office, Ermatinger said that he was retiring. Though he didn't share this with Michael, his decision to retire was based in part on the shaky state of the pension. He wanted to preserve as much of his retirement savings as possible. He said that he hated to leave Ira's case unsolved, but fresh eyes might do it some good. Richardson would take over.
Michael had a question. If they found no more evidence, did prosecutors have enough to file a case? No, the detectives answered. They had good circumstantial evidence against Aubrey, but nothing that placed him at the house on May 13.
As Michael walked them out, he told Richardson he'd leave him alone for the next two weeks as he got up to speed on the case. Richardson said he would appreciate that. He told Michael about a mom who had been calling him every week since her son's murder three years ago. Michael wondered whether he would wind up like that mom, calling detectives every week—forever?
Detective Ermatinger, now retired, says the men remain primary suspects; no one else on their list came close. He says detectives executed more search warrants on the Tobolowsky case—roughly 18—than on any other case he'd worked. Most of those dealt with Aubrey and Vodicka; others were for cell tower dumps.
"They are suspects, and they are strong ones," Ermatinger says. "But I had no evidence to arrest them. We like to have a fingerprint at the scene or catch them on a video or, of course, DNA is even better than a fingerprint. They provided all those samples, but we can't match anything at this time."
Family members also worry about the lack of physical evidence. While believing the men killed her husband, Debbie sometimes wonders whether police have adequately ruled out the other suspects. "I'm deathly afraid we've spent all our time focused on them, and someone else is out there laughing, thinking they got away with it," she says.
Aubrey declined an interview for this story but did respond to questions over email. "Ermatinger is a lying sack of shit," he wrote. Aubrey says his arms were not red when detectives picked him up. He offered a list of Ira's adversaries, asking why those people were never pursued by police. His only connection to Ira, Aubrey says, was a string of lawsuits—just words, no threats. As for the emails to his mother, he says he only threatened to expose her behavior. "I did not say I would physically harm her or anybody," Aubrey wrote. Aubrey says he was not hiding from police after the fire, that he was at the second apartment, and he says the equipment that police found—the drill, plumbing supplies, gas containers—was left over from when he did maintenance on his house in Austin.
"I did not kill Ira, nor do I know who did," Aubrey wrote.
---
One afternoon in January, Ira's eldest son, Jonathan, and one of the family's private investigators went to see Aubrey's younger brother, Tom. Tom had been the one member of the family who had taken Aubrey's side during the inheritance battle. The police hadn't interviewed Tom, and the Tobolowskys wondered if he was still in touch with Aubrey. Jonathan knocked on the door of his Dallas home and introduced himself and the investigator, calling her "his friend Rachel." Tom invited the pair inside. Jonathan had the pen video camera clipped to his shirt between two buttons.
"Thank you for letting us in," Jonathan said, as they settled in chairs in the living room.
"No problem," Tom said.
Jonathan got to the point: "Do you think he did it?"
"That was my first instinct, yeah," Tom said.
"I mean, you know him. He's your brother," Jonathan said. "Is he capable of something like this?"
"Well, it's hard to imagine, but obviously somebody did it," Tom said. "Like I said, that was my first instinct, but it's very difficult to imagine somebody that you grew up with killing somebody."
Jonathan asked if Tom would be willing to help the family by calling Aubrey.
"I don't know that he'd be stupid enough to tell me something," Tom said. He hadn't spoken to his brother since before the fire. Tom continued: "He had the perfect upbringing, but then he's had a really shitty last eight or nine years. … Several years ago, if he had killed Buck, I wouldn't have been surprised."
"Really? I didn't know it was that bad," Jonathan said.
"It was that bad," Tom said.
Tom said he had seen his brother and Ira face off in court, and it had always seemed professional, not particularly contentious. "I think he had a bit of a love-hate relationship with your dad. … I think he enjoyed the sparring, the battle," Tom said.
"I mean, that's a very hard thing to hear, to be honest with you," Jonathan said.
After a half-hour, the men exchanged phone numbers. Tom said he was sorry for all the Tobolowsky family had been through and told Jonathan to call anytime.
---
These days, Michael arrives at the office around 6 am. He likes to get his legal work done early, so he can spend the rest of the day trying to push his father's murder investigation forward. His office is filled with whiteboards, columns detailing lists of motive and opportunity and evidence. One whiteboard lists 10 suspects in his dad's death. He has crossed off only two, his mother and neighbors. Like his mother, he fears police may not have done enough work to rule out any of the rest.
He's still awaiting results from police on key evidence. Detectives sent the juice bottle to Quantico for analysis; forensic experts are trying to extract data from the wiped computer.
The Tobolowsky family worries whether the Dallas police have the resources to find Ira's killer. They've pinned their hopes on private investigators. Late last year, they learned Aubrey and Vodicka had moved to Florida. The men live in a bungalow surrounded by palm trees.
Aubrey continues filing motions in Dallas courts. He has taken aim at Michael. After hearing about one particularly hostile filing against her son, Debbie cried for two days. Michael worries about her. She has been living elsewhere, paralyzed about what to do next. She wanted to move back into the house after it was repaired, hoping to feel her husband's presence. But over time, she realized she couldn't go back.
"If he had died a natural death, it would have been different," she says. "But because he was murdered there, I felt violated. It became a place where something evil happened."
One afternoon recently, Ira's longtime paralegal, Leigh Allen, walked into Michael's office as he and his older brother, Jonathan, discussed the case.
"Are you ever going to stop investigating?" Allen asked.
Jonathan looked at her. He said, "Don't you know him better than that by now?"
Michael vows he will never stop. He knows his father trusted the justice system, believed that everyone was innocent until proven guilty, and that the system generally works. He can hear his father telling him, Life isn't fair. I'm not coming back either way. I don't want you sitting here, mourning me forever.
With an arrest, with justice and closure, maybe Michael could move on. But not now. Because he can also hear his father saying, Get the bastard.
Get the D Brief Newsletter
Dallas' most important news stories of the week, delivered to your inbox each Sunday.