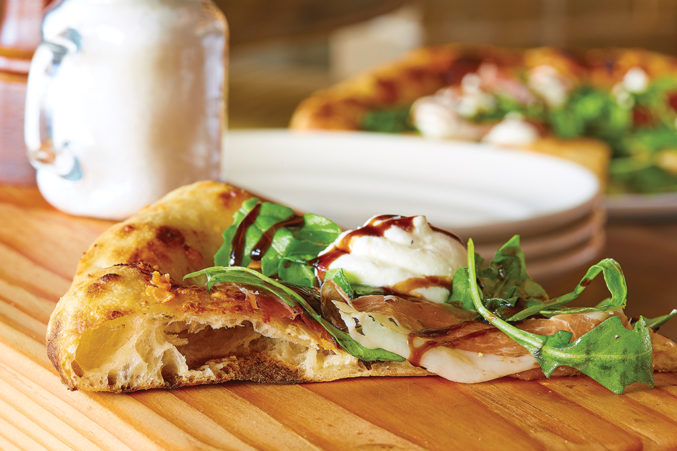 Pie Tap Pizza Workshop + Bar Isn't Your Usual Pizzeria
The Henderson Avenue restaurant offers more than the typical fare.
On a busy Saturday night, I grabbed a seat at the bar at the pizzeria's Henderson Avenue location, which hummed with chatter from large parties. Next to me, a twentysomething used his fingers and menu to drum along with the Vampire Weekend song playing overhead. It was easy to get into the spirit. When I paused for a moment while choosing a wine, the bartender offered me "a taste of anything I wanted"—one of the benefits of vino on tap. The menu is simple, with only a handful of starters, salads, and house-made pastas, along with a couple of sandwiches and a few pizzas. Chef Giovanni Mauro's naturally fermented pizza dough is made using only unbleached flour, water, salt, yeast, and olive oil, resulting in a base that's chewy and crisp. Go for the slightly sweet prosciutto pizza, topped with thin slices of La Quercia prosciutto buried under mounds of fresh arugula, medjool dates, house-made ricotta, pistachios, Parmigiano-Reggiano, and a drizzle of balsamic. Just make sure you have a fork handy. The Bolognese, made with grass-fed ground Akaushi beef and slightly al dente house-made pappardelle, is the standout pasta. End the meal as I did, with the Chocolate Blackout cake, made with cocoa and coffee, house-made chocolate pudding, and spiced pecans and served with a side of fresh whipped cream. A collaboration with Katherine Clapner (of Dude, Sweet Chocolate), it might even be worth skipping a pizza for. Maybe.