At the top of paris' centre pompidou cultural complex is Restaurant Café Georges à Paris, where I once had a gazpacho as classically striking as the view of the city spread out before me. Closer in were the building's futuristic-industrial architecture and artist Niki de Saint Phalle's Stravinsky Fountain, where big red lips spray water droplets into the air like blown kisses. Mirador, in its stylishness, with its floor-to-ceiling windows and view of downtown's canyon of buildings, reminds me of the spot.
Making your way up to the penthouse restaurant perched atop chic boutique Forty Five Ten is like walking into a Tim Headington reverie, the oilman and developer's idealized version of downtown life. Cars glitter in the valet circle in view of Anthony Howe's spiraling kinetic sculpture and Tony Tasset's giant, unsettling Eye. Inside, you pass lavish, statuesque dresses, the silken whorls of kimonos. And once at the top, the dining room is lively with touches of color: the harlequin velvet of banquettes and chairs; walls of soft gray felt; a single yellow-and-burgundy orchid on each marble tabletop. It's a fantasy of interlocking patterns and textures, the studied simplicity of Chanel or Dior meeting the jewel tones of Venetian glass.
In the kitchen, chefs Junior Borges and Josh Sutcliff have collaborated on a modern American menu that's dainty and smart. They are European- and New York-leaning in their background and training, having come through Uchi and The Mansion, respectively, and overlapping at FT33. They seem to be enjoying playing with the traditional, with refined yet forward-looking dishes like caviar-topped deviled eggs and whipped ricotta with toast.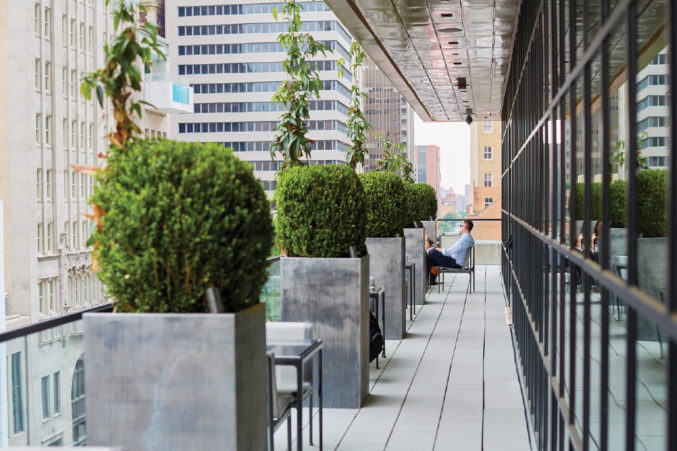 The presentation is delicate, salads almost shaking off their dressing. The escarole Caesar fairly dances. There are baby lettuces, curled and tender with shaved carrot as pops of color. The friend who shared with me the farro bowl—a kaleidoscope with crispy carrots and an herbaceous smear of cauliflower green goddess dressing—had a word to say to other restaurants that think they serve interesting salads: "Try harder."
Borges and Sutcliff's playbook includes a forager aesthetic I associate most with San Francisco. You'll find nori powder, fennel pollen, and interesting alliums; the deviled eggs are not afraid of the pungent bite of shallot. Broccolini is charred and daubed with nori-oregano vinaigrette that's a dark-green magic for which there is no name. Saffron-colored toasted bread crumbs come scattered over the top. The same bread crumbs, joined with herb-and-Parmesan dressing, give the re-imagined Caesar an umami undertow and a subtle, sophisticated crunch. Foie gras, served torchon style, poached and chilled with the buttery house brioche, came laced with spirals of black truffle and cocoa powder. Fine dining, you're reminded, is in the details. And yet, there are no linens on the tables, and nothing throws you into the realm of anxiety.
At lunch, the vegetable sandwich, marinated and pressed vegetables with feta on focaccia, reminds me of a Provençal pan bagnat. Tidy layers of eggplant join slim rounds of baby golden beets, like suns, and the blush of lightly pickled radishes. It's gorgeous. (In my dreams, they would have found more tender mint.) The gribiche has a hint of smoked paprika, bold and restrained, classical and not. The tuna tartine served open-faced on house sourdough—finely diced rare tuna dressed with cornichons, snaggly frisée, and lemon zest—is something you might want to cut into with a knife and fork. This Mediterranean bent is a good thing, because the terrace is lovely, but on a warm day, blazing hot. They'll do well to think about shade.
At dinner (served Thursday through Saturday; reservations required), chicken paillard hides under wisps of baby arugula. It's almost more vegetal than fowl, with nubs of roasted sunchoke and sunchoke purée, and shavings of Parmesan. It's done so simply you notice the pleasure of squeezing the charred half Meyer lemon, whose juices run warm and sweet and bright. A dehydrated radicchio leaf—pleasantly bitter and delicately crackling—demurely shields a tasting-menu portion of tender pork collar one evening. The swish underneath is buttery, an onion soubise meeting the tartness of reduced whey in a beautifully composed dish.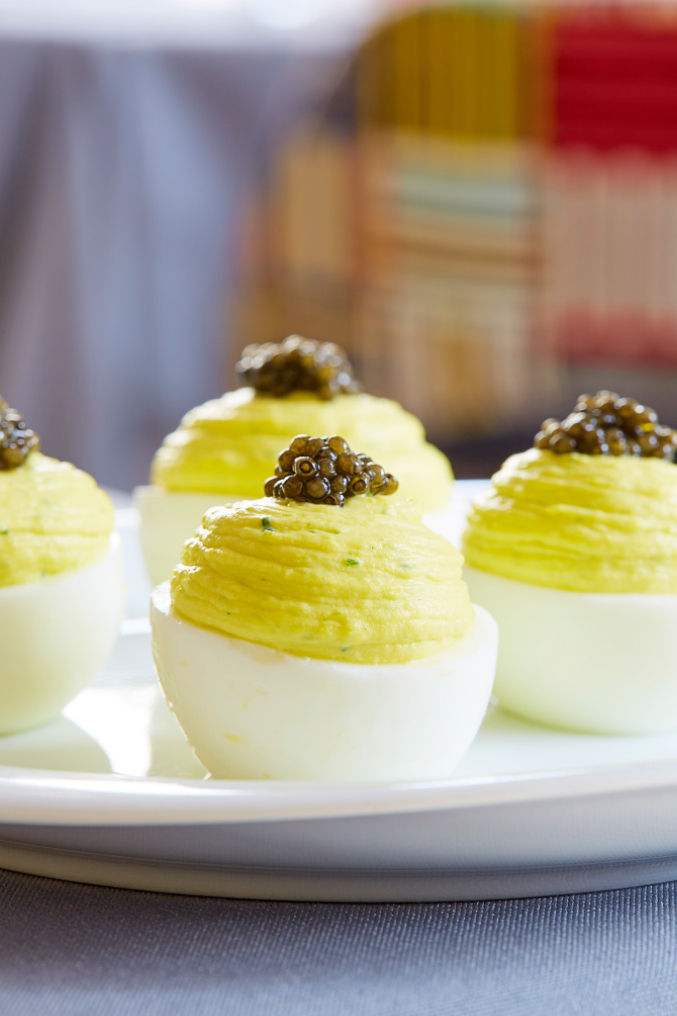 Caviar-topped deviled eggs put a modern, refined spin on the traditional; chicken paillard with sunchokes and arugula shows the kitchen's interest in delicate, fresh flavors.
And when Borges and Sutcliff wander a bit, to Thailand, for example, the result can be exquisite, as in a tuna crudo served in a deep bowl, lush cubes with the tang and funk of lime and homemade fish sauce, golden gooseberries, ginger, and the crunch of toasted hazelnut. It's vaguely Thai, but always orbiting back to something personal and European. (On the other hand, a chowder kissed with coconut milk, kaffir lime leaf, and juicy rock shrimp was pasty.)
A stumpy landscape of curried carrots with drifts of house cheese and various leaves and powders seemed to be trying too hard in its plating. (Does everything modern have to be upended?) But those are small quibbles. It's a good sign when the chief complaints are architectural.
Pastry chef Keith Cedotal's pavlova is a wonderful construction, a crisp meringue whose concealed Meyer lemon curd is the perfect thickness and a foil for fresh, Champagne-glazed berries. You break the shell with a crack of your spoon that scatters snowy meringue crumbs. Confections, which might include a tiny madeleine with a kiss of lemon glaze or an apricot pâte de fruit, are impeccably done.
Mirador is that type of place, inventive but not solely for invention's sake. Its version of modern is the kind in which ingredients stay pretty and pure; there are powders, but no attempts at molecular gastronomy. Dishes that read simply have flavors that turn out much less so. On the night I ordered a chef's tasting menu, they were still using it as a place to explore, figuring out the downtown space and crowd, trying out flavors. At one point, out came an improvised, palate-cleansing entremet of bay leaf ice cream with olive oil, Maldon sea salt, tart micro sorrel greens, and a pastry crust streusel that was an explosion for the senses.
It was complex, but still understated. Not showy, just perfect. At its best, any dish at Mirador feels that way.
Get the SideDish Newsletter
Dallas' hottest dining news, recipes, and reviews served up fresh to your inbox each week.