[jump_links/]

Galveston
Gulf Coast

A California transplant, traveling with a French companion eagerly filling my head with stories of French pirates off the coast of Galveston, I came to where palms sway and dolphins play in the harbor, looking for traces of its past.
When I step into the lobby of the Hotel Galvez & Spa, built in 1911 and renovated in 2011 and 2013, it's not just a sense of time I lose, but place. When sunlight sparkles on the Gulf and a breeze crosses the lobby, this could be San Diego's Hotel del Coronado and the shimmering Gulf the Pacific Ocean.
This island city, which boasted the state's first newspaper, country club, and public library (the impressive Rosenberg Library), has always been a place of Davids and Goliaths, of big donors, immigrants, and refugees. The likes of Frank Sinatra frequented the Balinese Room, part of the circle of nightclubs and casinos that centered on the Sicilian Maceo brothers, who cemented the freewheeling "Sin City" attitude of a city whose wealth had already earned it the name "Playground of the South." William Randolph Hearst held a charity bazaar in New York's Waldorf Astoria for the Galveston Orphans Home, now home to The Bryan Museum's collection of artifacts from Texas and the American West that includes beautiful saddles and Gen. Santa Anna's beaded smoking cap.
At the Victorian Bed & Breakfast Inn, the oldest bed-and-breakfast on the island, the rooms (starting at $185 per night) are redone in jewel tones with a full panoply of lace, stained glass, and china. The current owner is descended from the cabin boy of legendary pirate Jean Lafitte, and the original owner was a cement contractor who contributed to the sea wall, his home's intricate Victorian detailing a testament to his wealth. Everywhere, people have stories, The Great Storm of 1900 and Hurricane Ike acting as historical bookends.
At sunset, on the far western end of the island, in the nature preserve that's a haven for migrating birds, we watch kayaks slip into the water. Wind ripples marsh grasses; there are tiny footprints along the tide line and shells worked into the sand. The houses that perch on stilts are harmonious with their surroundings, even the new ones in a neo-Victorian style, pretty as Easter eggs.
The next day, we stop in at The Water's Edge Studio and Gallery, one of the many that come to life during the island's numerous art walks. A historic Storm Survivor plaque adorns the front porch. The island's birds and waterscapes come alive in oil and watercolor. Upstairs, the wife in the husband-and-wife artist duo paints in a light-filled studio. Downstairs, the husband builds wooden dories and tall Adirondack chairs. The two moved here from Houston. "We never thought we'd get to live here," she says. And now they're part of the island story, too. —Eve Hill-Agnus

Broken Bow
Southeast Oklahoma

As you cross the red river on your way into Broken Bow, the bald cypress rise like gentle giants welcoming you to a new wilderness. Quiet, heavily forested, decorated with rivers, lakes, and even mountains, this area of Southeast Oklahoma is fast becoming a fly-fishing destination.
That's right—world-renowned fly-fishing. Within driving distance.
The Lower Mountain Fork River offers some of the best fly-fishing in the state, and it's chock-full of fish year-round, including rainbow trout, brown trout, smallmouth bass, and walleye. The designated trout fishing area, which is stocked with rainbow trout about every two weeks, extends for 12 miles, 5 of which flow through scenic Beavers Bend State Park. Anglers have plenty of options to find their perfect spot, from fast-moving creeks to deep, still pools.
If you're not comfortable heading out to the water with rod and reel, never fear. The guide services in Broken Bow are filled with Oklahoma natives who possess years of experience to help you snag a big one. The only husband-and-wife Orvis-certified guides in the country, Jenny and Rob Woodruff, lead trips along the river year-round. Rob is also certified in Tenkara, the Japanese method of using only a rod, line, and fly.
Even if fishing isn't your thing, go for the spectacular scenery. Rent a boat on Broken Bow Lake. Kayak down the crystal-clear waters of Mountain Fork River. Hike the trails through Beavers Bend State Park. And after a long day of whatever trekking you choose, try some local beer at Beavers Bend Brewery or Mountain Fork Brewery. Grab some great pizza at Grateful Head Pizza Oven & Tap Room. Then restock the coolers, pick up some marshmallows, and head home to your cabin in the woods. All that's left to do is recline near a crackling fire under the towering cypress. —Matthew Shelley

The Pearl Brewery Culinary Tour
San Antonio
Forget the River Walk and the Alamo. the historic Pearl Brewery district, which was redeveloped and reopened in 2001 and now includes more than a dozen restaurants, a twice-weekly farmers market, and the Culinary Institute of America, is now the city's urban culinary core and the best reason to visit San Antonio.
The Hotel Emma, a bohemian, steampunk fantasy, makes the perfect home base from which to explore. Morning coffee means a special roast pour-over in the library; I stop back in the evening and sink into one of the leather armchairs with a margarita. I could decide never to leave, save for the fact that the entire campus is a honeycomb of enticements through which the hotel's culinary concierge will happily guide me.
At Sternewirth, the hotel bar and club, I sip milk punch and Singapore Slings with friends as we sink into the plush seating set inside an old brew tank. Then we head to the hotel's restaurant, Supper, where chef John Brand's take is farm-to-table meets bistro, offering all manner of things pickled and fermented, as well as heirloom varietals and ancient grains. We nibble sugar snap peas and yellow beans with a swish of togarashi and nori aioli. Later, we head down the street, where we find Cured, Steve McHugh's charcuterie-focused restaurant, in the stone embrace of a restored administrative building. The visible meat locker is a museum piece, and the dishes are equally artful: smoked carrots with bright, herby gribiche, and a grapefruit tart with pink peppercorn cream, parsnip ice cream, and dill.
On Friday, I decide to head a little farther north for dinner at Mixtli, where bright young chefs Diego Galicia and Rico Torres are serving avant-garde Mexican tasting menus in the intimate setting of a boxcar. The name Mixtli means cloud in Nahuatl, and the deeply researched menus there soar from region to region.
Saturday morning, after a splash in the hotel pool, I wind downstairs to find Pearl Farmers Market bustling with stands selling bone broth and artisan bread. The queues are long for boutique coffee and pastries at Local Coffee and Bakery Lorraine, and the Culinary Institute of America is serving up some kind of slow-braised pork shoulder taco. I can already tell it's going to be hard to leave. Or maybe even move. —Eve Hill-Agnus

The Skirvin Hilton
Oklahoma City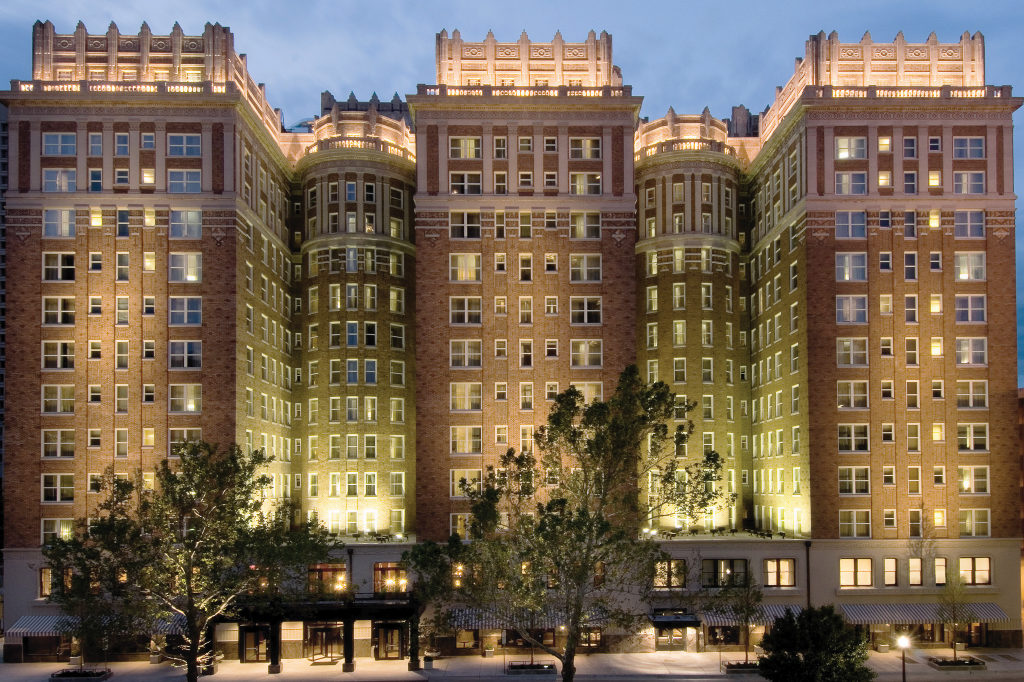 On paper, the historic Skirvin Hotel may seem an unlikely locale for a family vacay. There are rumors of a haunting—in particular, the ghost of a maid-slash-mistress to the original owner, William Skirvin, the wealthy oilman who opened the hotel in 1911.
The place was billed as the "newest, finest hotel in the Southwest," and over the years it has hosted anyone of note passing through Oklahoma City, from Eisenhower to Elvis. After the oil bust of 1988, the hotel fell into disrepair and remained vacant for two decades until a massive $55 million renovation returned the Skirvin to its former gothic glory. Take, for example, the 29 hand-carved Bacchus heads with gold-leaf accents that line the lobby ceiling, which, during Prohibition, served as a signal that the Skirvin was a safe place to consume booze. So, no, it's not your average Hilton, but that's the charm of it.
Fortunately for me, my husband, and my energetic 3-year-old, the Oklahoma scene is notably unpretentious. My son earned nothing but smiles from decked-out socialites attending a Saturday night benefit, and, on the elevator, a head nod from an NBA player in town to play the Oklahoma City Thunder. When we walked to the polished Kitchen No. 324 to brunch on locally sourced seasonal fare, the host offered a highchair and placed a kids menu with crayons in front of the squirt.
Even better than the kid-friendly restaurants are the family entertainment options. Tube, raft, or kayak the afternoon away at Riversport Rapids, a $45.2-million man-made whitewater rafting center and an official Olympic and Paralympic training site. For a more leisurely water adventure, Oklahoma River Cruises meander a 7-mile stretch of the Oklahoma River and offer a prime family-photo backdrop when passing a 100-foot Ferris wheel on the bank.
In Bricktown, the city's original warehouse district, you can score home-plate tickets at the Oklahoma City Dodgers' ballpark on Mickey Mantle Drive (the baseball great hailed from the Sooner State) for just $24 a pop. Or check out the largest collection of banjos in the world on public display at the American Banjo Museum (which, thankfully, was just small enough to maintain my little one's attention). —S. Holland Murphy

John Newcombe Tennis Ranch
New Braunfels

Recreational tennis players go to tennis camp for two reasons: to learn how to win, or to force their spouses to learn how to play. That, and to drink straight bourbon with a ladies team from Louisiana on holiday from their rice mill jobs and a barely legal tennis pro named Zac, who takes every opportunity to whip off his hat, shake free his spectacular head of brown curls, and dance—on court and off.
I had heard about John Newcombe Tennis Ranch from my Kiest Park teammates, who had gone a couple of years ago on a group trip and raved about it ever since. Having been to the Roy Barth Tennis Center on South Carolina's Kiawah Island when I first forced my spouse to learn how to play, I was skeptical. Could an Australian-themed tennis camp, built on a Hill Country dude ranch in 1968 by former world No. 1 John Newcombe, really compete? It really can.
Newks isn't fancy, but it's not supposed to be. This isn't a resort. It's a camp for grown-ups—with fire pits and gravel trails and a dining hall serving three hot, healthy meals a day, with rustic condos complete with full kitchens, fireplaces, and patios, with evening s'mores and singalongs.
The 31 perfectly kept courts (hard and clay, with four covered) are surrounded by woods. From our patio, we watched a dozen raptors fly over at dusk, and heard what sounded like bobcats fight and hiss at night.
Adult camps are generally offered Friday to Sunday or Sunday to Friday, but they are happy to tailor the program to cater to your needs. They usually have between 20 and 80 campers at any given time. Our group of 22 was divided by skill level over five courts with five pros. Camp director Chris Jacques (another Australian) roamed constantly, giving personal feedback that was more insightful than anything I ever learned in South Carolina, and for half the price. —Kathy Wise

Crystal Bridges Museum of American Art
Bentonville, Arkansas

The birthplace of Wal-Mart has one of the prettiest town squares you'll ever find. Bentonville, Arkansas, was burnt to the ground during the Civil War, rebuilt during Reconstruction, and still boasts a 19th-century county courthouse, a soda jerk out of the 1950s, and a generous collection of au courant restaurants surrounding a neatly manicured square that is punctuated with a Confederate war memorial. At the center of it all is Walton's 5&10—Sam Walton's original retail shop, the five-and-dime that launched 5,000 big-box stores.
It's difficult to escape the irony: a corporation whose reinvention of the retail industry has been credited with the shuttering of so many downtowns across America is now a picture-perfect postcard vision of small-town Americana nostalgia. Walton's 5&10 is dressed for the part, stocked with penny candy, toy Walmart trucks, and copies of Walton's 1992 autobiography, Sam Walton: Made in America. Slip around back and you can peruse the Wal-mart museum where Sam Walton's office desk still sits.
These days, however, Walton's reliquary isn't what is drawing the hordes to Bentonville. Rather, this out-of-the way hamlet in the foothills of the Ozarks has become a rather unlikely pilgrimage site for art aficionados from around the world. In 2011, Alice Walton, Sam's daughter and heiress, opened the Crystal Bridges Museum of American Art to house the Walton Family Foundation's exceptional collection. The museum sits about a mile north of the town square, and it takes its name from Crystal Spring and the way its turtle shell-like glass-and-wood bridge straddles a creek that runs through a rolling, wooded nature preserve. To hike or bike the extensive network of paths around the museum and experience the way the Moshe Safdie-designed building snuggles into the pastoral surroundings is alone worth the trip. But the museum's elegant, light-filled interiors deserve their reputation for being one of the best places to view art in America.
One of the best places to stay to view that art is the new 21c Museum Hotel, a big three-story box that announces Bentonville's art world arrival more loudly than Crystal Bridges. With its acclaimed restaurant, quirky gift shop, lobby that doubles as a curated art space, and Crystal Bridges just a short, outdoor sculpture-lined walk to the north, it feels less like a boutique hotel and more like a gallery topped with well-appointed suites.
But don't give all of your attention to the indoor art. You are in the Ozarks, after all. Save time for a side sojourn to the scenic Boston Mountains, where abundant hiking, biking, and kayaking can expose you to all the outdoor wonders that northwestern Arkansas has on permanent display. —Peter Simek

Blisswood Bed and Breakfast Ranch
Southeast Texas

An expanse of lush green, dotted with black-and-white cows, rolled out to greet me as I drove up to the wrought-iron gate at the 500-acre BlissWood Bed and Breakfast Ranch, tucked away in the town of Cat Spring, west of Houston. I followed the winding gravel road, past horses and trees, until I came to a charming guesthouse painted white with a porch full of rocking chairs. This would be my antique-appointed abode for the weekend: the Magnolia Suite in the Dog Trot House, one of 12 different cabins and cottages with full kitchens spread throughout the working ranch.
It was raining when I arrived, but I was happy to hole up with a book by the stone fireplace for the afternoon. When hunger pangs finally set in, I decided to have my dinner delivered from Carol's at Cat Spring Restaurant. Located down the road from the ranch, Carol's is only open for dinner on weekends, but they will deliver meals throughout the week. I savored my rib-eye steak and Cabernet Sauvignon on the couch.
The next morning, after the rain had ceased, I decided to explore. Following a brief stint testing my wilderness skills with trapshooting, archery, and tomahawk throwing—it's harder than it looks—came the highlight of my stay. With Carol Davis, BlissWood's founder, I saddled up a majestic brown-spotted Paso Fino and headed out from the barn along the ranch trails to Enchanted Lake. Accompanying us at the horses' heels were two of the 25 border collies that she has rescued over the years.
As we rode, Davis explained that she opened the bed-and-breakfast to guests 15 years ago, growing it from 85 acres to 500. She now plays host to weddings, family reunions, and work retreats. But BlissWood's underlying purpose is to reconnect people with nature and animals. Trotting across green fields, past spotted cows and woolly bison, with a cool spring breeze on my face, I felt my weekday worries slip away. Mission accomplished. —Christiana Nielson

Rancho Loma
Central Texas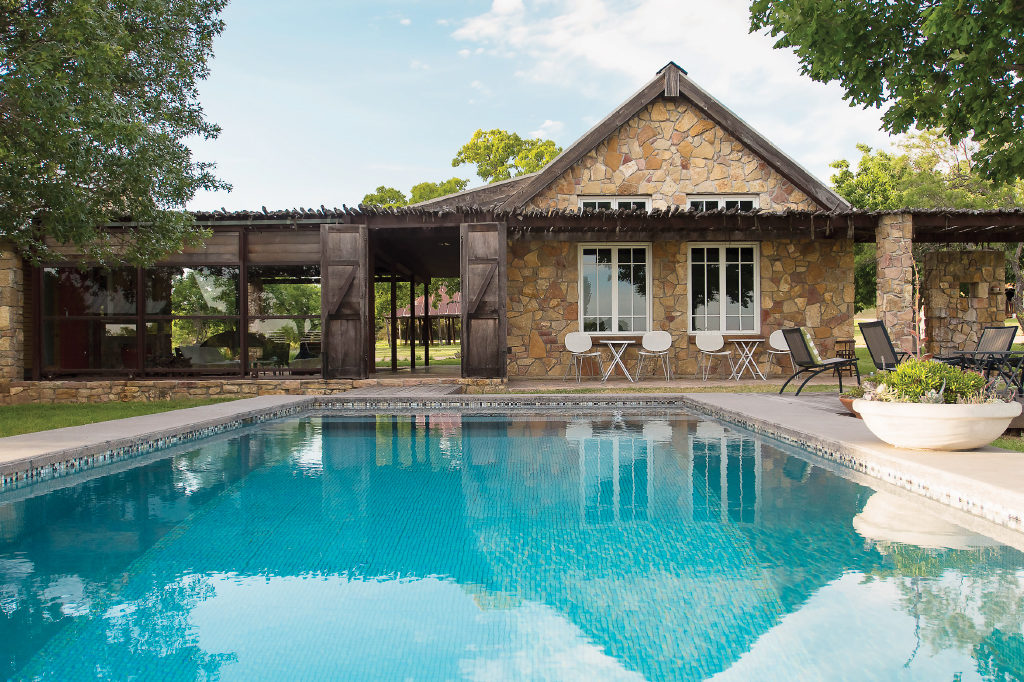 I leave Dallas amid a bonanza of wildflowers; by the time I reach the tiny town of Coleman, south of Abilene, I am watching roadrunners dart across the road. Still, I do not expect the beauty and tranquility of Rancho Loma, Laurie and Robert Williamson's 300-acre escape that feels miles from everything, where you can fill your head with nothing but meadow and sky.
The two former Dallas commercial filmmakers, both from West Texas, have constructed a minimalist retreat and are quietly transforming nearby Coleman. They've opened a winery and pizzeria across from each other in what is essentially a one-street town with still-abandoned storefronts. There was no big ambition—they just wanted a good place to live.
Robert, who is also a photographer, is responsible for the modern ranch accommodations adjacent to their 1870s farmhouse: five tranquil rooms with brushed concrete floors and sliding glass doors that look out onto the land and immense sky. It's called Rest, and that's what you do—sketch, read, listen to the wind. You might encounter a longhorn or a shy turtle on a ramble among the mesquite. Sheep and donkeys come in through the scrub at dusk.
Laurie oversees Rancho Pizzeria, where she thrusts skillets holding Akaushi steaks into the wood-fired oven. In the morning, her buttermilk biscuits with orange-zest butter accompany soft scrambled eggs, dandelion-yellow, the work of their hens.
For the Rancho Loma Vineyards winery, they hired a young, ambitious winemaker and a consultant from the Rhône Valley. With their first harvest, they recently won a TexSom gold medal for their Rhône-style white. At a winemaker's dinner during my stay, the full line—a crisp Cinsault rosé, two reds, and two whites—met Laurie's creamy artichoke risotto, lamb with farro, and strawberries drizzled with balsamic vinegar. All simple, impeccable.
Afterward, those of us staying at Rest gather under the stars, wrapping soft throws around us. We didn't know one another just hours before, but now we've wandered barefoot onto the deck with glasses of wine and we share an almost perfect silence, save for the wind that ripples the grasses. Our eyes aren't big enough to take in the sky. —Eve Hill-Agnus

Buffalo Gap
Central Texas

Food and wine lovers are well-aware of this sleepy little town (population: 463) just 15 miles south of Abilene. They make regular pilgrimages to Perini Ranch Steakhouse, a sprawling restaurant nestled in a field of live oak, cottonwood, mesquite, and pecan trees. There, against the backdrop of grazing longhorn cattle, they feast on perfectly marbled rib-eyes, mesquite-grilled prime rib, or fried catfish. I'd make the drive just for the green chile hominy and zucchini baked in an Italian meat sauce.
Recently, I did just that. Over dinner with Lisa and Tom Perini, I listened to Tom talk about his deep family roots here. His parents bought the property in 1952. Tom ran a catering operation out of a chuck wagon for 10 years before he opened the restaurant in 1983. In 2014, the steakhouse was given an America's Classics award by the James Beard Foundation for its timeless appeal and character.
In addition to the restaurant, the property has two guesthouses: the two-bedroom Main House ($325 per night) is a restored 1885 farmhouse with a full kitchen and a back patio that begs you to sit for hours; the smaller Camp House ($185 per night) sleeps three.
The Perinis recently converted an old stone home on Litel Street into a charming country store where you'll find seasonal local produce, kitchenwares, birdhouses, old-fashioned toys, gourmet Perini Ranch rubs and seasonings, and Tom's Texas Cowboy Cooking cookbook.
Across the street, they've converted the 1920s general store into The Supper Club. The private event space is decorated with, as Lisa puts it, "some of Tom's great finds," such as vintage post office boxes and a long bar that was once the front desk of a Western hotel.
Make plans now to get here before the tourists, so you can say you knew Buffalo Gap before it became the new Marfa. —Nancy Nichols

Lake Austin Spa Resort
Austin, Texas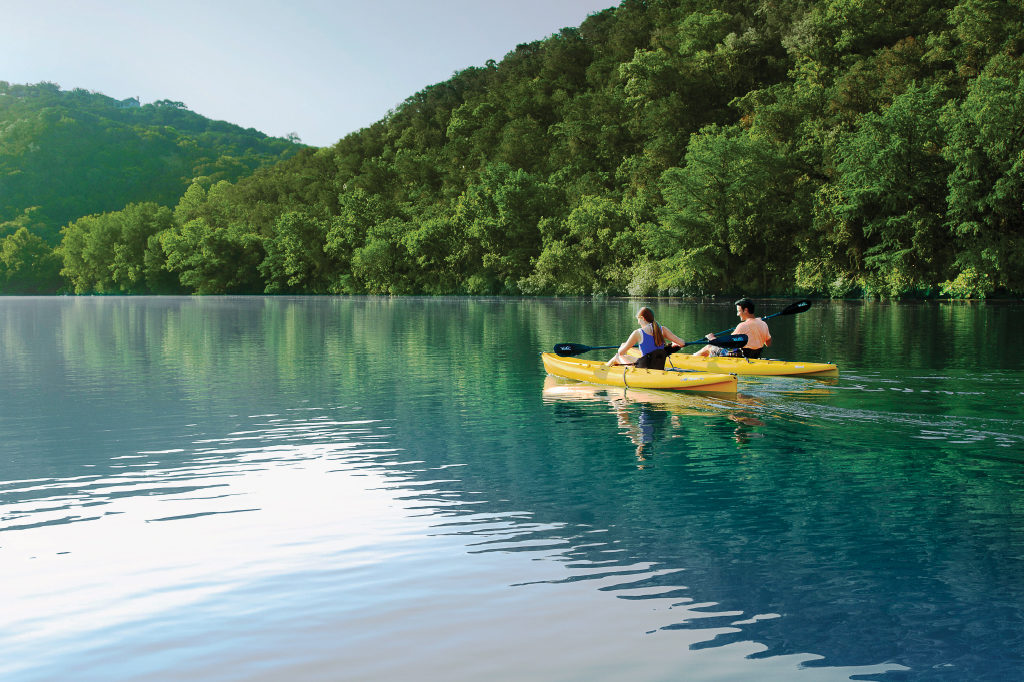 As my car barreled south down I-35 to the Hill Country, my friend Kim sat in the passenger seat and perused the New York-deli-size menu of activities offered at Lake Austin Spa Resort, reading them aloud, circling the ones she thought we should experience. "Guitar meditation. That sounds fun. Belly dancing core cardio. We need this. Drumming for full body strength. That may be too hard. Let's try paddleboard yoga instead."
By the time we arrived, she'd chosen 26 activities for our three-night stay. I was psyched as we checked into our quaint lakefront room; despite demand for more, there are only 40, sitting on a rise above the main compound. A stone wall divides the private accommodations from the 25,000-square-foot LakeHouse Spa at the end of the 19-acre property. Daily customers are picked up in downtown Austin and transported to the property on a luxe water taxi.
From our patio, we watched a yoga class set up on a wooden deck cantilevered over the lake. People walked by dressed in white terry cloth robes, which was a little unsettling. Had we entered the inner sanctum of a New Age cult? Overcome by the eerie calm, I decided to postpone my chance to improve my wounded peacock pose until the next day and took a nap instead.
I managed to get my heart rate up on the three-minute walk to the lovely dining room overlooking the lake. Kim and I were the only two in street clothes. After a three-course meal with wine, we decided to forgo the 8 p.m. Habits for Happiness workshop and get back into our cozy beds.
The next morning, we enjoyed a leisurely breakfast, managing to make the daily noon boat cruise downriver. As we embarked, Kim looked at the paddleboards and asked the nice attendant if they were safe. "We haven't had one person end up in the water," she said.
We found a spot in the sun and chatted with other passengers. We met a mother and her three daughters who had all traveled from different points for a five-day reunion and a couple rekindling their relationship. The boat driver told us people come from all over the world to visit the spa.
And rightfully so. For 20 years, Lake Austin Spa Resort has offered sophisticated spa treatments, healthy cuisine, and unlimited activities in a deeply restorative and natural environment. It's aged gracefully along the way. The main living rooms still have the old lake house feel, with scads of elegantly lived-in upholstered chairs and couches arranged on layers of colorful rugs.
To celebrate its 20th anniversary, the spa is offering 20 new services. I enjoyed an 80-minute Gifts and Graces massage designed for people under extreme stress or with overactive minds. Kim headed for the paddleboard experience. She was only mildly humiliated when they pulled her from the water. —Nancy Nichols
Get the TravelClub Newsletter
Explore the best deals, inspiration, and opportunities for your next travel destination to escape in style.