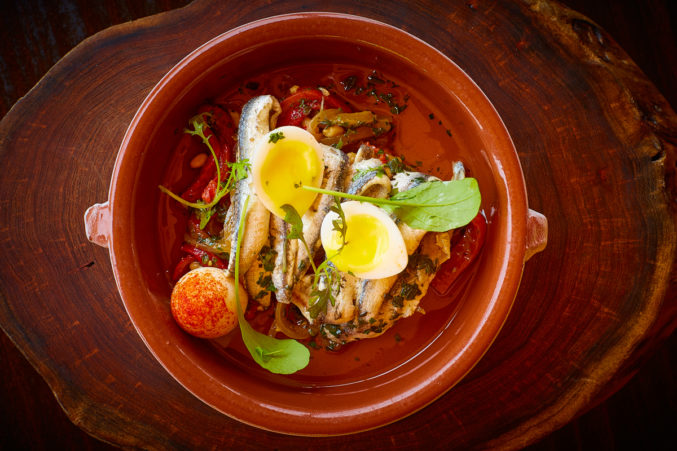 Restaurant Review: Casa Rubia
Slip on your worldliest demeanor for this modern Spanish spot.
In chef Omar Flores' Iberian world, the smoky, bold flavors of paprika and cumin make swirling assertions, carried on luxurious slicks of olive oil and brown butter. Slip on your worldliest demeanor and let the experience wash over you. An Ibérico ham, dramatically spot-lit, dominates the kitchen pass. Order slices shaved from the famed Andalusian beast fed on acorns. Or, on a night of largesse, lardo Ibérico, just the silky fat, wrapped around piquillo peppers and painted with pimentón-spiked paprika honey. The strata of a Spanish tortilla—roasted potato, butternut squash, caramelized onion—may be over-seasoned and topped with a busy landscape of fried sage, sage aioli, and spiced pepitas. But most plates, conceived tapas-style, deliver works of understated intricacy. And the kitchen's skill with seafood is such that I find bliss in silky boquerones (white anchovies) luxuriating in garlicky, herbed olive oil with pine nuts; char-grilled octopus, tender as butter; and mussels escabeche bearing the notes of Valencia orange, with smoked trout roe as pearly attendants. Dessert, a bullion-shaped chocolate pâté topped with sea salt flakes, might be imposing. No matter. The sherry list is long, the evening young, the mood golden as sunbathed Andalusia.
In This Post