Other places may have better soup dumplings—their skins thinner, the silky, shimmering liquid inside them more flavorful. Let's concede that. But those other institutions do not have the treasure that is Charlie Zhang, noodle-maker. They do not have the show.
At Imperial Cuisine in Richardson, where red walls and high-backed lacquered chairs convey an air of semi-formality, everything has been designed as a stage expressly for Zhang. In China, where he trained for two years with a master noodle-maker before opening a noodle shop in Beijing, noodles are a quotidian art, a tug of flour and water, practiced and efficient. Not until Zhang came to America did he see the potential for performance, one he developed with moves honed in his five years of hand-pulling noodles at Royal China. The art is one of China's most ancient culinary contributions, but the exuberant showmanship is all his own.
Smiling in his chef's toque, he bounces the dough at his open noodle station, the strands growing longer as he jostles and slaps them on the counter, twirls them like a lasso, and then—in an accelerating series of movements, using his fingers as splicers—lets their own weight pull them longer and thinner until his hands are full of Rapunzel hair. A full skein goes into the pot of boiling water at his side, a single order of noodles.
The most delicate introduction to Zhang's creations comes via Imperial cold noodles. Bean sprouts and cilantro crown the slippery noodles with their lovely chew. It's a dish almost Thai or Vietnamese in its stacking of flavors—sour, salty, lightly sweet (the secret is pear juice)—held in perfect balance like a house of cards. In all my visits, it was one of the most compelling examples of the kitchen's skill.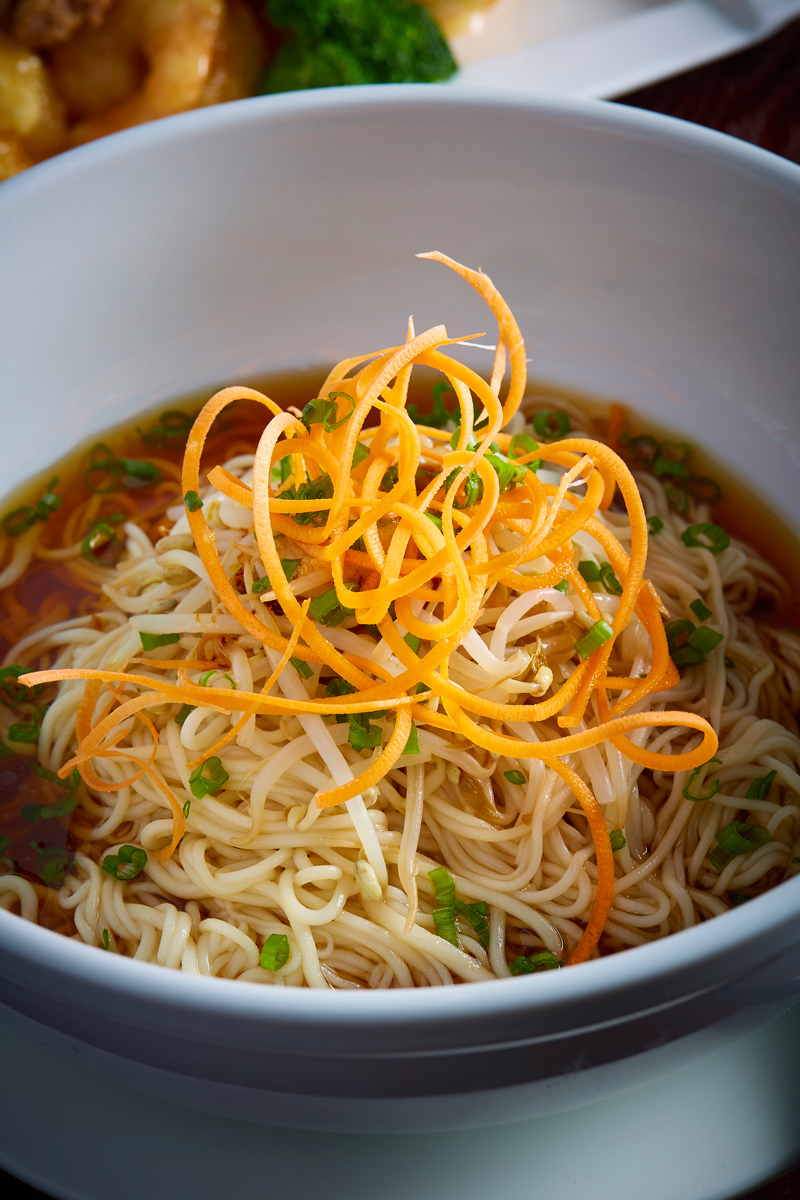 The Show Must Go On: Hand-pulled noodles are the centerpiece of dishes such as Imperial cold noodles and Imperial noodle soup.
Hot Imperial noodle soup is a different profile altogether. Mahogany broth—giving off a lovely aroma of star anise, which permeates the beef cubes, perfectly tender and a little gelatinous—tints the noodles like a strong, dark tea. For this dish, the noodles are plunged in water where bok choy is waiting. The silent assistant at Zhang's side scoops them up together in a swoop of her sieve, while the water froths and crests, and then deposits them in the bowl of steaming broth. It's a pleasure to see the slight variations in the strands, the unevenness that tells you they're hand-pulled. It's a show that draws you from across the room.
But the menu is not only noodles. Start with the green-flecked folds of scallion pancakes or boiled five-spice peanuts before taking in the entirety of the vast listings.
In all my visits, I found regional and seasonal offerings to be the strongest. I would drive far and in the rain, as we did one
evening, for the loofah and edamame. The gourd, pale green like braised cucumber or winter melon, is slippery and threatens to wobble from between your chopsticks. It is a beautiful dish in various shades of jade, made perfect with a scoop of warm rice and a cup of green tea (which I wished were loose-leaf). The mushroom hot pot was also worth the journey. With dark squiggles of tree-ear mushrooms, it was like a fog-drenched walk in the woods. I love these quiet dishes, which leave some of the strongest impressions. Perhaps because they feel like a meditation.
The Szechuan fish, meanwhile, is cluttered with red pepper pods and clusters of the powerful husks that set your mouth humming. The gravy is delicious, with garlic and the salty-pungent slivers of fermented black bean, the flavors deep and layered as the heat. Like the ma-po tofu, a trough of roiling red with silken white cubes as reprieve, this is a Szechuan dish done well, with faithful attention to that province's numbing spice.
One evening there was cumin lamb, its spice sweeping you to the steppes of Mongolia. It is a Chinese dish like no other, a reminder of how diverse Chinese cuisine can be.
But as at so many American Chinese restaurants, that diversity is a moving target. Imperial Cuisine's search for identity is a case study in the questions they all face: where do they position themselves? Whom are they trying to please? Imperial opened with a chef from Shanghai. Under the current chef, the food has swung more toward the style of Taiwan. Feeling that fusion was the key to success, the restaurant added a sushi chef from Hong Kong who makes the sushi that is mostly served as appetizers. And they changed their name slightly, from the original Imperial Noodle to Imperial Cuisine, lest they send the wrong impression. Zhang's performance draws a crowd, but diners still want to be able to order Kung Pao chicken and sweet and sour pork, manager Tommy Zou says. I can't help but feel the crushing pressure of pleasing the American palate. The Szechuan fish remains, but the cumin lamb has been replaced with cumin beef.
Some of the Chinese-American standards are good. Walnut shrimp, like a golden-pink coral reef dotted with dark walnuts, was one of the best versions I've had—the shrimp lightly battered and juicy, the honey-mayonnaise sauce, nudged with sweetened condensed milk, both indulgent and addictive. Crispy fried beef arrived like a plate of dark and sticky Cheetos. The sauce hints darkly of orange, and red bell pepper strips and long-stemmed mushrooms contribute color. It is feel-good/feel-bad food at its finest.
The kitchen also serves impressive renditions of Szechuan dishes like spicy Szechuan fish, cluttered with red pepper pods, and ma-po tofu. But as with many American Chinese restaurants, Imperial Cuisine struggles with its identity.
But whole swaths of dishes recede like a blur. None of the pork I ordered impressed, the meat often paper-thin and desiccated. Moo shu pork was a dreary, confused sort of thing that left an oil slick in its steamed flour pancakes. Twice-cooked pork, described as having a variety of spices—cinnamon, among others—was bafflingly neutral. Flavors were often muted, dishes missing a touch of rice vinegar, something to shock them into life. We found ourselves digging with chopsticks through a rubble of vegetables for something that wasn't there to find. The snow peas in a seafood hot pot had kept their fresh and vibrant life. But the cauldron with its dark sauce was neither sticky nor goopy, but instead something insipidly in between. There was nothing to make your taste buds stop, to tell you you'd arrived. Instead, the spoon went searching, searching, searching.
On such a night, we fell back on the Imperial cold noodles, so riveting from first bite—tangy, sweet, savory. As we dove into our Möbius strips, the sushi chef emerged with kitchen scissors, should we need them to cut the tangled strands. We smiled, shook our heads, and carried on, delighted to let them have their own life, their own improvised part in the show.
Get the SideDish Newsletter
Dallas' hottest dining news, recipes, and reviews served up fresh to your inbox each week.