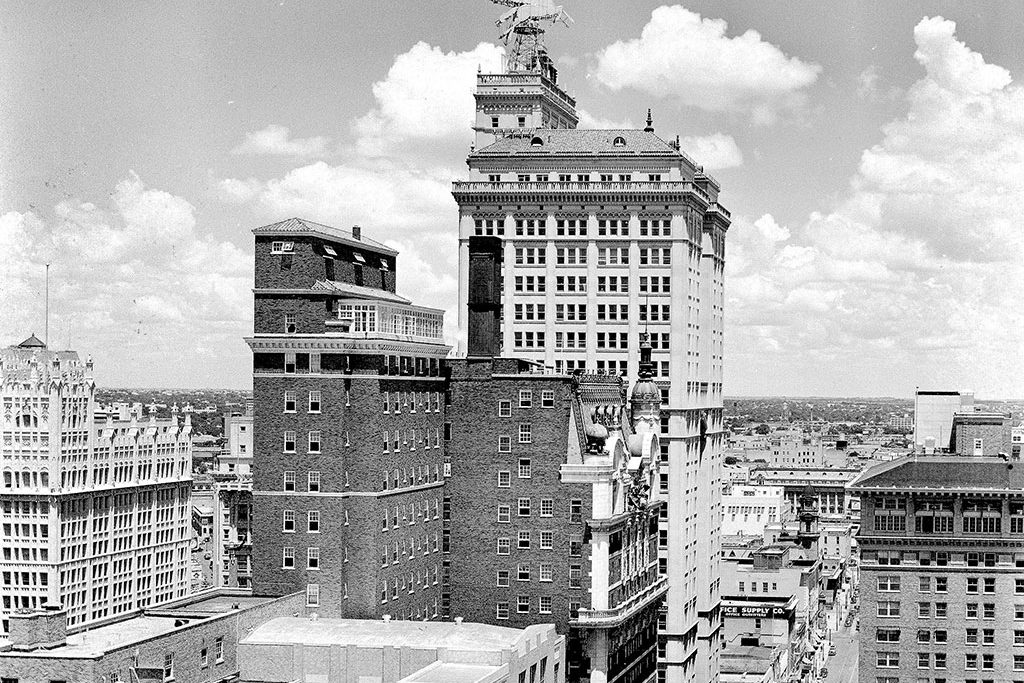 Dallas Through a Lost Lens: Photos From the 1940s and '50s
For years my dad roamed the city, large format camera in hand, capturing moments big and small. Here his photos are published for the first time.
On many weekends in the early 1950s, this was Dad's early wake-up call to me. Unless there was a ballgame or planned fishing trip with schoolmates, this was a time for the three of us—Dad, me, and his Speed Graphic large format press camera—to head out for a day of taking photos around what was then the still-growing city of Dallas.
Connell Miller Sr. wasn't working for a newspaper or magazine, and he rarely sold an image for publication. He was a businessman—an executive vice president of his family's Texas Textile Mills and, very briefly, owner of the city's first professional football franchise, the original Dallas Texans. His passion for photography was more that of a true artist. He went out on those weekends to find a moment—whether at a planned event or something he noticed on the street that piqued his interest—and click the shutter to capture it. Today, you'd call his black-and-white images street photography.
It was always fun to look for adventure in his car, a big Cadillac festooned with antennas connected to various gizmos inside, all for the purpose of helping us find that fire, special event, or other gathering of folks that would give us some nice images. An electronics gearhead, Dad had one of the first CB licenses, issued May 18, 1953. His bulky CB radio was mounted under the dash, along with the radio that covered the police and fire department bands. It left little room for passengers in the front seat.
"I've got the camera, so get dressed, tell your mom goodbye, and hop in the car!"
There was a third piece of equipment that we would also occasionally put to use for help in our quest: an early car telephone, courtesy of the folks at Ma Bell Laboratories. Mounted on the transmission tunnel, it featured a black, corded handset the same size as that of a home phone, but with a turn-to-talk, let-go-to-listen switch. Turning the spring-loaded switch would summon an operator who would then take the desired number and dial it for us.
Dad's interest in and dedication to photography began shortly after he graduated from high school. Aboard a tramp steamer bound for Europe, he did some work with the crew during the journey, earning enough extra money to buy a nice, new 35 mm camera in Germany. While there, he attended the 1936 Olympic Games in Berlin, bringing home a large number of unprocessed rolls of film. Talking my grandparents into letting him set up a small darkroom in their Swiss Avenue home, he soon became proficient in the developing and printing process.
He had adopted his trademark Speed Graphic camera by 1939, preferring the very sharp enlargements the 4×5 negatives would give him over those images taken on small 35 mm film. While also photographing whatever he found of interest around town, he was able to pay for his film and darkroom supplies by taking before and after pics for several body shops around Dallas, as well as shooting fraternity and sorority events at SMU, where he was a student. He put school and his photography temporarily on hold in 1942 to join the Navy as a lieutenant (junior grade), dodging Japanese submarines in the South Pacific aboard the USS Crosby. After leaving the service, in 1945, he finished his degree while working in his father's company, which manufactured most of the duffel bags for the servicemen and women in World War ll.
Not long after, he outfitted his car with his first radio that had police frequencies, standard issue for many street photographers in most big cities where they were legal. It was a boon to be able to quickly get to the scene of a wreck, shooting, robbery, fire, disturbance, riot, or anything else he thought might be interesting. That first radio was even larger than the later one I had to battle for legroom in the Cadillac.
In 1952, Dad had less time to devote to his photography as he and his younger brother, Giles, brought professional football to Texas by buying the New York Yanks and renaming them the Dallas Texans. College football was huge at the time, with SMU and the other Southwest Conference teams packing more than 60,000 fans into the Cotton Bowl on any given Saturday. We were soon to find out, though, that the pro side of the sport was not of much interest to the denizens of North Texas. The team lasted one season before moving to Baltimore under new ownership. Our failed experiment remains in the record book as the last team to go bankrupt in the NFL. (The name was resurrected eight years later by Lamar Hunt and the AFL.)
"Well," as Giles later said, "it seemed like the thing to do at the time."
Dad died in a car accident at Walnut Hill Lane and Central Expressway on Thanksgiving Day 1954. He was only 36. He accomplished a lot in the short time he had. He was a member of the Citizen's Traffic Commission, a Mason and a Shriner, and longtime member and past president of the Bonehead Club. He was a very detailed amateur architect who drew the initial plans for our home in Greenway Parks and also Texas Textile's headquarters on Bryan Street, built in 1953. He was a cartoonist and a musician. He recorded a Dixieland band made up of SMU students called the Cellblock Seven, which led to the band getting an actual recording contract.
He outfitted his car with a radio that had police frequencies. It was a boon to be able to quickly get to the scene of a wreck, shooting, robbery, fire, disturbance, or anything else he thought might be interesting.
Even with his interests and abilities in so many different areas, I firmly believe he was happiest with a camera in his hand. He would have been successful solely shooting weddings, sports, or even pets, but street photography was his passion and his domain was Dallas, the city and its people with their activities in a simpler, less hurried time. Fathers and mothers out together having fun with sons and daughters. All caught with his innate artistic ability to frame a moment where they're found without makeup or formal posing.
After my mother's passing, in 2007, I was entrusted with Dad's photographic legacy. Stored in envelopes in a two-door metal cabinet are 1,000 or more 4×5 black-and-white negatives, spanning the years between 1939 and his death. I began scanning and cataloging these images a year ago. There are many of family and friends, car races, parties and social events. The ones shown here, published for the first time, offer a glimpse into his perspective of the world around him and prove his talent as a street photographer. He would flourish today.
If he were still alive, I'm sure Dad would be out shooting with a new Nikon, Canon, Mamiya, or Hasselblad digital camera. He always embraced new technology as it entered the marketplace. I'd be willing to bet, however, that his trusty old Speed Graphic would still be in his camera bag, making an occasional appearance somewhere on the streets of Dallas.