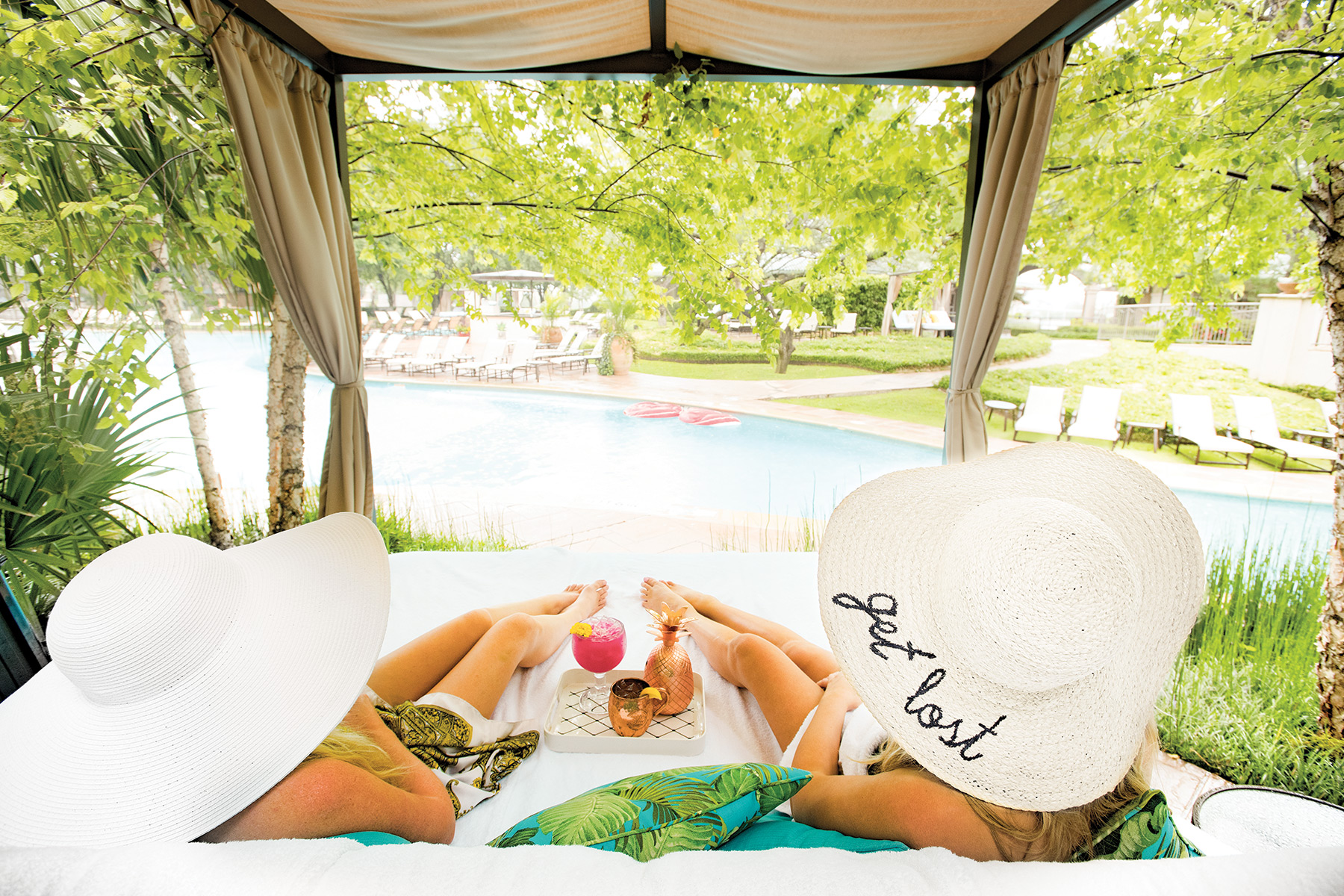 The spa carries FarmHouse Fresh products from the woman-owned, McKinney-based company.
Best beginning:
Avocado toast with a poached egg or a chicken sausage and egg white frittata at LAW, the resort's restaurant. It opens at 6:30 am daily with a full breakfast menu, so you can start your day of indulgence on a healthy note. If you prefer a last-minute arrival, the spa serves complimentary coffee and tea in the lounge.
Secret to the Fountain of Youth:
Madonna's favorite, the Intraceuticals Oxygen Infusion Facial, and Beyoncé's source for clear skin, the HydraFacial. The spa also recently introduced the DNA Repair Facial created by Beverly Hills dermatologist Dr. Ronald Moy.
Keep your cool:
Don't order lunch at the spa. Instead, spring for the new $65 resort pass (resortpass.com) and head outside to the pool oasis where the food menu is more expansive, servers make the rounds with tiny cups of frozen grapes and rosé slushies, and the bar menu includes lavender mules on tap. Choose a shady spot under the cedars to the right of the Agave Bar, and servers will set up your chair for you with fresh towels and a glass of ice water. Forgot your sunscreen? No worries, there's a pool-side spray booth.
Pal around:
Book a 50-minute treatment with five friends, and an event planner will handle all the details. The whole group will get a complimentary spa lunch, party gift, and a 20 percent discount off retail purchases.
Best way to extend the day:
Schedule a blowout before the salon closes at 6 pm, then head to the OUTLAW Taproom for a choose-your-own Old-Fashioned overlooking the pool.
For the ultimate stay-cool vacay:
Book a room. Then, in addition to the spa facilities, you'll have access to the resort's state-of-the-art workout facility, yoga and spin classes, indoor running track, and four air-conditioned tennis courts.
Who might be soaking their toes next to you:
Athletes and musicians, like Kelly Clarkson, who eschew trendy downtown hotels for the privacy of the Four Seasons' villas.
---
Sweat it out first:
Spa guests have access to Vital, The Joule's subterranean fitness studio located just across the alley. Unwind with some yoga or earn your pampering with a TRX or spin class.
Snack time:
The relaxation room has an assortment of teas, nuts, and shortbread cookies, but the homemade granola bars are especially worth the snag. Guests are also offered a complimentary mimosa or glass of Champagne while lounging.
Don't forget to bring:
A bathing suit. You're going to need one to enjoy the coed vitality pool, and you might want one to use the fully exposed experience shower, where the rainfall shower head and multiple body sprayers alternate between hot and cold. You do have the option to purchase a disposable one from the spa, but your birthday suit might honestly be a less embarrassing option.
Get iced out: The ice fountain near the locker room looks like an art installation and comes in handy after sweating in the steam room.
Get the most bang for your buck:
Book a 50-minute custom hot stone, deep tissue, reflexology, or Swedish massage ($155 on weekdays, $165 on weekends), and you can hit up the sauna or steam room, the vitality pool, or even a yoga class.
Dine in:
Choose from a spicy quinoa bowl, gulf shrimp and crab cocktail, charcuterie board, and more
---
Brand, sparkling new:
As grand as the 1912 Beaux Arts-style building is, it didn't have many health and wellness amenities before starting an $80 million renovation in 2015. As of last September, the hotel now has a seventh-floor rooftop pool and 5,000-square-foot spa in addition to a simple fitness center.
Spa all day:
Booking a spa treatment gets you all-day access to the fitness center and pool (the spa's hours are 10 am to 8 pm), which means even if you're only coming in for a pre-dinner blowout, you can spend an entire day at the downtown hotel by getting in a workout and lounging poolside beforehand. And if you forget your makeup, you can sample the Amy Head bestsellers in the salon.
City experience:
Though the spa is as serene as can be—awash in neutrals, immaculately clean, and staffed with professionals—you will hear the muffled sounds of traffic and car horns cutting through the piped-in ambient-
electro music in treatment rooms. It may not be a complete escape for some, but those who dreamed of Plaza-living like Eloise won't mind it one bit.
Unexpected pleasure:
Between treatments, you'll be ushered to the Relaxation Room where you can snack on spiced pecans and read magazines. But step outside on the private terrace, and you'll find that there's something strangely luxurious about lounging amid the skyscrapers, looking down on Commerce Street in nothing but a robe.
Don't forget to:
Leave time to peruse the shop. It's stocked by retail maven Christine Visneau, who scoured the country to find incredible goods such as Aromaflage, a bug spray that actually smells good.
Refreshing bites:
The pool menu skews toward the healthy side but still satisfies. Case in point: the Compressed Watermelon Salad. It will make you wonder why you have ever eaten the fruit without fresh jalapeño.
Taste the rainbow: The Rainbow Push-Pop is made in-house with raspberry, lemon, and orange sherbets.
Most Instagrammable scene:
Recline in one of the semi-submerged lounge chairs in the pool to snap an artsy shot that shows off your pedicure.
Get our weekly recap
Brings new meaning to the phrase Sunday Funday. No spam, ever.